*Bourbon Culture is reader-supported. When you buy through links on our site, we may earn an affiliate commission.
In case you didn't know this, Spirits of French Lick names each whiskey release from a historically significant person or place in Southern Indiana. If you ever get a chance to talk to Alan Bishop, the master distiller that is the brains behind the operation, you'll find out just how deep he's got into the distilling history of the region. One of the funnier anecdotes he likes to say is how southern Indiana distilleries get forgotten about because they were born on the wrong side of the (Ohio) river.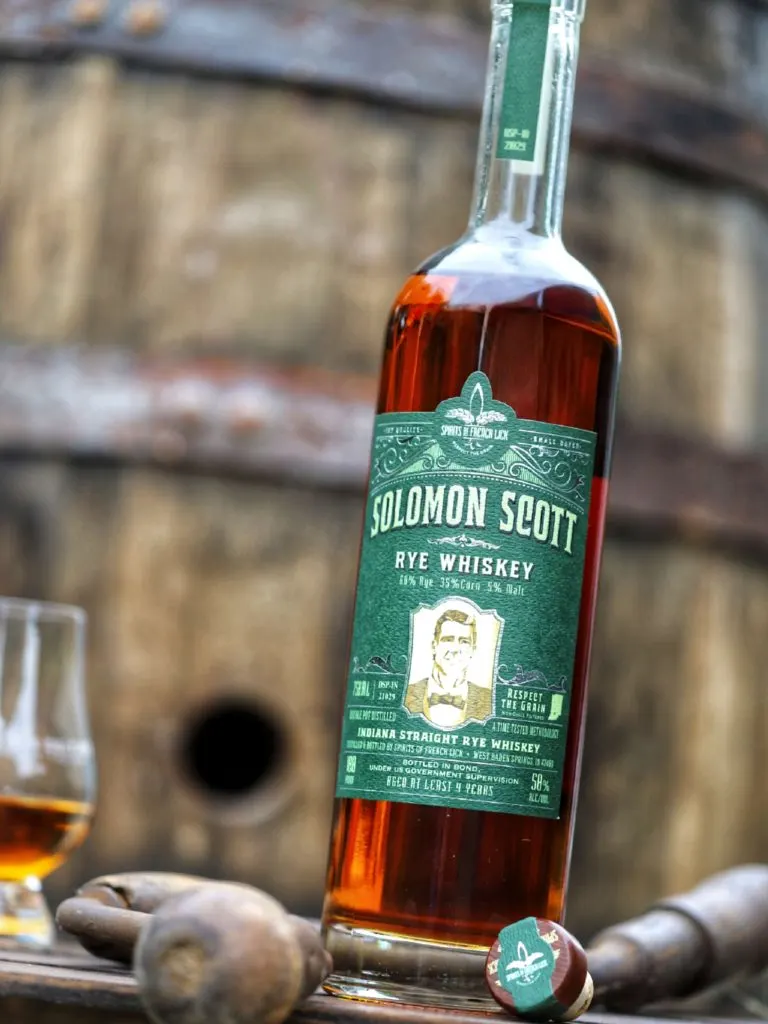 Solomon Scott Rye Whiskey
Spirits of French Lick concentrates on utilizing new and unique grains in their whiskies. This is why we've seen releases using more uncommon varieties such as oats, buckwheat/kasha and different types of malted barley. I talked with Alan a few hours at his distillery back in July and everything he said was fascinating. But when it came to rye whiskey, I got the impression that he wasn't nearly as enthusiastic about it as he was other aspects of his distilling. That's not to say he doesn't care, he just has many more interesting projects to devote his time to. One of the things he told me was that when it came to selecting rye, he wasn't as concerned about all of the specs that most rye producers pour over. He can usually tell by smelling the grain how well it's going to do when it is distilled.
When it came time to leave the distillery, I stopped by the gift shop and examined all of the bottles that were set out. I don't know why, but I picked up the bottle of Solomon Scott Rye Whiskey to purchase because it was the one whiskey that I felt still had enough mystery in it after learning about all of his other labels.
SoFL labels contain a wealth of information on them, so it was easy to see that this rye whiskey was distilled using a mash bill of 60% rye, 35% corn and 5% malted barley. I would've taken SoFL for more of a "100% rye whiskey mash bill" sort of distillery, but I generally enjoy Kentucky rye whiskies, so I wasn't bothered by the high amount of corn inside. Spirits of French Lick distills and barrels their whiskies at a very low proof, which explains why the proof of most of their bottles is usually around 105 proof in barrel proof form. The bottle I have here is bottled-in-bond (so, 100 proof) but I have a feeling that very little water was added to bring it down to this level. I'm expecting this to be very similar to how it tasted when it came out of the barrel. Speaking of barrels, SoFL likes to age their whiskies in barrels that receive only a #2 char on the inside.
Other than those specs, I don't really know much else to talk about with this whiskey. I'm going in somewhat blind as to what it'll taste like. So what did I think? Time to taste and see for myself! I sampled this neat in a
glencairn
.
Tasting Notes
Nose:
A very peculiar, but likeable
cherry bubblegum
scent greets my
nose
. This is not bubblegum in the regular sense, it's more like that medicinal kind that you get from a child's cough syrup.
Tart blueberries
and orange notes also are found. What's strange is that the orange notes morph between
Tang to orange creme candies to Painkiller Cocktails
throughout the dram. Looking past all of the fruit notes, I get the faintest scent of coffee grounds (which belies its youth in my opinion).
Palate: There are nice amounts of sweetness and some rye spice here and there. But after 3 sessions with it, I can't seem to dodge the youthful grainy notes. Unfortunately, other youthful notes like cardboard, dough and coffee grounds are also found. These are all typical in craft products, but thankfully they aren't that powerful. It's obvious that this would do well from more time in the barrel. On the positive side, there are still some great flavors that I find like Earl Gray Tea, candied citrus, wintergreen mint and rye bread. A full complement of spice shows itself with notes of anise, cinnamon, clove, a touch of absinthe (which may just be me smelling the anise a different way). The sweetness is well integrated but allows tannins such as soft oak and a touch of new leather to be found. I think the corn content really helps to balance out the profile of this rye without it straying too far into the bizarre category. I also feel as if the proof is perfect where it is. I would not wish for this to be any higher or lower than where it's at.
Finish: Those Absinthe notes remain on the finish. It's almost kind of "Sazerac-esque" when I'm drinking it (the cocktail, not the rye whiskey from Buffalo Trace). Light baking spices are followed by soothing handfuls of herbs and botanicals. There is an earthy element to the finish but the bright lemon and citrus flavors help to ensure it's not overwhelmingly "dirt." The ending is nice because it's not really bitter or young or astringent or overly sweet, it's just…pleasant. The finish may be the best part to this dram.
Score: 5.9/10
If you're a person who's into rye whiskey, this is a very different one than you're probably used to. But if you're into rye whiskey, that means you probably already like things that are different. Rye whiskey is the only savior left in an American whiskey scene that typically doesn't offer much variety. Depending on the type of rye and how it was made, it can yield substantially different experiences. Some rye whiskey doesn't even taste like a whiskey at all (note the absinthe notes I found in this). All of this is to say that if the prospect of a new experience entices you, this is a rye whiskey worth checking out.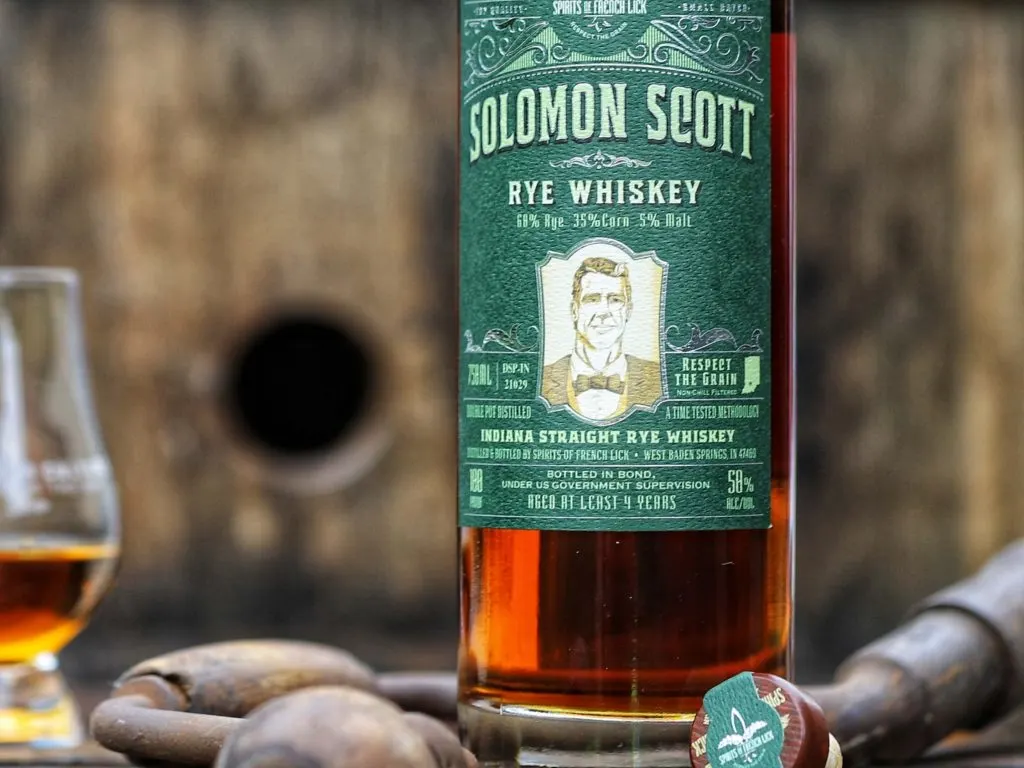 Final Thoughts
As I mentioned above, there are still some youthful notes that need worked out. But what makes Solomon Scott Rye different from other craft products I've tasted is that the youthful notes aren't intrusive enough to ruin the dram. They're there, but they subside after a while to allow you to taste everything else it has to offer. I think that the low char level of the barrel (remember, it's only a level #2 char) contributes a lot to having the lighter flavors show up. That's something that helps contribute to this whiskey's uniqueness. The fruit flavors and scents made this an experience that I was happy to have paid for.
I always hate to end a review with a conclusion that sounds a lot like a TV episode where they say "To Be Continued" at the end, but that's what I'm going to do here. Solomon Scott is a fine product right now but will be an even better product as it continues to get tweaked and age longer. Spirits of French Lick has invested into new, metal clad rickhouses and will begin having whiskey aged in the hot summer heat soon enough. This should result in some interesting interaction that we aren't able to experience with these chai cellar aged barrels. So if you're not the adventurous type with your whiskey, maybe wait a couple years and pick up a bottle of this to see how it's changed. There are a lot worse ways to spend $50.
Featured Products
Description:

The Aged & Ore Neat Traveler is a complete travel kit for spirits. We combined our widely praised Neat Glass with one of our 3oz Flight Bottles and housed them together in a custom EVA travel case. Perfect for a night away with your favorite pour. The tie
Description:

The Aged & Ore Bottle Flight is a premium set of 4 custom silicone wrapped glass bottles designed to transport and share samples of your favorite spirits. The flight bottles come in a custom EVA travel case that fits perfectly in any small bag. An Aged &
Description:

This Bundle combines two of our crowd favorite products, creating the ultimate travel bundle to bring along your favorite spirits and glassware. Bundle Includes: Neat Traveler (Gray) Bottle Flight (Gray) Note: This bundle is only available in gray and col
*Bourbon Culture is reader-supported. When you buy through links on our site, we may earn an affiliate commission.