*Bourbon Culture is reader-supported. When you buy through links on our site, we may earn an affiliate commission.
One of the things that makes bourbon so fun is that every distillery has a different way of making their whiskey. From the distillation to the aging and then the final touches they put into every drop, no two whiskies are going to taste the same. Hell, I've compared bottles from the same single barrel with friends before and we swear we can find differences throughout. But the rules of what makes bourbon "bourbon" will ensure that most of it tastes vaguely similar to other bourbons out there. Even when distilleries want to branch off and do their own thing, there seems to be certain unwritten rules of bourbon that keep them from wandering too far.
One of those rules is that wheated bourbon should go into the barrel at a lower barrel entry proof than bourbon made with rye or any other grain as the small grain. You won't find this information in any sort of rule book, but it's one that basically all distilleries follow. Maker's Mark barrels theirs at 110, Buffalo Trace barrels theirs at 114, MGP barrels theirs at 120 and Wilderness Trail barrels theirs maybe lowest of all between 100 and 105. There are multiple reasons behind why this is, but it mainly has to do with how wheated bourbon is much more delicate in taste and needs to have that extra water content while aging in the barrel.
Rebel Reserve 12 Year Single Barrel
One distillery has decided to buck this trend though. At Heaven Hill, the way they distill seems like it was designed to maximize profits over flavor. That's not saying that Heaven Hill makes bad whiskey, but the proof they distill their whiskey to (140) and the proof they barrel all of their whiskey at (125) are some of the highest numbers used in the industry. Even their wheated bourbon brands like Old Fitzgerald and Larceny are barreled at 125 proof. I've previously reviewed these bottles and there is something about them that comes off more harsh and thin compared to other distillery's' wheated bourbons. I've never really been a big fan of either.
So why am I talking so much about Heaven Hill in a review for a Lux Row product? Because that is where these barrels were sourced from. John Rempe, Lux Row's Master Distiller, had been cooking in Heaven Hill's "kitchen" (Bernheim Distillery) for a short period of time before his own distillery was complete in Bardstown. During that time, he was also sourcing barrels with a team from Heaven Hill's own warehouses. Some of the most interesting finds he was able to procure in the early days were 10 year old barrels of wheated bourbon. The decision was made to proof these down to 100 proof and sell them as single barrels under the name Rebel Yell starting in 2016. At $50 (later rising to $60), these were an amazing deal for the price and age. Many Lux Row enthusiasts were keen to spot that some of the single barrels were actually much older than 10 years with some reaching as high as 12 years old.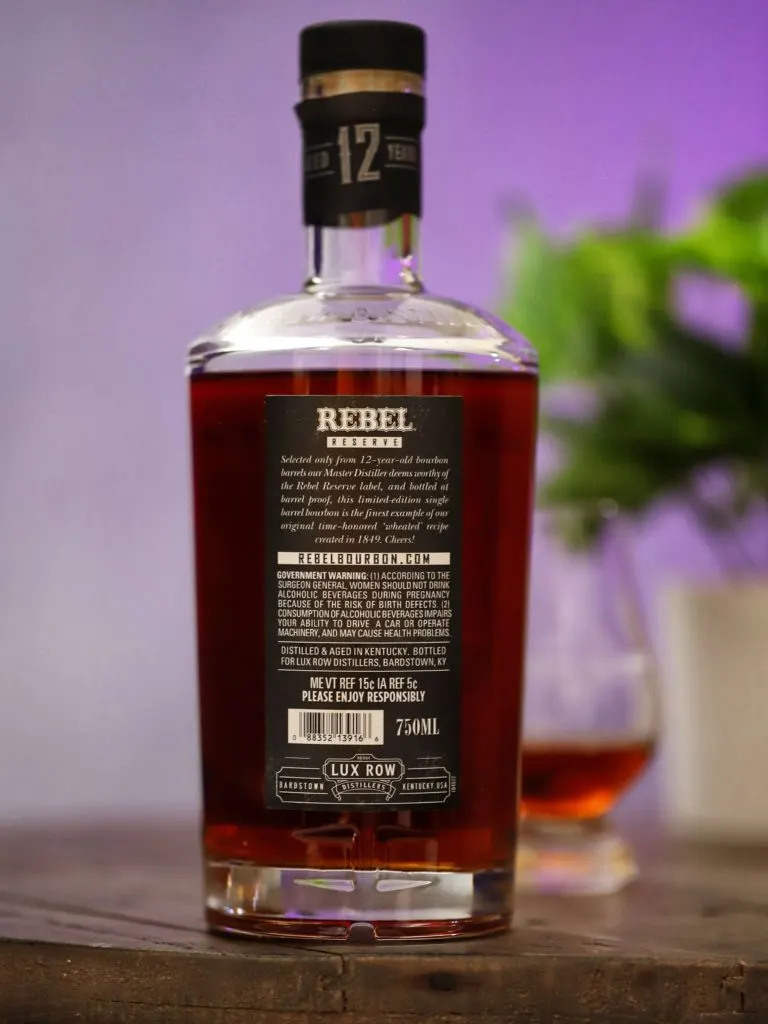 Now that MGP has officially bought Lux Row, many have speculated that products like Rebel (they dropped the "Yell" part in 2020), David Nicholson, Blood Oath and others will be filled with MGP distillate. I find that to be highly unlikely since they could not put "Kentucky Straight Bourbon" on the label. Instead, MGP will probably see to it that Lux Row use up all of its Heaven Hill stock as quickly as possible in order to stop associating their brand with a competitor. This is probably the reason why we see Lux Row's "Double Barrel" label coming to a close and why they were able to release a one-time-only bottling of a single barrel of 12 year old barrel proof wheated bourbon under the Rebel name.
Luck would have it that a trip I was planning to Kentucky got delayed by a couple days due to the major snow and ice storm that shut down much of the Midwest and East Coast in early February 2022. This was the same time this barrel was released. However, icy road conditions plagued Kentucky for a few days and very few people ended up going to Lux Row to buy a bottle. This meant that by time I got there, there were still about a dozen left. At $200 a pop, they were not cheap, but they were rare in the sense that this was one of the few times you could have a taste of a barrel proof wheated bourbon from Heaven Hill that was more than 10 years old. The only other situations would probably be in a Heaven Hill Select Stock or William Heaven Hill bottle. So I decided that I better jump on it. So how does it taste? Let's find out. I sampled this neat in a glencairn.
Tasting Notes
Nose: Equal parts rich dark chocolate and caramel. Loads of seasoned oak make this a very woody nose and one that you'll love to keep taking sniffs of. Lots of vanilla crème can also be found along with a light tobacco note. Overall it's a very heavy nose that eschews fruit or spicy traits for one that is deeply rich and dark.
Palate: The oak is the star of the show here, showing how well this particular barrel has aged. The mouthfeel is moderately thick but later on when the waves of heat begin to attack your tastebuds, it won't feel that thick. There are plenty of tannic flavors along with lots more chocolate. Classic Heaven Hill nuttiness is followed by what tastes like pretzel sticks. Sharp cinnamon and ground cinnamon all give another layer that begins to show the heat on this monster. But when the spices of clove, black pepper and red pepper flakes and ancho chili peppers show up, it really sets your mouth on fire. This packs a pretty big wallop for something that compares to the average proof of William Larue Weller. There is even notes of dates and raisins, two fruit notes I didn't think I'd find here.
Finish: Lingering notes of oak, leather and tobacco. The finish has all of the aged notes concentrated here the most. A spoonful of cinnamon and melted Rolos bring you back to the sweet and spicy notes that have dominated so far while some orange peel & apple skin brighten up the finish just a tad bit.
Score: 8.3/10
You may have noticed in the tasting notes that I compared this to another bourbon that mimics it at least on paper: William Larue Weller. Both of these wheated bourbons are bottled at barrel proof (WLW's usually hovers in the mid to high 120s) and both are 12 years old. But the differences couldn't be more obvious. WLW seems deeper and richer and has way more fruit flavors that drinkers prefer to find. Both bottles have impressive amounts of oak flavors throughout but the WLW melds it all together so much better. It's not like Rebel 12 Year is a bad bourbon, but it's also not as legendary as it could have been. It remains a slightly better, more oaky version of Larceny Barrel Proof.
Final Thoughts
I have no doubt that John Rempe tasted this barrel and thought to himself that this was the one that could stand out from a crowd. The chocolate notes are divine and it's oaked to perfection. But to have the other so-so Heaven Hill flavors and texture accompany it makes it lose its luster. Heaven Hill really does have the worst wheated bourbon in Kentucky and it's shocking that they haven't tried to experiment with something better yet. At the very least, they need to put it in the barrel at a lower proof and at the most they need to reconfigure the recipe and stop using what I suspect to be the standard yeast that they use on all of their other bourbons. It's just not fruity enough to make a good wheated bourbon with.
I suspect Rebel 12 Year may not be the "very last" single barrel of Heaven Hill distillate that we'll see come from Lux Row. Barrels and releases like this tend to hint to the fact that other really good barrels might be stashed away in the far corners of Lux Row's new rickhouses. We'll probably see a limited release come out every year or so until they really are gone but for those of you who did not get a chance to get a bottle like this, have no fear, it's not the end of the world. Just go get a bottle of Larceny Barrel Proof and mix it with a little bit of Elijah Craig Barrel Proof (for the extra oak) and you'll be 9/10 the way there to experiencing this.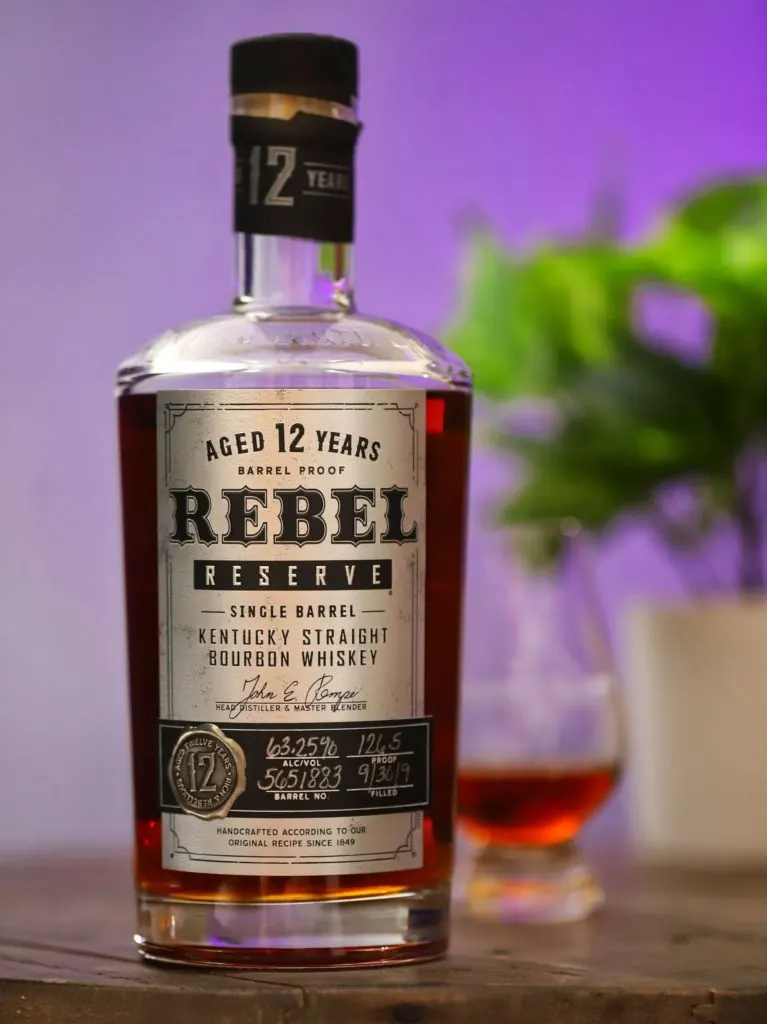 Featured Products
Description:

The Aged & Ore Neat Traveler is a complete travel kit for spirits. We combined our widely praised Neat Glass with one of our 3oz Flight Bottles and housed them together in a custom EVA travel case. Perfect for a night away with your favorite pour. The tie
Description:

The Aged & Ore Bottle Flight is a premium set of 4 custom silicone wrapped glass bottles designed to transport and share samples of your favorite spirits. The flight bottles come in a custom EVA travel case that fits perfectly in any small bag. An Aged &
Description:

This Bundle combines two of our crowd favorite products, creating the ultimate travel bundle to bring along your favorite spirits and glassware. Bundle Includes: Neat Traveler (Gray) Bottle Flight (Gray) Note: This bundle is only available in gray and col
*Bourbon Culture is reader-supported. When you buy through links on our site, we may earn an affiliate commission.