*Bourbon Culture is reader-supported. When you buy through links on our site, we may earn an affiliate commission.
Every brand has their entry level rye whiskey. Heaven Hill has Rittenhouse, Old Forester has their 100 proof offering and Wild Turkey even has an 81 proof version that never seems to move from the shelves. But as with so many other products in their portfolio, Buffalo Trace's Sazerac Rye seems to get a more mythical status than any other base rye whiskey product out there.
Although it wears no age statement, "Baby Saz" is generally known to be around 6 to 7 years old. The nickname "Baby Saz" stems from the fact that Buffalo Trace offers an 18 year old offering in their Antique Collection lineup that keeps the same 90 proof alcohol content. But since rye whiskey generally comes to age much faster than bourbon, is the 6 year version just as good? Let's find out. I sampled this neat and in a Glencairn.
Tasting Notes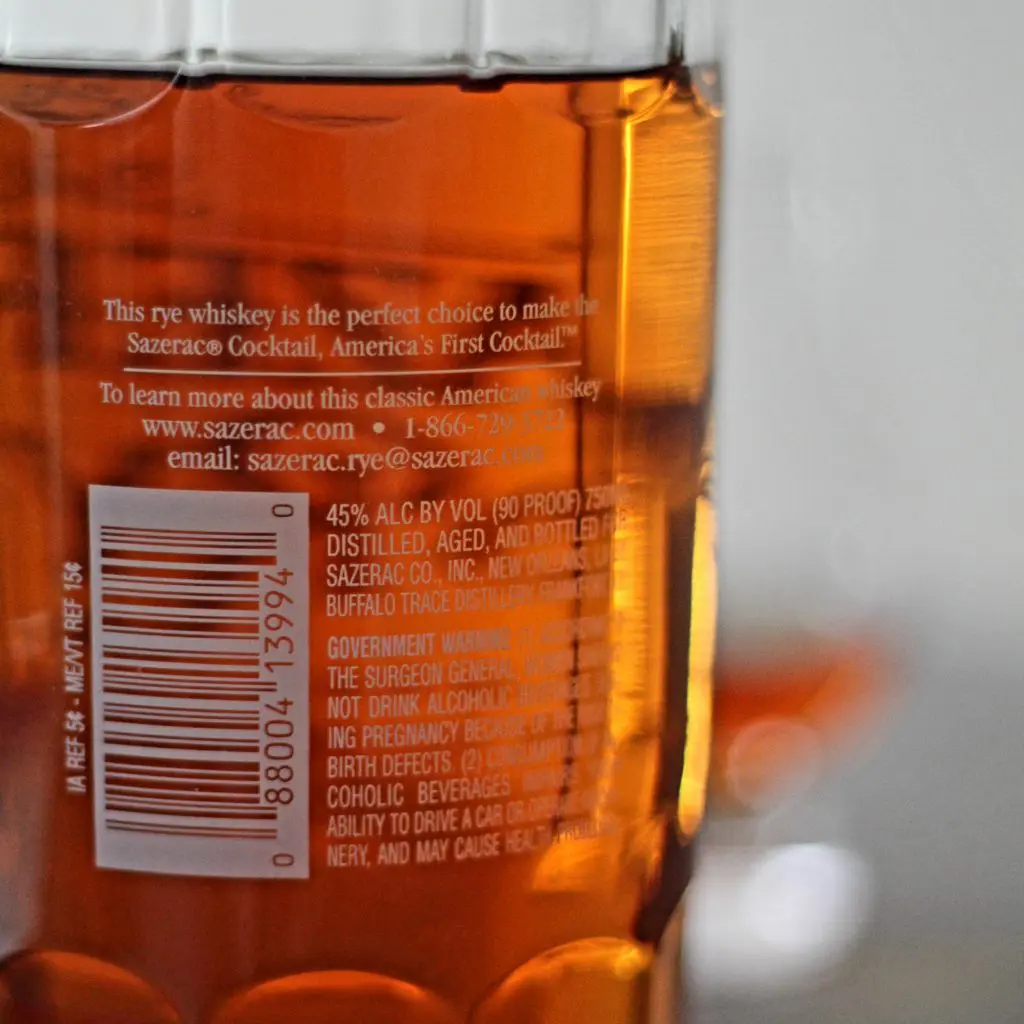 Nose: Scents of bubblegum, cherries and orange zest show you this is a much fruitier version of rye whiskey than other entry level ones on the market. There are some slight floral notes (springtime flowers) but generally the nose is more reminiscent of a bourbon than a rye. This fact is even more evident as the notes of vanilla and caramel announce themselves.
Palate: Cinnamon spice, sweet mint and crushed peppercorns give way to classic rye spice flavors on the tongue. But if you're drinking this blind, you may still be confused as to if this is a high-rye bourbon or a barely-legal rye whiskey. Typical Buffalo Trace sweet elements come out to confuse your tongue even more by presenting caramel and baker's chocolate. It's all pretty tasty, if not a little bit held back by the low proof.
Finish: The caramel sweetness and peppery rye spice seem to compliment each other even more on the finish. For being so young, I'm surprised to find some drying oak characteristics as well. The finish isn't lacking in flavors as much as it is just very low in proof, making them hard to distinguish. But it's pleasant enough all around to not disappoint.
Score: 6.7/10
Early in my drinking days, I found Sazerac Rye to be a turnoff to me because I was not experienced enough in rye whiskey. Once I began to appreciate them, I was hooked on more high proof choices out there. But one day I found my old bottle of this and decided to give it a go again. Much to my surprise, I enjoyed it much more than I remember. Throughout a few sessions with this one, I observed that it has the ability to changes personalities depending on what you've drank before it.
If this is your first drink of the night, chances are you're going to find more of a rye character present. But if you've drank this after a bourbon, this could easily taste like you're drinking a bourbon from Buffalo Trace. That's not a bad thing by any means, but it is something that you should know about if you come into this bottle looking for big rye flavor.
Final Thoughts
Overall, Sazerac Rye is an attractive bottle with some equally attractive whiskey on the inside. It won't knock your socks off compared to others, but it does everything very well. And if you can find it for around $28, the value is outstanding. Now if only I can try the single barrel version of this…
Ratings Breakdown
1 | Disgusting | Drain pour (Example: Jeffers Creek)
2 | Poor | Forced myself to drink it
3 | Bad | Flawed (AD Laws 4 Grain BiB, Clyde Mays anything)
4 | Sub-par | Many things I'd rather have (Tincup 10 year)
5 | Good | Good, solid, ordinary (Larceny, Sazerac Rye)
6 | Very Good | Better than average (Buffalo Trace, OGD BiB)
7 | Great | Well above average (Old Ezra Barrel Proof, Old Weller Antique)
8 | Excellent | Exceptional (Michter's Barrel Proof Rye, Four Roses Barrel Strength)
9 | Incredible | Extraordinary (GTS, 13 Year MGP or Canadian Rye)
10 | Insurpassable | Nothing Else Comes Close (William Larue Weller)
Featured Products
Description:

The Aged & Ore Neat Traveler is a complete travel kit for spirits. We combined our widely praised Neat Glass with one of our 3oz Flight Bottles and housed them together in a custom EVA travel case. Perfect for a night away with your favorite pour. The tie
Description:

The Aged & Ore Bottle Flight is a premium set of 4 custom silicone wrapped glass bottles designed to transport and share samples of your favorite spirits. The flight bottles come in a custom EVA travel case that fits perfectly in any small bag. An Aged &
Description:

This Bundle combines two of our crowd favorite products, creating the ultimate travel bundle to bring along your favorite spirits and glassware. Bundle Includes: Neat Traveler (Gray) Bottle Flight (Gray) Note: This bundle is only available in gray and col
*Bourbon Culture is reader-supported. When you buy through links on our site, we may earn an affiliate commission.