*Bourbon Culture is reader-supported. When you buy through links on our site, we may earn an affiliate commission.
Sagamore Spirit, a young distillery start up by the owner/founder of Under Armour, Kevin Plank, is located in Baltimore, Maryland and aims to revive the famously absent "Maryland Rye" section of the whiskey market. But until their own juice comes of age, they've been sourcing MGP Rye from Indiana.
A Rye Finished in Moscatel Barrels
Although they have a proofed down and barrel proof version of this (still young) MGP Rye, Sagamore has been hard-charging into the world of finished ryes because as I alluded to, the MGP Rye they've been sourcing is also fairly young as MGP struggles to replenish their depleted aged stock. With Cognac, Port and other wine barrels, one of the more rare ones that they experimented with recently has been Moscatel Wine. Moscatel is a lighter grape known for its sweet juice, which seems like the perfect pairing against a spicier rye like MGP's 95/5 mashbill.
Recently, at a Binny's in Chicago, I noticed a bottle of this on the clearance rack for $52 and figured now was the best chance to buy it and save a little bit of money. Never having Moscatel wine or tasted anything from Sagamore, I was going to be in for a surprise one way or the other. So how did this stack up? I sampled this neat and in a glencairn to find out.
Tasting Notes
Nose: Opening aromas of honeycomb and familiar rye spice traits of pine needles. There are some nicer fruit scents like apricots, raisins and dried fig. There are also some baking traits like cinnamon, brown sugar and a faint hint of melted chocolate.
Palate: The palate opens to a salvo of prune juice and really dry white wine. There is a lacking of sweet notes after that as I get pumpernickel bread, more pine needles, fresh cut grass and unsweetened peppermint gum.
Finish: Very little Moscatel wine sweetness comes out on the finish and this is where the MGP rye is at its worst. It is bitter and antiseptic and noticeably young. The wine barrel is not covering it up. Pinesol, juniper berries, drying sawdust and star anise. The finish makes you regret every sip knowing there will be this kind of finish.
Score: 4/10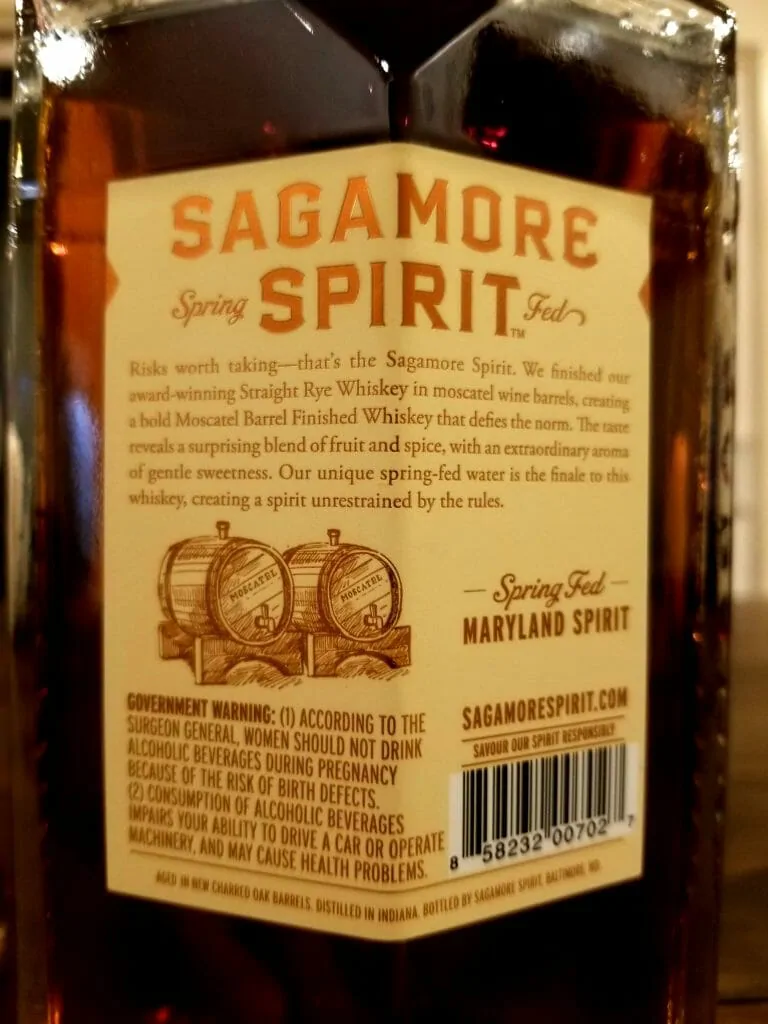 I wrote down only one thought while drinking this: "The Finish finishes like a rye that hasn't been finished" What's odd is that although the Moscatel's sweeter character was noticeable *enough* on the nose, it really didn't stick around. Instead, it felt like it just highlighted how young this rye really was. I was under the impression that Sagamore might be sourcing 4+ year rye, but this tastes younger than 2. It simply is missing sweetness that a finished spirit is known for while making it all very unbalanced. And that makes this a bottle I will firmly place on the back of my shelf until I forget about this review and decide to taste it again.
Ratings Breakdown
1 | Disgusting | Drain pour (Example: Jeffers Creek)
2 | Poor | Forced myself to drink it
3 | Bad | Flawed (AD Laws 4 Grain BiB, Clyde Mays anything)
4 | Sub-par | Many things I'd rather have (Tincup 10 year)
5 | Good | Good, solid, ordinary (Larceny, Sazerac Rye)
6 | Very Good | Better than average (Buffalo Trace, OGD BiB)
7 | Great | Well above average (Old Ezra Barrel Proof, Old Weller Antique)
8 | Excellent | Exceptional (Michter's Barrel Proof Rye, Four Roses Barrel Strength)
9 | Incredible | Extraordinary (GTS, 13 Year MGP or Canadian Rye)
10 | Insurpassable | Nothing Else Comes Close (William Larue Weller)
Featured Products
Description:

The Aged & Ore Neat Traveler is a complete travel kit for spirits. We combined our widely praised Neat Glass with one of our 3oz Flight Bottles and housed them together in a custom EVA travel case. Perfect for a night away with your favorite pour. The tie
Description:

The Aged & Ore Bottle Flight is a premium set of 4 custom silicone wrapped glass bottles designed to transport and share samples of your favorite spirits. The flight bottles come in a custom EVA travel case that fits perfectly in any small bag. An Aged &
Description:

This Bundle combines two of our crowd favorite products, creating the ultimate travel bundle to bring along your favorite spirits and glassware. Bundle Includes: Neat Traveler (Gray) Bottle Flight (Gray) Note: This bundle is only available in gray and col
*Bourbon Culture is reader-supported. When you buy through links on our site, we may earn an affiliate commission.