I visit an old Army buddy every couple of months down in Elizabethtown Kentucky. While I'm there, one of the local stores I always try to hit up is John O's – which always has a fantastic selection.
I am one of those people who will walk out of a liquor store empty-handed when I don't see anything worthwhile, but that's never happened to me when I go there.
This past winter I was surprised to walk in and find a Russell's Reserve pick on the shelves. These don't last too long where I'm from, so it was a no-brainer to buy.
It was the sticker that caught my attention first. As a big fan of National Lampoon's Christmas Vacation, I found it hilarious – Jimmy Russell never looked so good in blue. But what also caught my eye was the age (a full 9 years!) and that it was wearing the new label that was introduced in 2022.
Save the neck for me, Jimmy!
This pick was a collaboration with John O's Liquor Outlet and the Hardin County Bourbon Club. From what little info I could find online, this club began in 2019 and has done picks with John O's before (I see an Elijah Craig Single Barrel collaboration between the two on Instagram).
They have done some Knob Creek picks too. Their Facebook membership numbers are above 2,000 which makes me wonder if I was in the right place at the right time to secure this bottle – surely it must have sold out quickly.
This pick comes from Warehouse T which is located on Wild Turkey's main campus (called Tyrone). I have already spoke a decent amount about this warehouse in a recent Kentucky Spirit review, but here are the quick notes: Warehouse T was built sometime around 2011. Wild Turkey moved barrels from other warehouses into it to continue aging.
At the same time, it was also being filled up with new-make barrels (this is a pretty large warehouse by Wild Turkey standards).
It seems as if this bottle of Russell's Reserve may have spent its whole life in Warehouse T and is probably not a transplant (unlike the Kentucky Spirit bottle I reviewed). It was plucked from the fourth floor (which most Russell's Reserve picks come from anyway) and bottled at 110 proof with no chill filtration.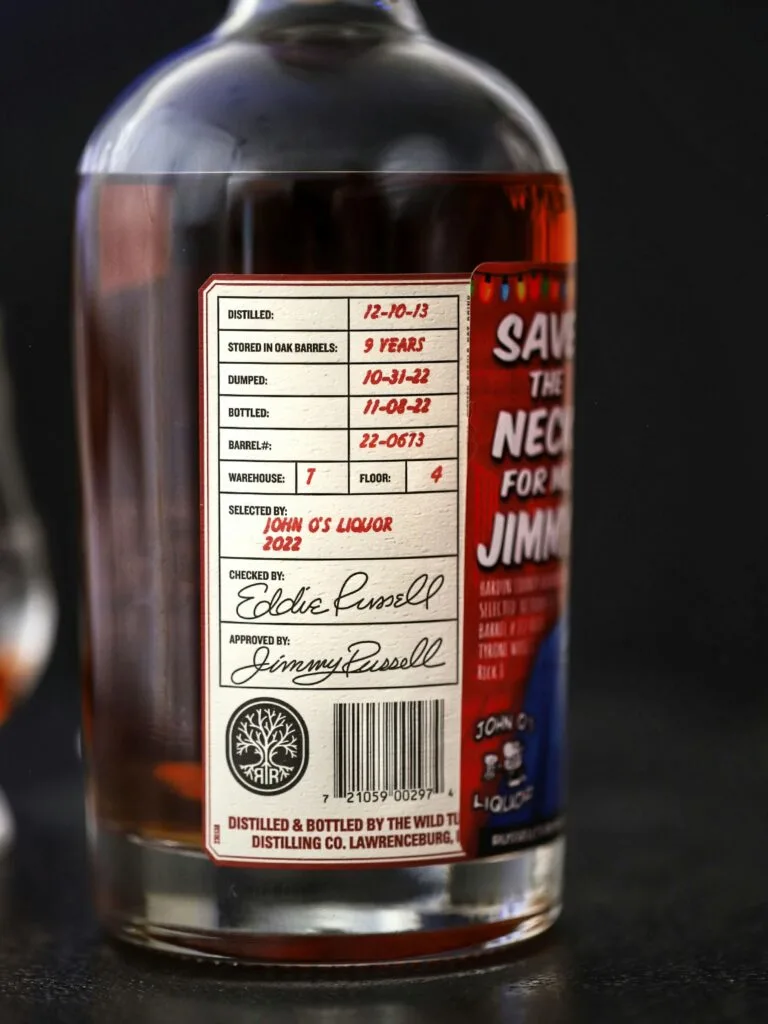 So how did the crew at John O's and the HCBC do? Let's find out. I sampled this neat in a glencairn.
Tasting Notes
Nose: A fantastic sensory experience of toffee, kettle corn, baking spices (with cinnamon being at the forefront) and a hint of root beer. I'm surprised to find a little bit of fruit notes by way of baked apple and lemon meringue pie.
I even get a little bit of aged notes by way of oak and tobacco leaf too. This has about every scent that a Wild Turkey would be known for. Nothing misses a beat.
Palate: The mouthfeel is fairly rich and buttery with great baking spice notes – nutmeg, cinnamon, allspice and a touch of coriander. Fruit notes appear again, this time with apple butter, lemon and orange peel.
The nutty flavors are closer to hazelnuts than peanuts and its wrapped in a sweet caramel coating. I also find a bit of my favorite bourbon flavor – black tea. That gets wrapped up with a bit of marjoram which probably comes from the rye used in the mashbill.
Finish: The finish remains on the sweet side with caramel, sweet tea and a hint of cherry. The oak notes remain and the nutty aftertaste hangs around too. The finish is very satisfying and never dries out or loses its sweetness. This is exactly what I wanted.
Score: 8.2/10
When you have a bottle like GTS or Four Roses Small Batch Limited Edition, you tend to nurse them for a while because they're so good but so expensive and rare.
For most of us, we sip on lesser bottles in the meantime because it's a compromise between our desire to taste bourbon and the restrictions of a bourbon budget. But when a bottle like this Russell's Reserve comes along, it's so good and so inexpensive that it's not a big deal if you drink it all quickly. That's what I've found myself doing with this store pick.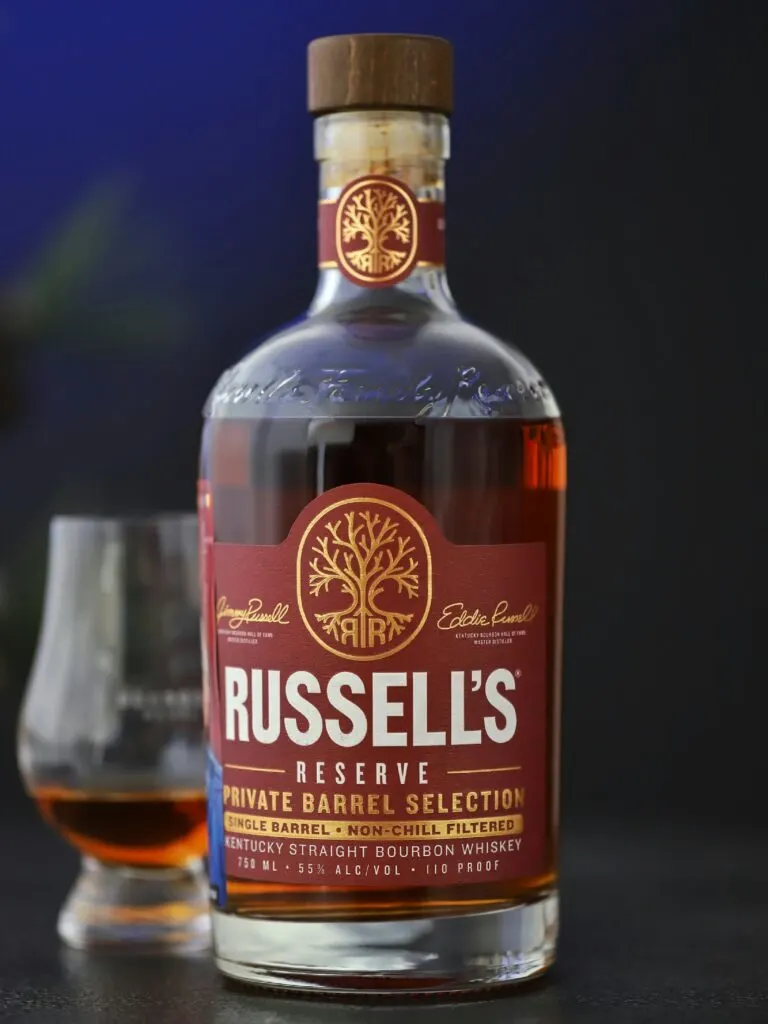 I knew this bottle was great from the very first sip I took. I continued to drink from it until I realized I was getting low and needed to do my review before it was all gone. That's the allure, I think, with these RRSiB picks.
When you get a good one, you don't need to go searching around in your cabinet to find a bourbon that fits your mood that night. A bourbon this good will fit any mood.
Final Thoughts
What more can I say about this bottle of Russell's? It's a fantastic pick that makes me eager to find another. I was surprised with the complexity of this bottle and want to underline that this is modern-day Wild Turkey at its best.
I hope that the age statements continue to climb on these (they used to all by 8.5 years old for the past couple of years) because I truly think there is a sweet spot somewhere between 10 and 13 years on Wild Turkey.
The closer we get to it, the more we're going to get picks that have contain the perfect mix of all the best Wild Turkey traits. Hey Hardin County Bourbon Club, save the necks one for me!
Featured Products
Description:

The Aged & Ore Neat Traveler is a complete travel kit for spirits. We combined our widely praised Neat Glass with one of our 3oz Flight Bottles and housed them together in a custom EVA travel case. Perfect for a night away with your favorite pour. The tie
Description:

The Aged & Ore Bottle Flight is a premium set of 4 custom silicone wrapped glass bottles designed to transport and share samples of your favorite spirits. The flight bottles come in a custom EVA travel case that fits perfectly in any small bag. An Aged &
Description:

This Bundle combines two of our crowd favorite products, creating the ultimate travel bundle to bring along your favorite spirits and glassware. Bundle Includes: Neat Traveler (Gray) Bottle Flight (Gray) Note: This bundle is only available in gray and col
*Bourbon Culture is reader-supported. When you buy through links on our site, we may earn an affiliate commission.