*Bourbon Culture is reader-supported. When you buy through links on our site, we may earn an affiliate commission.
Rare Perfection is a label owned by the Preservation Distillery located in Bardstown Kentucky. Despite being a name you might never heard of before, they have quite the colorful history. What they're most famous for is the fact that they were employing the services of Willett in the 1980s and 90s to source and bottle bourbon and rye whiskey for them to sell in Japan.
These were under labels that you may recognize today because you can actually find them on the shelves. They include Very Olde St. Nick Rye Whiskey (and bourbon), Rare Perfection, Wattie Boone, Pure Antique and many others.
These days, Preservation Distillery has actually set up their own distillery where they supposedly make whiskey from a pot still. I'm fairly certain that nothing they have made has seen its way into any of the labels they sell.
In fact, the brands I just listed off are all sourced from various places. It is widely known that their rye whiskey comes from Canada while the other products labeled just "Whiskey" (such as Rare Perfection 14 and 15 year) are typically blends of Canadian Whiskey.
But there is one thing that they do not source from our neighbors up North – bourbon. Whenever they put out a Very Olde St. Nick or Rare Perfection batch labeled "bourbon," you know that was made here in the US. The only issue is they don't even hint where it came from.
Rare Perfection 12 Year Old Bourbon
In late 2019/early 2020, Preservation Distillery products started to get set on shelves around the nation. The bottle in the picture was one of the more intriguing ones to enthusiasts because it wore an age statement of 12 years and was bottled at 115 proof.
Yet not much more was said about it other than it was distilled in Kentucky. For a long time, I assumed it was sourced from Barton.
The reasoning was because there were a lot of new "Kentucky Bourbon" labels being released in 2019 that wore a high age statement and were outright known to be sourced from Barton (Cream of Kentucky 12.3yr, Calumet Black Rack 12yr, Kentucky Par12 Year, Down Home Batch 2). Barton even released a 12 year old version of their 1792 label in 2019.
For $300, I was not about to be tempted into thinking that a 115 proof bottle of Barton was worth anywhere near that price. Honestly, not much bourbon is anyway. So it wasn't until 2 years later that I happened to find information that claimed that Preservation Distillery may have had help from their old friends at Willett in obtaining sourced barrels of bourbon from their stocks.
This made sense because while it was assumed that Willett ran out of their older sourced bourbon sometime around 2018, it became apparent that they had quite a few left. But were being more choosey with when to release them or who to sell them to (and they weren't going to let them go for cheap either).
Now I normally think Preservation Distillery is in the business of ripping off customers (how else do they justify selling 8yr old, 82 proof Canadian Rye for $250?), but the $300 price tag for Preservation 12 year made more sense. It's because if the barrels came from Willett, it took a lot of money to get them.
Connecting Heaven Hill, Diageo, Willett and Bernheim Distillery
When you look back at who Willett sourced most of their bourbon from in the 1990s and 2000's, people will automatically say "Heaven Hill!" That answer is mostly true, but the more specific term would be "Bernheim Distillery." I say this because Willett was sourcing bourbon from Old Bernheim and New Bernheim (same place separated by a period of downtime due to a complete renovation).
Willett likely continued to source bourbon from the distillery too even after it was sold to Heaven Hill in 1999, just like Diageo did with the bourbon that went into bottles of IW Harper. If you're asking why IW Harper comes from New Bernheim, it's because that was one of the conditions of the sale when Diageo was looking to sell the distillery.
They needed bourbon to put into IW Harper bottles. There were likely a few customers that still depended on Bernheim to make whiskey for them too. I think Willett was probably one of them.
I don't know how long the contract said that Heaven Hill had to continue making bourbon for Diageo, but 10 years seems reasonable. This gave Diageo time to either find a new source or build their own distillery (which they completed around 2018).
Keep in mind this all happened in 1999 and the bourbon boom had not happened yet, so Heaven Hill probably had no qualms about contract distilling. When you put it all together, it doesn't seem unreasonable that a large-ish Non-Distiller Producer (NDP) like Willett had enough clout to also make a deal with HH to continue having barrels of bourbon laid down for them too.
Rare Perfection 12 Year was probably distilled in 2007-8 which still was a time when New Bernheim had enough capacity for other customers.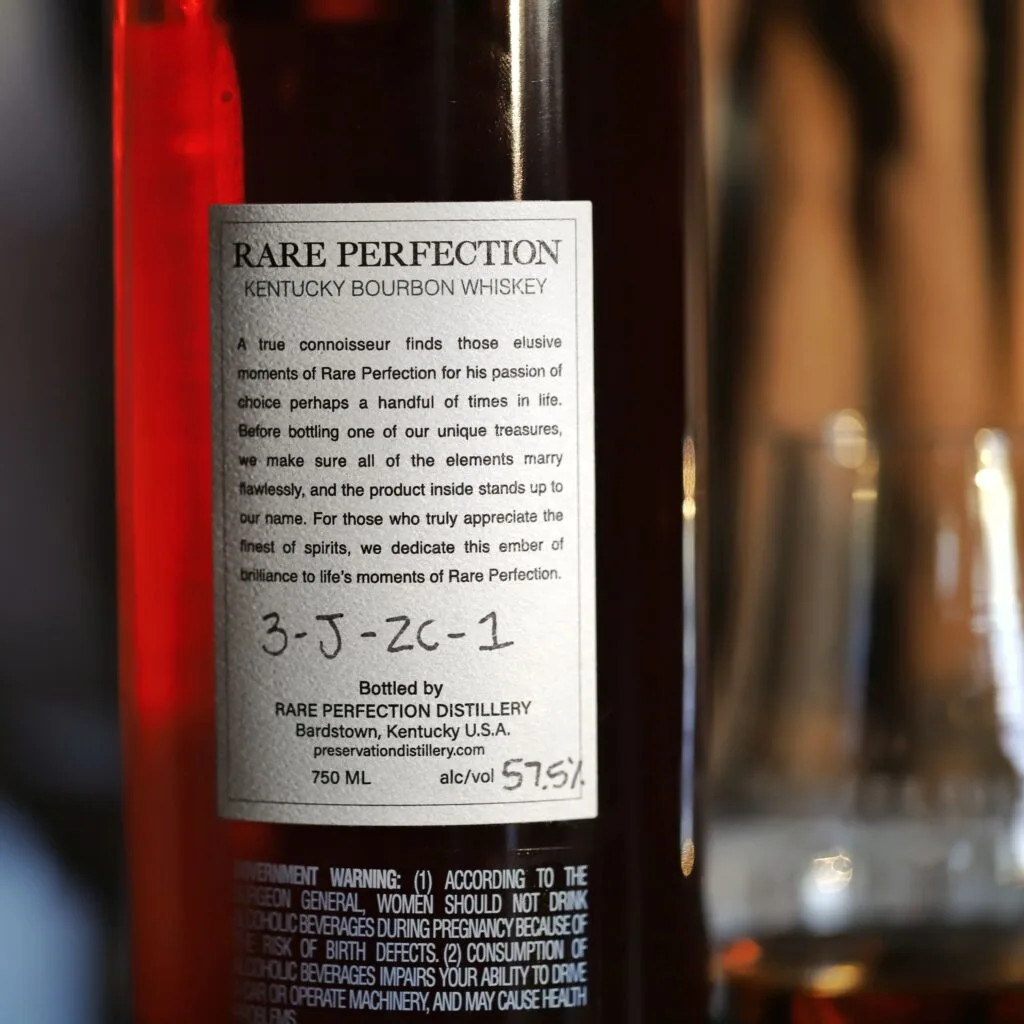 Coming to the conclusion that the barrels used for Rare Perfection 12 Year could have came from Willett made me finally cross the line and buy this bottle. I needed to see for myself.
I also had a second reason for buying it, I wanted to put it into a blind "Whiskey Advent Calendar" tasting with members of the bourbon enthusiasts group Neat Drinkers Association (NDA) to see what they thought about the whiskey and who they thought it came from.
This is why this review will be somewhat unique – I'm going to provide my tasting notes for it and then I'm going to compile the tasting notes of the other guys to get a feel for what we all think this bourbon is and if there is a consensus on where it came from.
So with that in mind, let's get down to the tasting! Everyone in the Advent group, myself included, tasted this double blind (nobody knew who it came from or what was in the bottle). They also universally used a glencairn just like I did. If my notes seem like I'm not sure of what I'm tasting, it's because I did not until it was revealed.
Tasting Notes
Nose: The nose reeks of classic highly aged Heaven Hill bourbon notes. Chocolate, caramel, oak, nuts and vanilla. The vanilla leans slightly towards marshmallow fluff. If there's any fruit, it's similar to lemon curd. One of the sweeter scents I pick up on later are raisins soaked in maple syrup.
Palate: This has a nice mouthfeel with a pleasant bite of well-rounded (rye?) spice, like cinnamon. The age shows itself very well on this through very balanced oak. I can tell it's right around 12-13 years old.
Interestingly, I do detect some fruit, but it's generic and I can't identify what it is. A telltale nuttiness tells me that this is a Heaven Hill, Jim Beam or Wild Turkey product. But as the session goes on, it becomes less noticeable.
Finish: The finish is quite bold in terms of residual flavor. There's a lot to like here in regards to the tannic notes. This tastes like it's over 15 years old. It finishes with lots of dark chocolate, toffee, oak and cigar wrapper.
My Score: 8.7/10
I couldn't narrow down what this was so I guessed three different products which were: Russell's 13, Hardin's Creek 15 Year or a lower-proofed old label ECBP. I said Russell's 13 was probably my final answer.
Neat Drinkers Association Advent Calendar Tasting Notes
The following notes won't be broken down into Nose, Palate and Finish like mine were. Many members didn't specify which flavors they smelled and which they tasted, so I won't try to put words in their mouth. Out of a combined 32 distinct notes by 14 different people, here were the ones most commonly mentioned:
"Spice," Caramel, Oak, Chocolate and Vanilla. The fruit was harder to compile because very few people just said "Fruit" and gave more specific notes.
Regardless, the ones they mentioned were almost entirely from the Stone Fruit family which included Apricot, Plum, Peach and Cherry. Only two mentioned "apple." Notable mentions go to Marshmallow , Maple, Herbal and Musty/Dusty notes coming from about 20% of participants.
Since this was done blind, what were people's guess for the distillery or style?
4 people thought this was a Beam product
4 people thought this was a Heaven Hill product
3 people thought this was a Wild Turkey product
2 people thought this was a Four Roses product (one specifically said OESO)
2 people thought this was a Buffalo Trace product with one specifically calling out Weller Full Proof and another saying GTS/WLW
2 people thought this was an MGP Bourbon
1 person thought this was a Blue Run product, but didn't specify which one (I'm assuming the 14yr Barton Single Barrels)
1 person thought this was a 1990's IW Harper
1 person thought it was Barrell Gray Label 24 Year Whiskey
Keep in mind, the numbers don't add up to a perfect 14 because some people gave multiple guesses.
Neat Drinkers Association Advent Calendar Average Score: 8.25/10
The average score for this bottle using a 10 point scale was a 8.25. The highest score was a 9.1 and the lowest was a 6.9
That's a lot of information to digest, but it all boils down to this. Rare Perfection 12 Year is almost certainly a Heaven Hill, Jim Beam or Wild Turkey product. But since this is a sourced bourbon that originated in late 2019, I'd like to think that Wild Turkey is off the table due to their barrels' relative obscurity in the sourced-bourbon market.
Jim Beam distillate was starting to hit the market in regards to their 15 year old 78.5% corn, 13% rye, 8.5% malt mash bill that was sold in 1500 liter totes. But if this bottle of Rare Perfection was that, why isn't the age listed as 15 years old instead of 12?
Granted, they could have lied and said it was 12 years old in order to shroud the true provenance of the liquid. Just as long as they weren't trying to say the whiskey was older than what it was which would be illegal.
That's why I still believe that Rare Perfection 12 Year Bourbon is the Heaven Hill bourbon mash bill. The path from New Bernheim Distillery in Louisville to bottling in Bardstown may have seen a stop or two along the way (like to a rickhouse on Willett's property), but in the end it still has a lot of traits that line up with it.
So let's say that this is Heaven Hill bourbon. Is it worth $300? That's a tough call. Judging by the enthusiasm of the guys that drank this, the score shows a lot of promise. The one who rated it a 9.1 promptly went out to buy one for himself.
But when taken in context of possibly being a lower-proofed Elijah Craig Barrel Proof, the value doesn't look that good. In my opinion, this didn't necessarily taste like an Elijah Craig profile.
Instead, it was more like William Heaven Hill where the mash bill is the same as Elijah Craig and the age and proof may line up, but the overall flavor profile is different. This is because a different grouping of barrels with off-profile tastes could have been used.
Rare Perfection 12 Year may be a tough call to buy more than 1 bottle of, but suddenly I'm not as against it as I was before I tasted it. I thought this was ordinary, pedestrian Barton bourbon inside. It's not. It's also not quite as ordinary tasting as Elijah Craig Barrel Proof.
Instead, the liquid inside straddles the line between $70 ECBP and $300 WHH. Yes, that would still mean it's overpriced, but at least it's available – and has an age statement. Similarly-priced competitors like Old Carter and Kentucky Owl can't claim that.
So think of Rare Perfection 12 Year as a special occasion bottle. It checks a lot of the boxes for great bourbon and it's likely available in your local area. It has great aged traits and is bottled at a satisfying, but not too strong, proof.
Otherwise, I must add in a cautionary warning about the other Rare Perfection releases (the 14 and 15 year old whiskies) – stay far away from them. They're Canadian which mean you don't know what they're made of or if they contain additives.
Look for the white label of this 12 year bottle. Let's just hope that in the future, Preservation Distillery is a little more open about where they got this from.
Featured Products
Description:

The Aged & Ore Neat Traveler is a complete travel kit for spirits. We combined our widely praised Neat Glass with one of our 3oz Flight Bottles and housed them together in a custom EVA travel case. Perfect for a night away with your favorite pour. The tie
Description:

The Aged & Ore Bottle Flight is a premium set of 4 custom silicone wrapped glass bottles designed to transport and share samples of your favorite spirits. The flight bottles come in a custom EVA travel case that fits perfectly in any small bag. An Aged &
Description:

This Bundle combines two of our crowd favorite products, creating the ultimate travel bundle to bring along your favorite spirits and glassware. Bundle Includes: Neat Traveler (Gray) Bottle Flight (Gray) Note: This bundle is only available in gray and col
*Bourbon Culture is reader-supported. When you buy through links on our site, we may earn an affiliate commission.