*Bourbon Culture is reader-supported. When you buy through links on our site, we may earn an affiliate commission.
Rabbit Hole is a distillery that I have very little knowledge of. I will usually drive past it if I'm driving from Whiskey Row to Nulu to eat at Biscuit Belly, but I have never stopped. When I see their products on the shelf, they look interesting but seem out of place among other bottles of bourbon. For some reason, I think "vodka" when I see the bottle shape. The rabbit on the front also comes off as kind of cartoonish but makes it stand out.
Upon doing some research, I found out that Cavehill is technically a "4 Grain Bourbon" because two different types of malted barley are used. For all intents and purposes, I'd just call this a "wheated bourbon" since the mashbill uses 10% malted wheat to go along with the 10% malted barley and 10% malted honey barley. Rabbit Hole also uses a barrel entry proof that is supposedly lower than the industry standard, although I couldn't find anywhere that lists what it is. They are also using more expensive barrels that are toasted first before being charred.
I typically see this bottle for $60 on the shelves which is somewhat shocking for a 3 year old product that is bottled at 95 proof. The liquid looks kind of young too because of how light in color it is. This made me think it was chill filtered but it's actually not. I think the color is so pale due to the lack of depth the bottle has. It looks much darker once poured into a glass.
So with all of this knowledge about the bourbon, how does it taste? I'll let my tastebuds tell me what they think. I sampled this neat in a glencairn.
Tasting Notes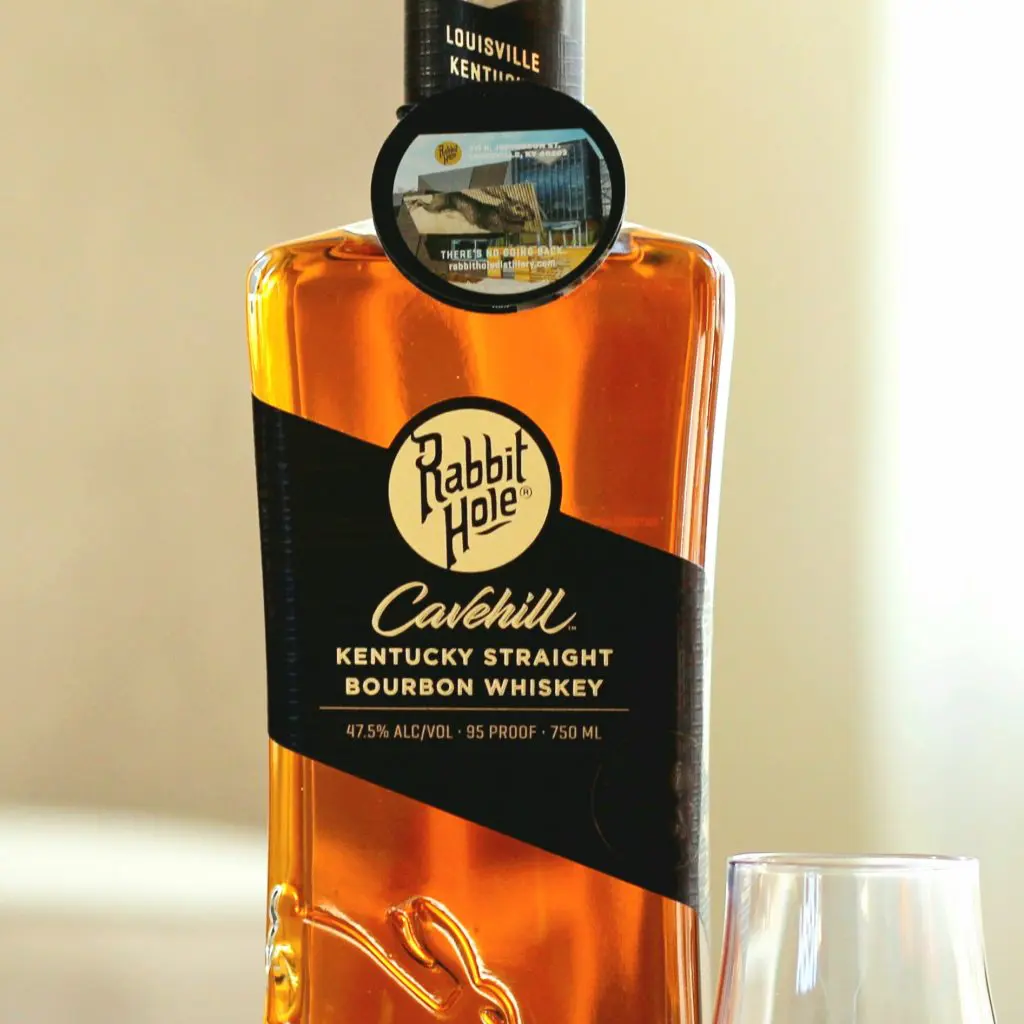 Nose: A very light nose, but one that's full of only sweet smelling scents like melted Rainbow Sherbet and lots of caramel. I get some light notes of raisins and berries as well. The only thing that lets me know this is a bourbon (let alone a whiskey) is a touch of very faint oak.
Palate: The mouthfeel is light and lacking in much of the spice I'd normally find. If any particular flavors stand out, I'd say it's caramel and butterscotch. But I'm struggling to describe any flavors I may come across because it's so light tasting. Strawberry creme is something I believe I can taste if I search hard enough, but other than that, there's not much here.
Finish: Burnt toffee, bread pudding with raisins and a tiny amount of bananas foster. There is some alcohol astringency but it's not much. The faintest amount of bitter oak reveals itself towards the end.
Score: 5.5/10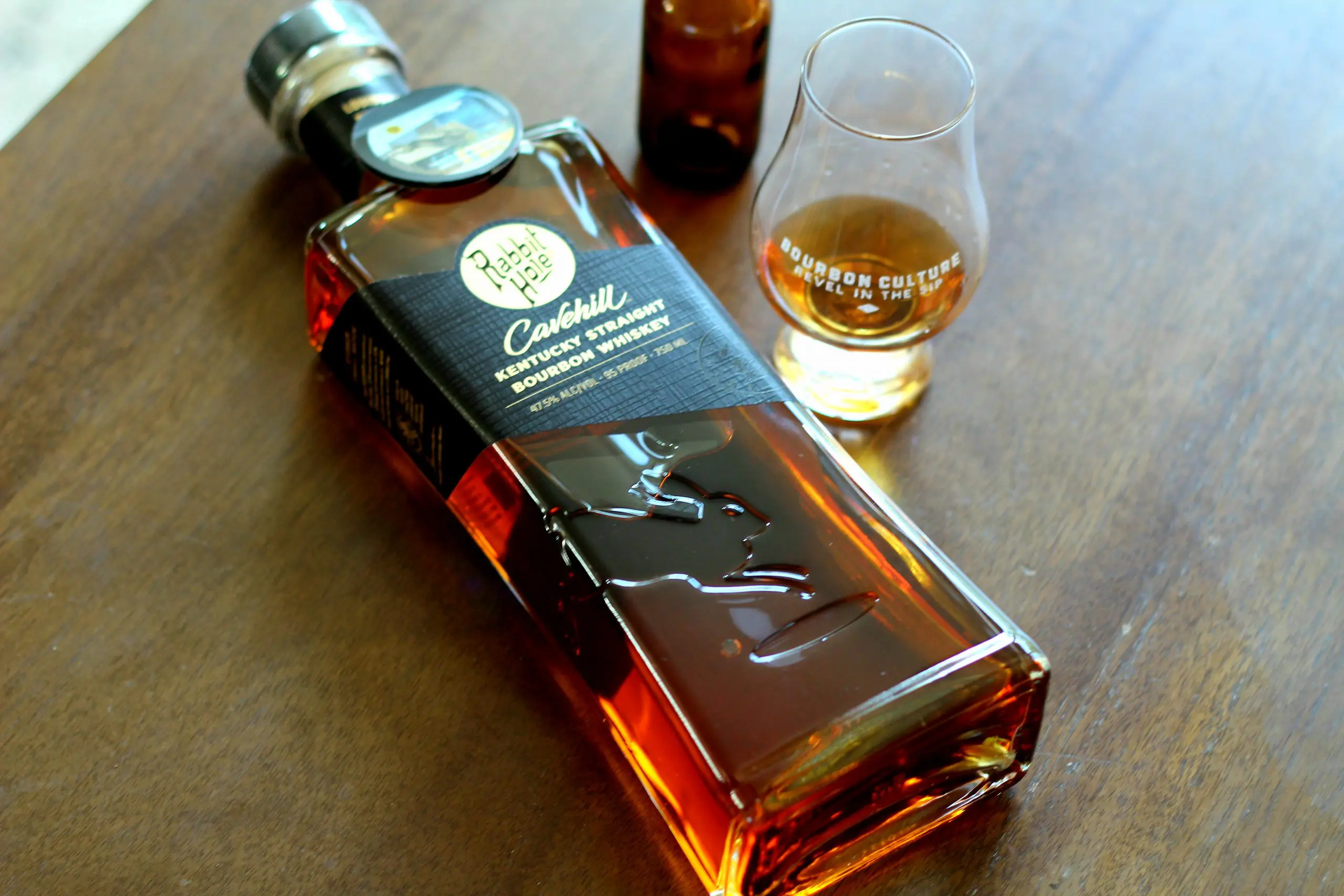 If you had given this to me blind, I may have believed I was sipping a flavored whiskey. Cavehill is so bereft of the typical tannins or spices of bourbon that I struggle to find much depth. Thankfully, it is pleasantly sweet and lacks any harsh characteristics. Realistically, for 95 proof, I wasn't expecting to find much oak or spice, but the outright lack of them was a letdown.
I have to compliment Cavehill on one thing because I feel like I'm being overly harsh: this is the absolute perfect bourbon for a beginner. It's one that won't have fierce amounts of heat or ramped up spice that could set off a sensitive tongue. Rather, it's the epitome of "smooth." The honey malted barley they use really shines through with delicate sweetness that a new drinker will enjoy.
So if you're in the mood for a bourbon that's an easy sipper and light in flavor without being 80 proof, this is what you're looking for.
Ratings Breakdown
1 | Disgusting | Drain pour (Example: Jeffers Creek)
2 | Poor | Forced myself to drink it
3 | Bad | Flawed (AD Laws 4 Grain BiB, Clyde Mays anything)
4 | Sub-par | Many things I'd rather have (Tincup 10 year)
5 | Good | Good, solid, ordinary (Larceny, Sazerac Rye)
6 | Very Good | Better than average (Buffalo Trace, OGD BiB)
7 | Great | Well above average (Old Ezra Barrel Proof, Old Weller Antique)
8 | Excellent | Exceptional (Michter's Barrel Proof Rye, Four Roses Barrel Strength)
9 | Incredible | Extraordinary (GTS, 13 Year MGP or Canadian Rye)
10 | Insurpassable | Nothing Else Comes Close (William Larue Weller)
Featured Products
Description:

The Aged & Ore Neat Traveler is a complete travel kit for spirits. We combined our widely praised Neat Glass with one of our 3oz Flight Bottles and housed them together in a custom EVA travel case. Perfect for a night away with your favorite pour. The tie
Description:

The Aged & Ore Bottle Flight is a premium set of 4 custom silicone wrapped glass bottles designed to transport and share samples of your favorite spirits. The flight bottles come in a custom EVA travel case that fits perfectly in any small bag. An Aged &
Description:

This Bundle combines two of our crowd favorite products, creating the ultimate travel bundle to bring along your favorite spirits and glassware. Bundle Includes: Neat Traveler (Gray) Bottle Flight (Gray) Note: This bundle is only available in gray and col
*Bourbon Culture is reader-supported. When you buy through links on our site, we may earn an affiliate commission.