*Bourbon Culture is reader-supported. When you buy through links on our site, we may earn an affiliate commission.
The Old Grand Dad bourbon brand has gone through multiple changes of ownership over the past decades to include the Wathen's family, National Distillers and Jim Beam Distillery.
The Old Grand Dad picture on the front of the bottle is a rendering of the old man himself, Basil Hayden. In a kind of ironic twist, Basil Hayden's Bourbon, a brand also owned by Jim Beam, is the only other label of whiskey in the Beam Suntory lineup aside from the Old Grand Dad label that uses their high-rye bourbon mashbill exclusively.
According to Wikipedia, "Old Grand-Dad is a brand of bourbon whiskey distilled at the Jim Beam Plant in Clermont, Kentucky. The brand was created by Raymond B. Hayden and named after his grandfather Meredith Basil Hayden Sr., who was a well known distiller during his lifetime. A fanciful portrait of Hayden Sr. is depicted on the front of each bottle. Today, it is owned and produced by Beam Suntory."
Old Grand Dad Bourbon Mashbill
Seeing as how I'm a big fan of a high-rye mash bill, I should mention that this one is 63% corn, 27% rye and 10% malted barley.
So enough with the history lesson, let's crack into this. Bottled at 114 proof, yet aged probably around 4-5 years old, this bourbon can be found for a measly $20 in some stores. In fact, this is what I paid for this bottle, which has been open for a year now without me doing tasting notes. So I suppose I should give it a go seeing as how I've let this have plenty of time to breathe. I sampled this neat and in a glencairn.
Old Grand Dad Tasting Notes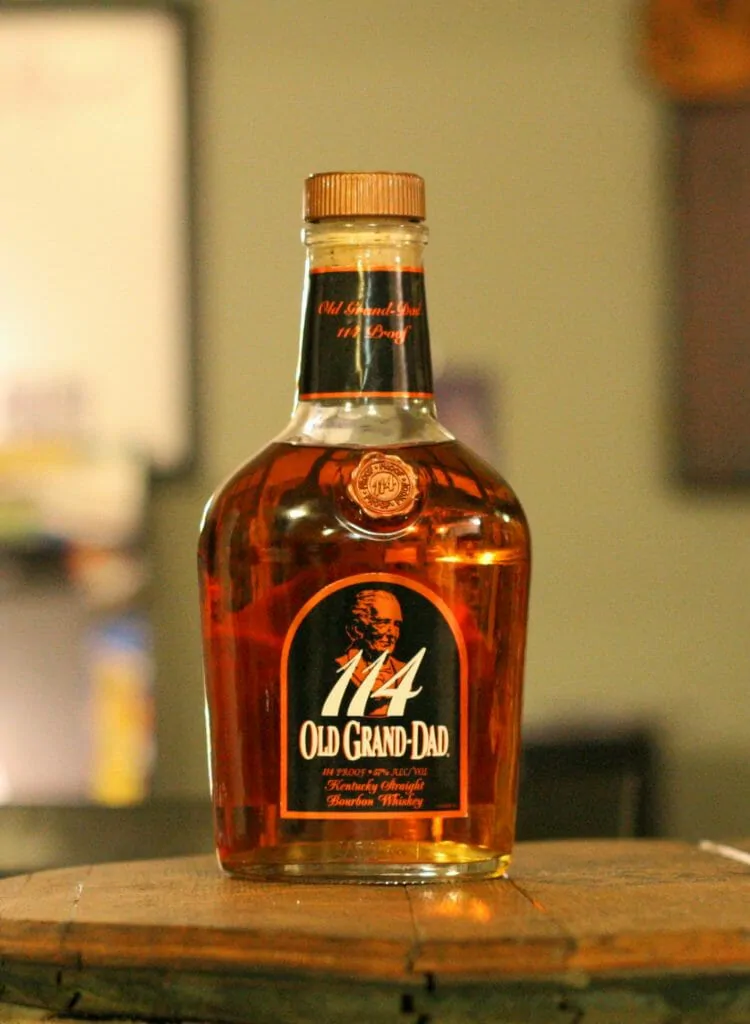 Nose: My first nosing is given a friendly greeting by the high-rye profile in the mashbill, delivering a sharp prickle of spice early on. I do get some nice baking spices with cinnamon spice and clove mixed in as well. It wouldn't be a Beam product without a little bit of musty peanut funk,which I do find and it's pleasant and not distracting. There's some rich and sweet caramel chews that surround soft baked apples and orange peel. But for all the more pleasant the nose has become, it's also got an underlying grainy note that you can't escape. This shows its youthful side.
Palate: I'm enjoying that jolt of rye that I got on the nose, but this time on the back of the tongue. There's a lot of cinnamon gum with spiced honey for sweetness. The palate is hot and spicy though, with enough heat and a fair punch of flavor. The rye shows its face yet again with tarragon, sweet hay and mint herbal notes. The whole palate is thick and rich if not a bit too hot.
*Of note, I sipped some Elijah Craig Barrel Proof C919 (136+ proof) immediately after this and found the heat levels to be the same even with the different proofs.
Finish: The high rye content elevates the heat level that is left behind in my mouth and throat, feeding the peppery burn that lingers around. There is some sweet notes of vanilla and toffee, but they're drowned out mostly with the aforementioned heat and the tannins of tobacco leaf and oak that show that this distillate took a lot of the barrel char with it when it was dumped.
Overall Rating: 6.2/10
I've tasted 3 generations of the Old Grand-Dad line in my life. A 1964 bottling was like drinking liquid Christmas Fruitcake. A 1990 OGD114 Lot 18 bottle was possibly one of the best bourbons I've ever drank in my life.
But this modern day variant showcases a master distiller that wants it to be special enough for its own mashbill, but not special enough to have a premium labeling of it, and that's a shame. What happens with these high-rye mashbill barrels that show signs of still improving at the 5 year old mark… are they dumped anyway? Or are they saved to be watered down to 10 year old, 80 proof Basil Haydens?
I can only imagine what this liquid would become with 8 to 10 years of age and this proof. As it stands, it's a great sipper with a flavor profile that has many bold and robust flavors, but it's rough around the edges on the finish and it's got some grainy notes of young age on the nose.
This is a barreling that screams "let me age more!"Recently, Jim Beam did let this age more and put in a 9 year old version of it into Little Book Chapter 3, which I thought the world of. Giving it that much time turned out to be a really good thing. This may fall on deaf ears, but I'm almost certain that Chapter 3 owed it's delicious character in no small part to the high rye mashbill that it was blended with.
Final Thoughts
As it stands, for $20, this is an excellent value and can't be beat. For the high proof, age statement and profile, the next step higher for cask strength junkies (note: this is actually not barrel proof, it has been proofed down) would be Old Ezra Barrel Strength Bourbon, and that's $40 or more price point if you can find it. As for the great debate of if Old Grand-Dad Bourbon Bottled-in-Bond version or OGD 114 is the better barrel, I have firmly sided with OGD Bottled-in-Bond Bourbon only because it brings balance to the rough edges I previously spoke about.
This isn't to say that OGD 114 is a bottom-shelf bourbon and can't bring the same kind of smile to your face, but it'll take a more experienced whiskey drinker to appreciate it and look past the ethanol and all this rye spice. Still, this should maintain a spot on a lot of people's shelves because of how versatile it is and to enjoy a big, bold sip for a small amount of coin.
Ratings Breakdown
1 | Disgusting | Drain pour (Example: Jeffers Creek)
2 | Poor | Forced myself to drink it
3 | Bad | Flawed (AD Laws 4 Grain BiB, Clyde Mays anything)
4 | Sub-par | Many things I'd rather have (Tincup 10 year)
5 | Good | Good, solid, ordinary (Larceny, Sazerac Rye)
6 | Very Good | Better than average (Buffalo Trace, OGD BiB)
7 | Great | Well above average (Old Ezra Barrel Proof, Old Weller Antique)
8 | Excellent | Exceptional (Michter's Barrel Proof Rye, Four Roses Barrel Strength)
9 | Incredible | Extraordinary (GTS, 13 Year MGP or Canadian Rye)
10 | Insurpassable | Nothing Else Comes Close (William Larue Weller)
Featured Products
Description:

The Aged & Ore Neat Traveler is a complete travel kit for spirits. We combined our widely praised Neat Glass with one of our 3oz Flight Bottles and housed them together in a custom EVA travel case. Perfect for a night away with your favorite pour. The tie
Description:

The Aged & Ore Bottle Flight is a premium set of 4 custom silicone wrapped glass bottles designed to transport and share samples of your favorite spirits. The flight bottles come in a custom EVA travel case that fits perfectly in any small bag. An Aged &
Description:

This Bundle combines two of our crowd favorite products, creating the ultimate travel bundle to bring along your favorite spirits and glassware. Bundle Includes: Neat Traveler (Gray) Bottle Flight (Gray) Note: This bundle is only available in gray and col
*Bourbon Culture is reader-supported. When you buy through links on our site, we may earn an affiliate commission.