*Bourbon Culture is reader-supported. When you buy through links on our site, we may earn an affiliate commission.
Out of all of the polarizing whiskey that has rolled out of Old Forester in the last 5+ years, there seems to be little fanfare over Statesman. Whenever a product has a movie tie-in, it's probably a safe bet that the product is going to be subpar. Bottled at 95 proof and wearing no age statement, the only thing that Statesman seems to have going for it is that the bottle's label is unique among the whiskey row series, which all have a somewhat bland white paper label. In fact, I do not believe that Statesman is a part of the Whiskey Row series, but it may as well be because of when it was released and the general shape of the bottle looks the same.
But with such high acclaim going to bottles like Old Forester 1920, 1910 and their new 100 proof Rye, there seems to be an opportunity for some of that really good distillate to make its way into here. But what would it taste like? I sat down to find out and poured myself a sample neat and in a glencairn.
Tasting Notes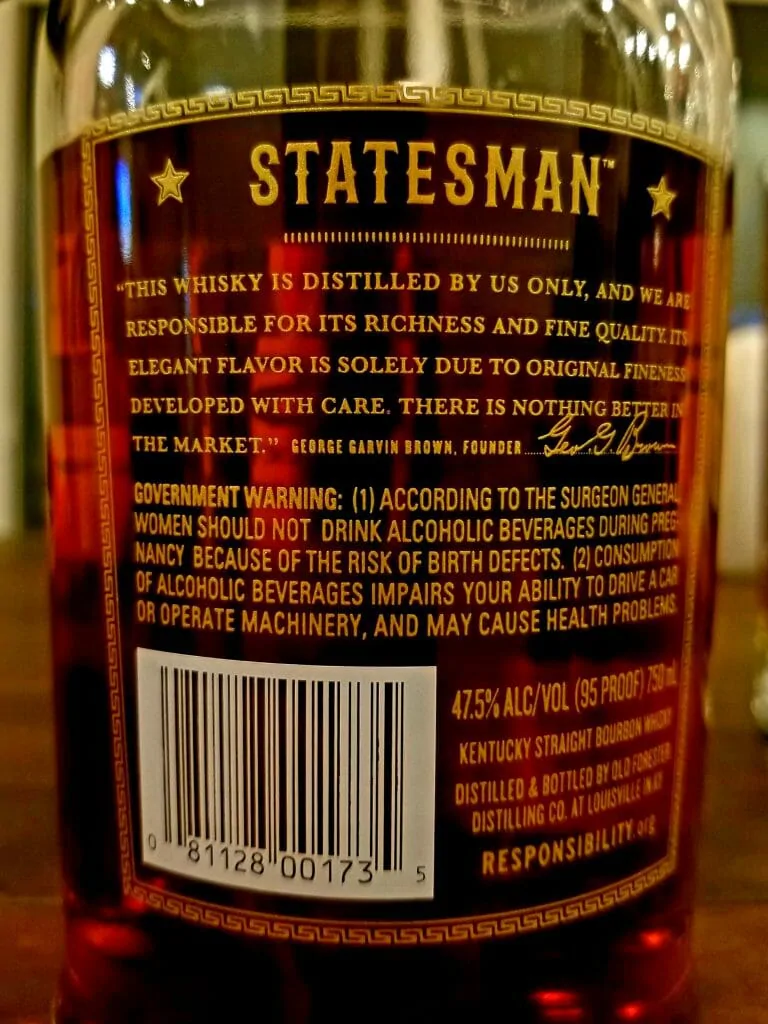 Nose: A very nice nose like sweet cinnamon bread, baked tart apples and a touch of brown sugar. There's buttery notes, raisins soaked in brandy and a little bit of banana laffy taffy.
Palate: A really strong crowd pleasing dose of waffles with cherry syrup, honey butter biscuits, a little bit of light red fruits and a bit of oak.
Finish: Maraschino cherries continue the sweet, fruity treat trend followed by Oreo cookies. There is some drying oak, but overall it doesn't get in the way of anything because of a thick layer of syrup that seems to keep it in check. I detected lots of maple syrup flavors with Old Forester 1920, and this must be where Statesman gets it from. Delicious
Score: 7.3/10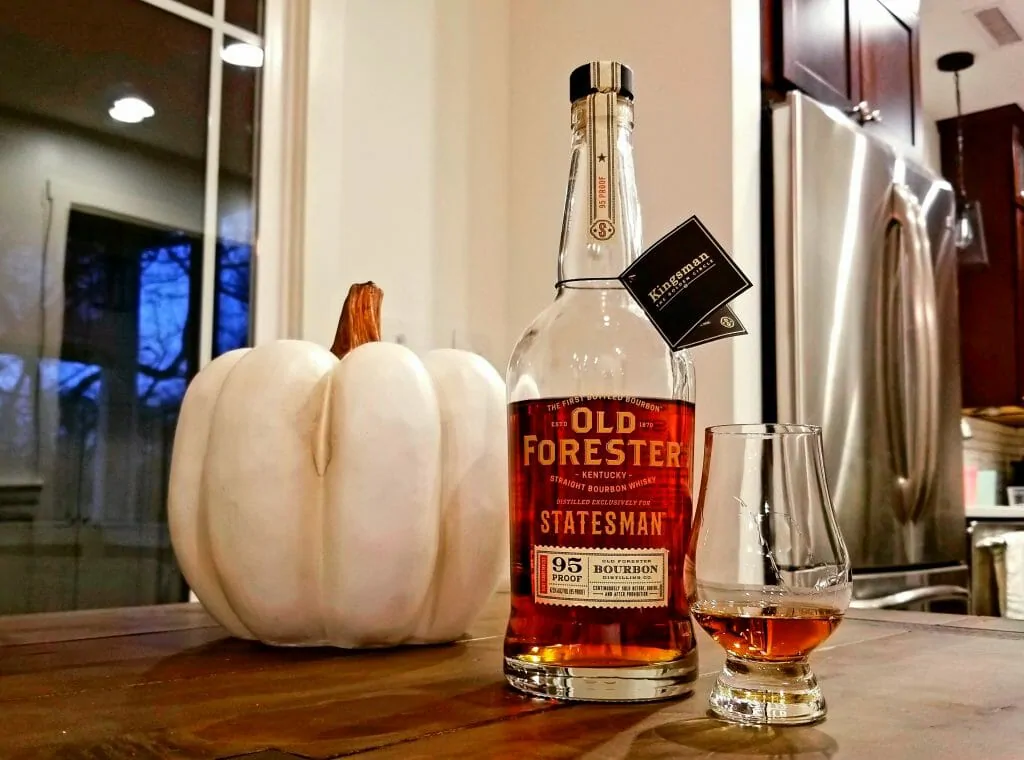 Damn! This is actually really impressive for 95 proof. There is nothing wrong with this bourbon I feel like. Of course, this bottle has had 9 months to allow oxidation to occur, but if anything, it helped remove some slight astringency I swear it possessed when I first opened the bottle. I remember paying around the $45 to $50 price point, which is roughly what Old Forester's Single Barrel program runs anyway. However, with 5 more proof points, I actually think I enjoy this more. I wouldn't recommend to rush out and buy this immediately, but if you're a fan of Old Forester products, this would make a really nice addition to the whole series.
Ratings Breakdown:
1 | Disgusting | Drain pour (Example: Jeffers Creek)
2 | Poor | Forced myself to drink it
3 | Bad | Flawed (AD Laws 4 Grain BiB, Clyde Mays anything)
4 | Sub-par | Many things I'd rather have (Tincup 10 year)
5 | Good | Good, solid, ordinary (Larceny, Sazerac Rye)
6 | Very Good | Better than average (Buffalo Trace, OGD BiB)
7 | Great | Well above average (Old Ezra Barrel Proof, Old Weller Antique)
8 | Excellent | Exceptional (Michter's Barrel Proof Rye, Four Roses Barrel Strength)
9 | Incredible | Extraordinary (13 Year MGP or Canadian Rye)
10 | Insurpassable | Nothing Else Comes Close (William Larue Weller)
Featured Products
Description:

The Aged & Ore Neat Traveler is a complete travel kit for spirits. We combined our widely praised Neat Glass with one of our 3oz Flight Bottles and housed them together in a custom EVA travel case. Perfect for a night away with your favorite pour. The tie
Description:

The Aged & Ore Bottle Flight is a premium set of 4 custom silicone wrapped glass bottles designed to transport and share samples of your favorite spirits. The flight bottles come in a custom EVA travel case that fits perfectly in any small bag. An Aged &
Description:

This Bundle combines two of our crowd favorite products, creating the ultimate travel bundle to bring along your favorite spirits and glassware. Bundle Includes: Neat Traveler (Gray) Bottle Flight (Gray) Note: This bundle is only available in gray and col
*Bourbon Culture is reader-supported. When you buy through links on our site, we may earn an affiliate commission.