In early 2020, Old Forester finally discontinued its 90 proof, single barrel bourbon program. In the same press release, it was noted that future single barrels would be offered to the customer at either 100 proof or barrel strength. And with that, the entire internet burned down due to the collective exploding minds of bourbon enthusiasts nationwide.
Okay, so that's a bit of an exaggeration. But there was initially tremendous hype for these barrels. The fascinating thing, however, was that online reviewers who got early access to taste some of these bottles rated them anywhere from average to poor. This did not seem to discourage enthusiasts though because as soon as these barrel strength single barrels were released, they were snatched up within hours. It was only then that we began to see for ourselves what those online reviewers had warned us about… that the barrel strength single barrels were overly hot and dry and likely not as good as the 100 proof barreling option.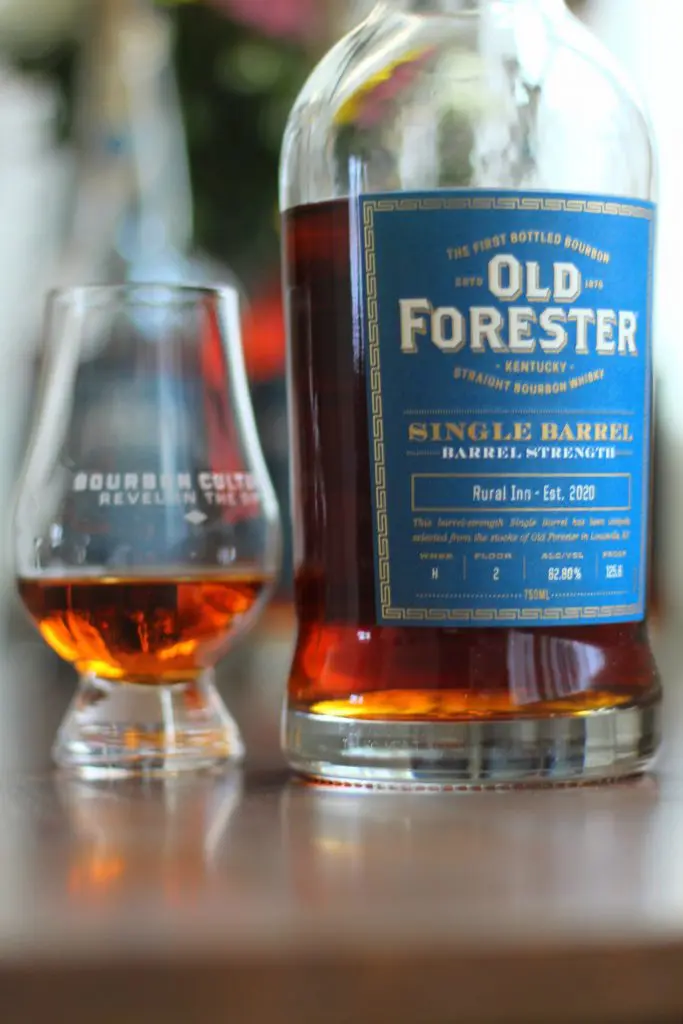 While some of you may disagree with this, the secondary market usually is the great teller of a bottles worth. If prices remain high, the whiskey is usually worth it. But when you see prices actually drop, the bourbon was typically not worth it. Secondary prices on some of the earliest bottles of Old Forester Barrel Strength Single Barrels saw prices plummet from $250 to basically retail about 6 months later. This is not to say that the Old Forester Barrel Strength Single Barrels were a failure; it was more about tempering expectations. Very few of the barrels that were released were above average.
In subsequent interviews, OF's Master Taster Jackie Zykan tried to hammer home the fact that Old Forester knew that drinking their products at barrel strength was not going to spark the love affair that many believed it would. It was repeated that the only reason that they were released at barrel strength was so that the customer could experiment with proofing down their bottles at home to find the perfect sweet spot. But the average bourbon enthusiast will not proof their bottles down at all; believing that barrel strength is the pinnacle of flavor.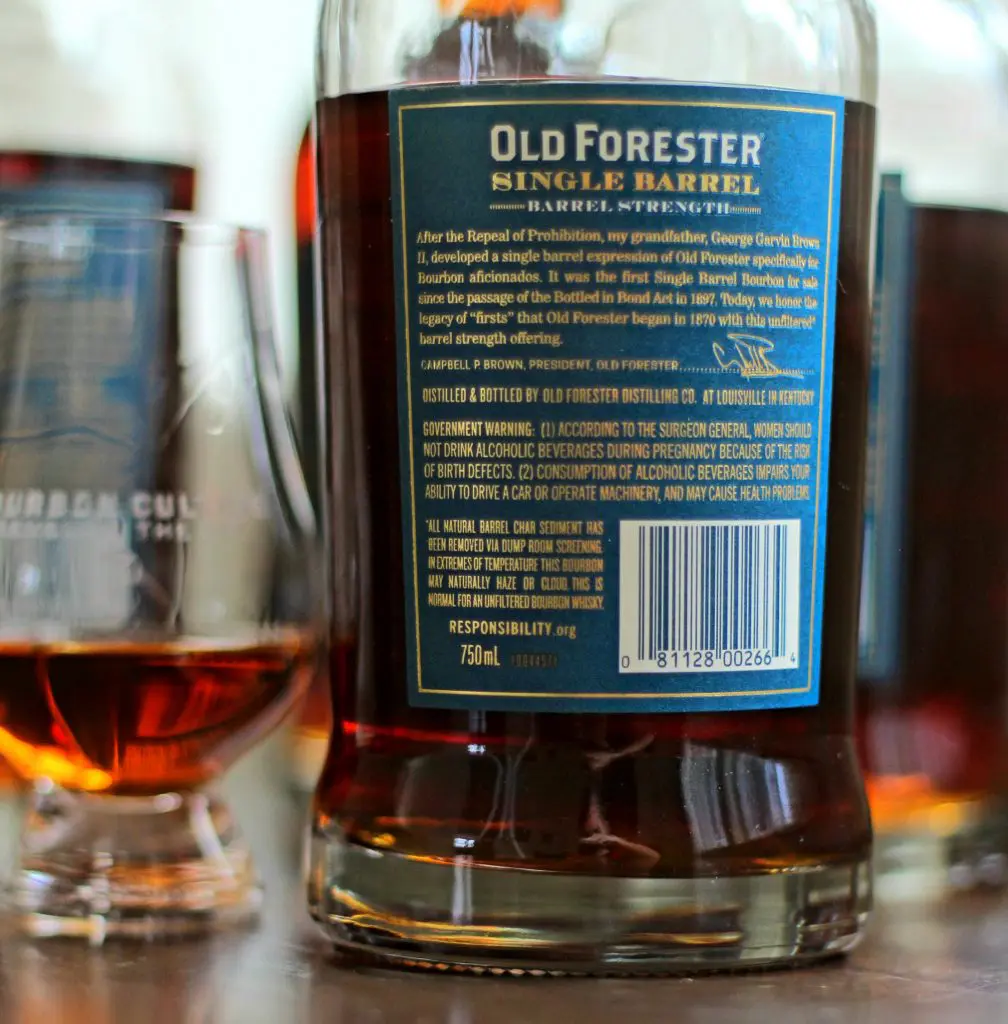 When Rural Inn released their single barrel pick, I was initially set on reviewing the bottle "as is." But the owner, Ray, told his customers that this bottle opened up much better with a couple drops of water. So it was only because of his recommendation that my review of this is the only review on Bourbon Culture so far that has me adding a couple drops of water. No other stores have indicated that I should add some water before drinking their picks.
Tasting Notes
Nose: The nose is rich and heavy. Notes of slightly burnt brownies and caramel fudge are noticeable right off the bat. But the heavy and fragrant oak dominates overall. There are baking spices galore and a sort of "spiced pudding" scent that is very polarizing.
Palate: The tannic oak and dry tobacco notes are extremely powerful. This has been my experience with most of these barrels so far though. There's loads of burnt toffee, barrel char and semi-sweet chocolate chips. But if you're patient and explore a little bit more, you will find a softer side underneath. Notes of Nilla Wafers and a small amount of dark red fruits give sweetness and depth all while this really unusual note almost like a dry, unsweet white wine hides among it. It's a fascinating note to detect in something like this.
Finish: Lots of oak (most of it bitter) continues all the way to the end. It also comes in a variety of forms such as Pledge Wood Cleaner (a note I commonly get with Old Forester products) and barrel char. If there is any sort of escape from all of the wood, it would be a layer of cherry cough syrup that sticks to your teeth.
Score: 7.8/10
In the end, I was satisfied with this pour. But there was no escaping the brute force of all of those tannins on my tongue. The water drops likely unlocked some of the more complex notes (like that dry white wine note), but otherwise this came off as off-balanced. But through all of the heavy wood I did have some standout features that made me happily take the next sip. The first one was all of the chocolate I kept experiencing.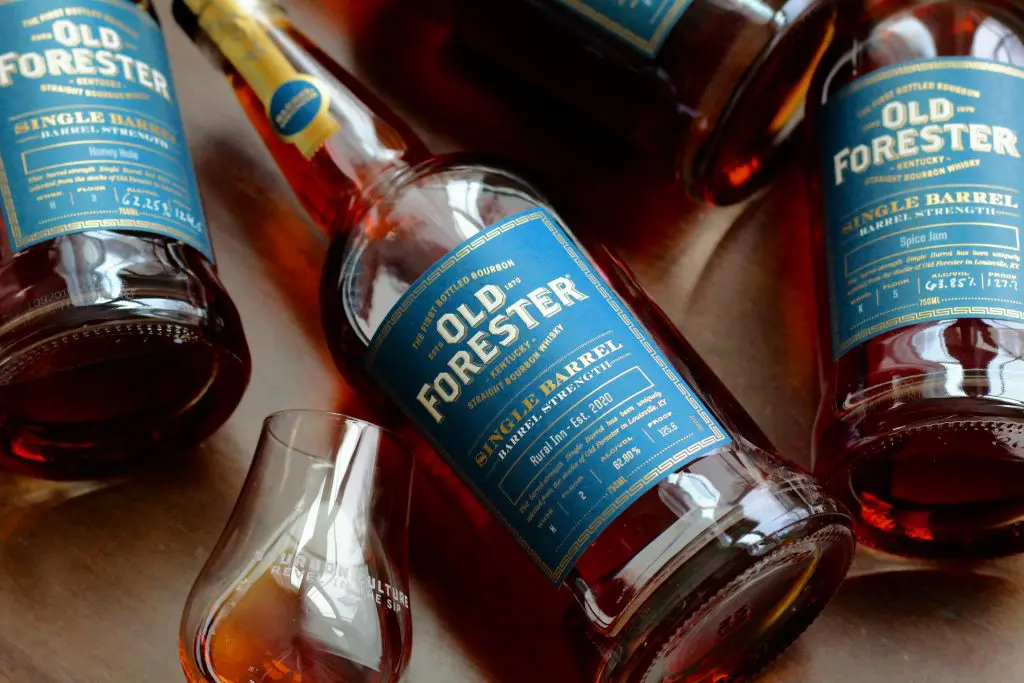 Typically I won't find this much chocolate unless it's a well-aged MGP or Buffalo Trace product. The second was the fruit flavors that are harder for me to find in Old Forester products. Both of these together helped bring the score up to tie with a previously reviewed Old Forester Single Barrel from Big Red Liquors called "Spice Jam."
Final Thoughts
Old Forester Single Barrels are wildly inconsistent and are generally not made for every bourbon drinker. If you enjoy a super strong punch of oak with each sip, this is for you. If you enjoy high proofed bourbons that show every bit of the alcohol within, this is also for you. But I must sadly say that there are better, more complex and more rewarding sips for $80. In the end, this was like a muscle car with bald tires, the power rush may be fun for a while, but it could easily get away from you in an instant.
Ratings Breakdown
1 | Disgusting | Drain pour (Example: Jeffers Creek)
2 | Poor | Forced myself to drink it
3 | Bad | Flawed (AD Laws 4 Grain BiB, Clyde Mays anything)
4 | Sub-par | Many things I'd rather have (Tincup 10 year)
5 | Good | Good, solid, ordinary (Larceny, Sazerac Rye)
6 | Very Good | Better than average (Buffalo Trace, OGD BiB)
7 | Great | Well above average (Old Ezra Barrel Proof, Old Weller Antique)
8 | Excellent | Exceptional (Michter's Barrel Proof Rye, Four Roses Barrel Strength)
9 | Incredible | Extraordinary (GTS, 13 Year MGP or Canadian Rye)
10 | Insurpassable | Nothing Else Comes Close (William Larue Weller)
Featured Products
Description:

The Aged & Ore Neat Traveler is a complete travel kit for spirits. We combined our widely praised Neat Glass with one of our 3oz Flight Bottles and housed them together in a custom EVA travel case. Perfect for a night away with your favorite pour. The tie
Description:

The Aged & Ore Bottle Flight is a premium set of 4 custom silicone wrapped glass bottles designed to transport and share samples of your favorite spirits. The flight bottles come in a custom EVA travel case that fits perfectly in any small bag. An Aged &
Description:

This Bundle combines two of our crowd favorite products, creating the ultimate travel bundle to bring along your favorite spirits and glassware. Bundle Includes: Neat Traveler (Gray) Bottle Flight (Gray) Note: This bundle is only available in gray and col
*Bourbon Culture is reader-supported. When you buy through links on our site, we may earn an affiliate commission.