*Bourbon Culture is reader-supported. When you buy through links on our site, we may earn an affiliate commission.
If you haven't noticed the trend of Brown Forman having all 3 of their major US brands copy off of each other, then let me give you this one example.
2012 – Woodford Reserve releases "Woodford Reserve Double Oaked" which saw standard Woodford Reserve put into a second new toasted and charred oak barrel for an additional year (give or take)
2017 – Woodford Reserve releases "Woodford Reserve Double Double Oaked" in their gift-shop-only "Distillery Series" line. The concept takes standard Double Oaked and extends the time it spends in the secondary barrel from 1 year to 2 years. It becomes an annual release thereafter.
2018 – Old Forester releases "1910 Old Fine Whisky" as part of their Whiskey Row series of bourbon. It takes standard Old Forester bourbon and ages it for (rumored) 9 to 12 months in a secondary barrel that was lightly toasted and heavily charred
2022 – In February, Old Forester releases a limited run of "117 Series 1910 Extra Old Bourbon" which takes the concept of 1910 and continues to age it for a total of 18 months in the secondary barrel
2022 – In December, Old Forester releases another 117 Series version called "1910 Extra Extra Old Bourbon" which takes the concept of 1910 and has it mature in its secondary barrel for a total of 24 months.
I didn't mention Jack Daniels in here, but rest assured, they've used their own Distillery Series (formerly called "Tennessee Tasters") to double oak their rye whiskey with great results.
How much oak is too much?
Over at Woodford Reserve, Chris Morris gave an interview to the Whiskey Wash where he explained that they had experimented letting the barrels of Woodford Reserve Double Oaked continue to age for 3 and 4 more years. The results were unsatisfactory and he said that we'd never see anything aged more than the "Double Double Oaked" label coming out of Versailles.
I mention this because it seems as if Old Forester had to also find out the results of additional aging for their 1910 line. What we got was the two bottles you see in the pictures.
Double Oaking (the process of maturation in two separate new oak barrels) is a fickle beast. Let the whiskey set for too long and the oak will overpower everything. But pull it at the right time and you're blessed with complex notes of vanilla, chocolate, tannins and caramelized sugars.
All of this leads us to the question of what is the correct length of time for Old Forester to allow these barrels to age? After all, the 117 Series Extra Extra Old is pushing 6 years of maturation in a heat-cycled warehouse.
That can produce profound oak influence on any whiskey. Thanks to my friends James and Mike, I'm able to taste both side by side to find out the differences. Here are my observations. Of note, both were sampled neat in a glencairn.
Tasting Notes
Old Forester 117 Series 1910 Extra Old
Nose: The nose on this bottle smells slightly sweeter compared to the Extra Extra Old bottle. It's also noticably lighter and brighter too. There are scents of raisins and pine needles underneath a barrage of seasoned oak, barrel char and tobacco ash.
Palate: Spice! Wow, there's a lot of spice on the tongue. Cinnamon mostly. There are lots of dark flavors like barrel char, dark chocolate cheesecake and wood polish. However, there is also a handful of fruits too like dates, figs and dried cherries. Every sip is luxurious.
Finish: Remember how I said the palate had a lot of spice on it? So does the finish. Behind every curtain lurks a spicy aftertaste accompanying whatever flavor I can find. That's fine with me! I taste clove, nutmeg and cinnamon.
The tannins begin to overwhelm and turn the sip dry at the end. Dry leather, bitter oak and coffee grounds remain. There is some additional vanilla to balance it all out, but this is literally on the cusp of being too oaked.
Score: 7.7/10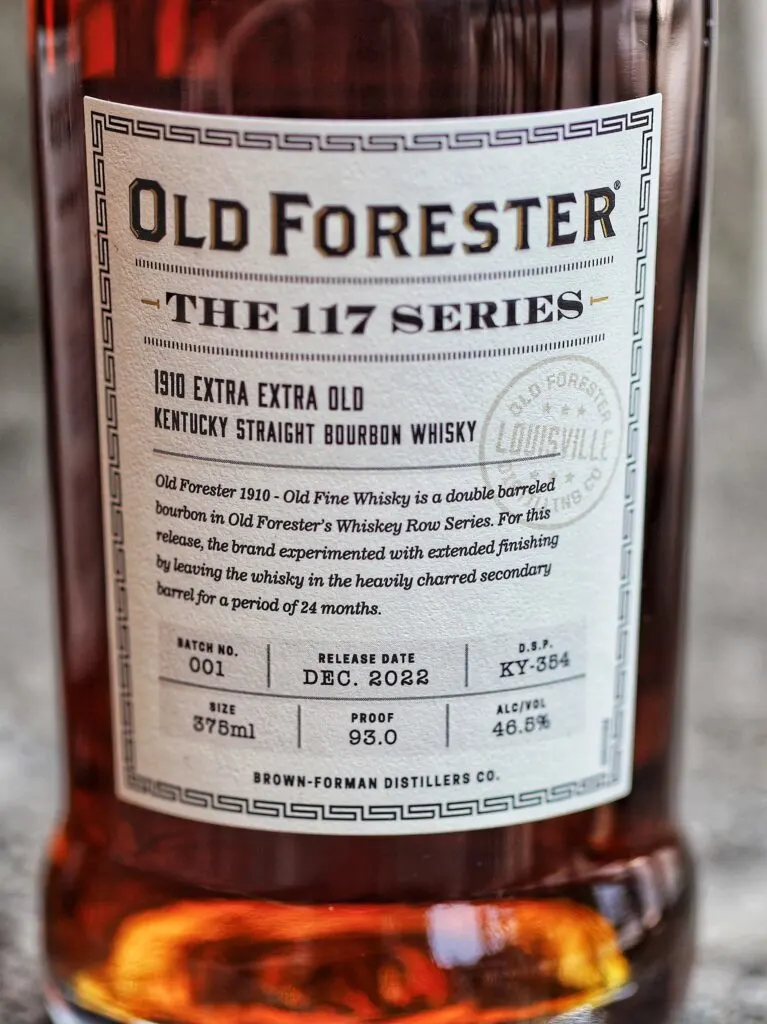 Old Forester 117 Series 1910 Extra Extra Old
Nose: If the Extra Old nose was like holding up a chunk of oak and inhaling, Extra Extra Old is like getting hit in the nose with an oak baseball bat. It is much woodier than the Extra Old bottle. There is vanilla, toasted marshmallow, banana nut bread and cinnamon. The chocolate notes stand out even more with dark chocolate and Oreos.
Palate: The first couple sips of this liquid are somehow richer than the Extra Old. There is more chocolate than it too. But the sea of tannins washes over my tongue and obliterates almost all other notes.
This wood juice is packed full of barrel char, ash, cigar wrapper and tree bark. It's an oak lovers dream, but do not equate this with the very-oaked dusty bourbons from yesteryear. This doesn't have enough varnish notes to make it taste exquisite. It's too much.
Finish: The dry, tannic notes don't relent. Oak and leather are everywhere. I wondered if the finish would get sweeter (kind of like how the Extra Oaked did) but it does not. There is more chocolate at the end too, but it's the baker's chocolate kind. Not exactly the type you sit down and want to eat piece by piece.
Score: 7.1/10
Conclusions
If you read the tasting notes carefully, you'd see that there seemed to be a steep drop off on the Extra Extra Aged version of 1910. 24 months appears to be too long to be aged in the secondary barrel.
I assume this has a lot to do with the type of barrel that is used in this Old Forester release – namely the Char Level 5 (almost to the point of incineration) that it's known for. Does too much barrel char adversly effect the whiskey? I'm thinking yes.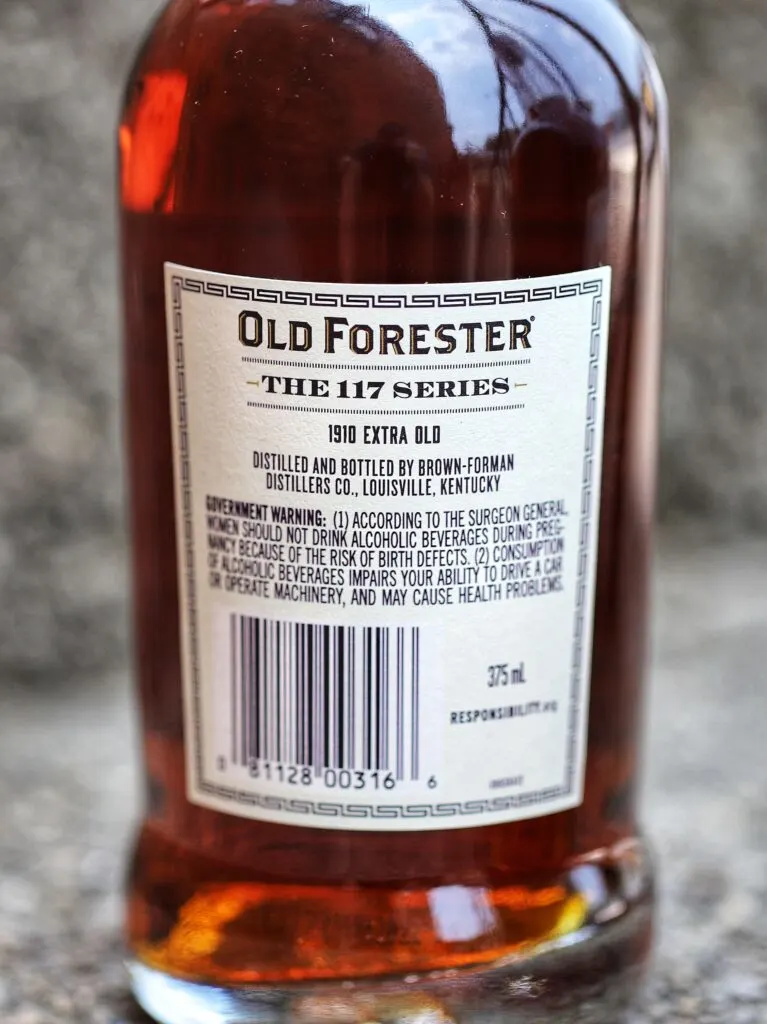 Still, this was a fun experiment that lets us, the consumer, find out for ourselves what the limits of secondary barrel maturation can be. Oftentimes I feel like we're stuck with whatever the distiller gives us and told "we did the experiments for you and found this to be the best." Well the best here was an 18-month maturation period as opposed to a 24 month maturation period.
I am excited to see what other surprises the 117 series has in store. But if historical precedence has taught us anything, we might just have to look at the other Brown Forman brands to see which ideas haven't been implemented across the board. Perhaps an Old Forester Historic Barrel Entry Proof is coming up next?
Featured Products
Description:

The Aged & Ore Neat Traveler is a complete travel kit for spirits. We combined our widely praised Neat Glass with one of our 3oz Flight Bottles and housed them together in a custom EVA travel case. Perfect for a night away with your favorite pour. The tie
Description:

The Aged & Ore Bottle Flight is a premium set of 4 custom silicone wrapped glass bottles designed to transport and share samples of your favorite spirits. The flight bottles come in a custom EVA travel case that fits perfectly in any small bag. An Aged &
Description:

This Bundle combines two of our crowd favorite products, creating the ultimate travel bundle to bring along your favorite spirits and glassware. Bundle Includes: Neat Traveler (Gray) Bottle Flight (Gray) Note: This bundle is only available in gray and col
*Bourbon Culture is reader-supported. When you buy through links on our site, we may earn an affiliate commission.