*Bourbon Culture is reader-supported. When you buy through links on our site, we may earn an affiliate commission.
Back in 2019, an extremely limited release of Mister Sam Tribute Whiskey was quietly distributed throughout the US. This whiskey (no, it's not a bourbon because it also contains rye whiskey and Canadian Whisky) was presented in a wooden box with a simple and elegant bottle and a tiny book called "Little Acorns." The book contains over 60 pages of tributes and story about Samuel (Sam) Bronfman's experiences while heading Seagram's.
To give a quick rundown of why Mister Sam Tribute Whiskey exists in the first place, let's turn our focus to Drew Mayville. Drew has been a Master Blender (and Director of Quality) at Buffalo Trace since 2004. Previously, he had worked at Seagram's for 23 years.
Seagram's had grown into a powerhouse of distilling might stretching from Canada into the United States. Seagram's dissolved in 2000 and the parts and pieces were bought up by many of the spirits giants of the day.
But the knowledge and experience Mayville gained during his time there was the perfect fit for the surging Sazerac Company who had begun to really flex their muscles with a wide portfolio of great distilleries and products under their belt.
Master Distiller vs Master Blender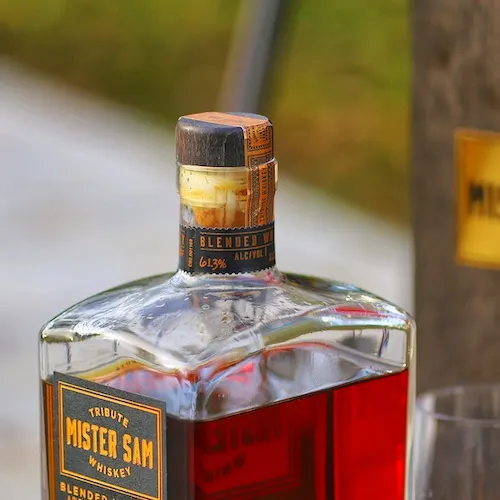 Whereas most people would think that a brand's Master Distiller is their only rockstar, it's really the Master Blender that controls the reputation of the brand with every batch they create.
If the spirits have not aged properly and are bottled anyway, then the product will be no good. Being a Master Blender is all about finesse and feel compared to the calculations and adjustments that Master Distillers are responsible for. For these reasons, the Master Blender may be the most important person every whiskey company employs.
In 2018, Mayville was given the green light to create a whiskey product that he had total control over. Mayville focused all of the knowledge he's gained throughout the decades by going through every warehouse that Sazerac owns to find the most incredible barrels to create a blend that would be his masterpiece.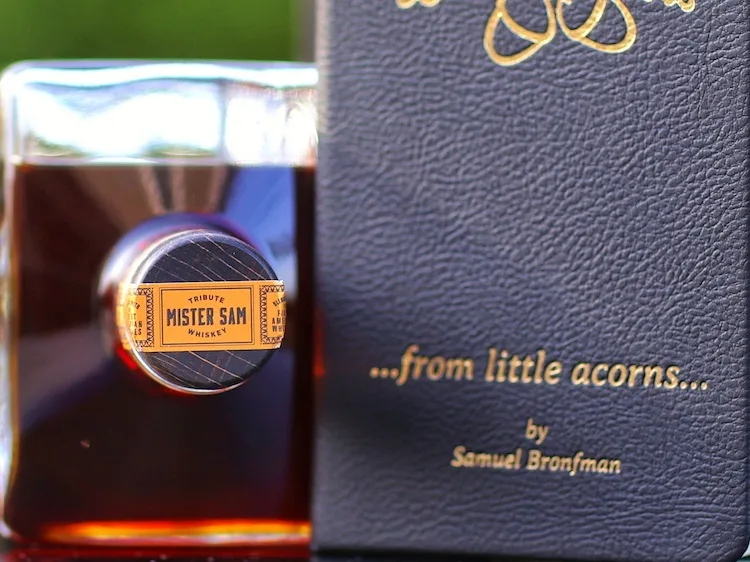 When I reviewed the 2019 Mister Sam Tribute Whiskey , I was blown away by how amazing all of the components worked together. It was almost as if I could recognize the individual barrels used within.
Surely, BTAC-quality barrels from Buffalo Trace were probably the main component, but when you can also smell and taste those fragrant, floral notes too, you know that some of the best Canadian Rye Whisky was used too.
The proof of the 2019 release of Mister Sam came in at a mouth-watering 133.6 proof. Despite those numbers approaching Hazmat strength, the whole blend didn't even taste that strong due to the caliber of barrels that had been selected. But would the 2021 reincarnation be just as enduring? There's only one way to find out. Thanks to a most generous friend, I was able to experience this year's edition of Mister Sam for myself. As always, I drank this neat in a glencairn.
Tasting Notes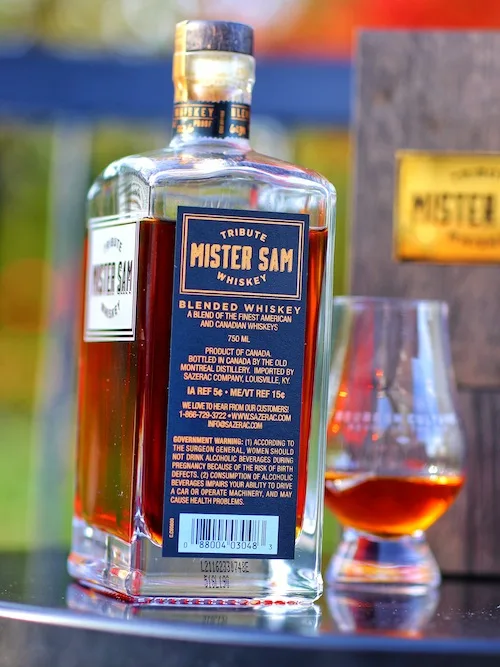 Nose: The nose is strong and complex. I pick up on sweet notes first and this one has them in abundance. Every sniff reveals something new which is an amazing experience, like the gift that keeps on giving.
Scents of cinnamon rolls, maple syrup, and warm baking spices dominate. Fruits such as fresh cut peaches, raspberries and cherries give off that classic Buffalo Trace vibe for being fruit-heavy. The oak smells so different on this one, almost… "velvety" if you can believe it.
There are scents of vanilla and blueberry cream(strangely, most dusty bourbons give me a "blueberry" note for fruit. I wonder if this is what I'm experiencing). Warm butterscotch and raisin bread pudding complete all the sensations I can smell before my nose dies from too much happiness.
Palate: A flavor explosion of cherry strudel, strawberry licorice, cinnamon spiced honey, and what I perceive to be much more rye notes than the previous Mr. Sam.
Maybe there is a stronger Canadian Whisky presence, but I'm finding more mint, floral notes and some pine sap than I was expecting. That's okay though because it's just adding that much more complexity.
Chocolate covered espresso beans, flat cola and toffee give sweet, complex notes that I'm not sure anyone would dislike. Spicy notes come courtesy of smoldering red pepper flakes while the duality of buttercream frosting and chocolate pie crust fight to see which one pulls more weight. Fruit notes are found often with flavors of candied lemon peel and strawberry and rhubarb pie.
Finish: The chocolate that was on the palate turns to a fine ganache while sweet, heavy tobacco and complex aged oak notes steal the show. This has some real age on it, but with the lack of an age statement, I guess we'll never know how old.
This finishes like a ridiculously good George T Stagg blended with some of those 16 year old Barton Rye Whiskey barrels. The finish is still very complex but it's the aged notes that are dominant.
Score: 10/10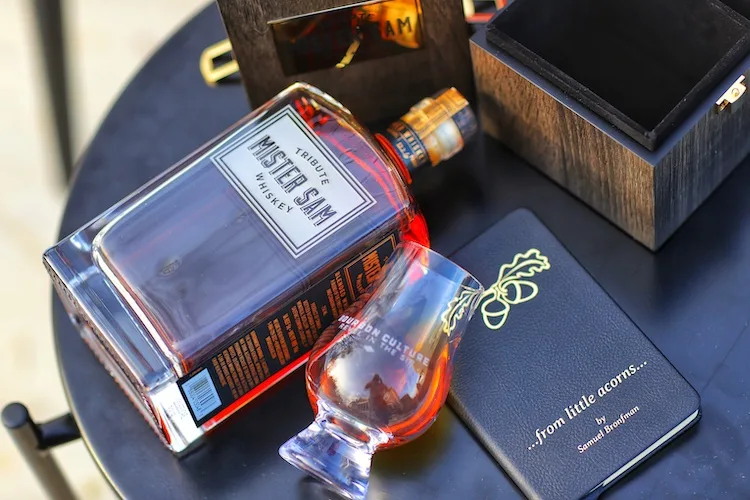 Is there such thing as the perfect whiskey? That's all subjective. To me, this whiskey is just about as perfect as they come. Does a 10/10 score mean that there is no other whiskey that is better than this? No, this is just a rating, not a ranking. But to me, Mister Sam is about as perfect as you can get. There were no flaws.
The 2021 Mister Sam release has something for everyone. Lovers of wheated bourbon, rye whiskey, Canadian Whisky and ryed bourbon can all find something to appreciate here.
One of the best strengths of Mister Sam Batch 2, though, is the fact that it simultaneously tastes so old while retaining bright notes of a bourbon that is probably a little younger.
It's hard to explain what I mean by that, but some older aged bourbon only tastes like oak, tobacco and chocolate. This is because over time all of the spicy rye notes or juicy fruits have disappeared (or mellowed out). Mister Sam has somehow retained the ability to have the best notes from both old and young whiskey at the same time.
Final Thoughts
Last year I commented that Mister Sam tasted like a blend of GTS, WLW, a rye whiskey and a Canadian Light Whisky (due to the notes of butterscotch). This year's tastes like the blend of barrels has a bit more rye whiskey in the mix and maybe an extra barrel of Buffalo Trace Mashbill #1. I have no basis for this opinion other than my tastebuds, but it's still an extraordinary creation in the end.
Mister Sam is no longer a whiskey that is under anyone's radar anymore. They didn't set on anyone's shelves and were all quickly bought up; probably for much more money than their $250 retail price had suggested.
But when you consider that the nearest competitor to this bottle is probably Michter's Celebration (a blend of extremely old bourbons and rye whiskies that is priced in the thousands), then this bottle seems like a steal. But if you expect to find a bottle of Mister Sam right now, all I can say is "keep dreaming." No seriously, that's probably the only place you'll ever be able to find it.
Ratings Breakdown
1 | Disgusting | Drain pour (Example: Jeffers Creek)
2 | Poor | Forced myself to drink it
3 | Bad | Flawed (AD Laws 4 Grain BiB, Clyde Mays anything)
4 | Sub-par | Many things I'd rather have (Tincup 10 year)
5 | Good | Good, solid, ordinary (Larceny, Sazerac Rye)
6 | Very Good | Better than average (Buffalo Trace, OGD BiB)
7 | Great | Well above average (Old Ezra Barrel Proof, Old Weller Antique)
8 | Excellent | Exceptional (Michter's Barrel Proof Rye, Four Roses Barrel Strength)
9 | Incredible | Extraordinary (GTS, 13 Year MGP or Canadian Rye)
10 | Insurpassable | Nothing Else Comes Close (William Larue Weller)
Featured Products
Description:

The Aged & Ore Neat Traveler is a complete travel kit for spirits. We combined our widely praised Neat Glass with one of our 3oz Flight Bottles and housed them together in a custom EVA travel case. Perfect for a night away with your favorite pour. The tie
Description:

The Aged & Ore Bottle Flight is a premium set of 4 custom silicone wrapped glass bottles designed to transport and share samples of your favorite spirits. The flight bottles come in a custom EVA travel case that fits perfectly in any small bag. An Aged &
Description:

This Bundle combines two of our crowd favorite products, creating the ultimate travel bundle to bring along your favorite spirits and glassware. Bundle Includes: Neat Traveler (Gray) Bottle Flight (Gray) Note: This bundle is only available in gray and col
*Bourbon Culture is reader-supported. When you buy through links on our site, we may earn an affiliate commission.