*Bourbon Culture is reader-supported. When you buy through links on our site, we may earn an affiliate commission.
Michter's Small Batch Bourbon has provided the bedrock for entry-level customers to experiment with before they jump into the deep end and try to find some of their more allocated offerings.
Drinkability is the name of the game in the ~90 proof bourbon category and Michter's takes it seriously.
Using low barrel entry proofs, Michter's has had their whiskies "contract-distilled" by Brown Forman for a number of years before taking the reins.
This bottle, from 2018, probably contains a bourbon that Michter's distilled themselves now that their Shively plant has been operational for long enough. But it is speculated that they still use Old Forester Warehouses for storage. Why do I mention that?
Because Old Forester heats their warehouses in the winter for a period of time, effectively giving the whiskey another "heat cycle" for the distillate to get pushed in and out of the wood again.
Sometimes I've heard that Old Forester Products taste like twice the age that they're actually stored for.
Michter's pursuit of quality
But Michter's relentless pursuit of quality has resulted in every batch of whiskey, rye or bourbon being meticulously controlled from start to finish. I've heard on podcasts that the typical batch size is 8 to 10 barrels.
But the cost per bottle does show there have been some extra steps taken and a price to recoup for them because it's hard to find a bottle of this Non-Age Stated (NAS) bourbon for under $40.
In the end, does Michter's US1 Bourbon stack up higher than its competition? Let's sample this bottle in my handy glencairn to find out.
Tasting Notes
Nose: A lovely aroma of baked goods is front and center with vanilla, cinnamon, apples and brown butter almost making you believe that a piece of streusel in front of you. The sweetness is complete with loads of caramel too.
Palate: The palate picks up a bit of rye spice character along with some cinnamon heat that adds some depth. Otherwise, the sweetness of the nose transforms into caramel candies and a toasted citrus zest. There is also a small amount of oak present as well.
Finish: The finish is a medium-lasting one consisting of more toasted orange zest, cinnamon and clove. The rye spice still hangs around and is kind of welcome due to the added complexity it brings.
Score: 5.7/10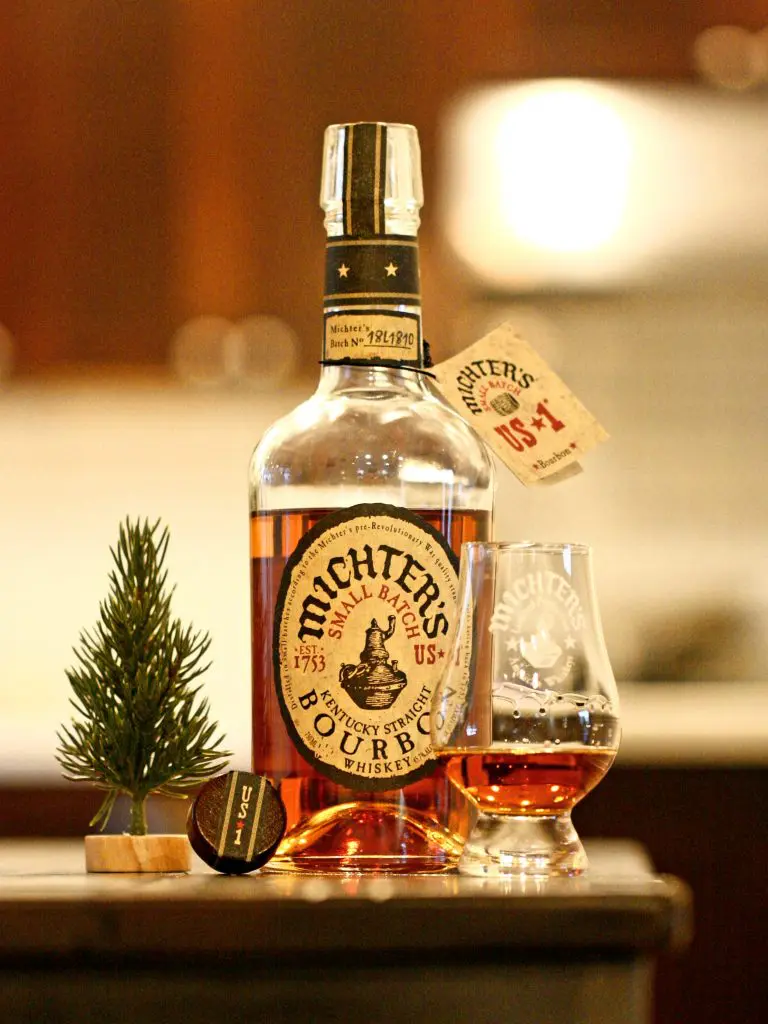 Overall, this is a very pleasant bourbon that delivers a satisfying and complex sip. In the spectrum of 90 proof bourbons from the major distillers, I put this ahead of Elijah Craig Small Batch, but behind Buffalo Trace or Eagle Rare.
There seems to be more fruit with the Buffalo Trace Products, yet the Michter's has a better mouthfeel and complexity than the Elijah Craig barrels.
$40 is a decent amount to spend on a bourbon, especially considering you're starting to get into the territory of Old Ezra Barrel Proof and some Barton bottlings that hover around 100 proof, but if you've never tried it before, maybe you should because you may find this to be more in your wheelhouse than the other ones I've mentioned.
Rating Breakdown
1 | Disgusting | Drain pour
2 | Poor | Forced myself to drink it
3 | Bad | Flawed
4 | Sub-par | Many things I'd rather have
5 | Good | Good, solid, ordinary
6 | Very Good | Better than average
7 | Great | Well above average
8 | Excellent | Exceptional
9 | Incredible | Extraordinary
10 | Insurpassable | Nothing Else Comes Close
Featured Products
Description:

The Aged & Ore Neat Traveler is a complete travel kit for spirits. We combined our widely praised Neat Glass with one of our 3oz Flight Bottles and housed them together in a custom EVA travel case. Perfect for a night away with your favorite pour. The tie
Description:

The Aged & Ore Bottle Flight is a premium set of 4 custom silicone wrapped glass bottles designed to transport and share samples of your favorite spirits. The flight bottles come in a custom EVA travel case that fits perfectly in any small bag. An Aged &
Description:

This Bundle combines two of our crowd favorite products, creating the ultimate travel bundle to bring along your favorite spirits and glassware. Bundle Includes: Neat Traveler (Gray) Bottle Flight (Gray) Note: This bundle is only available in gray and col
*Bourbon Culture is reader-supported. When you buy through links on our site, we may earn an affiliate commission.