*Bourbon Culture is reader-supported. When you buy through links on our site, we may earn an affiliate commission.
Most people know that if there's one store I frequent the most around Indianapolis, it's The Rural Inn. Ray and his family have been a powerhouse for single barrel picks in the local scene for quite some time now. He's also the reason that I got to go on my first barrel pick back in 2019 when he took me and two other guys to Heaven Hill and MGP. I have been privileged to help him pick many other barrels inside of his store throughout the years too. He's always been on the lookout for new people to take on his picks if they show good taste and frequent the store enough for him to get to know them.
Rural Inn Barrel Picks
If you've ever been on a barrel pick with Ray, you'll know that his wife, Regina does the driving. Great picks require lots of tasting so it's always good to know that the safety of the crew is in such responsible hands. But don't count her out of a pick just because she's usually the one doing the driving. She also knows what she likes in a bourbon too. This comes from her baking and cooking skills and the fact she knows what flavors she wants to end up with in her dishes.
Back in late 2019, Ray went on a barrel trip with just him and his wife. As they sampled through all of the barrels laid out in front of them, they determined their top two barrels. It turns out their picks were both the same, but opposite of each other. Since they both enjoyed those two barrels so much, they decided to get them both. Ray named his #1 pick "King" and Regina's #1 pick was named "Queen."
It wasn't until the fall of 2021 that Regina would get a second bottle named after her. It all started with a trip down to Loretto where Ray and a group of guys from the Indiana Brown Water Enthusiasts were trying their luck at picking the right combination of staves for a split barrel of Maker's Mark Private Selection. Half of the barrel would be sold by the IBWE with benefits going towards charity and the other half would be sold at The Rural Inn.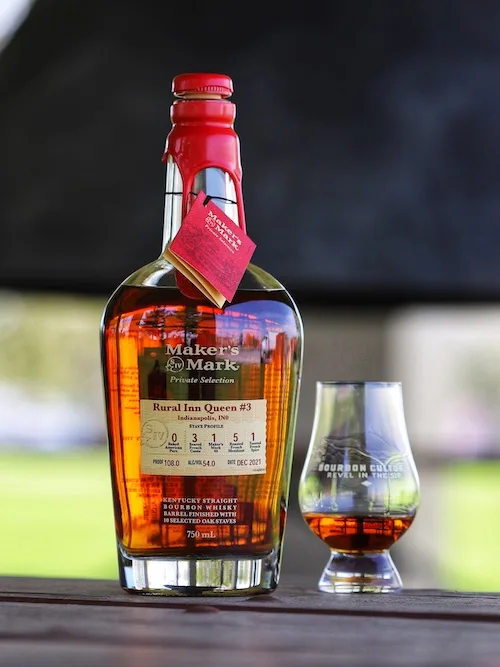 The crew was stumped as they sampled their way through all 5 stave profiles and blended together what they thought would work. There reached a point where everything they added just made it worse. At some point, they were ready to throw in the towel when Regina came to the rescue. She quickly took a sample of all 5 staves and concluded that the Seared French Cuvee and Roasted French Mendiant were her favorites.
She immediately nixed the Baked American Pure because it didn't suit her tastes. She knew the French Cuvee to be more recognizable so she went with a majority of the staves being that one. French Mendiant was her second favorite stave, so the final recipe contained a slightly smaller amount of those. A single stave of Maker's 46 and Toasted French Spice were added in to create a bit more complexity. The result impressed the guys of the group and they quickly agreed that was the one they wanted to go with. After the cases arrived at Rural Inn a couple months later, it took only 36 hours to sell out.
Queen #3, Rural Inn
Fast forward to the very end of 2021 when Ray took a crew down to Maker's Mark for another pick. Of all of the people Ray had tasting through the blends they were creating, each one offered up their favorite interpretation. The group all agreed each one was very good but since this pick was destined to be another Queen pick, they went with Regina's new stave combo. Instead of 5 French Cuvee and 3 French Mendiant staves, she decided to reverse them this time. The new barrel would now have 3 Cuvee and 5 Mendiant. Queen #3 was born.
I had no idea of this backstory until after I bought my own bottle. I wasn't looking to take home a bottle of Maker's Mark Private Select that day, but after Ray gave me a sample I could tell it was something special. Since then I realize that I'm something of a French Mendiant stave nut, so it makes sense why this appealed to me. Now without further ado, let's get down to tasting it. I sampled this neat in a glencairn.
Tasting Notes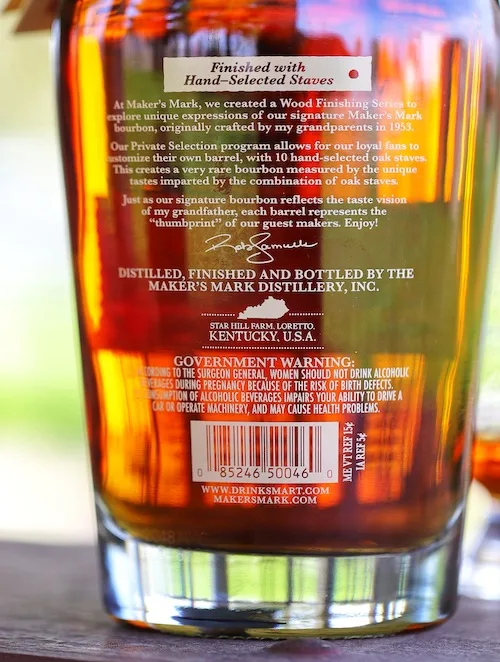 Nose: Scents of spiced caramel sauce drizzled on poached orchard fruits. Chocolate frosted donuts and cherries give the nose even more sweet and fruity notes. The spices I can pick up the most are cinnamon and nutmeg and are perfectly balanced.
Palate: Cinnamon-spice forward with a rich chocolate cherry cordial flavor on the backside. The spices settle down just a bit to let me discover some really delicious baked-goods. Poached orchard fruit notes transfer from the nose to the palate. They're syrupy and sweet. Oak is easy to pick up on and delivers a rich mouthfeel and flavor. Red pepper flakes offer a bit of heat while liquid brown sugar gives everything else a secondary sweet coating.
Finish: Toasted Brown sugar keeps the sweetness while a curious spice driven wave lingers on. Thankfully the chocolate notes stay with this one all the way through the end, finishing in "brownie edges." There are a bit of fruit flavors I can find too to include cherry, strawberry jam and even the faintest note of date skin.
Score: 8.2/10
I spoke to Regina before I wrote this review to get her side of the story as well as her thoughts on the final product. The one thing that interested me was her desire to find a ratio of staves that produce flavors that "sparked" in your mouth. I was curious as to what she meant exactly with the word "sparked" but the more I drank this, the more I realized what she was talking about.
The "spark" seems to come from this particular spice that I can't quite put my finger on. It's like cinnamon, but not really because it has something extra with it. It's almost like how flavor crystals in some gums can provide a pop of flavor, yet they're really not containing the flavor, just enhancing it. Whatever it is, this bottle has it and it's very unique. This has been one of my better purchases so far this year.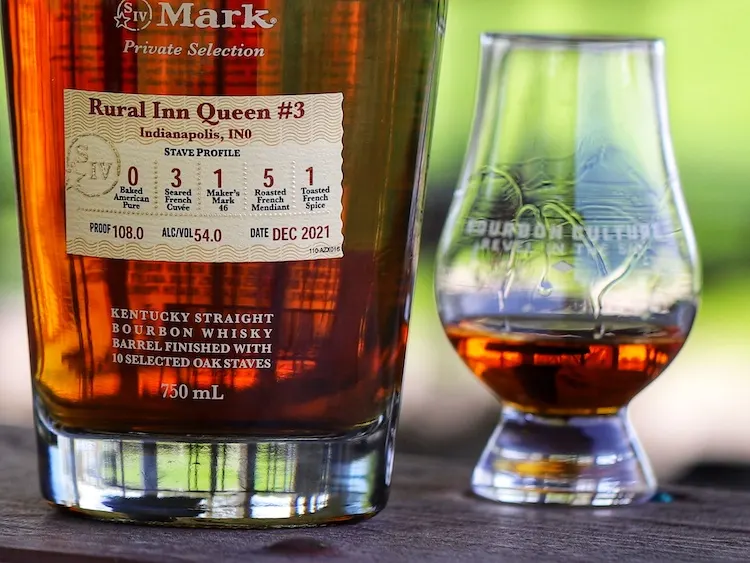 Regina's tasting notes seemed right on point with what I found too. She found notes of dates, chocolate, molasses, apples and pears. She also prided herself on the amount of spice in the end being just right rather than too dominating. I told her a little bit about the Mendiant stave and how Maker's Mark replaced the Mocha stave with it and how much of a hit it's been so far. Everything in our descriptions indicates that we're picking up on the flavors that it's supposed to provide. In other reviews, I also draw attention to how well it stands by itself. Could this be a stave that we see future barrels made out of for some special release? I really hope so.
Final Thoughts
In our closing moments, Regina hinted to me about the next pick that will bear the title "Queen #4." It's from Starlight Distillery but I'm sworn to secrecy about which kind of finishing barrel she fell in love with there. That's something you'll have to keep checking in with Rural's social media accounts to see. In the meantime, I think this is a great direction for Ray to have some of his store picks go. Everyone already loved his picks but having his wife's picks gain the same notoriety in such a short amount of time is proving to be a winning combination. All hail the Queen.
Ratings Breakdown
1 | Disgusting | Drain pour (Example: Jeffers Creek)
2 | Poor | Forced myself to drink it
3 | Bad | Flawed (AD Laws 4 Grain BiB, Clyde Mays anything)
4 | Sub-par | Many things I'd rather have (Tincup 10 year)
5 | Good | Good, solid, ordinary (Larceny, Sazerac Rye)
6 | Very Good | Better than average (Buffalo Trace, OGD BiB)
7 | Great | Well above average (Old Ezra Barrel Proof, Old Weller Antique)
8 | Excellent | Exceptional (Michter's Barrel Proof Rye, Four Roses Barrel Strength)
9 | Incredible | Extraordinary (GTS, 13 Year MGP or Canadian Rye)
10 | Insurpassable | Nothing Else Comes Close (William Larue Weller)
Featured Products
Description:

The Aged & Ore Neat Traveler is a complete travel kit for spirits. We combined our widely praised Neat Glass with one of our 3oz Flight Bottles and housed them together in a custom EVA travel case. Perfect for a night away with your favorite pour. The tie
Description:

The Aged & Ore Bottle Flight is a premium set of 4 custom silicone wrapped glass bottles designed to transport and share samples of your favorite spirits. The flight bottles come in a custom EVA travel case that fits perfectly in any small bag. An Aged &
Description:

This Bundle combines two of our crowd favorite products, creating the ultimate travel bundle to bring along your favorite spirits and glassware. Bundle Includes: Neat Traveler (Gray) Bottle Flight (Gray) Note: This bundle is only available in gray and col
*Bourbon Culture is reader-supported. When you buy through links on our site, we may earn an affiliate commission.