*Bourbon Culture is reader-supported. When you buy through links on our site, we may earn an affiliate commission.
The American Whiskey industry has seem some humungous changes throughout the last ten years. With blends and finishes galore, the mere concept of what a bourbon is or should taste like seems under attack. In Kentucky, hardly any distiller has been immune to the siren's song of experimentation.
Jim Beam's lineup was one of those that never really changed much outside of their core offerings until they released the little known "Jim Beam Distiller's Masterpiece" in 1999. Finished in either Cognac or Port Wine Casks, Masterpiece was passed over by many who didn't see the value in a $250 bottle of bourbon at a time when things like this didn't exist.
Yet the concept was tried again in 2016 with another Masterpiece release this time finished in PX Sherry Casks (that also had a hard time selling). Jim Beam's followers seemed like they just weren't ready to have their bourbon fiddled with that much.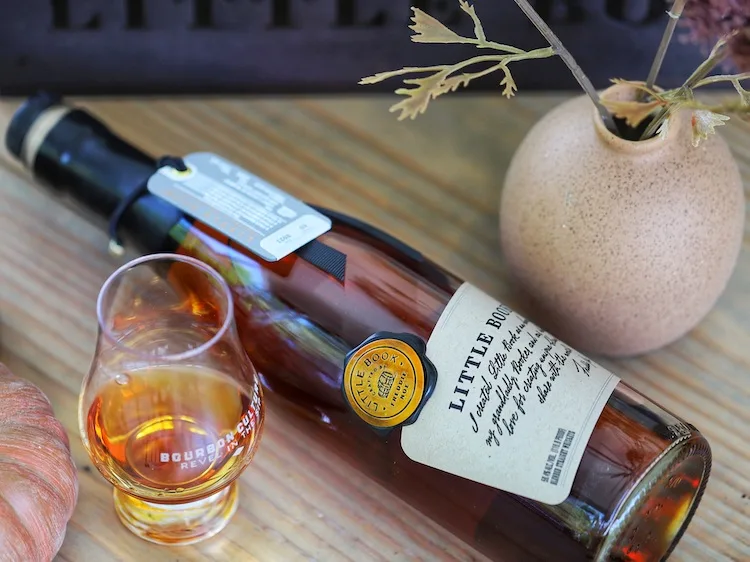 But change is the only constant thing in life and it was inevitable that Jim Beam would try and experiment with new and interesting whiskey.
The thing about taking chances and trying something new is that you have to have just the right amount of youthful determination to take on those kinds of risks. Luckily for Jim Beam, they had Freddie Noe.
Freddie's bloodline likely has more whiskey running through it than any other family's name in America. So when he was given the reins to make a product that would bear his name, he charged headfirst into the abyss and began blending together some really wild whiskies.
For a reviewer who hasn't really gotten into Booker's batches (I have no reviews of them yet), I find myself oddly drawn towards the Little Book releases.
The Invitation
I have tried and enjoyed every one so far, even when tasted blindly. So when I saw a bottle of Little Book Chapter 5 setting on the shelves at my local liquor store, I did not hesitate to buy it. I was that confident that Freddie knew what he was doing even though the ages of the components seem extremely young.
To jog your memory, here's a quick list of what whiskies this batch contains: a 2 year-old bourbon, a 3 year-old 100% malted rye whiskey, a 5 year-old bourbon and a 15 year-old bourbon.
So many of my friends immediately declared they were not interested in buying it when they read that blend, but I had faith that Freddie was onto something here. The only thing left was to taste it and see how I felt. I sampled this neat in a glencairn.
Tasting Notes
Nose: Some rich molasses notes are found first followed by a pleasant oak spice, gingersnap cookies and cinnamon stick. Those were all pretty standard until I found a scent that reminded me of graham crackers that had been toasted along with the marshmallow of the smores (odd) and a faint dusty note.
I'm not sure what to make of those two. This does share a lot of traits with the red-label Knob Creek 15 Year Bourbon that was released last year too.
Palate: Cinnamon rolls give way to a somewhat heavy amount of rye spice. This has got to be from the 3 year old malted rye, but it is very peppery overall (think: black, green and pink peppercorns).
There's even a burst of milk chocolate (also, likely from the malted rye) and hard caramel candies. Seasoned oak mingles with mint and toasted cereal grains. Overall, the classic Beam sweet and dessert-y traits that I normally would find have been overtaken by a dryer and more spice-heavy character.
Finish: Baking spices stick around for a while after the sip is complete along with very tannic wood notes and dry tobacco leaf. The rye character makes itself felt again in the finish with lingering notes of peppermint oil and a bit of ginger root. The most disappointing thing about this drink is how much the sweetness drops off.
Score: 7.5/10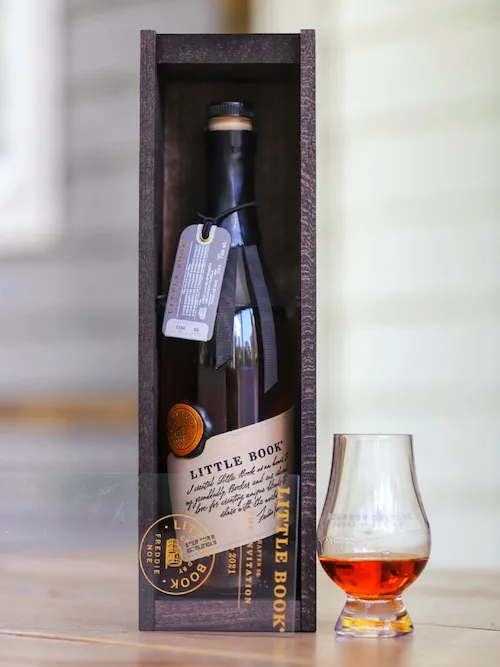 It is unfortunate to put this into words, but this is one of my least-favorite Little Book releases yet. Sharing this bottle with others has only confirmed this opinion too.
Some of my friends cannot look past the youthful notes they find within. Some find it to be disjointed with the opposing flavors.
I am not as critical of it in those regards, but the one thing I'm let down about is the absence of any unique traits that LB releases are known for.
About the only thing that really embedded itself into my mind was that strange toasted graham cracker scent and just how peppery the malted rye whiskey tasted (which isn't usually a trait I've found with other malted rye whiskies).
I like to attempt drawing comparisons of the whiskies that I review with other whiskies that are already out so that you, the reader, can have a point of reference.
What I found Little Book 5 to be most similar to was a barrel proof version of Old Overholt 11 year rye whiskey. That may seem like a strange reference to a lot of people because it was such a limited release but they're very close. I recently took a bottle of OO11 to a party and blind-tasted it to many friends.
Absolutely nobody thought it was a rye whiskey and only a few thought it was a high-rye bourbon. But almost everyone could detect a lot of peppery spice throughout.
Many were fooled by its underlying sweet tones and thought it was actually a wheated bourbon. This sums up just about everything that went on when tasting this bottle.
Final Thoughts
Little Book Chapter 5 isn't all doom and gloom. It was still a fine drinker with enough to keep things interesting. But when you factor in the pricetag you will end up paying (certainly no less than $130), the luster seems to fade quickly.
There are just so many more bourbons are better than it for less (and some that are worse, like the $130 Kentucky Owl Confiscated).
I still have faith that Freddie Noe will serve us up something that's even better next year and that duds sometimes happen when making something new, but this year's Little Book is one that you can feel okay to skip out on.
Ratings Breakdown
1 | Disgusting | Drain pour (Example: Jeffers Creek)
2 | Poor | Forced myself to drink it
3 | Bad | Flawed (AD Laws 4 Grain BiB, Clyde Mays anything)
4 | Sub-par | Many things I'd rather have (Tincup 10 year)
5 | Good | Good, solid, ordinary (Larceny, Sazerac Rye)
6 | Very Good | Better than average (Buffalo Trace, OGD BiB)
7 | Great | Well above average (Old Ezra Barrel Proof, Old Weller Antique)
8 | Excellent | Exceptional (Michter's Barrel Proof Rye, Four Roses Barrel Strength)
9 | Incredible | Extraordinary (GTS, 13 Year MGP or Canadian Rye)
10 | Insurpassable | Nothing Else Comes Close (William Larue Weller)
Featured Products
Description:

The Aged & Ore Neat Traveler is a complete travel kit for spirits. We combined our widely praised Neat Glass with one of our 3oz Flight Bottles and housed them together in a custom EVA travel case. Perfect for a night away with your favorite pour. The tie
Description:

The Aged & Ore Bottle Flight is a premium set of 4 custom silicone wrapped glass bottles designed to transport and share samples of your favorite spirits. The flight bottles come in a custom EVA travel case that fits perfectly in any small bag. An Aged &
Description:

This Bundle combines two of our crowd favorite products, creating the ultimate travel bundle to bring along your favorite spirits and glassware. Bundle Includes: Neat Traveler (Gray) Bottle Flight (Gray) Note: This bundle is only available in gray and col
*Bourbon Culture is reader-supported. When you buy through links on our site, we may earn an affiliate commission.