*Bourbon Culture is reader-supported. When you buy through links on our site, we may earn an affiliate commission.
Heaven Hill has the most labels dedicated to the Bottled in Bond designation of all distilleries in the United States. Ranging from the $9 Mellow Corn to the $170+ Old Fitzgerald line, they span a large amount of price ranges and age statements. A quick refresher for the basics of Bottled in Bond Bourbon is that it must be bottled at 100 proof, aged at least 4 years and be from a single distilling season (so either Fall or Spring, but that is not denoted anymore).
JTS Brown BiB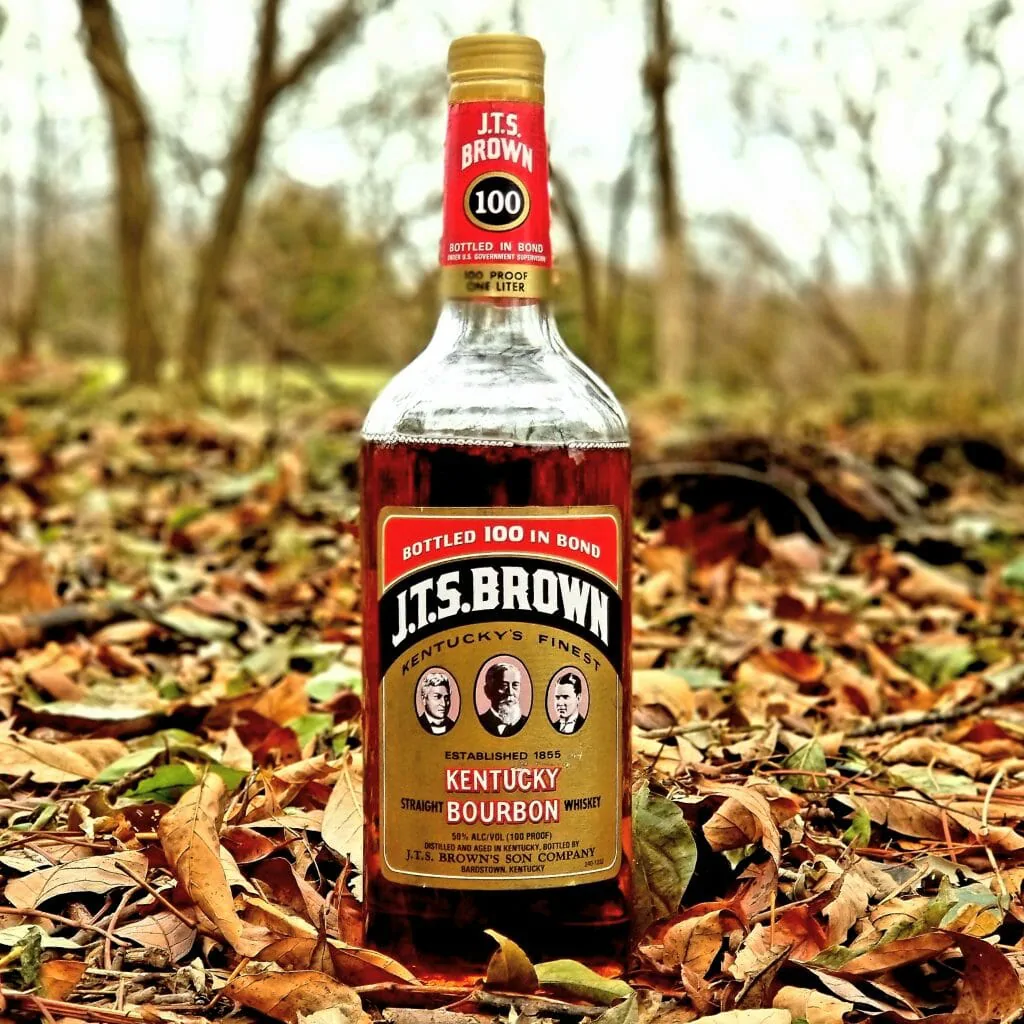 Today I have a bottle of one of the lower end BiB's in Heaven Hill's lineup, JTS Brown. This sets firmly at the bottom of the lineup with a price of $14.99 for a liter (at least, that's what I paid). The label isn't much to look at and the screw cap also denotes a certain cheapness to the bottle, but as my mother used to say "Don't judge a book by its cover." Let's see how it tastes. I sampled this neat and from a glencairn.
Tasting Notes
Nose: This smells like buttery grits because it's a little on the grainy side. There's also some vanilla frosting, caramel and baked apples. Then the traditional Heaven Hill Peanut (brittle) comes out with a smidge of musty oak. It's actually more than I expected in a bottle at this price point.
Palate: The mouthfeel is a little thin, which may be the age or the #3 charred barrels. There's a little heat that comes through, but mostly it tastes like a thin caramel sauce with some crushed peanuts added in. There's also some oak and tobacco present. Once again, I was not expecting that.
Finish: A slight black pepper flake adds a prickle of heat to the finish while a wave of peanut butter fudge comes through with butterscotch, mint, drying oak and a little bit of leather.
Score: 5.9/10
This is so close to being a "6" on my rating chart. And if I was given a glass of this blind, I would've sworn up and down this was Elijah Craig Small Batch. I was not expecting some of the tannic notes that I found and that really amped up the experience. But the mouthfeel is a little thin and the palate isn't exciting.
Final Thoughts
Overall, it's pretty well balanced and nuanced for what it is and I quite liked it. I ended up letting my wife use the rest of this bottle for her bourbon slush recipe for Thanksgiving and I didn't regret it because the bottle is easily replaceable. I am actually looking forward to trying out JW Dant and Evan Williams Bottled in Bond next to see what kind of subtle differences each offer. This is a terrific value for the money.
Scoring Index
1 | Disgusting | Drain pour (Example: Jeffers Creek)
2 | Poor | Forced myself to drink it
3 | Bad | Flawed (AD Laws 4 Grain BiB, Clyde Mays anything)
4 | Sub-par | Many things I'd rather have (Tincup 10 year)
5 | Good | Good, solid, ordinary (Larceny, Sazerac Rye)
6 | Very Good | Better than average (Buffalo Trace, OGD BiB)
7 | Great | Well above average (Old Ezra Barrel Proof, Old Weller Antique)
8 | Excellent | Exceptional (Michter's Barrel Proof Rye, Four Roses Barrel Strength)
9 | Incredible | Extraordinary (GTS, 13 Year MGP or Canadian Rye)
10 | Insurpassable | Nothing Else Comes Close (William Larue Weller)

Featured Products
Description:

The Aged & Ore Neat Traveler is a complete travel kit for spirits. We combined our widely praised Neat Glass with one of our 3oz Flight Bottles and housed them together in a custom EVA travel case. Perfect for a night away with your favorite pour. The tie
Description:

The Aged & Ore Bottle Flight is a premium set of 4 custom silicone wrapped glass bottles designed to transport and share samples of your favorite spirits. The flight bottles come in a custom EVA travel case that fits perfectly in any small bag. An Aged &
Description:

This Bundle combines two of our crowd favorite products, creating the ultimate travel bundle to bring along your favorite spirits and glassware. Bundle Includes: Neat Traveler (Gray) Bottle Flight (Gray) Note: This bundle is only available in gray and col
*Bourbon Culture is reader-supported. When you buy through links on our site, we may earn an affiliate commission.