*Bourbon Culture is reader-supported. When you buy through links on our site, we may earn an affiliate commission.
The Bourbon Enthusiast Review
The Bourbon Enthusiast is an online forum started by James Ashcraft. The forum is similar to StraightBourbon.com in the way that members can sign up and interact with a wide range of enthusiasts who ask questions, share information and post reviews.
Eventually the site became large enough and well-connected enough to begin a single barrel program. Throughout the years, they've gone on to pick some very notable and distinct barrels.
I'm most familiar with their Belle Meade XO Bourbon finished in cognac casks, a 14 year old Knob Creek Bourbon and the bottle I'm reviewing today which is a Joseph Magnus Single Barrel Bourbon.
Original Joseph Magnus Recipe
The original Joseph Magnus bourbon is a particular brand that was resurrected by the great grandson of Joseph A. Magnus. I'm going to choose and omit their origin story because frankly, it's a bit absurd.
Just know that the modern-day flagship brand was built on a foundation of sourced, highly-aged MGP bourbon (and some Light Whiskey). Joseph Magnus Triple Cask Finish and Murray Hill Club Bourbon are the standard bottles you'll find on a shelf while Joseph Magnus Cigar Blend is their most iconic bottle.
For a period of time from 2019 to 2020, they also sold a number of single barrel picks that were from extra stocks of 12-13 year old barrels. That's what I'll be talking about today.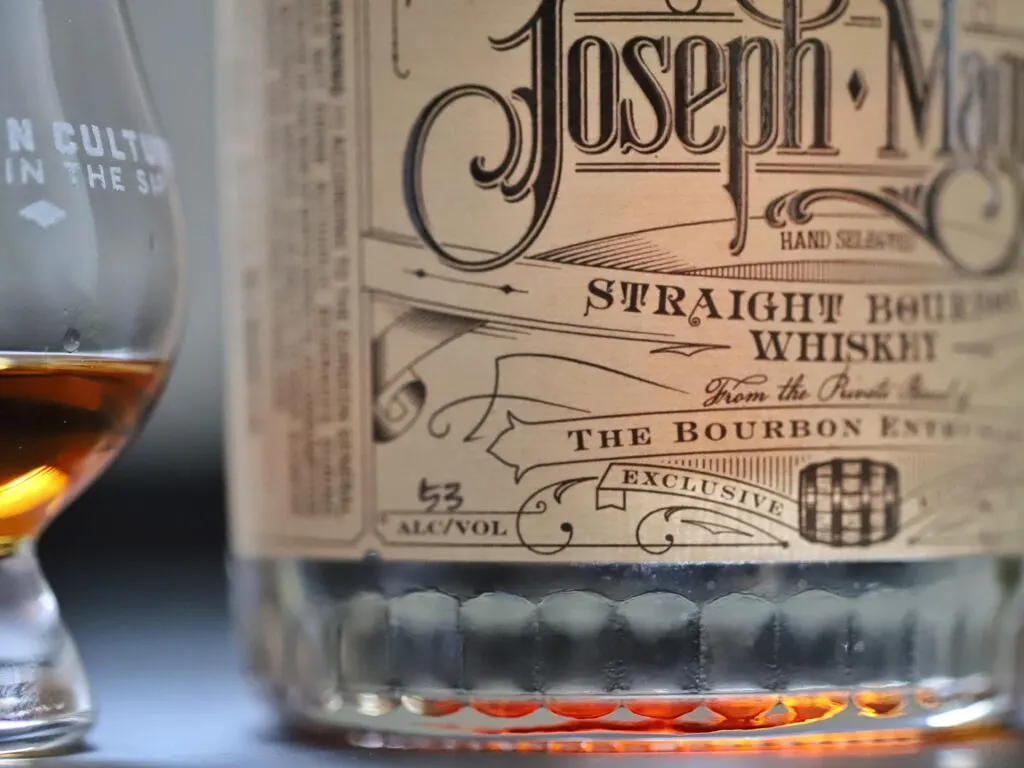 I'll never understand why they decided to sell off these barrels. They were the foundation of almost every product they made and it's not like MGP had a ton of them laying around to sell. In fact, shortly after their single barrel program ended in 2020, they began substituting barrels of Barton Bourbon into the blends that made up the base of their Cigar Blend label.
Cigar Blend, up to that point, had always comprised of 12 to 20 year old barrels. But burning through a bunch of 13 year old barrels by bottling them up as single barrels and selling them for $100/bottle seemed like an odd choice when they could have used them for the more lucrative Cigar Blend program. So why did they do this?
The skills of master blender Nancy Fraley
My speculation revolves around one person in particular: Nancy "The Nose" Fraley. She was more than just the brains behind Cigar Blend program and other Joseph Magnus special releases, she was effectively the quality control for them too.
She had a say in every barrel that went into Cigar Blend, Murray Hill Club Whiskey Special Release and the J.A. Magnus Reserve Bourbon. I assume that Nancy rejected a lot of the barrels by not putting them in her blends.
With a pile of old bourbon barrels laying around, the regular Magnus staff needed to find a way to sell them. The single barrel program was their solution.
Joseph Magnus Straight Bourbon Whiskey
Not to ruin a review before I get to the actual review, but these single barrels have been widely known to be very average. That's a hard pill to swallow for what is essentially MGP barrels aged between 12 and 13 years and bottled at cask strength.
Many of us would push our mother's down the stairs to get ahold of something like this today. Not much else is known about them to include the recipe (high rye or low rye?) and why they're all so low in proof. I have seen very few that have been bottled much higher than the one we're looking at today.
A marriage of straight bourbon whiskey
Going back to The Bourbon Enthusiast, they picked this barrel in 2019 and had a lottery for the right to buy it for around $120. Very few reviews exist for it aside from my friend and fellow reviewer Scott over at ATXbourbon.com.
The age is not listed anywhere on the bottle but The Bourbon Enthusiast pick group says it's 13 years old and is bottled at 106 proof.
The bottle I'm reviewing today is thanks to my friend JD who hooked me up with his bottle. So how does it taste? Will I find a classic hallmark of rich caramel or deep notes of vanilla? Or notes of orange citrus with a cognac influence. Let's find out.
Tasting Notes
Nose: There are noses that instantly remind me of what an MGP bourbon should taste like and this one is it. Brown sugar scents combine with gingerbread and raisins to make for a sweet entrance to this glass.
But there are some bitter notes that remind me of coffee that's been sitting on the hot plate all day. The oak is also noticeable and a little bit bitter too. Otherwise, it's bookended by buttery cinnamon and graham cracker pie crust scents, so I can't complain too much.
Palate: Rich flavors of toffee, dark chocolate, coffee and scorched brown sugar give me sweet notes surrounded by notes of angostura bitters. Hmmm… The oak is pretty tannic and the leather notes also feel dry.
Combined, these impart more bitterness, taking some of the enjoyment out of this dram. It's not totally without its good parts because there are some dark stone fruits in the form of plums and raisins which combine nicely with some rye-forward notes like anise and cinnamon.
Finish: Sweetness is fleeting quicker than I would have liked, leaving behind bitter notes like vintage oak, barrel char and cracked leather. There are hints of toffee here and there, but they don't help cover up the bitterness that is beginning to take over.
Baking spices like anise, cinnamon and ground cloves add a bit of complexity to the warm finish, but the dark fruits disappears and they kind of stand out on their own.
Score: 7.3/10
As my overall rating and tasting notes laid out, I wasn't particularly impressed with this single barrel. The core theme was that for every great MGP flavor profile or scent, a bitter one followed. The nice balance I was looking for was not there.
That says to me that the barrel was over-oaked and would not have benefitted from additional aging. Joseph Magnus probably realized this too and rushed to sell these barrels immediately because they feared they'd be undrinkable in the near future.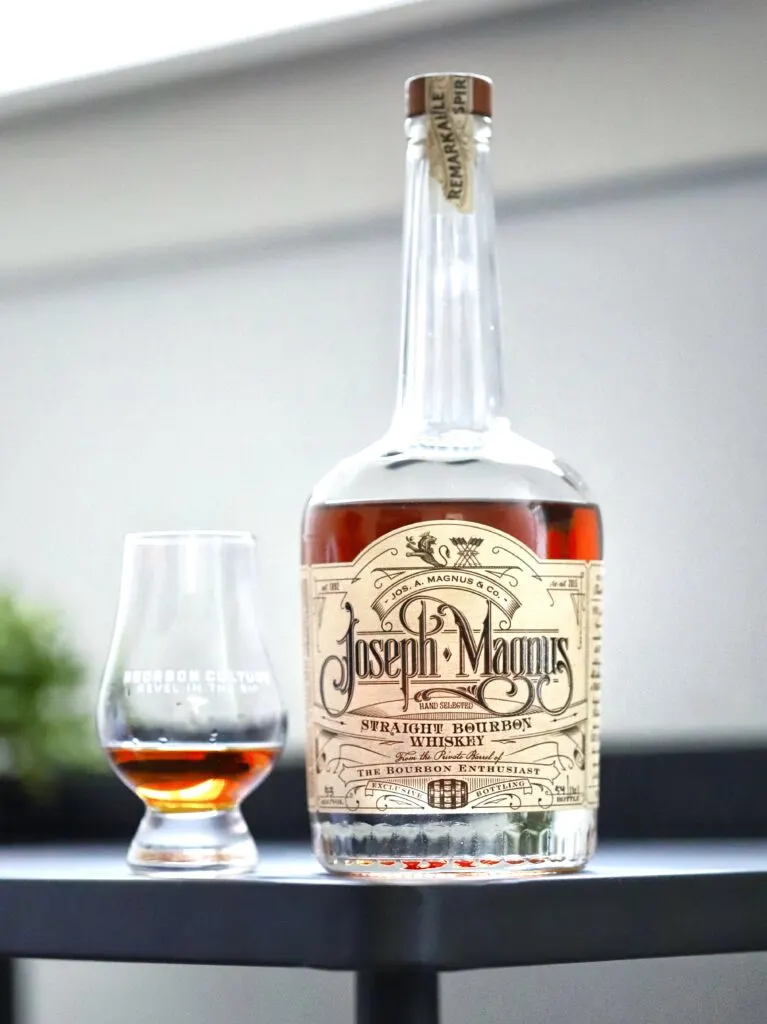 Final Thoughts
A majority of positive reviews about these Joseph Magnus single barrels come from whiskey experts and others who admit to enjoying highly-oaked whiskey. There's nothing wrong with that; that's why there's so much variety in the whiskey landscape.
But this is my second experience (my first was this Rootstock Hospitality Single Barrel) with a Joseph Magnus Single Barrel where I found it too oaked for my taste buds. I don't think I'm alone on this either because I don't see them listed on the secondary marketplaces or being lauded by other reviewers.
My only advice to you is that if you're in the market for a taste of some great, highly aged MGP bourbon, these aren't the barrels you're looking for.
But thankfully there are plenty of other producers who have you covered in that department in providing an excellent whiskey. Just watch out, the price point can get a little out of control.
Featured Products
Description:

The Aged & Ore Neat Traveler is a complete travel kit for spirits. We combined our widely praised Neat Glass with one of our 3oz Flight Bottles and housed them together in a custom EVA travel case. Perfect for a night away with your favorite pour. The tie
Description:

The Aged & Ore Bottle Flight is a premium set of 4 custom silicone wrapped glass bottles designed to transport and share samples of your favorite spirits. The flight bottles come in a custom EVA travel case that fits perfectly in any small bag. An Aged &
Description:

This Bundle combines two of our crowd favorite products, creating the ultimate travel bundle to bring along your favorite spirits and glassware. Bundle Includes: Neat Traveler (Gray) Bottle Flight (Gray) Note: This bundle is only available in gray and col
*Bourbon Culture is reader-supported. When you buy through links on our site, we may earn an affiliate commission.