*Bourbon Culture is reader-supported. When you buy through links on our site, we may earn an affiliate commission.
Jeffers Creek is a label that is secretly produced by Barton 1792, but is not affiliated with the company in any other way. You won't even find it on the Barton 1792 website and one of the only ways to really tell that it came from Barton is by having a knowledge of SKUs. Carrying an age statement of 6 years (good!), bottled in the old style Weller bottle (also good!) and then proofed down to 80 proof (ugh), it was a curious bourbon to me back in my early days of drinking.
I was more concerned with age statements than proof (not realizing that both play a significant part), so I scooped up the bottle immediately. And for around $18, I figured like I could be holding the next hidden gem. So what was it like? I sampled this neat in a glencairn to find out.
Tasting Notes
Nose: There is some caramel and over-ripe apple. Almost like a diluted apple cider. But as the dram goes on, it begins to morph into more of a rotten apple that's stubbornly not fallen off the branch yet. There's not much else to taste as the dram goes on.
Palate: The mouth feel is extremely grainy. The sweetness in the palate is almost non-existent but when I do find some, it's almost like an aspartame sweetner rather than caramel. Gross. The mouthfeel is terribly thin, blunting my efforts to find any more flavors as they simply wash away.
Finish: The finish doesn't get much better. It's still grainy. The sweetness that's left is still more of that same aspartame sweetner that's just leaving a rancid taste in my mouth. It's awful. I want it gone.
Score: 1/10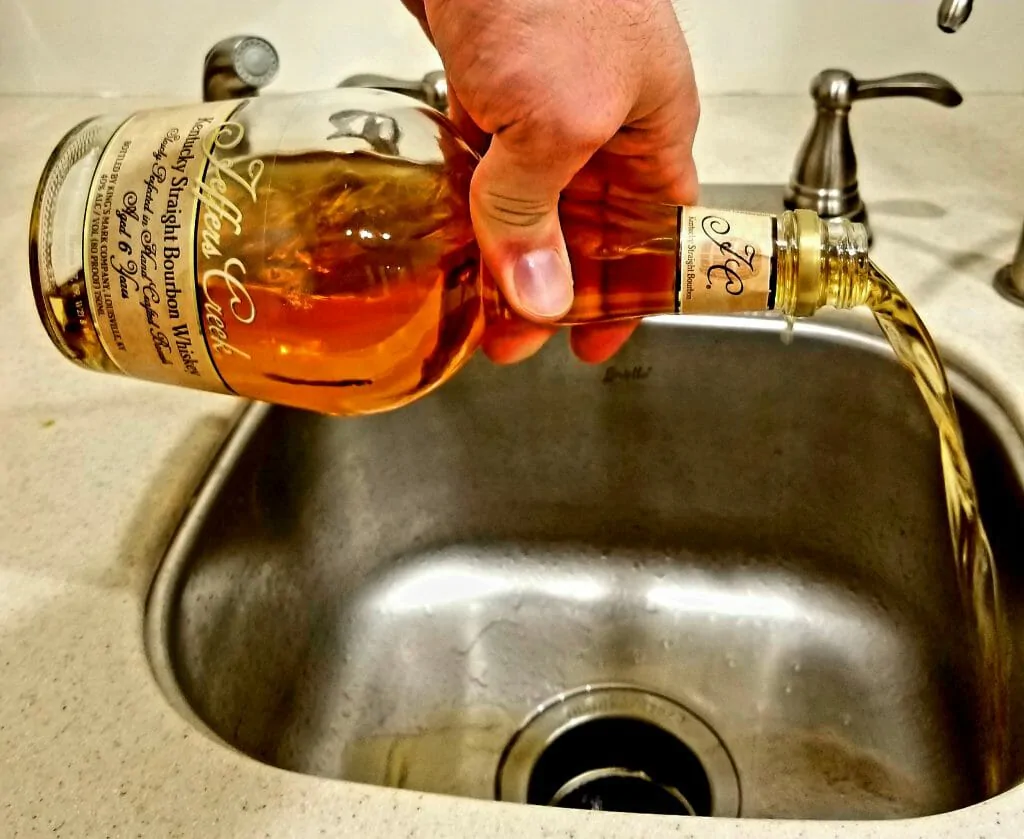 In retrospect, what makes me so upset about my Jeffer's Creek purchase is that it is so awfully overpriced. I could literally buy some damn respectable Heaven Hill Bottled in Bond products for $4-$7 less than this bottle and have a great evening. But this swill isn't fit for the bottle it's in or the price tag it carries. It should be left on the shelf and told to stay away from to your closest friends.
Rating Breakdown
1 | Disgusting | Drain pour (Example: Jeffers Creek)
2 | Poor | Forced myself to drink it
3 | Bad | Flawed (AD Laws 4 Grain BiB, Clyde Mays anything)
4 | Sub-par | Many things I'd rather have (Tincup 10 year)
5 | Good | Good, solid, ordinary (Larceny, Sazerac Rye)
6 | Very Good | Better than average (Buffalo Trace, OGD BiB)
7 | Great | Well above average (Old Ezra Barrel Proof, Old Weller Antique)
8 | Excellent | Exceptional (Michter's Barrel Proof Rye, Four Roses Barrel Strength)
9 | Incredible | Extraordinary (13 Year MGP or Canadian Rye)
10 | Insurpassable | Nothing Else Comes Close (William Larue Weller)
Featured Products
Description:

The Aged & Ore Neat Traveler is a complete travel kit for spirits. We combined our widely praised Neat Glass with one of our 3oz Flight Bottles and housed them together in a custom EVA travel case. Perfect for a night away with your favorite pour. The tie
Description:

The Aged & Ore Bottle Flight is a premium set of 4 custom silicone wrapped glass bottles designed to transport and share samples of your favorite spirits. The flight bottles come in a custom EVA travel case that fits perfectly in any small bag. An Aged &
Description:

This Bundle combines two of our crowd favorite products, creating the ultimate travel bundle to bring along your favorite spirits and glassware. Bundle Includes: Neat Traveler (Gray) Bottle Flight (Gray) Note: This bundle is only available in gray and col
*Bourbon Culture is reader-supported. When you buy through links on our site, we may earn an affiliate commission.