*Bourbon Culture is reader-supported. When you buy through links on our site, we may earn an affiliate commission.
Rural Inn Store Pick #1
Jack Daniel's has been a staple brand for many decades now, ever since the legendary endorsement of Frank Sinatra. Their products were designed to be sweet, unassuming and paired perfectly with Coca Cola. But in the past few years, Jack Daniels has realized that they were missing out on the golden age of bourbon that has recently skyrocketed the brown liquid's popularity.
To remedy this, they've been releasing more new labels (Heritage Barrel, a Rye and even this Barrel Proof Single Barrel) to the acclaim of many enthusiasts. The enthusiast crowd may have avoided the 80 proof entry level bourbons that Jack produced, but the allure of 100+ proof bottles isn't easy to look past.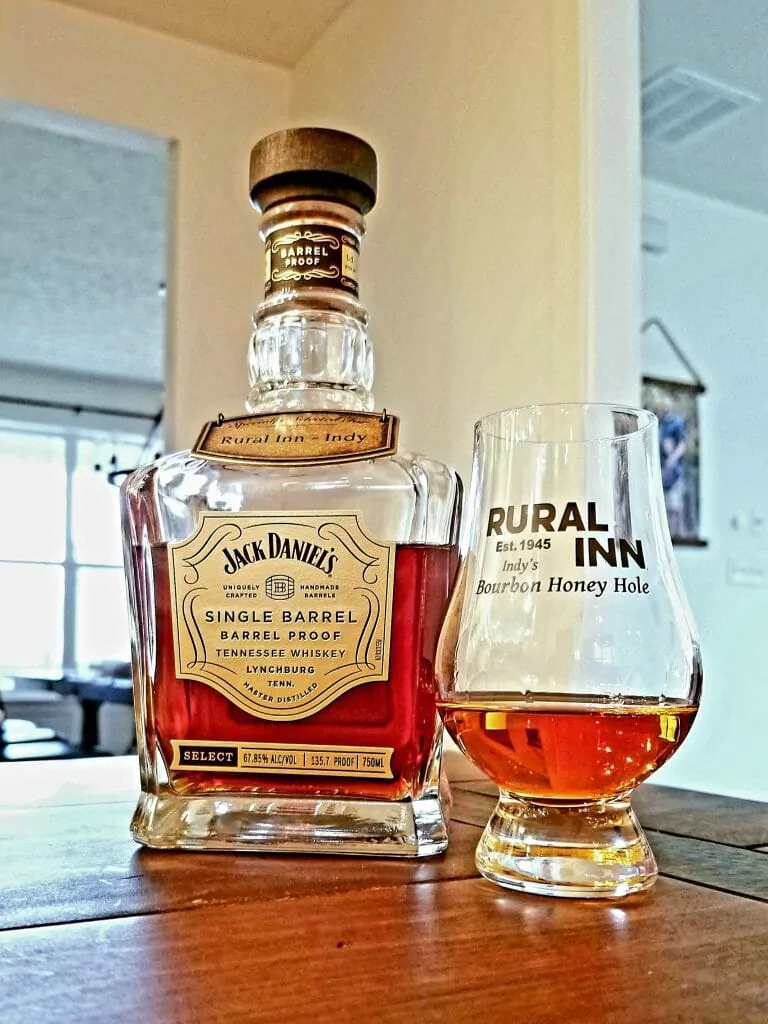 My experiences with Jack Daniels have only been confined to my college days, but when I heard that my local honey hole had selected the state's first JD barrel pick, and that it was going to be barrel proof, I couldn't help myself to not pick one up. Coming it at $65 for a sweltering 135.7 proof bottle, I quickly grabbed a bottle because I had heard great things about it. There's no age statement on these, but it is generally rumored to be anywhere from 4-7 years old. Aged in the top floors of their warehouses, these lose a lot of water quickly and it's almost impossible to find these below the 128 proof mark. So how is it? I sat down with a glencairn, poured myself a glass and braced for the incoming heat round.
Tasting Notes
Nose: Banana bread for days, toasted marshmallow, deep caramel, faint salted almonds. The nose is reminiscent of Michter's Toasted Barrel Rye. Another observation: it somewhat reminds me of Barrell Bourbon Batch 013 because it leans more towards savory notes.
Palate: Praline Pecans, over-ripe bananas, warm buttery biscuits. Very little heat for 135.7 proof! I can actually roll this around in my mouth for some time. The mouthfeel as I do so is somewhat thin, but that may be a byproduct of the age and proof.
Finish: Some heat immediately upon the swallow, but it fades quickly. Any sort of creaminess disappears as well. Then the oak tannins settle in. I get a bit of dry leather, but it morphs into dark chocolate and a campfire-charred marshmallow. Overall, not as sweet, but it is long lasting and satisfying.
Score: 7.5/10
An interesting observation I've made: Ray's store picks tend to heavily favor terrific noses. This isn't just my opinion either, he's said it on interviews in podcasts that I've listened to. He likes the Peerless line of ryes for this reason and a Buffalo Trace Store Pick of his was a delicious fruit roll-up scent monster. I will say that as I was drinking it, the one thing I noticed the most was that the nose was the best part about this whole dram. The palate stops a little early for my liking, but is still so concentrated that I can enjoy it. I just run out of things to talk about with it.
This is a solid bourbon/Tennessee Whiskey. I'm not a person who's averse to Jack Daniel's "Banana" profile. It was everything I wanted it to be here. The heat was virtually a non-factor for 135.7 proof, way up there with ECBP. I find Stagg Jr's to have more heat than this one did. In fact, I would go as far as to say that I could drink this as my daily, but I'd probably burn all of my tastebuds off for the next day. Instead, one of my little secrets I love to do with this one is add it to some ECBP (1:1 ratio) for a delicious chocolate covered banana effect. I highly encourage you to try it this way to.
Scoring Index:
1 | Disgusting | Drain pour (Example: Jeffers Creek)
2 | Poor | Forced myself to drink it
3 | Bad | Flawed (AD Laws 4 Grain BiB, Clyde Mays anything)
4 | Sub-par | Many things I'd rather have (Tincup 10 year)
5 | Good | Good, solid, ordinary (Larceny, Sazerac Rye)
6 | Very Good | Better than average (Buffalo Trace, OGD BiB)
7 | Great | Well above average (Old Ezra Barrel Proof, Old Weller Antique)
8 | Excellent | Exceptional (Michter's Barrel Proof Rye, Four Roses Barrel Strength)
9 | Incredible | Extraordinary (GTS, 13 Year MGP or Canadian Rye)
10 | Insurpassable | Nothing Else Comes Close (William Larue Weller)
Featured Products
Description:

The Aged & Ore Neat Traveler is a complete travel kit for spirits. We combined our widely praised Neat Glass with one of our 3oz Flight Bottles and housed them together in a custom EVA travel case. Perfect for a night away with your favorite pour. The tie
Description:

The Aged & Ore Bottle Flight is a premium set of 4 custom silicone wrapped glass bottles designed to transport and share samples of your favorite spirits. The flight bottles come in a custom EVA travel case that fits perfectly in any small bag. An Aged &
Description:

This Bundle combines two of our crowd favorite products, creating the ultimate travel bundle to bring along your favorite spirits and glassware. Bundle Includes: Neat Traveler (Gray) Bottle Flight (Gray) Note: This bundle is only available in gray and col
*Bourbon Culture is reader-supported. When you buy through links on our site, we may earn an affiliate commission.