*Bourbon Culture is reader-supported. When you buy through links on our site, we may earn an affiliate commission.
Late in 2018, Barrell Craft Spirits took the concept of its popular single barrel bourbon program and applied it to a new lineup. This time around, it was rye whiskey. And not just any rye whiskey, but Canadian Rye Whiskey that was aged a minimum of 13 years. To most casual fans, they immediately declared that rye whiskey to be from Alberta, which is a major rye producer in Canada.
But Canada has many whiskey producers and soon afterwards, a handful of well-educated drinkers began to claim that this was actually from Gimli Distillery. To bring the rest of you up on what Gimli is and why this makes sense, it is the distillery that primarily produces Crown Royal distillate. Crown Royal, formerly owned by the Seagrams Company, is now owned by Diageo.
Now here's where the connection between the two comes… which distiller did Barrell source almost all of their barrels from in the early day? That's right, George Dickel from Tennessee. And who owns George Dickel now? Diageo. So it is my (well founded?) assumption that Barrell has expanded their sourcing contract with Diageo to include distillate made by our neighbors up North. But Crown Royal isn't in the business of making blended Crown Royal products only, they also have the know-how and experience to make damn good rye whiskey. Enter this new Barrell Craft Spirits Single Barrel Rye. This bottle clocks in at 13 years old and 126.96 proof. So how does it taste? I sampled this neat and from a glencairn.
Tasting Notes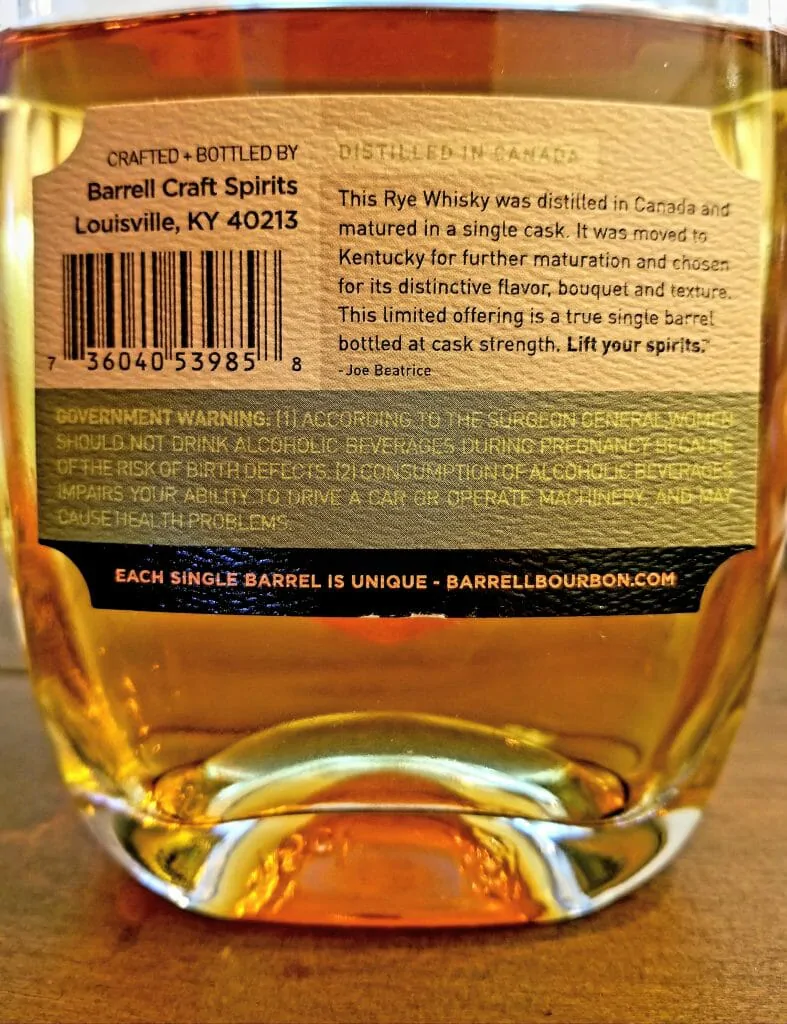 Nose: Extremely herbal and floral: lilacs, fresh cut grass, sweet hay, cherry tree blossoms and spearmint. There's also some light baking scents like cinnamon and light vanilla. The nose is sweet and fresh with very little ethanol burn.
Palate: bubblegum, herbal fennel and mint tea, rye spice, Red Hots candy that fade quickly and make way for a rye spice that warms more than it burns. Green apple skin, faint ginger and cherry licorice. Absolutely delicious.
Finish: green/sour apple jolly rancher for days. Very little rye spice heat on the back of the tongue. A refreshing mint and menthol cooling effect that lasts for a long while. The light and floral sweetness, like cherry infused sweet tea keeps the whole finish very enjoyable.
Score: 9/10
I first reviewed this rye back in early 2019 and I loved every minute of it. I recognize it now as the rye that really sparked my passion for them. The layers of sweetness on top of the all of the floral and herbal notes remind me of the first day of spring with all of the new, blooming scents coming out. The springs in the Midwest are particularly memorable because you're waiting for all of that snow to go away and things to start getting green. I've even been in Washington DC for a week while the cherry trees were in full bloom and the sweet smell of the blossoms blankets the area around the Jefferson Memorial. This is what this is in a bottle.
For the 120+ proof, you'd never know it. This stuff drinks like an herbal iced tea. If you are a big fan of Midwinter Night's Dram because it reminds you of Christmas, then you're going to absolutely love this one because it'll remind you of the perfect spring day. For being my first in-depth Canadian Rye experience, I was hooked and I plan on always having a bottle of this in my collection.
Scoring Index:
1 | Disgusting | Drain pour (Example: Jeffers Creek)
2 | Poor | Forced myself to drink it
3 | Bad | Flawed (AD Laws 4 Grain BiB, Clyde Mays anything)
4 | Sub-par | Many things I'd rather have (Tincup 10 year)
5 | Good | Good, solid, ordinary (Larceny, Sazerac Rye)
6 | Very Good | Better than average (Buffalo Trace, OGD BiB)
7 | Great | Well above average (Old Ezra Barrel Proof, Old Weller Antique)
8 | Excellent | Exceptional (Michter's Barrel Proof Rye, Four Roses Barrel Strength)
9 | Incredible | Extraordinary (GTS, 13 Year MGP or Canadian Rye)
10 | Insurpassable | Nothing Else Comes Close (William Larue Weller)
Featured Products
Description:

The Aged & Ore Neat Traveler is a complete travel kit for spirits. We combined our widely praised Neat Glass with one of our 3oz Flight Bottles and housed them together in a custom EVA travel case. Perfect for a night away with your favorite pour. The tie
Description:

The Aged & Ore Bottle Flight is a premium set of 4 custom silicone wrapped glass bottles designed to transport and share samples of your favorite spirits. The flight bottles come in a custom EVA travel case that fits perfectly in any small bag. An Aged &
Description:

This Bundle combines two of our crowd favorite products, creating the ultimate travel bundle to bring along your favorite spirits and glassware. Bundle Includes: Neat Traveler (Gray) Bottle Flight (Gray) Note: This bundle is only available in gray and col
*Bourbon Culture is reader-supported. When you buy through links on our site, we may earn an affiliate commission.