*Bourbon Culture is reader-supported. When you buy through links on our site, we may earn an affiliate commission.
West Fork Whiskey's line of finished bourbon, named Hugh Hamer, has seen a surge of barrel proof releases over the past year. The barrel finishes they used were on a rotation that saw the likes of Port Wine, Rum, Peach Brandy and even a second charred oak barrel used for additional flavoring. Initial releases comprised of about 5 barrels. 4 of those barrels were blended together, cut down to 103 proof and distributed to most stores in the state of Indiana. What about the one barrel that didn't make it into the blend? It was sold to a local liquor store chain (whichever one begged the most) as a single barrel because it exuded the best qualities from the initial group.
Hugh Hamer goes for broke and releases more barrel proof options
Every release seemed to curry more demand than the previous one. Then West Fork decided to up the ante by releasing even more single barrel Hugh Hamer picks in the summer of 2022. The Rural Inn pounced on this opportunity and bought 3 barrels. One was finished in Maple Syrup casks (that review will be coming later) and two were finished in Cruzan Rum barrels. You can tell them apart based on proof. I purchased the higher proofed barrel which sees 5+ year old sourced bourbon being finished for a few months in a rum barrel.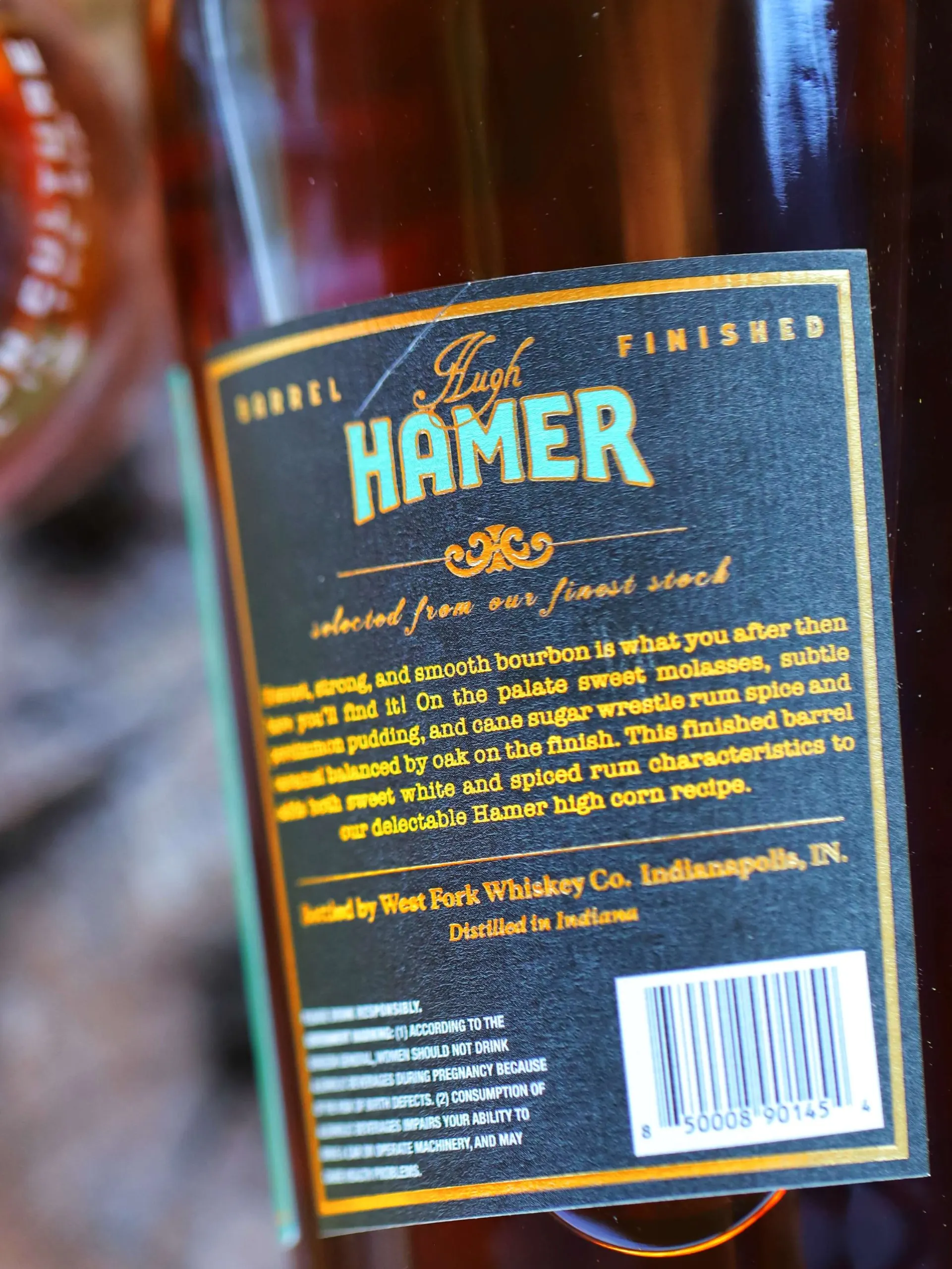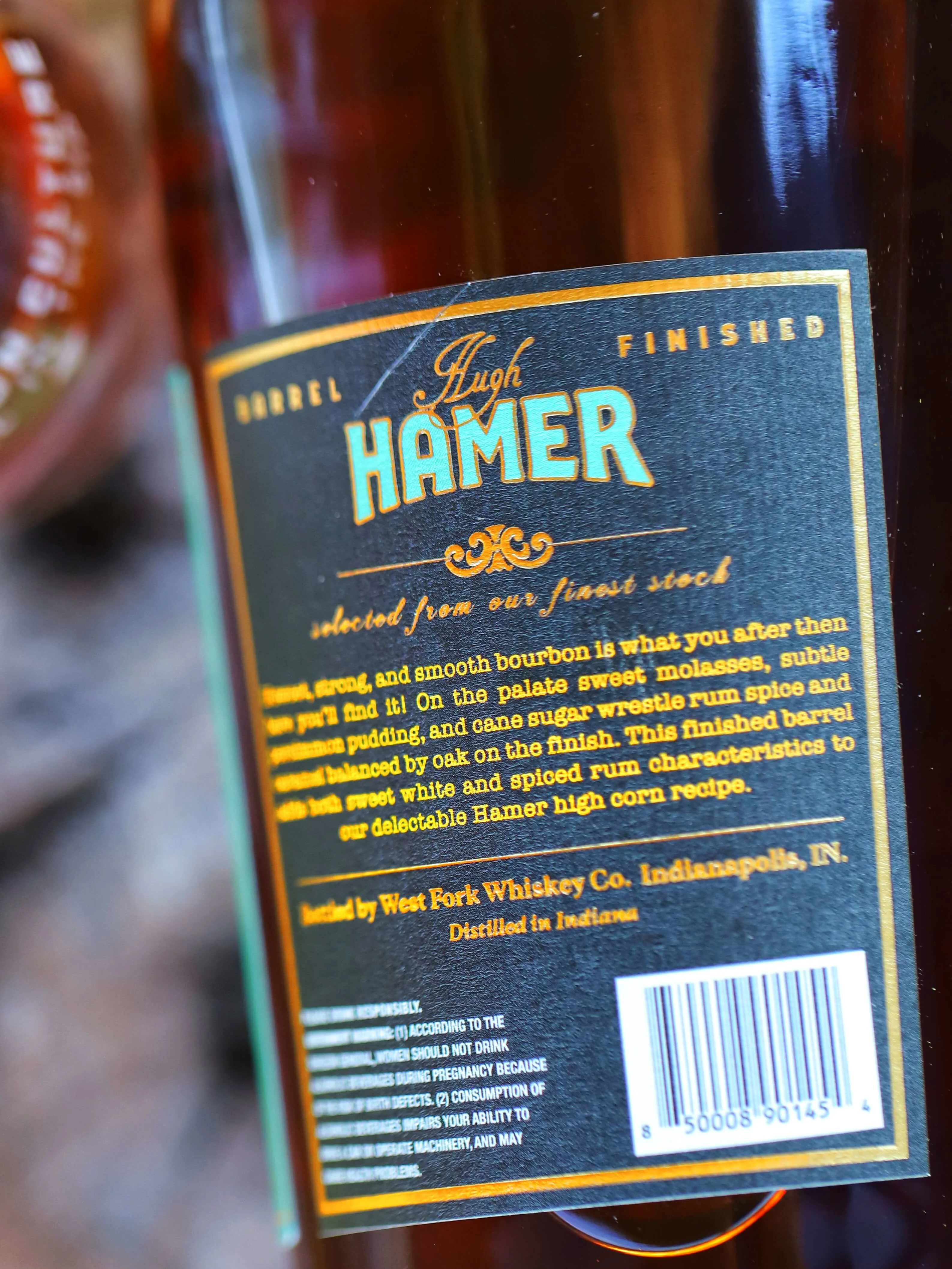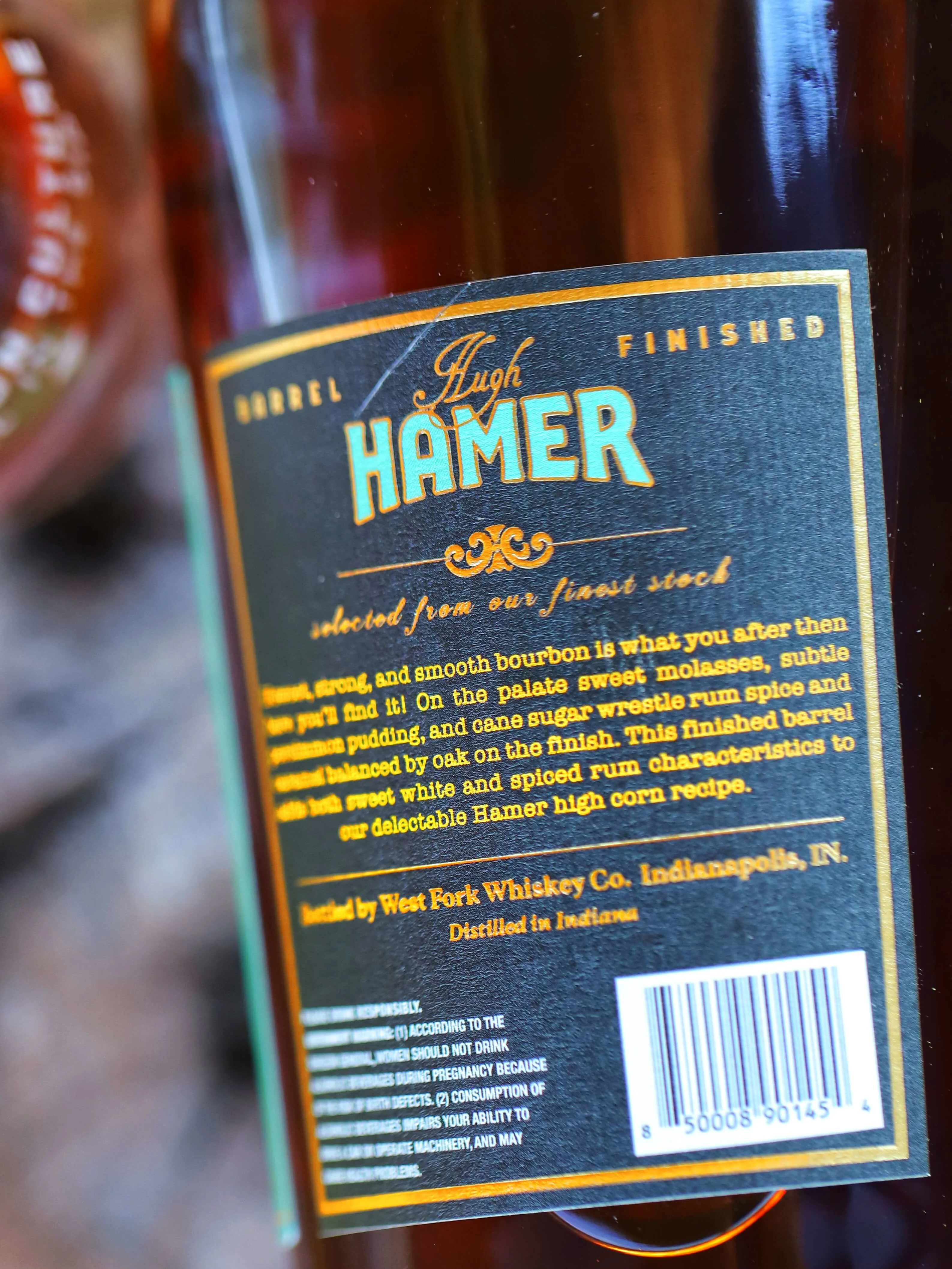 Cruzan rum isn't some super funky or wildly different rum. Their style is more of a lighter variety with emphasis on fruit notes. In a previous review I did on the 103 proof version selected by Crown Liquors last year, the rum influence was somewhat minimal. I could taste the added fruit, but it really didn't do too much more for the bourbon underneath. I also pointed out that this is a bourbon that needs something to help it out too. MGP's 99% corn 1% malted barley bourbon is the perfect blank canvas for barrel finishes because in its base form, it's kind of a one-trick pony. It'll provide the caramel, cornbread and cinnamon notes but not much else.
Now that West Fork is churning out Hugh Hamer single barrels bottled at barrel strength, that should mean that there might be more flavor influence from the barrel. Or at least, that's how I've seen it work in the past. So did it happen that way? Read on to find out. I sampled this neat in a
glencairn
.
Tasting Notes
Nose:
The
nose
doesn't come off as finished in a rum barrel initially. There are notes much like various candies
(Smarties, Fun Dip, Red, Yellow and Pink Starburst)
that tell you that this whiskey is sweeter than normal, but it's not overly obvious. The bourbon scents are really obscured by this and you can barely eek out finding scents like vanilla or caramel. Aged traits like wood or leather are miniscule, but there is some wood notes (it doesn't hit like a typical bourbon barrel does).
Cinnamon,
a note I typically find in Old Hamer bourbon is also hidden.
Palate: Tropical notes are really easy to find with flavors of pineapple, mango, papaya and a touch of kiwi. This rum isn't funky and it's not syrupy sweet but everything fits. The corn-forward bourbon is easy to taste but it definitely plays second fiddle to the rum flavors. Typical 99% corn bourbon flavors are still present such as cornbread, cinnamon, melted butter and vanilla. Nutmeg, flat root beer also are found. If there is one main issue I have with the palate it's that the bourbon notes and the rum notes seem to have not melded well together; I'm only able to taste the rum or the bourbon at any one time. It's like the two spirits were layered on top of each other.
Finish: The finish turns more sugary-sweet on the end. Sugarcane, citrus, melon and not-quite ripe pineapple. The finish is actually a bit on the short side. After the sugary notes leave my tongue, there isn't really much of the residual bourbon that sticks around. Kind of disappointing.
Score: 7/10
If you've read my previous review for a 103 proof version of Hugh Hamer released last year, you'd recognize that this is the same score that I gave it too. This is because even with the higher proof, there was no noticeable increase in flavors or balance. For sure, it was a very easy bourbon to enjoy. I felt it even drank below it's proof. But, crucially, it was missing any sort of "wow" factor. For such a great nose, the palate and finish kind of fall off. The reason is probably as simple as understanding that the 99% corn MGP bourbon wasn't made to stand by itself because it was so one-dimensional. The rum barrels should have added a nice jolt the bourbon, but these types of casks (from Cruzan) are about as plain as you can get. Now if West Fork ever sourced Jamaican rum barrels, then maybe I'll change my tune.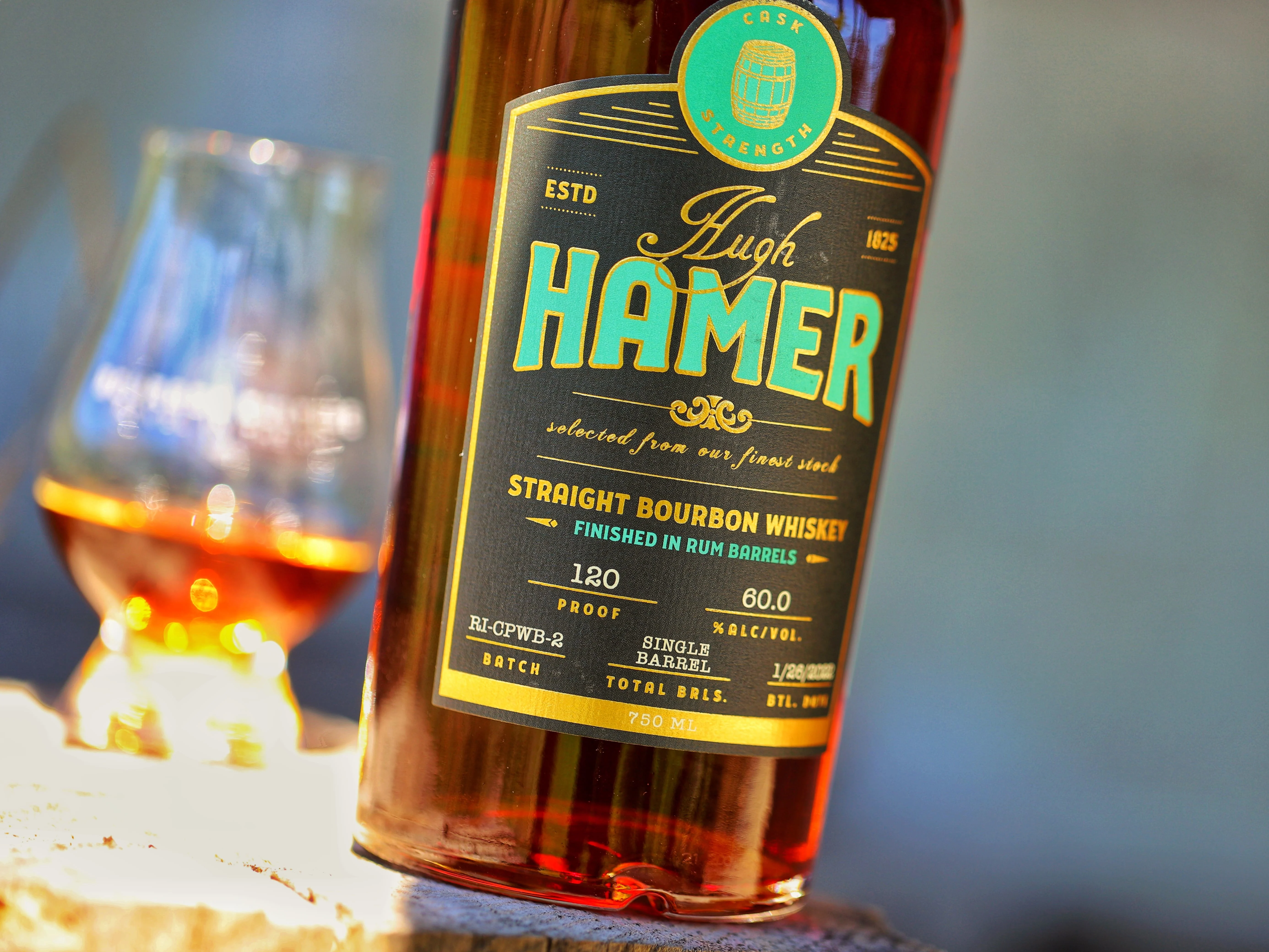 Where the Hugh Hamer line has really thrived so far is by using casks that impart robust or unique flavors. Examples that have stood out have been when West Fork used Port and Peach Brandy casks. Those finishes changed up the entire sensory experience for the better. But while this rum finished bourbon had some additional flavors and scents, it came off more like it was added almost like a syrup rather than being able to extract the nuances from the wood. Ultimately, this example of rum finished bourbon ended up being good enough for the score I gave it, but it felt like it could've achieved so much more. This just goes to prove that in the world of barrel finished bourbons, it really takes both the finishing cask and the underlying whiskey to pull their own weight to achieve a higher end result.
Featured Products
Description:

The Aged & Ore Neat Traveler is a complete travel kit for spirits. We combined our widely praised Neat Glass with one of our 3oz Flight Bottles and housed them together in a custom EVA travel case. Perfect for a night away with your favorite pour. The tie
Description:

The Aged & Ore Bottle Flight is a premium set of 4 custom silicone wrapped glass bottles designed to transport and share samples of your favorite spirits. The flight bottles come in a custom EVA travel case that fits perfectly in any small bag. An Aged &
Description:

This Bundle combines two of our crowd favorite products, creating the ultimate travel bundle to bring along your favorite spirits and glassware. Bundle Includes: Neat Traveler (Gray) Bottle Flight (Gray) Note: This bundle is only available in gray and col
*Bourbon Culture is reader-supported. When you buy through links on our site, we may earn an affiliate commission.