*Bourbon Culture is reader-supported. When you buy through links on our site, we may earn an affiliate commission.
Hotel Tango is a distillery that is local to Indianapolis. The owner proudly proclaims that they are the first combat disabled, veteran owned distillery in the US, which is a pretty cool claim. Being a veteran myself, I will gladly throw money his way for the first bottle even though I knew nothing about it. But to get me to buy a second bottle, this stuff would have to prove itself first.
Hotel Tango titles all of their spirits in the form of using the NATO-utilized alphanumeric system of letters. So since Gin starts with a "G," the title Hotel Tango gives it is "Golf Gin." Now you can understand why this bourbon was named "Bravo Bourbon."
About The Age Statement
Hotel Tango has not been open and distilling for long enough to produce the 6 to 8 year old bourbons that they were selling around town (and in select other states), however, rumor has it that the owner and master distiller partnered with Middle Western Spirits (formerly OYO) in Columbus, OH to learn how to distill. Then he put away many barrels of a wheated mashbill bourbon. Coincidentally, I heard this exact same story regarding how the owner/operator of Horse Soldier Bourbon also got his start by partnering with Middle Western Spirits. If none of this is true, then I would fall back on Hotel Tango sourcing their earliest batches from MGP, but that wouldn't make sense because MGP's wheated mashbill bourbon was not yet 6 years old, much less 8, in 2018.
So here we have a young distillery that is supposedly producing their own juice on someone else's still and releasing it with an age statement and everything. I don't think you could do it any better if you tried. So how does it taste? I sat down to sample this neat and in a glencairn.
Tasting Notes
Nose: The nose on this is very sweet. There are dark red fruits, semi-sweet chocolate chips, cotton candy and even white chocolate mousse (which is a scent I've not experienced in a whiskey before)
Palate: A sweet and fruity dessert treat including strawberries dipped in chocolate, cherries and caramel make for a sweet, satisfying and relatively straightforward pour. It's amazing how decadent this is. Ethanol lurks here and there, but in no way does this taste young.
Finish: The finish begins with an oily, melted butter taste along with cherry, lemon zest, ginger root, and simple syrup. Then some tannins poke up in the form of light oak and tobacco. The 6 year old age statement finally shows some age.
Score: 6.9/10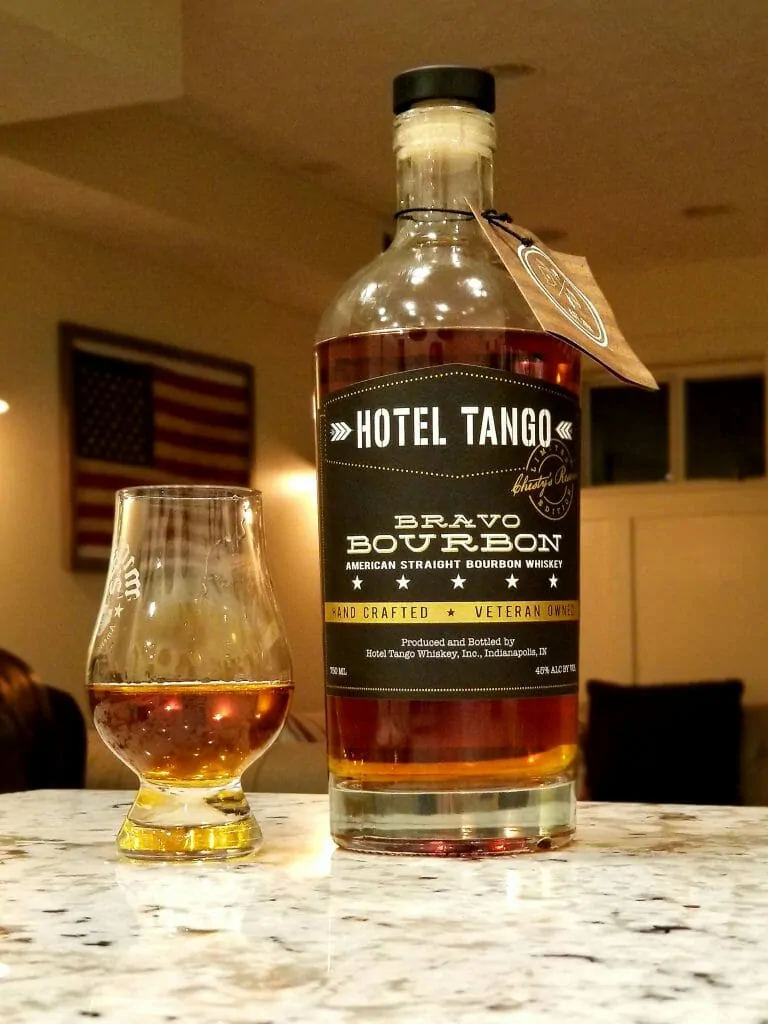 I have to give credit where credit is due. Hotel Tango has created a wonderful product with a great future. The distillate is fruity and sweet and has basically no traits of a craft distillery or shortcuts to get to the market. In fact, I'd go as far as saying this is right up there on par with Weller Special Reserve or perhaps a proofed-down OWA. The lack of tannins make this not as complex as it could be, but it's hard to be distracted with finding faults in it when everything else just jives so well. Count me impressed!
Final Thoughts
Of note, Hotel Tango has recently updated their bottles to update their brand and showcase their military background. Modern-day bottles of HT are now found in a glass bottle that looks like an oversized flask with a label and font that makes it look like you're opening an MRE (food ration for your civilians). It's really quite unique and I hope it helps the brand continue to grow.
Ratings Breakdown
1 | Disgusting | Drain pour (Example: Jeffers Creek)
2 | Poor | Forced myself to drink it
3 | Bad | Flawed (AD Laws 4 Grain BiB, Clyde Mays anything)
4 | Sub-par | Many things I'd rather have (Tincup 10 year)
5 | Good | Good, solid, ordinary (Larceny, Sazerac Rye)
6 | Very Good | Better than average (Buffalo Trace, OGD BiB)
7 | Great | Well above average (Old Ezra Barrel Proof, Old Weller Antique)
8 | Excellent | Exceptional (Michter's Barrel Proof Rye, Four Roses Barrel Strength)
9 | Incredible | Extraordinary (GTS, 13 Year MGP or Canadian Rye)
10 | Insurpassable | Nothing Else Comes Close (William Larue Weller)
Featured Products
Description:

The Aged & Ore Neat Traveler is a complete travel kit for spirits. We combined our widely praised Neat Glass with one of our 3oz Flight Bottles and housed them together in a custom EVA travel case. Perfect for a night away with your favorite pour. The tie
Description:

The Aged & Ore Bottle Flight is a premium set of 4 custom silicone wrapped glass bottles designed to transport and share samples of your favorite spirits. The flight bottles come in a custom EVA travel case that fits perfectly in any small bag. An Aged &
Description:

This Bundle combines two of our crowd favorite products, creating the ultimate travel bundle to bring along your favorite spirits and glassware. Bundle Includes: Neat Traveler (Gray) Bottle Flight (Gray) Note: This bundle is only available in gray and col
*Bourbon Culture is reader-supported. When you buy through links on our site, we may earn an affiliate commission.