*Bourbon Culture is reader-supported. When you buy through links on our site, we may earn an affiliate commission.
Gray Skies Distillery is dead. Long live Gray Skies Distillery. But not really! They got sued by Campari (owners of Skyy Vodka, Oh!… and Wild Turkey) because their name too closely resembled their beloved vodka. But this is a good thing! Because after this review, the newly minted "Eastern Kille Distillery" will be happy that they could abandon the whiskey that is associated with their old name.
Maple Syrup Cask Finishes
Based out of Grand Rapids, Michigan, the distillery has been distilling their own products from a few years now. One of the releases I have here today is a bottle of their 2 year old bourbon that was put into a former maple syrup cask and then aged for another 9 months. Maple Syrup cask finishes aren't a new thing in the industry, but they're not too often used. Producers like Jim Beam (Knob Creek Smoked Maple), Wigle (Phil's Shadow) and Hudson's (Baby Bourbon Maple Cask) have used them just to name a few.
But Gray Skies took their new finished bourbon out of the casks and proofed it down to just 87 proof before bottling it in a very cool looking bottle. If the pictures aren't doing it justice, it looks like a map that shows terrain elevation. It's nice enough packaging that I would've bought it in a store if I had found it down here in Indianapolis.But enough about that, let's get down to tasting to see if this new upstart has the makings of a great craft distillery! I sampled this neat and in a glencairn.
Tasting Notes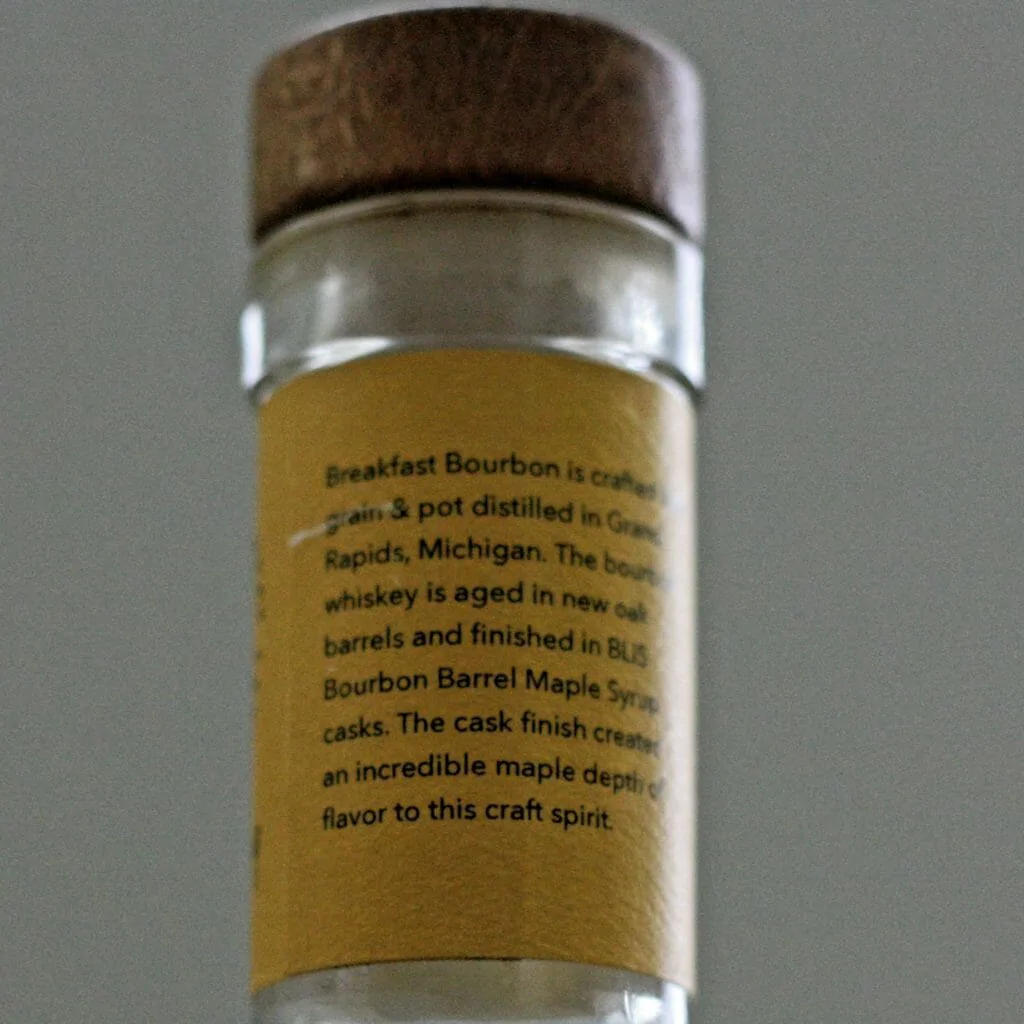 Nose: The nose immediately lights up with light acetone. That sharp scent gradually turns into something like boot polish as the dram goes on. Then, and I'm not kidding about this, the scent transforms into straight up GIN. How is this possible? It's that weird medicinal and juniper bush scent that you can't avoid. If there's any trace of maple at all in this whiskey, then maybe, MAYBE, I'm able to detect a little bit in the form of maple candies but it's so hidden by that awful gin smell that it's hard to even want to go looking for much more.
Palate: Regardless of the gin scent everywhere, the taste comes across as cloyingly sweet, yet very thin. Reminders of Jeffers Creek bourbon start giving me flashbacks and I start to gradually tip the bottle's neck into the drain of my sink… If there is any maple effect at all during this dram, it's only in the palate. There is some flat root beer notes as well as yeast rolls. There is also some odd prickly spice (for this proof?!) and a mixture of sour apple skins (but I'm not talking about Jolly Ranchers) and apricots. The whole palate is a mess and only gets worse as the dram goes on.
Finish: The finish leaves my tongue feeling like I just drank a glass of rye whiskey mixed with gin. There's also a disturbingly antiseptic quality about it that makes me cringe.
Score: 1/10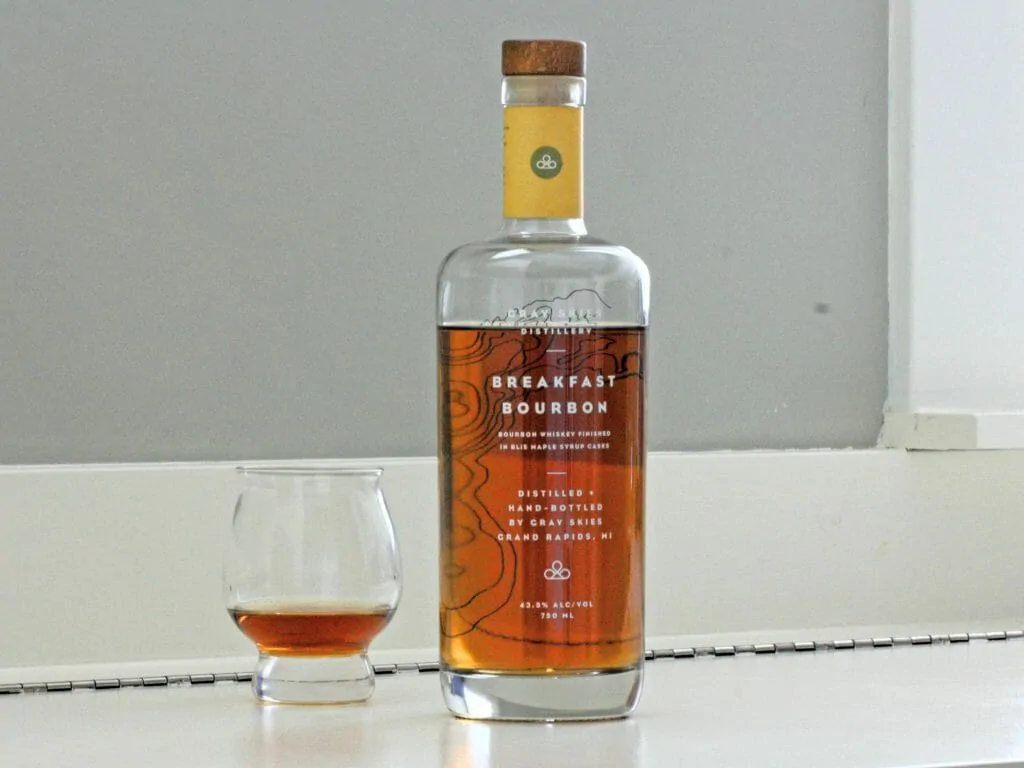 It is impossible to mess a bourbon up as much as Gray Skies did. This is either mislabeled as a whiskey when perhaps it was a barrel-finished gin. Or maybe the maple syrup cask was really a "sugar free" maple syrup cask that they dumped this. Or maybe the distillate that they're producing is just this awful.
Final Thoughts
If this bottle could speak to me while I was drinking it, it would tell me that there are problems at Gray Skies Distillery. But you know what? Maybe those problems will be fixed with their new name because maybe people who have never heard of Gray Skies before will not know to stay away from whiskey like this.
Ratings Breakdown
1 | Disgusting | Drain pour (Example: Jeffers Creek)
2 | Poor | Forced myself to drink it
3 | Bad | Flawed (AD Laws 4 Grain BiB, Clyde Mays anything)
4 | Sub-par | Many things I'd rather have (Tincup 10 year)
5 | Good | Good, solid, ordinary (Larceny, Sazerac Rye)
6 | Very Good | Better than average (Buffalo Trace, OGD BiB)
7 | Great | Well above average (Old Ezra Barrel Proof, Old Weller Antique)
8 | Excellent | Exceptional (Michter's Barrel Proof Rye, Four Roses Barrel Strength)
9 | Incredible | Extraordinary (GTS, 13 Year MGP or Canadian Rye)
10 | Insurpassable | Nothing Else Comes Close (William Larue Weller)
Featured Products
Description:

The Aged & Ore Neat Traveler is a complete travel kit for spirits. We combined our widely praised Neat Glass with one of our 3oz Flight Bottles and housed them together in a custom EVA travel case. Perfect for a night away with your favorite pour. The tie
Description:

The Aged & Ore Bottle Flight is a premium set of 4 custom silicone wrapped glass bottles designed to transport and share samples of your favorite spirits. The flight bottles come in a custom EVA travel case that fits perfectly in any small bag. An Aged &
Description:

This Bundle combines two of our crowd favorite products, creating the ultimate travel bundle to bring along your favorite spirits and glassware. Bundle Includes: Neat Traveler (Gray) Bottle Flight (Gray) Note: This bundle is only available in gray and col
*Bourbon Culture is reader-supported. When you buy through links on our site, we may earn an affiliate commission.