*Bourbon Culture is reader-supported. When you buy through links on our site, we may earn an affiliate commission.
If you're looking for a succinct explanation to the single barrel that's going to get reviewed today, first of all, I'm so, so sorry. But second of all, there was a time when High West offered single barrel picks of every core label they sold. Rendezvous Rye picks were the most cherished due to the extra age of their blended components (6 year old MGP rye whiskey and 16 year old Barton rye whiskey) while Campfire was the most rare probably due to the fact that it was hard to find a finishing cask that paired well with a blend of 3 different whiskies (one of them being peated Scotch). These were the glory days of High West.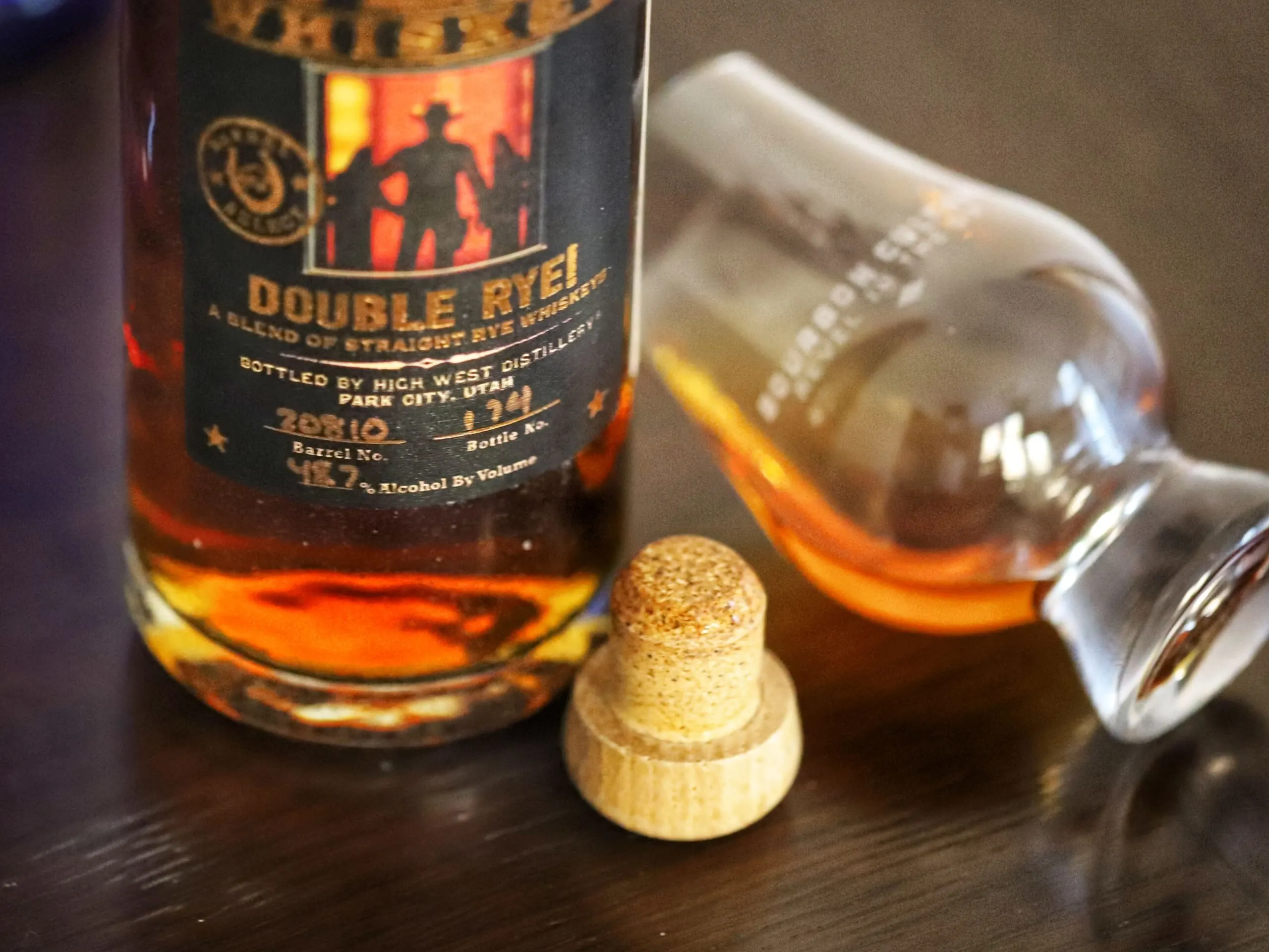 In late 2019, High West announced that they were making a big change to their single barrel program. From now on, they were going to offer only their American Prairie and Double Rye! whiskies for their single barrel selections. If any other labels were going to be offered, they would be distillery-only releases. This announcement was another nail in the coffin among the enthusiast camp who already begun to lose interest after High West had systematically altered the makeup of each label. First came the replacement of 16 year old Barton Rye Whiskey in favor of their own homemade rye whiskey and the replacement of older stocks of MGP and Four Roses bourbon in American Prairie with bourbon from Cascade Hollow (Dickel). A final note on the change to the single barrel program came with the announcement that these single barrels would no longer wear the nifty metal and leather medallions that they once did. Instead, they would be recognizable on a shelf by their black paper label instead of tan.
High West Double Rye! Single Barrel
As it pertains to this article, Double Rye's makeup changed from a blend of 2 year old MGP 95/5 rye whiskey and 16 year old Barton 53/37/10 rye whiskey to a blend of that same 2 year old MGP rye whiskey and a 7 year old High West rye whiskey with a mash bill of 80% rye and 20% malted barley. I did a comparison review of a 2016 bottle and a 2020 bottle and found the 2016 version to be miles ahead of the newer release. Double Rye! is supposed to be an entry-level rye whiskey that I'm sure sees most of its customers buying it for cocktail duty, but the fact remains that it was a perfectly passable sipper before the switch. RIP Barton Rye, we will always remember you for making Double Rye! drinkable.
It seems like High West did get the message that its fans were not pleased with the direction their labels were going with their own rye whiskey, so they have (not so) covertly contracted Bardstown Bourbon Company to begin laying down barrels for their future products. I couldn't be happier about that news.
Until that time comes, the only hope for making a better tasting Double Rye! is to find a single barrel pick that allows for more time in a barrel and the addition of further flavors to mask any youth. Thanks to a good friend (who happens to be a helluva tattoo artist) in Chicago, he generously gifted me a bottle of Double Rye! that was finished in a White Port cask for 1 year and 1 month and selected by Warehouse Liquors. It came in at 48.7% ABV (97.4 proof) which is a bit on the low side since High West adjusts the whiskey's proof into every finishing barrel down to 100 before it enters the barrel. Most HW single barrels tend to gain a few proof points back but I guess this one didn't. Some older whiskey enthusiasts will recall a time when HW didn't proof down the single barrels which resulted in some crazy bottling proofs (I've seen a RR bottled at 125 proof before!). That's yet another change this program has seen.
Anyway, I'm excited to try this bottle because of the hype built around High West's distillery-only release of A Midwinter's Night Dram limited edition version called "Encore." High West is still releasing their regular MWND nationwide (which sees rye whiskey finished in Tawny and Ruby Port casks) but this is the first time they've used White Port casks. By the way, did you know that the reason "white" Port gets its name is because the Port wine is made from white grape varietals? I just learned this. But High West does not expand on which style of White Port they sourced for the casks. It could be anything from somewhat bitter all the way up to intensely sweet. I wonder which one they chose here?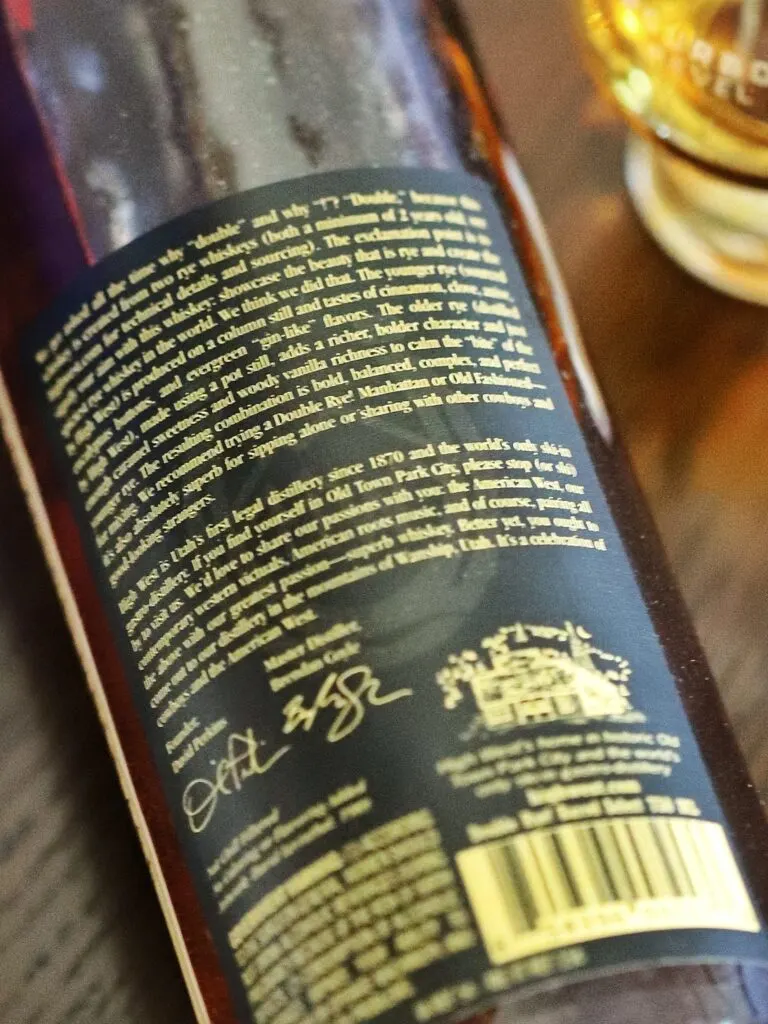 Regardless, the hype around Midwinter's Night Dram Encore will surely make a bottle like this require direct comparisons to it. So does this taste like a "baby" MWND Encore? Let's find out. I sampled this neat in a glencairn.
Tasting Notes
Nose:
Earthy notes
and
pine tree bark
are at the forefront of the notes. These are not bad scents to pick up on, but there is a definite youthfulness when you find them. The aromas lining up behind it are certainly a result of the White Port influence;
Cranberry sauce, oranges and lemons and sweet wine.
These give some decent depth to the experience but don't necessarily come off as sweet. If you stick with this long enough, the youthful notes tend to fade in the background allowing you to pick up on
vanilla and gingerbread
too.
Palate:
I was kind of concerned with the youthfulness of the
nose
transferring to the palate. Sure enough my assumptions are validated.
Prickly spice notes
are quick to attack my tongue with each sip. The youth of the distillate is fighting hard against the
sweet, grapey White Port influence
. MGP Rye Whiskey's telltale
pine needles and cinnamon stick
gather strength while green herbs like mint, green tea leaves, hay and marjoram pile on. A fragrant layer of potpourri (smell and taste are related after all) is a nice distraction but brings little extra sweetness with it. Instead, the rye influence continues to bombard my tongue with
ginger root, licorice and tart cranberries.
There is only a faint bit of
creamy vanilla custard
that has a drizzle of
honey
mixed in for sweetness. Otherwise, I would argue that this bottle doesn't present on the sweet side of the whiskey spectrum that much.
Finish: Lingering earthy and green notes wage war against white grape juice and grape jelly. The rye whiskey gains an upper hand on the finish by powering through the sweetness with notes of forest floor, bouquets of flowers and cinnamon stick. Candied ginger (perhaps I'd even call it flat Ginger Ale) makes the aftertaste enjoyable while tart cranberry and mint flavors give me the holiday feels all over again.
Score: 7.2/10
Rating this single barrel is one of the harder tasks I've had to do for my recent reviews. While I popped the cork off the moment I got the bottle and drank it mindlessly (not ever pour must be studied after all), my first impressions centered on how
harsh and astringent
it tasted. It sat on my back shelf for a little while afterwards as punishment. Dragging it out a couple weeks later brought me around to its finer points. There is
sweetness
buried within and the White Port influence does an admirable job at combatting the young rye whiskey components. While it can't win that battle outright, it at least fights the worst aspects of it. The astringency gets rounded out and the earthy notes taste
less like dirt and leaves and more like blooming flowers and tender shoots.
I even learned to outright love the
nose
after a while.
Final Thoughts
To answer the question of if this tasted like a "Baby Encore" the answer is "I don't know, I haven't tasted MWND Encore yet." All joking aside, if I did, I could imagine some of the traits being that the grapey, fortified white wine influence will be more delicate and precise with its impact compared with the ham-fisted approach of Ruby and Tawny Ports in regular MWND. This is appealing because if High West is trying to put more aged rye whiskey components into the MWND line, it should have a finishing barrel that accentuates it, not outright smothers it so the drinker can't tell if the base whiskey is good or not. Drinking this single barrel pick from Gene and his crew at Warehouse Liquors tells me that he saw the potential in this barrel which is why he selected it.
For all the more shit I give High West (which they rightfully deserve), I see some traits in this bottle that tells me that they are trying hard to right the ship on their brand. Their commitment to creative (and sometimes fantastic) cask finishes may be the only thing left that's keeping enthusiasts somewhat interested in them. But if they do eventually get some great product out of their contract with Bardstown Bourbon Company in the near future, then I'm ready to jump back in with their brand and see just how high they'll go. Until then, single barrels like this are a step in the right direction but we all need to exercise restraint until they prove themselves more.
Featured Products
Description:

The Aged & Ore Neat Traveler is a complete travel kit for spirits. We combined our widely praised Neat Glass with one of our 3oz Flight Bottles and housed them together in a custom EVA travel case. Perfect for a night away with your favorite pour. The tie
Description:

The Aged & Ore Bottle Flight is a premium set of 4 custom silicone wrapped glass bottles designed to transport and share samples of your favorite spirits. The flight bottles come in a custom EVA travel case that fits perfectly in any small bag. An Aged &
Description:

This Bundle combines two of our crowd favorite products, creating the ultimate travel bundle to bring along your favorite spirits and glassware. Bundle Includes: Neat Traveler (Gray) Bottle Flight (Gray) Note: This bundle is only available in gray and col
*Bourbon Culture is reader-supported. When you buy through links on our site, we may earn an affiliate commission.