*Bourbon Culture is reader-supported. When you buy through links on our site, we may earn an affiliate commission.
Finished in Rye Whiskey Barrels
A lot of changes have occurred ever since Constellation Brands bought out High West in late 2017. In those short 3 years, we've seen a decline in quality of barrels being sourced for both their bourbon and rye whiskey followed by a slow and steady campaign to reduce the number of labels that they have. First to be killed off were the barreled cocktail mixes "Barreled Boulevardier" and "The 36th Vote." This was followed by limited releases such as "American Prairie Reserve," "Rocky Mountain Rye" and "Son of Bourye." Now in 2020, High West has ended "Yippie Ki Yay" and "14 Year Light Whiskey" while announcing that Rendezvous Rye and Campfire will only be able to be purchased at the distillery in Utah.
The one bright spot left in their program is that their single barrel program appears to be not only expanding, but flourishing. New barrel finishes are showing up all the time now in different stores around the country. This should come as no surprise, because their single barrel program is one of the few highlights in their relatively low-proof and minimally aged lineup. Buying a single barrel pick gives the buyer a chance to taste something that's usually over 100 proof and aged for around a year and a half longer. This can be a big help for the 2 year old rye whiskey or bourbon in the Double Rye! and American Prairie bourbon.
Last year, I was able to pick up this American Prairie bourbon that had been finished in a rye barrel from local Indianapolis Spirits giant, Big Red Liquors. The specs were: American Prairie Bourbon (normally a blend of 2 to 13 year old Bourbon) that has been finished for 1.7 years in a rye whiskey barrel and bottled at 102 proof.
So how is this? Are these Barrel Finished Single Barrels a buy-on-sight kind of thing? Let's find out. I sampled this neat and in a glencairn.
Tasting Notes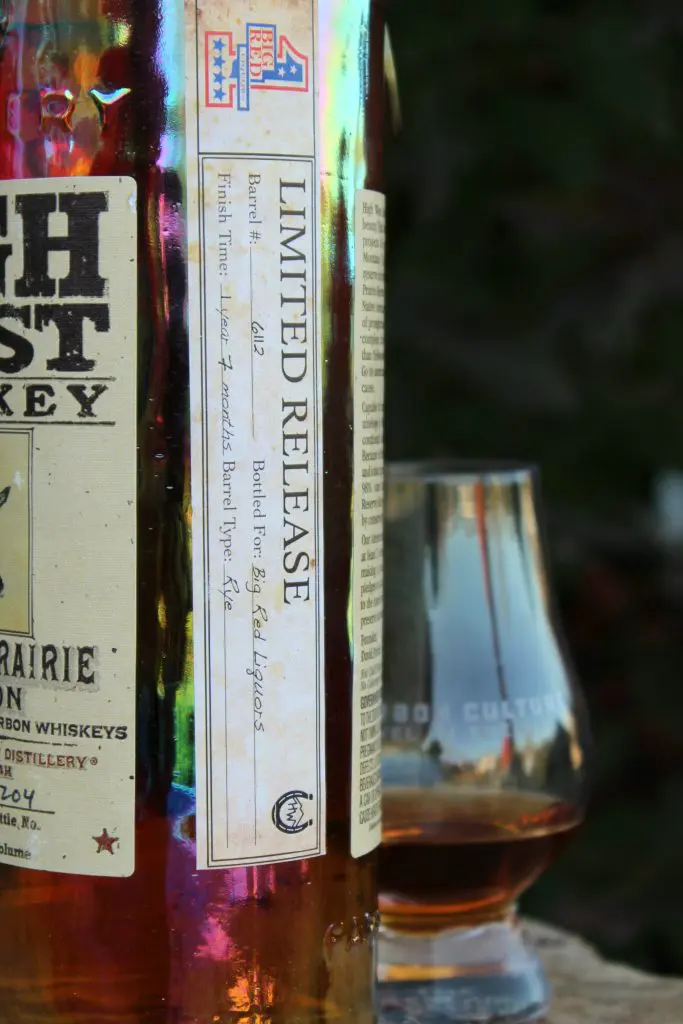 Nose: If there is bourbon in this glass, it's hard for me to recognize. I am smelling rye whiskey every step of the way. It smells strongly of pine, black licorice, citrus rind and mint. If I didn't know any better, I'd guess that this was a 3-4 year old MGP rye whiskey. There is some mild ethanol proof sting but for the most part it's able to be looked past. As the session goes on, sweet cherry blossoms and raspberries also make an appearance.
Palate: Just like the nose, a pleasant rye spice greets my tongue with a bit of spicy heat. There's telicherry peppercorns and pine needle tea as the primary flavors that I pick up. Herbal notes of peppermint, dill and tarragon do their part in smothering any other bourbon notes. Simple syrup sweetness dominates, but as far as a caramel or honeyed flavor, there's not much of that here.
Finish: After the sip is complete, there's more pine, mint and even the sweetness of a bit of toffee. The tannins on this one come out like barrel char and oily leather, making me wonder where they have been this whole time.
Score: 6/10
Although a score of 6 out of 10 may seem low to some, the bottle continued to grow on me with each session. Bottles have the ability to morph and change over time, but over the weeks I spent with this one, I continually noticed the lack of bourbon notes. Instead, this was all rye whiskey, which wasn't a bad thing! But if you're a bourbon fan looking to dabble in something different, buying a rye whiskey flavored-bourbon may not seem like an attractive buy, especially when a company like this releases so many cooler barrel finishes.
In the end, these are fascinating experiments and as long as the price would stay around the $40 mark, this should be an instant-buy.
The proof is high, the additional age is appreciated and the flavors can be unique and fun. But do not expect these finishes to equal rivals to other such whiskies out there with the same finishes. These will remain bargain buys because the base distillate is still very young, but at least they make up for it by being fun.
Final Thoughts
This score isn't meant to be a detractor. This bottle genuinely did grow on me over the 3 sessions I've had with it. It is very hard to score a bottle based on seeing the label, prepping your mouth to taste one thing and then getting another. This bottle has essentially no bourbon notes. It's been entirely covered up with rye notes. And don't get me wrong, I love rye. I love everything about it. But if I want a bourbon, then I want to at least taste a couple bourbon notes.
A score of 6 is generous because overall, this doesn't disappoint in the flavor zone. It's missing some sweetness here and there and generally tastes young, but there is nothing off-putting. I will always continue to buy High West Single Barrels because they're just so damn interesting. Actually, I lied. There is one Single Barrel I will never buy and that is their Gin finished whiskies. Disgusting! </rant>.
Ratings Breakdown
1 | Disgusting | Drain pour (Example: Jeffers Creek)
2 | Poor | Forced myself to drink it
3 | Bad | Flawed (AD Laws 4 Grain BiB, Clyde Mays anything)
4 | Sub-par | Many things I'd rather have (Tincup 10 year)
5 | Good | Good, solid, ordinary (Larceny, Sazerac Rye)
6 | Very Good | Better than average (Buffalo Trace, OGD BiB)
7 | Great | Well above average (Old Ezra Barrel Proof, Old Weller Antique)
8 | Excellent | Exceptional (Michter's Barrel Proof Rye, Four Roses Barrel Strength)
9 | Incredible | Extraordinary (GTS, 13 Year MGP or Canadian Rye)
10 | Insurpassable | Nothing Else Comes Close (William Larue Weller)
Featured Products
Description:

The Aged & Ore Neat Traveler is a complete travel kit for spirits. We combined our widely praised Neat Glass with one of our 3oz Flight Bottles and housed them together in a custom EVA travel case. Perfect for a night away with your favorite pour. The tie
Description:

The Aged & Ore Bottle Flight is a premium set of 4 custom silicone wrapped glass bottles designed to transport and share samples of your favorite spirits. The flight bottles come in a custom EVA travel case that fits perfectly in any small bag. An Aged &
Description:

This Bundle combines two of our crowd favorite products, creating the ultimate travel bundle to bring along your favorite spirits and glassware. Bundle Includes: Neat Traveler (Gray) Bottle Flight (Gray) Note: This bundle is only available in gray and col
*Bourbon Culture is reader-supported. When you buy through links on our site, we may earn an affiliate commission.