*Bourbon Culture is reader-supported. When you buy through links on our site, we may earn an affiliate commission.
My first encounter with High West's Light Whiskey was when I was reading Breaking Bourbon's year end "Best Whiskey of 2016" article where they kept mentioning this mysterious bottle. They gave it high praise and I was very curious. Also, a 14 year age statement seemed incredibly high based on my budget back in the day and this bottle seemed out of reach. But then my sister, who lives in Wyoming, gave me a bottle for Christmas last year and I was enthusiastic to give it a try.
Before I dive into the review, a little background is that High West obtained a large amount of barrels of Light Whiskey from MGP in Lawrenceburg, Indiana when they first opened. MGP had these barrels left over from when they were owned by Seagram's. Seagram's would use this Light Whiskey as a kind of grain neutral spirit that was used to cut costs and increase batch sizes of their various bottom shelf whiskies.
The Mashbill
The mashbill is 99% corn and 1% malted barley and it is aged in used bourbon barrels. But after Seagram's sold the distillery in Indiana, the Light Whiskey continued to set in barrels, aging year after year until High West came and bought a sizable amount for cheap (seriously, a barrel of this typically runs 1/3 the price that MGP bourbon runs). High West then proofed it down to 92 proof and bottled it as a limited edition, which it will probably run out of in 2020.
So how does this taste and should you go looking for a bottle? I sat down to sample this neat and in a Glencairn.
Tasting Notes
Nose: The word of the day for this review will be "vanilla" as in, HEAVY Vanilla. The nose, however, is surprisingly absent of many other notes after that. There is some baked apple tarts and rose petals along with a small amount of oak, but that's it.
Palate: The palate has a decent mouthfeel and notes of creamy crème brulee, caramel chips, a little bit of pancake syrup and more tart apples are present. There's a little bit of heat, which I attribute to the lack of new oak from a barrel mellowing out the burn that comes with distillate. The heat is more in the form of a cinnamon oil than anything.
Finish: The finish still sees the same amount of vanilla and tart apples as the nose and palate did. Those two notes haven't budged over the year I've owned this bottle. There's still some sweetness in the form of a bit of caramel, but overall, everything feels a bit one-dimensional.
Score: 6/10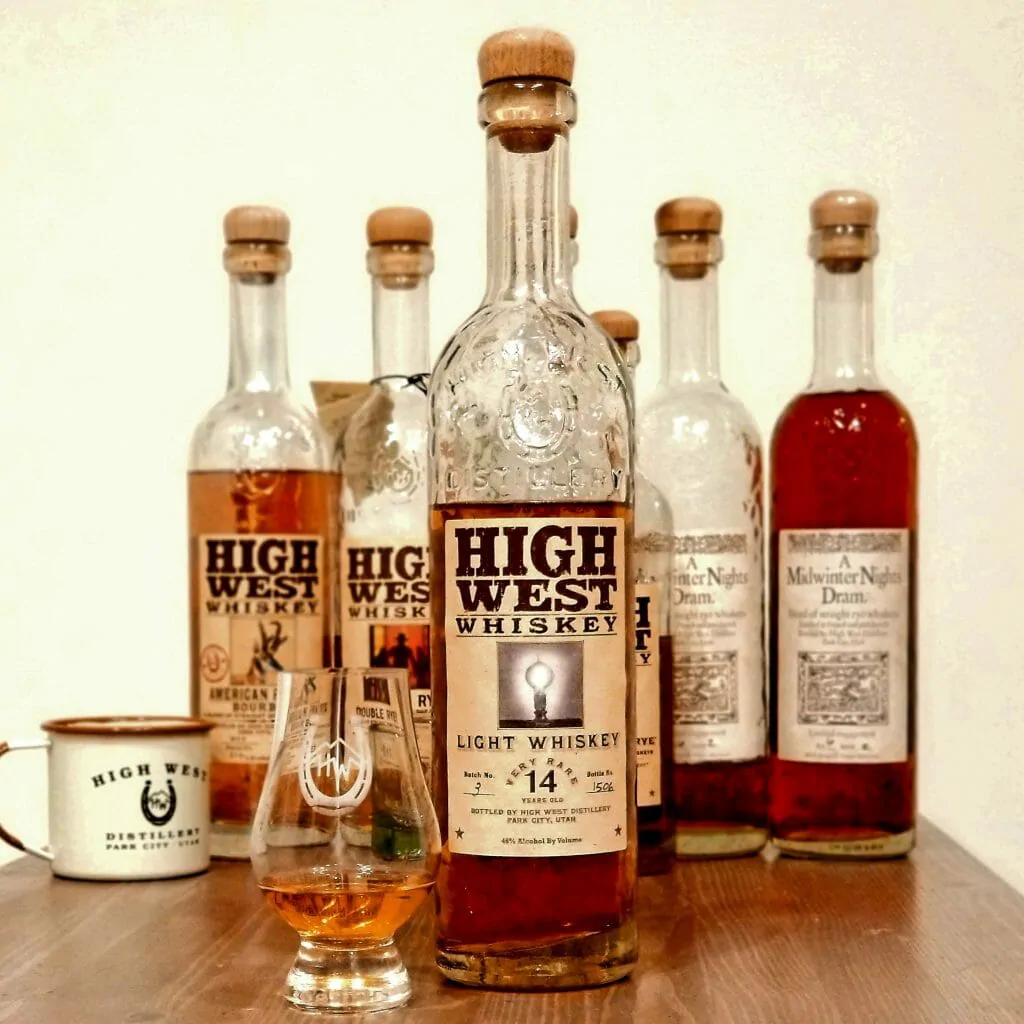 If High West was the only distillery that sourced MGP's Light Whiskey, then I would think it was unique and worth buying. But since then, I have found 3 other companies in 2019 that I've been able to find and try their barrel strength version of Light Whiskey and I must say, that's where it's at. The barrel proof versions have a sweet, almost creamy butterscotch flavor that delivers big flavor, something that this High West version is missing. The other odd thing is, most of those bottlers were selling a 750ml bottle at around $60, which seems insane when you note that High West's version is $100.
Final Thoughts
So in the end, High West's Light Whiskey delivers less flavor through less proof for way more than the competitors out there. Even though I found this bottle to be above average, I'd recommend you seeking out a bottle of barrel proof Light Whiskey from another producer first.
Rating Breakdown
1 | Disgusting | Drain pour (Example: Jeffers Creek)
2 | Poor | Forced myself to drink it
3 | Bad | Flawed (AD Laws 4 Grain BiB, Clyde Mays anything)
4 | Sub-par | Many things I'd rather have (Tincup 10 year)
5 | Good | Good, solid, ordinary (Larceny, Sazerac Rye)
6 | Very Good | Better than average (Buffalo Trace, OGD BiB)
7 | Great | Well above average (Old Ezra Barrel Proof, Old Weller Antique)
8 | Excellent | Exceptional (Michter's Barrel Proof Rye, Four Roses Barrel Strength)
9 | Incredible | Extraordinary (13 Year MGP or Canadian Rye)
10 | Insurpassable | Nothing Else Comes Close (William Larue Weller)
Featured Products
Description:

The Aged & Ore Neat Traveler is a complete travel kit for spirits. We combined our widely praised Neat Glass with one of our 3oz Flight Bottles and housed them together in a custom EVA travel case. Perfect for a night away with your favorite pour. The tie
Description:

The Aged & Ore Bottle Flight is a premium set of 4 custom silicone wrapped glass bottles designed to transport and share samples of your favorite spirits. The flight bottles come in a custom EVA travel case that fits perfectly in any small bag. An Aged &
Description:

This Bundle combines two of our crowd favorite products, creating the ultimate travel bundle to bring along your favorite spirits and glassware. Bundle Includes: Neat Traveler (Gray) Bottle Flight (Gray) Note: This bundle is only available in gray and col
*Bourbon Culture is reader-supported. When you buy through links on our site, we may earn an affiliate commission.