*Bourbon Culture is reader-supported. When you buy through links on our site, we may earn an affiliate commission.
For Four Roses fans across the nation, September is the most exciting time of the year as they eagerly await the launch of the annual Limited Edition Small Batch release.
For a little over a decade, Four Roses has carefully selected barrels that contain (on average) four different recipes. All of the recipes have different ages but are always at least 11 years older or more.
This ultimate blend goes through rigorous tastings to make sure it is just right. Brent Elliot and his team try to highlight everything Four Roses is known for from classic fruit notes, baking spices, rich tannins and a few unique traits that you can only get with extensive time in a barrel.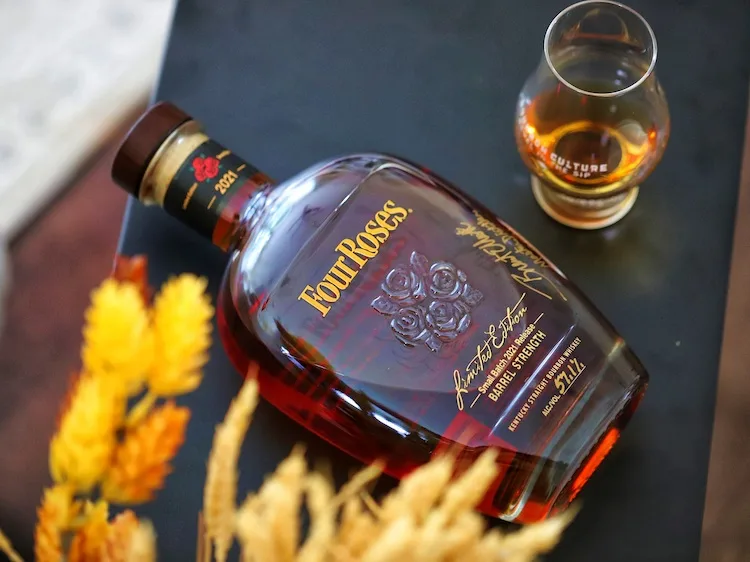 For the last five years, most reviewers and Four Roses geeks tend to agree that the 2019 release of Limited Edition Small Batch was the best. And while I have not had a chance to publish a review of each of these batches, I do find that to be true myself.
This is not to say that there has been a poor batch in the last five years, just ones that you can taste are better. Last year I found myself really enjoying the 2020 release but found that a majority of my friends were not as impressed. I rated it highly and still stick by that rating.
OBSQ Recipe
This year, I was lucky enough to be able to get the most recent release and couldn't wait to try it out. For the first time ever, Four Roses uses the OBSQ recipe in their Limited Edition Small Batch.
The Q yeast strain is usually one of the most polarizing yeasts among Four Roses enthusiasts because it's trademark "Floral Essence" notes are ones that either add an exciting note not often found in bourbon or one that take away from the end product by being too light and perfume-y.
I find myself really enjoying the Q yeast strain when I was able to get a few bottles from the fantastic run of OBSQ Private Selections released in 2020.
This makes me look forward to seeing what this recipe would bring to the table. The other recipes in the 2021 SmBLE consist of the old standbys: OBSV, OESV and OESK recipes which are known for their fruity and spicy elements.
This year's batch is somewhat young compared to other releases with a mix of 16, 14 and 12 year old barrels. Last year saw a rather old 19 year OBSK recipe that brought a lot of old oak notes coupled with a deeply developed spice note.
But Brent Elliot has proven he knows what he's doing and I'm going to give him the benefit of the doubt that he picked barrels that were at their peak. So how is this year's release? Let's find out. I sampled this neat in a glencairn.
Tasting Notes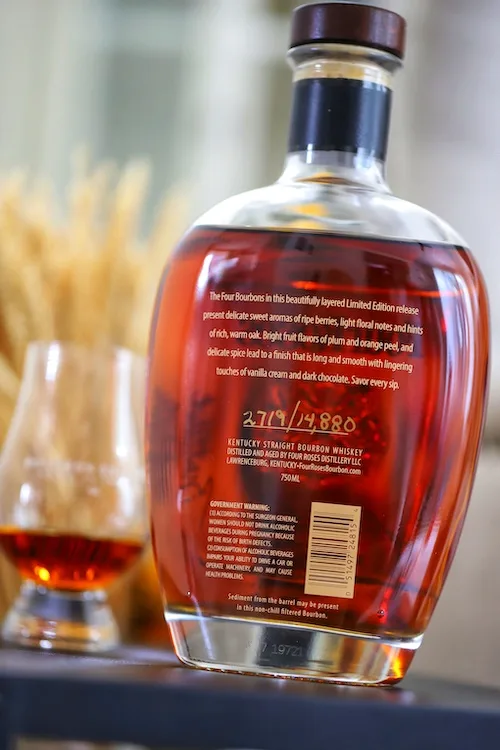 Nose: The nose on these Limited Editions are always lights-out. The 2021 release is no different. The aroma of Barq's Red Crème Soda coupled with cinnamon gum give the impression that this dram will be sticky sweet and spicy.
The extra punch of butterscotch, toasted brown sugar and a vanilla candle also ramp up the sweetness. There's plenty of age poking through with scents of seasoned oak and pipe tobacco.
Finally, a bright bouquet of wildflowers gives a light, springtime adds an additional layer that really makes the nose stand out as special.
Palate: Sarsaparilla unites with strawberry, cherry and raspberry fruit strips that really show off the V yeast strains dominant trait.
There are notes of cedar wood and furniture polish that combine with dark chocolate to really give off that aged taste. Licorice, both red and black, give a unique anise-forward twist that highlights the high amount of rye grain used across the recipes.
There are some herbal notes tucked back like spearmint and flower petals that are unique and fun to fin. Sweet notes like raw honey and rumballs couple with spicy notes of clove and cinnamon for the perfect sweet and spicy combo.
The whole dram is creamy and drinks slightly above its 114 proof. I'm not complaining either.
Finish: Dark, caramelized cherries couple with birch beer soda for a sweet ending that perfectly pairs with the softest, most evolved tannins I have tasted; Toasted oak, wet tobacco and leather jacket.
Meanwhile, lingering notes like you just ate a handful of cinnamon candies give a bit of spice at the end that perfectly complements the rest.
Score: 8.7/10
If you compare the score I gave this year's Small Batch Limited Edition with last years, you'd probably come to the conclusion that this year's release is not as good.
That's not the case. This year's release is everything I love about Four Roses, cranked up to 11. That's the part I look forward to the most about these Limited Editions is you simply can't find the flavors and scents in such consistency and intensity from their Private Selection single barrels that you can in this flagship product.
Four Roses took a leap by putting a run of 14 year old OBSQ barrels in this year's batch and I think it's better for it. The floral, herbal and licorice notes did not hide in the background, they brought the same level of intensity as the rest.
This bold move paid off even more by making this batch more unique than in previous years.
Out of the year's biggest limited releases, Four Roses doesn't seem to garner the same attention and desire among the public or enthusiasts.
As an example; in recent years, we've seen Old Forester Birthday Bourbon pull away in terms of secondary value to almost double what Four Roses SmBLE commands.
But let me caution you that if you believe that Birthday Bourbon's popularity is because it is a better bourbon, that's absolutely not true. Birthday Bourbon's popularity has to do with its unique packaging.
Final Thoughts
Four Roses remains under the radar because they're using the same bottle that two lower-priced products already use, and this makes people assume it's not as good.
But for those that get to experience limited releases from all of the great distilleries of Kentucky, you already know that this that Four Roses has produced nothing but bangers each year. 2021 SmBLE has continued this tradition.
Ratings Breakdown
1 | Disgusting | Drain pour (Example: Jeffers Creek)
2 | Poor | Forced myself to drink it
3 | Bad | Flawed (AD Laws 4 Grain BiB, Clyde Mays anything)
4 | Sub-par | Many things I'd rather have (Tincup 10 year)
5 | Good | Good, solid, ordinary (Larceny, Sazerac Rye)
6 | Very Good | Better than average (Buffalo Trace, OGD BiB)
7 | Great | Well above average (Old Ezra Barrel Proof, Old Weller Antique)
8 | Excellent | Exceptional (Michter's Barrel Proof Rye, Four Roses Barrel Strength)
9 | Incredible | Extraordinary (GTS, 13 Year MGP or Canadian Rye)
10 | Insurpassable | Nothing Else Comes Close (William Larue Weller)
Featured Products
Description:

The Aged & Ore Neat Traveler is a complete travel kit for spirits. We combined our widely praised Neat Glass with one of our 3oz Flight Bottles and housed them together in a custom EVA travel case. Perfect for a night away with your favorite pour. The tie
Description:

The Aged & Ore Bottle Flight is a premium set of 4 custom silicone wrapped glass bottles designed to transport and share samples of your favorite spirits. The flight bottles come in a custom EVA travel case that fits perfectly in any small bag. An Aged &
Description:

This Bundle combines two of our crowd favorite products, creating the ultimate travel bundle to bring along your favorite spirits and glassware. Bundle Includes: Neat Traveler (Gray) Bottle Flight (Gray) Note: This bundle is only available in gray and col
*Bourbon Culture is reader-supported. When you buy through links on our site, we may earn an affiliate commission.