*Bourbon Culture is reader-supported. When you buy through links on our site, we may earn an affiliate commission.
For the first two years of my bourbon journey, I was star struck each time I found a store pick of Four Roses Private Select. These single barrels, bottled at barrel proof and containing one of ten different recipes made hunting exciting.
Finding out which recipe was your favorite by tasting each one only added another dimension to the joy you'd find in every bottle.
But my world changed during a recent conversation where it seemed everyone was on the same page except for me. The topic? That only about 10% of Four Roses Private Selects are actually good and the rest are mediocre at best. I was stunned.
I had been treating them all as if they were the cream of the crop and now I was hearing from a group of respected bourbon enthusiasts that they didn't even care for 90% of the single barrels out there.
The group continued on with this theme by saying that true Four Roses aficionados weren't even chasing specific recipes or tiers anymore. Instead, the new trend is to chase specific "runs."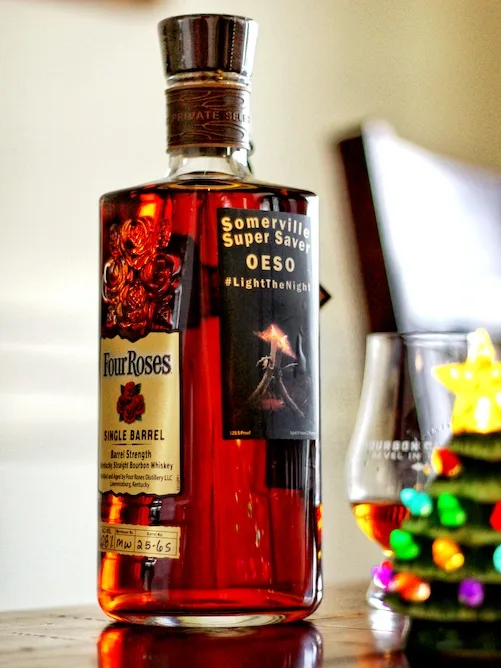 A run is where Four Roses empties an entire rick (usually 22 to 23 barrels) and slowly feeds them through the single barrel program for that year.
Those ricks are all the same recipe and are around the same proof. The trick is that if you find a bottle that you really like, you can go to some Four Roses fan pages and find out from the members where the other barrels from that rick ended up.
It's like a fun game of hide and seek where you try to find all of the sister barrels so you can taste the rainbow.
Somerville Super Saver 2020
It just so happens that Somerville Super Saver (located in New Jersey) had picked one such barrel that fell into a really desirable run of OESO barrels.
This barrel was from Tier 6 of the western side of Warehouse M (commonly referred to as the "Magic Warehouse"). It was the 19th barrel in the rick (as denoted by the letter S) and by time it was bottled in February 2020, it had been aged for 9 years and 2 months (making it on the young side of modern OESO barrels).
But at 125.6 proof, this one had some fire to it. So how good of a barrel did they pick? There's only one way to find out. I sampled this neat in a glencairn.
Tasting Notes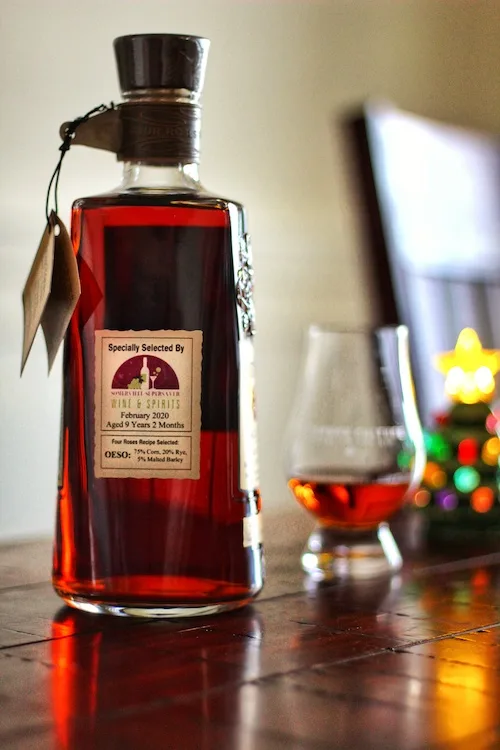 Nose: Ripe strawberries that had been dipped into milk chocolate are delicious and honestly, kind of expected (I find the O yeast strain to give off a lot of chocolate notes).
Even sweeter notes come by way of vanilla cupcakes and brownie batter. Oak spice stands out as unusual only because I do not often find tannic notes in anything Four Roses puts out that is under 12 years old.
I'm not complaining though! Underneath all of those heavier notes I do find some floral scents in the form of rose petals.
Palate: The flavors on this one are immediately thick and rich. Chocolate mousse cake, wet tobacco and seasoned oak provide a hefty punch.
Meanwhile, dark fruits like figs and dried cherries capture some of the fruit flavors that Four Roses is known for. But the flavors keep on coming with layers of complexity underneath. Lady Fingers, a slight hint of bubblegum, toasted walnuts and Amaretto liqueur all swirl around to form an unforgettable experience.
The whole sip is slightly spicy but the proof is remarkably controlled.
Finish: The finish is much more dark and foreboding than Four Roses tends to be. The tannins seem to shine through in ripples of oak, dark chocolate, nougat and a bit of bitterroot tea. It's unlike almost all other 4R single barrels I've experienced to date.
Score: 8.6/10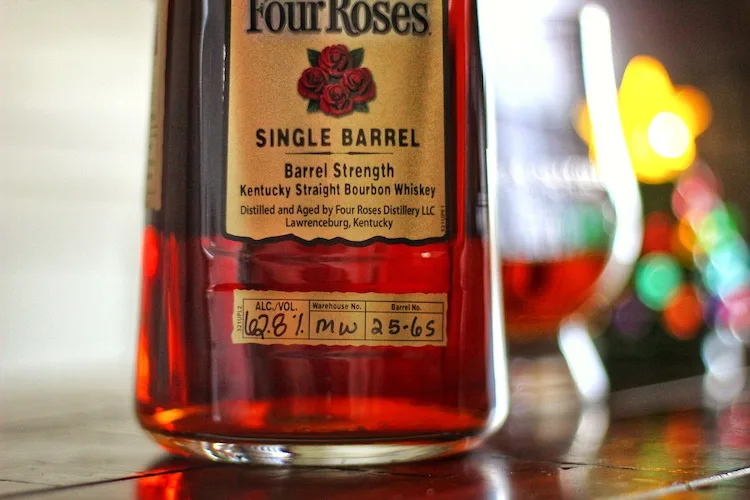 One of the most enjoyable Four Roses single barrels I've had the pleasure to experience in a long time (possibly ever). This OESO pick is unconventional in its profile as it draws upon more oak and dark traits than you'd normally find in a Four Roses product.
To find fruit and chocolate in any O yeast strain single barrel is not new, but it is always enjoyable. However, the notes of oak, Amaretto and toasted walnuts came out of left field and had me excited for the next sip. This bottle is worth the hype.
Final Thoughts
Although I haven't mentioned it up until this point, I did put Somerville Super Saver's bottle up against 3 other OESO's that I had on hand including a barrel that came from this same run that was selected by local Indianapolis chain Crown Liquors ("Elena").
The Super Saver barrel handily beat all 3 including the OESO pick that I went on last year called "Perilous Journey." I was stunned.
Four Roses picks don't appeal to everyone and even then only certain recipes appeal to certain fans, but if you find have the chance to find any barrels related to this run of OESO's, then I highly recommend you get it. This is about as good as it gets.
Ratings Breakdown
1 | Disgusting | Drain pour (Example: Jeffers Creek)
2 | Poor | Forced myself to drink it
3 | Bad | Flawed (AD Laws 4 Grain BiB, Clyde Mays anything)
4 | Sub-par | Many things I'd rather have (Tincup 10 year)
5 | Good | Good, solid, ordinary (Larceny, Sazerac Rye)
6 | Very Good | Better than average (Buffalo Trace, OGD BiB)
7 | Great | Well above average (Old Ezra Barrel Proof, Old Weller Antique)
8 | Excellent | Exceptional (Michter's Barrel Proof Rye, Four Roses Barrel Strength)
9 | Incredible | Extraordinary (GTS, 13 Year MGP or Canadian Rye)
10 | Insurpassable | Nothing Else Comes Close (William Larue Weller)
Featured Products
Description:

The Aged & Ore Neat Traveler is a complete travel kit for spirits. We combined our widely praised Neat Glass with one of our 3oz Flight Bottles and housed them together in a custom EVA travel case. Perfect for a night away with your favorite pour. The tie
Description:

The Aged & Ore Bottle Flight is a premium set of 4 custom silicone wrapped glass bottles designed to transport and share samples of your favorite spirits. The flight bottles come in a custom EVA travel case that fits perfectly in any small bag. An Aged &
Description:

This Bundle combines two of our crowd favorite products, creating the ultimate travel bundle to bring along your favorite spirits and glassware. Bundle Includes: Neat Traveler (Gray) Bottle Flight (Gray) Note: This bundle is only available in gray and col
*Bourbon Culture is reader-supported. When you buy through links on our site, we may earn an affiliate commission.