*Bourbon Culture is reader-supported. When you buy through links on our site, we may earn an affiliate commission.
Distilled by Bruichladdich
Bottled: by Duncan Taylor
Region: Islay
Type: Single Malt
ABV: 56%
Age: 12 yrs
Color: dark gold
There are many independent bottlers out there which scour distilleries all over Scotland for unique casks to bottle and release at cask strength.
Duncan Taylor is one such IB that has not only released casks from most distilleries in Scotland, but is also extremely transparent about all of the information about that cask on the front label.
The bottle I'm reviewing today comes from Bruichladdich's Port Charlotte line.
It is a peated whisky distilled in 2003 and aged in a single bourbon hogshead for 12 years before being bottled in September 2016. Duncan Taylor, like most IB's, bottles their whisky with neither chill filtration nor added coloring.
Tasting Notes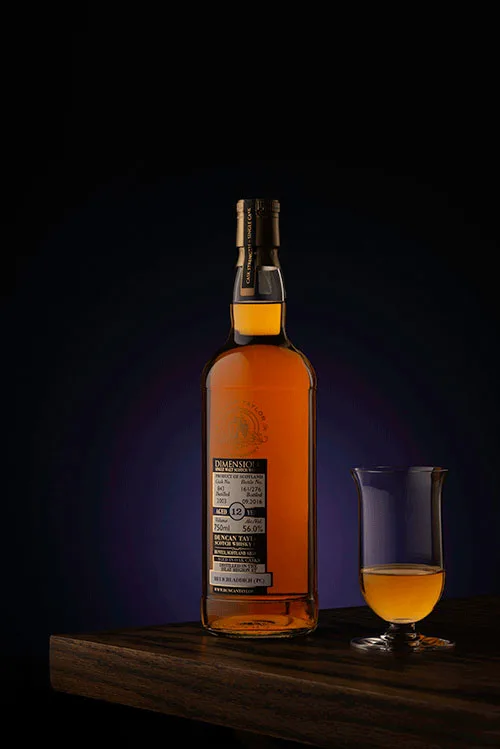 Nose: A bruiser of a nose that begins with a heavy hit of cherry-flavored antiseptic throat spray and campfire smoke followed by smoked cheeses, grilled meats and some clove to give it a bit of spicy character.
Fruity notes of cooked mango and rotten papayas can also be found.
Palate: Thick and oily mouthfeel with a strong, savory fish oil note that turns to savory sweet salted toffee. Wood spice, lemon zest, vanilla and more of that delightfully offensive throat spray note from the nose also translate to my tastebuds.
Finish: A long finish with soot and smoke that fades into a mix of more clove spice and fish oil and continues on to fresh baked spice cake with just a touch of ripe fruit and barrel char.
Rating: 9/10, Excellent
Conclusion: This is fantastic whisky! It's always a treat when an independent bottler can offer something different from what you get from the distillery's standard offerings.
This bottle takes all of my favorite parts of Port Charlotte but brings additional medicinal, savory and spicy notes that gives the whisky a different dimension that I absolutely love. If you haven't dabbled in Independent bottlings, I encourage you to give them a try!
Rating Description
1 Undrinkable
2 Bad
3 Poor
4 Below Average
5 Average
6 Above Average
7 Very Good
8 Great
9 Excellent
10 Perfect
Featured Products
Description:

The Aged & Ore Neat Traveler is a complete travel kit for spirits. We combined our widely praised Neat Glass with one of our 3oz Flight Bottles and housed them together in a custom EVA travel case. Perfect for a night away with your favorite pour. The tie
Description:

The Aged & Ore Bottle Flight is a premium set of 4 custom silicone wrapped glass bottles designed to transport and share samples of your favorite spirits. The flight bottles come in a custom EVA travel case that fits perfectly in any small bag. An Aged &
Description:

This Bundle combines two of our crowd favorite products, creating the ultimate travel bundle to bring along your favorite spirits and glassware. Bundle Includes: Neat Traveler (Gray) Bottle Flight (Gray) Note: This bundle is only available in gray and col
*Bourbon Culture is reader-supported. When you buy through links on our site, we may earn an affiliate commission.