*Bourbon Culture is reader-supported. When you buy through links on our site, we may earn an affiliate commission.
It's odd to me to see a brand of bourbon try so hard to distance itself from its parent company. What am I talking about? My experience during my first visit at the Evan Williams Experience last year.
I couldn't help but feel that Heaven Hill was trying to make Evan Williams seem like it was its own brand with its own distillery. Is it beneficial to try and cover it up? Heaven Hill is a very desirable name in bourbon, after all. I just don't understand why Evan Williams products avoid the connection.
Evan Williams Lineup
Evan Williams officially has only four bourbons that it showcases on their website. But in reality, the count is far higher.
They have a 23 year old bourbon, an annual Special Edition Single Barrel edition that is sold around the time of the Kentucky Derby, an annual "American Hero Edition" Small Batch bourbon and a 12 Year old, 101 proof version that is sold overseas or at their gift shop. That's a lot of specialty bottles for a brand that seems so… basic.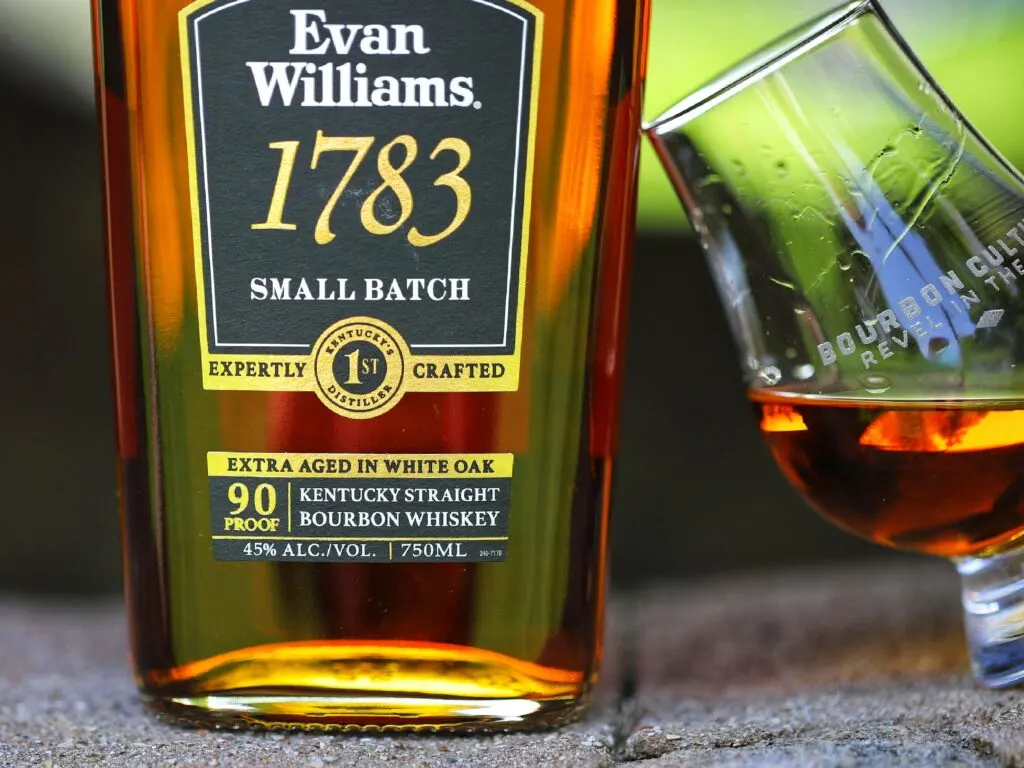 But is there any magic in those "basic" bottles? I haven't found much yet. I have previously reviewed the Single Barrel Version and the Bottled in Bond Version of Evan Williams and found them to be competent, but uninspired. Small Batch 1783 might have a leg up on both of those.
Why? It should be aged longer than the BiB version (which is only 5 years old) yet be more well rounded than the single barrel version (which is also lower in proof – 86.8 vs 90 proof). I hope this review can shed some light on if any of that works out to make it the best tasting of all three.
What makes Evan Williams different from other Heaven Hill products?
Because I love to speculate, let me take a quick detour and tell you what I think makes Evan Williams different from other Heaven Hill products. It has to do with where they age the barrels.
Heaven Hill has six different locations that they age bourbon at. Of those six locations, only one of them has brick warehouses – Bernheim (located in Louisville). The rest are built using wood and metal.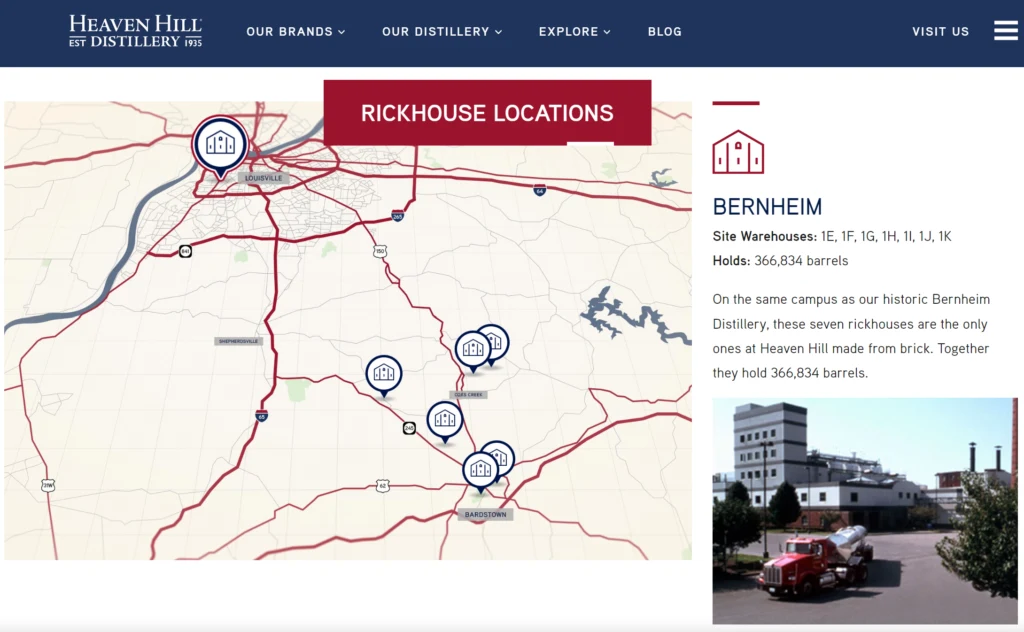 What makes brick warehouses different? They don't heat up as quickly and they don't cool down as quickly as wood or metal warehouses. The heat inside is more consistent in a brick warehouse. The barrels on the top tiers won't see as wild of temperature swings.
High temperatures tend to bring out a wilder variety of flavors but come with a lot of downsides too. Barrels lose more volume due to evaporation, they might get over-oaked more quickly and the rapid aging might result in more off-profile flavors developing.
Barrels aged in a brick warehouse should be more consistent from the top floors to the bottom. They may taste a year or two younger than similarly aged bourbon from wooden or metal warehouses. What I mean by that is sometimes the oak and tannins that are imparted into the liquid are slower to be absorbed.
While Heaven Hill has never publicly told us where Evan Williams barrels are aged at, it seems plausible to believe that Bernheim is it. First, they are the closest warehouses to the Evan Williams Experience in Louisville.
Second, there was a big clue given to enthusiasts this year (2023) when the most recent bottling of Evan Williams American Hero Edition said on the label that the barrels came from warehouses 1E and 1J (which are 2 of 7 warehouses at Bernheim).
Third, Evan Williams tries so hard to distance itself from the words Heaven Hill that it would make sense that they'd pull barrels from completely different styles of warehouses than other Heaven Hill products. That's why I think Bernheim warehouses have to be it.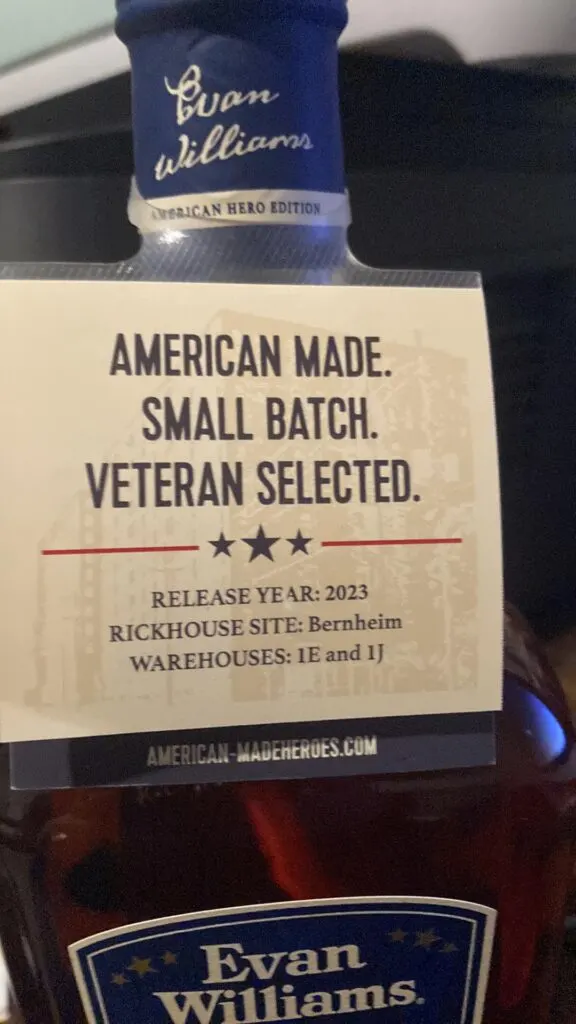 Moving on, our main story tonight revolves around how this bottle of 1783 Small Batch tastes. It's time to get down to business and see for myself. As usual, I sampled this neat in a glencairn.
Tasting Notes
Nose: A nutty aroma comes to the front while caramel and vanilla play second fiddle. There is a slight floral scent that pairs well with the scent of cherry lollipop. I also find the distinct note of a melted Tootsie Roll. This is the nose I was expecting and the slight floral/cherry scent was a nice upgrade.
Palate: There's a good amount of cinnamon spice and pepper on the opening sip. It's not the most dominant note, but it gives each sip some character.
Following the nose, I can also find a small amount of cherry. There's plenty of caramel and vanilla – two flavors that practically make up the whole of each sip. Oak is somewhat subdued and the tannins aren't a major player.
If you're like me and find Heaven Hill bourbon to be a bit on the sweet side, maybe it will interest you to hear that EW Small Batch isn't as sweet as the other labels.
Finish: Cinnamon spice continues on the finish, providing a lingering prickle on your tongue. The oak becomes a little more apparent to me. I should mention that the oak is very mild, so don't confuse it for an Elijah Craig Barrel Proof or anything. There is a balanced amount of caramel, nuts and raisins as well.
Score: 6/10
With a few sessions under my belt, I've come to the conclusion that I really like this bottle. I think it offers much more balance than the Bottled-in-Bond version.
It also tastes a bit more rich than the single barrel variety. I would gladly sip this one first if all 3 versions were offered in front of me.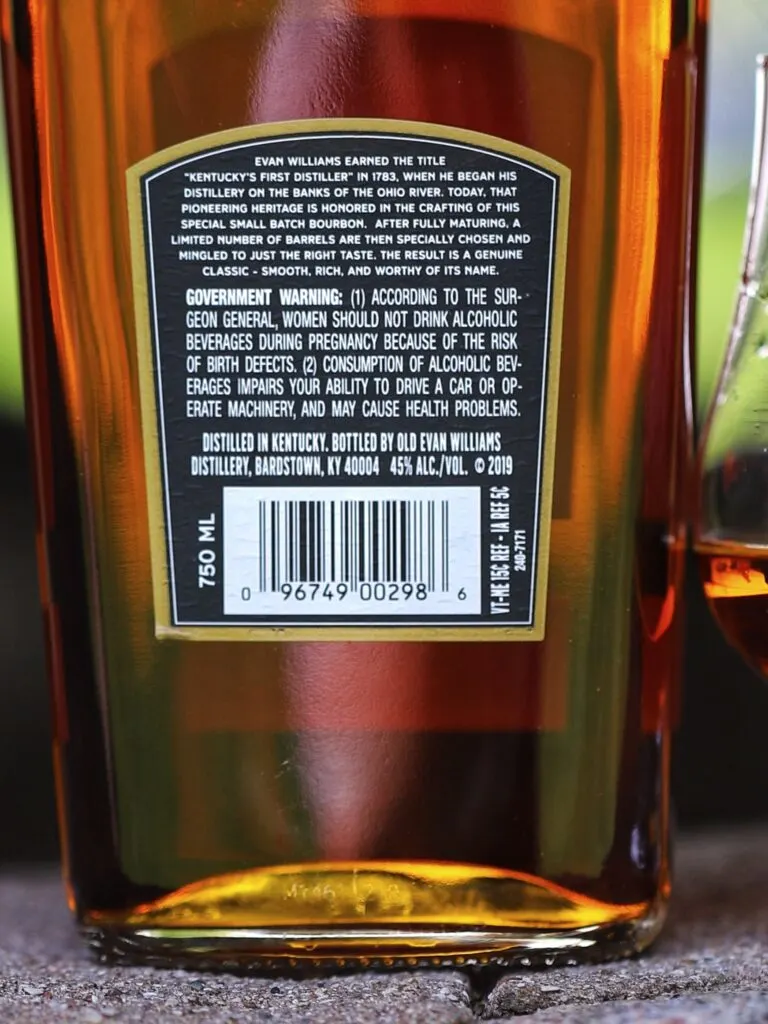 Going back to the section where I talked about possible warehouses these barrels were aged in, I believe that the floral notes are a direct result of slower aging. I tend to find more floral notes in bourbon that didn't see severe temperature spikes. This is something that I wish that more Heaven Hill products carried within their profile too.
Final Thoughts
Evan Williams Small Batch is not a flashy bourbon and it's not one to brag about. It's a perfectly good sipper that's got a no-nonsense approach to the flavors within – but might also contain a surprise or two.
But I do think that it's the superior version of the Evan Williams that set next to it on the shelf (well, not the Single Barrel, that is a Kentucky-only release now). It might look unassuming, but if your local area can't keep other entry-level 90 proof bourbons in stock, then this is your ticket to great flavor at a great price.
That's really the Evan Williams lineup in a nutshell. It might not wow you, but it'll never let you down.
Featured Products
Description:

The Aged & Ore Neat Traveler is a complete travel kit for spirits. We combined our widely praised Neat Glass with one of our 3oz Flight Bottles and housed them together in a custom EVA travel case. Perfect for a night away with your favorite pour. The tie
Description:

The Aged & Ore Bottle Flight is a premium set of 4 custom silicone wrapped glass bottles designed to transport and share samples of your favorite spirits. The flight bottles come in a custom EVA travel case that fits perfectly in any small bag. An Aged &
Description:

This Bundle combines two of our crowd favorite products, creating the ultimate travel bundle to bring along your favorite spirits and glassware. Bundle Includes: Neat Traveler (Gray) Bottle Flight (Gray) Note: This bundle is only available in gray and col
*Bourbon Culture is reader-supported. When you buy through links on our site, we may earn an affiliate commission.