*Bourbon Culture is reader-supported. When you buy through links on our site, we may earn an affiliate commission.
Somewhere between the realm of standard Buffalo Trace offerings and the highly vaunted Antique Collection lies the space that barrel strength, well aged bourbons exist. Both using Buffalo Trace's Mashbill #1 and aged anywhere from 7 to 10 years, these are the bottles that come so close to becoming George T. Stagg, but were instead pulled early because the profiles were slightly off.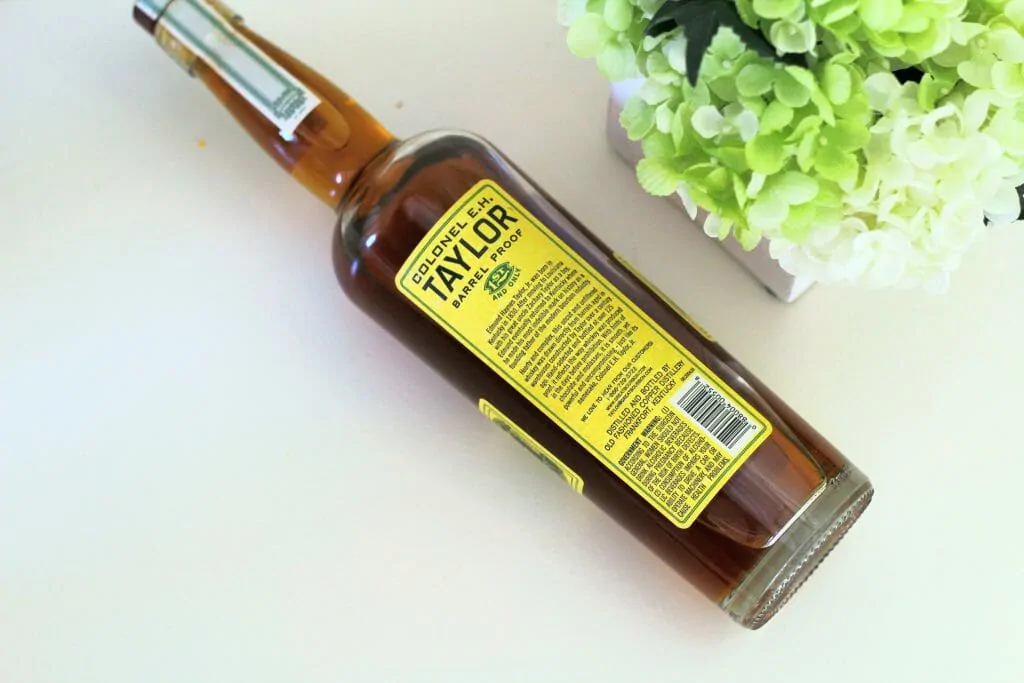 Colonel E.H. Taylor Barrel Proof (otherwise known as EHTBP) is a yearly release that continues to be more and more sought after. Although it does not wear a batch number on its label, fans of the brand can tell the difference between them based on the difference in proof.
This 128.1 proof bottle makes it a Batch 6, which was released in 2017. Stagg Jr., much like EHTBP, also is differentiated in batch by the proof. Batch 10 was released in the Spring of 2018 and comes in at a somewhat low 126.4 proof.
The EHTBP carries a much higher retail price (around $90-100) than the Stagg Jr. ($55) but that doesn't make it automatically better. The only way to truly tell which one is better is by lining them up and doing a semi-blind tasting. These were both sampled neat and from a Glencairn.
Glass #1
Nose: A delicious fruit mix of peach and cherry cobbler with cinnamon crumble topping. There's also sweet oak, dark brown sugar and even some maple syrup sweetness. Big and bold, this has such a great nose I couldn't put it down.
Palate: Yes there is heat, but for the most part the fruity sweet taste of cherry cola and licorice shines through the biggest. There's a decent amount of oak up front with bakery notes of dark brown sugar, nutmeg and cinnamon rounding off the palate.
Finish: For the strength of the proof, the oak isn't as heavy as I thought it'd be, but it's still there. The finish loses a little bit of sweetness as the cherry cola turns into cherry cough drops and a hint of honey. There's also a bit of leather, which only further increases the tannic qualities of this glass.
Rating: 8/10
Glass #2
Nose: For these two bottles to be from the same mashbill, the nose is remarkably different. The cherry is almost vacant, with the exception of a little note of Cherry Capri-Sun pouches. But what the nose lacks in cherries, it makes up for a big hit of butterscotch. In fact, most of the nose is dominated by sweet baked goods rather than fruit. I can smell vanilla cupcakes and some cinnamon.
Palate: The palate is delicious and buttery with more of the butterscotch that I detected on the nose. There's lots of sweet vanilla custard and some light oak as well. Overall, the palate is rich and robust, but somewhat one-sided and not as complex as what I experienced in Glass 1.
Finish: The finish gets it going with some of the cherries that were absent in the nose, this time as a pie filling. The finish gets slightly sweeter unlike glass 1, where caramel sauce is the star of the show. It's thick, sweet and pleasant.
Rating: 7.9/10
Reveal:
Glass 1: Stagg Jr. Batch 10
Glass 2: EHTBP Batch 6
Winner: Stagg Jr. Batch 10
In what is surely a head scratching discovery, I found that my tastes aligned more favorably to the Stagg Jr. The bold and rich flavors of every sip as well as the complexity that the tannins brought made this a bourbon I would reach for again and again.
The EHTBP was no slouch though, with the butterscotch flavor really woo'ing me. But as far as complexity, it did not taste as complex as the Stagg Jr. did.
This isn't to say it's a bottle I'd kick out of bed, but whenever the releases come out each year, I suppose that I'll feel better knowing that I managed to bag a Stagg Jr when I miss out on an EHTBP. Also, this isn't saying that all batches of EHTBP are not as good as the Stagg Jr. either.
Final Thoughts
With multiple batches of each, who really knows how they'd all stack up against each other. But the reason for EHTBP's popularity probably rests in its packaging. Using a tall, slim bottle with a fancy label surely evokes more desire than the short, squat bottle of Stagg Jr.
This is why whenever I'd bring both to a get-together, everyone would ignore the Stagg while reaching for the EHTBP. But the lesson here is to never underestimate Stagg Jr. It might just be the one you surprise yourself with in a blind tasting.
Ratings Breakdown
1 | Disgusting | Drain pour (Example: Jeffers Creek)
2 | Poor | Forced myself to drink it
3 | Bad | Flawed (AD Laws 4 Grain BiB, Clyde Mays anything)
4 | Sub-par | Many things I'd rather have (Tincup 10 year)
5 | Good | Good, solid, ordinary (Larceny, Sazerac Rye)
6 | Very Good | Better than average (Buffalo Trace, OGD BiB)
7 | Great | Well above average (Old Ezra Barrel Proof, Old Weller Antique)
8 | Excellent | Exceptional (Michter's Barrel Proof Rye, Four Roses Barrel Strength)
9 | Incredible | Extraordinary (GTS, 13 Year MGP or Canadian Rye)
10 | Insurpassable | Nothing Else Comes Close (William Larue Weller)
Featured Products
Description:

The Aged & Ore Neat Traveler is a complete travel kit for spirits. We combined our widely praised Neat Glass with one of our 3oz Flight Bottles and housed them together in a custom EVA travel case. Perfect for a night away with your favorite pour. The tie
Description:

The Aged & Ore Bottle Flight is a premium set of 4 custom silicone wrapped glass bottles designed to transport and share samples of your favorite spirits. The flight bottles come in a custom EVA travel case that fits perfectly in any small bag. An Aged &
Description:

This Bundle combines two of our crowd favorite products, creating the ultimate travel bundle to bring along your favorite spirits and glassware. Bundle Includes: Neat Traveler (Gray) Bottle Flight (Gray) Note: This bundle is only available in gray and col
*Bourbon Culture is reader-supported. When you buy through links on our site, we may earn an affiliate commission.