*Bourbon Culture is reader-supported. When you buy through links on our site, we may earn an affiliate commission.
Chattanooga Whiskey Distillery started pinging on my radar when I learned they sourced and bottled some 8+ year cask strength MGP a year or two ago. Those sourced bottles get some good reviews and are still sought after. But recently, the Chattanooga Distillery has stopped sourcing MGP barrels and have launched their own distillate.
Tennessee High Malt
I'm normally leery of new stuff (but have been surprised a couple of times, see my reviews on Hotel Tango Whiskey and 291 Distillery's Rye) but this whiskey had an interesting take on typical bourbon mashbills, dubbing theirs: "Tennessee High Malt."
The label actually has tons of information on it (good thing, because info is still scarce online) and it claims that it's a bourbon mashbill from yellow corn, malted rye, caramel malted barley and honey malted barley. I never knew malted barley had so many "flavors" but I guess I shouldn't be surprised because Balcones in TX uses a lot of different flavor-strains of ryes (like chocolate!).
I'm not sure of the exact ratios, but it does state bourbon whiskey on the front, so I'm guessing the malted rye and barley aren't over 49% present.
Additionally, it states they use toasted and charred 53 gallon barrels, then dump the liquid in a 4000 gallon charred oak solera barrel in batches of 8-12 barrels and eventually bottle it non-chill filtered.
The age is stated as "greater than 2 years" which is concerning, but I need to remember that Hotel Tango's Whiskey was also aged for 2 years and that I still enjoyed it.
So I'll start out with 91 proof version first (I also have a 111 proof barrel strength version) and see what all the hubbub is about. I sampled this neat and in a glencairn.
Tasting Notes:
Nose: Chewy caramel and brown sugar cookies fresh from the oven, honeycomb, rose petals, a slight amount of seasoned wood, Fig Newtons also come out.
Palate: Creamy mouthfeel of honey butter melting on fresh baked rolls, a little bit of gingerbread cookie with caramel drizzled on top, a dash of black pepper, stone fruit (apricot and cherry) cobbler.
Finish: Upon swallowing, there is no sharp transition of flavors, just a mellowed out pause followed by a kind of a rye whiskey finish that has ginger root, eucalyptus a bit of pine. There is a whipped honey sweetness that turns into almost like a melted caramel candy as the session goes on. But that sweetness stays present throughout the mostly herbal finish and keeps any sort of young-whiskey astringency traits at bay.
Score: 7.1/10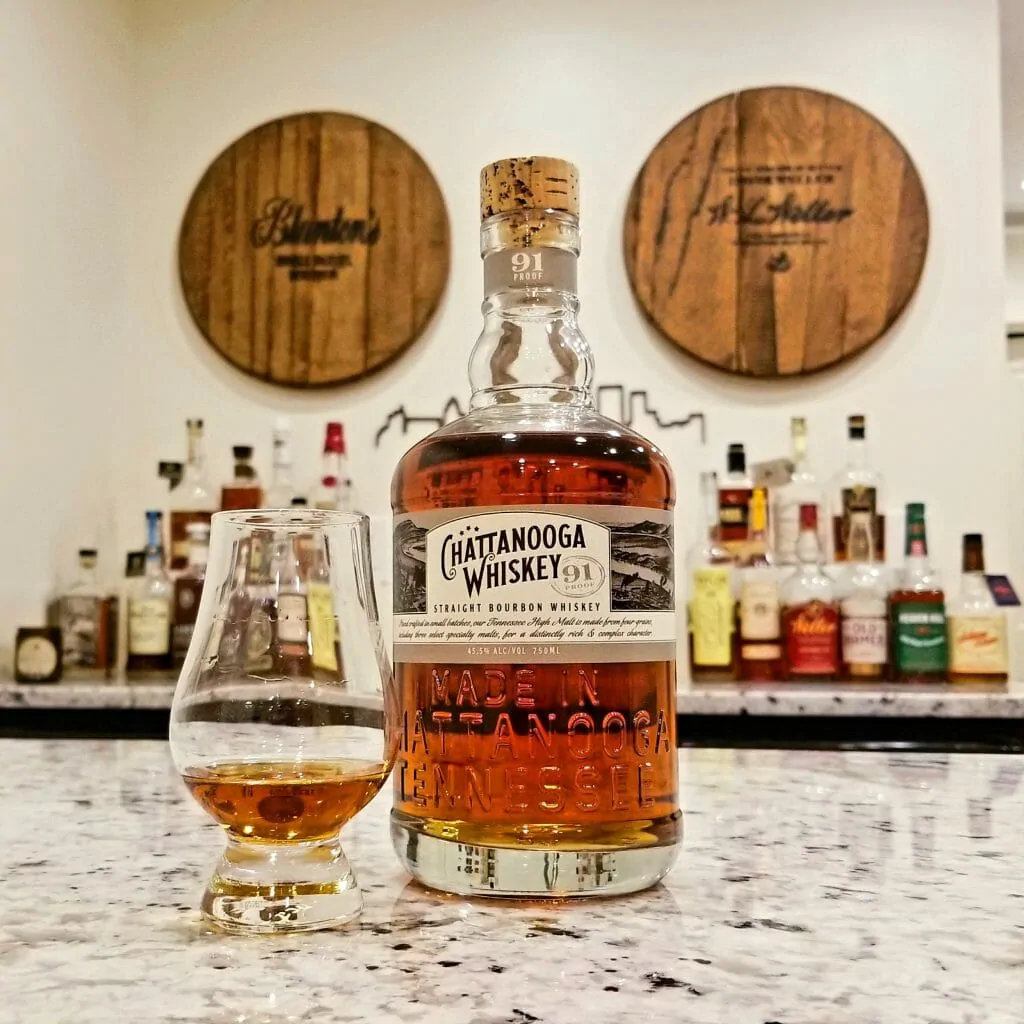 Overall, color me impressed! I was bracing myself for a flavorless proofed-down bourbon or a bourbon that had weird and disjointed flavors due to the malted grains that were outside of the norm of anything I've tried. This bourbon was neither. I was trying to pinpoint a whiskey that this reminded me of as I drank it and landed somewhere between an MGP High-Rye Bourbon mixed with Johnny Drum.
It's got gobs of sweet baked goods with a finish that really hits on some nice rye characteristics. It even had some elements of fruits in it. The only thing that I didn't notice was some sort of baking spices and some tannic properties after the nose. This could be because of the age not imparting those two things yet or maybe they were lost when it was proofed down?
Chattanooga has a great base spirit
I have always said that Buffalo Trace or Elijah Craig were the perfect low-proof bourbons to get your friends to see the full spectrum of flavors that bourbon really has to offer without being overpowering, but this Chattanooga Tennessee High Malt could easily be fit into that same category. Mellow, flavorful and very pleasing, Chattanooga has a great base spirit that should continue to impress in the future.
Ratings Breakdown:
1 | Disgusting | Drain pour (Example: Jeffers Creek)
2 | Poor | Forced myself to drink it
3 | Bad | Flawed (AD Laws 4 Grain BiB, Clyde Mays anything)
4 | Sub-par | Many things I'd rather have (Tincup 10 year)
5 | Good | Good, solid, ordinary (Larceny, Sazerac Rye)
6 | Very Good | Better than average (Buffalo Trace, OGD BiB)
7 | Great | Well above average (Old Ezra Barrel Proof, Old Weller Antique)
8 | Excellent | Exceptional (Michter's Barrel Proof Rye, Four Roses Barrel Strength)
9 | Incredible | Extraordinary (GTS, 13 Year MGP or Canadian Rye)
10 | Insurpassable | Nothing Else Comes Close (William Larue Weller)
Featured Products
Description:

The Aged & Ore Neat Traveler is a complete travel kit for spirits. We combined our widely praised Neat Glass with one of our 3oz Flight Bottles and housed them together in a custom EVA travel case. Perfect for a night away with your favorite pour. The tie
Description:

The Aged & Ore Bottle Flight is a premium set of 4 custom silicone wrapped glass bottles designed to transport and share samples of your favorite spirits. The flight bottles come in a custom EVA travel case that fits perfectly in any small bag. An Aged &
Description:

This Bundle combines two of our crowd favorite products, creating the ultimate travel bundle to bring along your favorite spirits and glassware. Bundle Includes: Neat Traveler (Gray) Bottle Flight (Gray) Note: This bundle is only available in gray and col
*Bourbon Culture is reader-supported. When you buy through links on our site, we may earn an affiliate commission.