*Bourbon Culture is reader-supported. When you buy through links on our site, we may earn an affiliate commission.
The history of Bulleit Frontier Bourbon is a history lesson into the world of sourcing bourbon and contract distilling itself. Bulleit, as a company, was bought by the giant Seagrams Coorporation in the 90s and initially sourced their bourbon from Ancient Age Distillery (which is now known as Buffalo Trace). When the barrels at Ancient Age ran dry, they switched over to Four Roses bourbon which was also owned by Seagrams. But when Diageo went on a buying spree in the early 2000s, Bulleit was swept up in the mix.
Luckily, Diageo entered into a long term contract with Four Roses in order to keep the spigot turned on. Somewhat surprisingly was that it lasted through the chaotic years of multipe Four Roses ownership changes between 1999 to 2002. Fast Forward to 2013, and it was made public that the contract to distill for Bulleit would completed at the end of the year. Whether or not it has been renewed has not been disclosed, but some sources say that Bulleit Bourbon is now a mix of Jim Beam, Barton and possibly still Four Roses.
Bulleit Bourbon
In the last quarter of 2019, Bulleit Bourbon began to pop up on the shelves of liquor stores around the nation with a new "Single Barrel" label. With a black and orange label and an orange neck tag, these new single barrels were all bottled at 104 proof and were given an MSRP of $60. Liquor store owners looking to buy a single barrel had the option to travel to Bulleit's facility or receive samples in the mail. Ray, the owner of the Rural Inn in Indianapolis, took a crew with him to Bulleit's facility in Kentucky last December to pick out two barrels for his store. When I picked his brain about the trip, he told me that the Bulleit staff said that they had 10 different recipes to choose from but didn't identify which barrel contained which recipe.
The barrel heads were sanded off so you could not see the DSP marking (where the barrel was distilled). They would let you know the age of the distillate in the barrel and that was about it. Another interesting point that came up was the Bulleit team kept telling Ray's selection team that the distillate inside the barrels "is not who you think it is." This is an interesting thing to say because when it was revealed that all of the barrels were at least 10 years old, that puts them firmly within the timeline of being distilled at Four Roses. So Ray's team picked their two barrels and they were delivered within the next 3 months. I am reviewing the first of his two bottles, labeled as "Rural Inn 1A." I sampled this neat and in a Glencairn.
Tasting Notes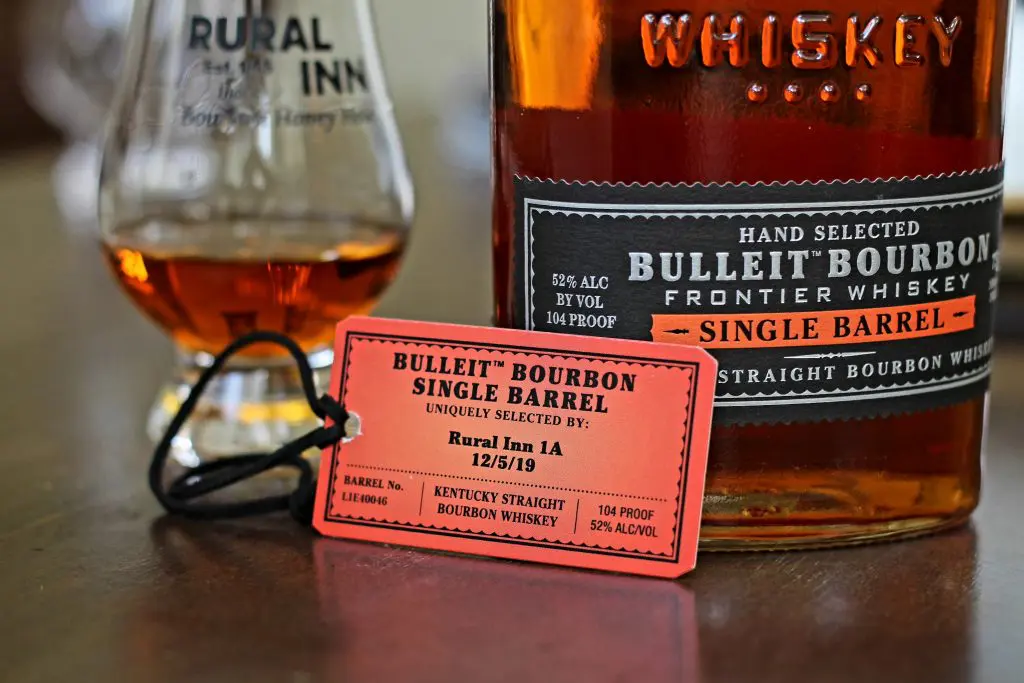 Nose: The nose leads the charge with a decent amount of tannins. I can distinctly make out seasoned oak and tobacco leaf right away. However, the nose isn't offensively oaky or anything as it does lead way to some great sweet scents of brown sugar, red berries and baked goods. The whole experience is amplified by loads of baking chocolate and cinnamon baked goods.
Palate: Red fruit preserves with traces of raisins and apples lead the way to a great tasting palate. There are notes of old leather, oak and red pepper flakes to give the whole dram a bit of heat. I'm impressed with the decent amount of baking spices that wrap around this multi-layered sip that include cinnamon, spice and even some sweet mint.
Finish: The finish really lets the seemingly high-rye mashbill shine through. There is ginger root and peppermint galore as well as a nice oak spice. The finish has some sweetness, but it's not necessarily distinguishable what kind of sweetness it is. That's fine though as the rye spice really kicks up the character.
Score: 7.9/10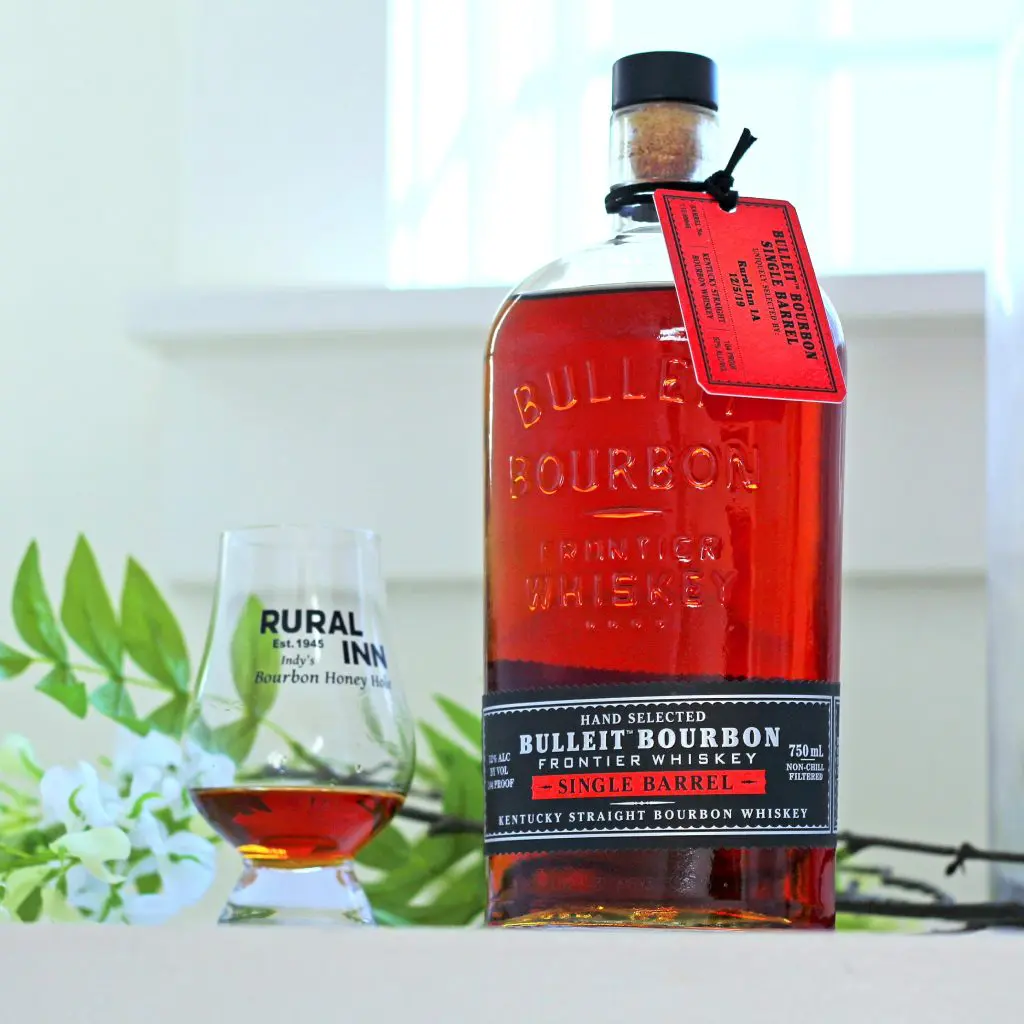 Having shied away from Bulleit Bourbon in the past due to the mediocre reviews and ratings, this is one bottle that I honestly was not overly enthusiastic to buy. But I was encouraged by the pedigree these single barrels came from, the age and the relatively high proof. So I pulled the trigger and in the end, I was very happy I did. Every sip was flavorful and layered. What really excited me was that I could detect all of the Four Roses goodness inside. This is not to say, however, that this is just Four Roses under a different name. From what I can tell, this distillate has a slightly darker and heavier body like it was aged in a Char Level 4 barrels as opposed to Four Roses standard Level 3.5.
Also, Four Roses ages their barrels in single-story rickhouses to ensure a more uniform product whereas these barrels are rumored to have been stored in the old Stitzel-Weller facility in Louisville. All of these differences have made subtle, yet noticeable changes. But if I were to pick a Four Roses Recipe that this was most comparable to, it'd be the OBSV recipe. Ray had initially told me his team likened it to an OBSK recipe. It's missing a bit of heat and spice that OBSK is known for, but in my opinion they are both still fairly close to each other (maybe it's because this was ultimately proofed down?).
Final Thoughts
Bulleit Bourbon's standard offerings still may not entice me because they're designed to be primarily entry level whiskies or mixers for bars, but the Single Barrel stands out the most out of all of them (yes, even the Barrel Proof!). The value proposition for a bourbon like this also seems extremely high once you factor in the 10+ year old age for $60. Four Rose Single Barrel's (the 100 proof kind) are around $35 in most states, but the Barrel Proof versions run around $70 or higher and are extremely hard to find. This seems to fit in the middle somewhat… but the flavor pushes it firmly into "buy" territory for me. If you're thinking about buying a Bulleit product but aren't sure which one offers the best value, this is absolutely the one you should get.
Ratings Breakdown
1 | Disgusting | Drain pour (Example: Jeffers Creek)
2 | Poor | Forced myself to drink it
3 | Bad | Flawed (AD Laws 4 Grain BiB, Clyde Mays anything)
4 | Sub-par | Many things I'd rather have (Tincup 10 year)
5 | Good | Good, solid, ordinary (Larceny, Sazerac Rye)
6 | Very Good | Better than average (Buffalo Trace, OGD BiB)
7 | Great | Well above average (Old Ezra Barrel Proof, Old Weller Antique)
8 | Excellent | Exceptional (Michter's Barrel Proof Rye, Four Roses Barrel Strength)
9 | Incredible | Extraordinary (GTS, 13 Year MGP or Canadian Rye)
10 | Insurpassable | Nothing Else Comes Close (William Larue Weller)
Featured Products
Description:

The Aged & Ore Neat Traveler is a complete travel kit for spirits. We combined our widely praised Neat Glass with one of our 3oz Flight Bottles and housed them together in a custom EVA travel case. Perfect for a night away with your favorite pour. The tie
Description:

The Aged & Ore Bottle Flight is a premium set of 4 custom silicone wrapped glass bottles designed to transport and share samples of your favorite spirits. The flight bottles come in a custom EVA travel case that fits perfectly in any small bag. An Aged &
Description:

This Bundle combines two of our crowd favorite products, creating the ultimate travel bundle to bring along your favorite spirits and glassware. Bundle Includes: Neat Traveler (Gray) Bottle Flight (Gray) Note: This bundle is only available in gray and col
*Bourbon Culture is reader-supported. When you buy through links on our site, we may earn an affiliate commission.