*Bourbon Culture is reader-supported. When you buy through links on our site, we may earn an affiliate commission.
In 2017, Barton's 1792 brand still had their foot on the gas in terms of a steady flow of new releases. The brand's Small Batch bourbon had existed ever since Sazerac had acquired the distillery in 2009, but between 2015 and 2016, five new labels were released: Port Finish, Sweet Wheat, High Rye, Full Proof and Single Barrel.
2017 would keep that tradition alive by releasing yet another new label, 1792 Bottled in Bond. Although there is no age statement for the Bottled-in-Bond label, we know that it has to be at least 4 years old. But in 2017, Barton already had a BiB product that was on most liquor store shelves for 1/3 the price: Very Old Barton BiB.
Very Old Barton BiB
Very Old Barton BiB was quoted as being 6 years old by their own Visitor's Center Manager in a podcast back around the time that the 1792 BiB came out, so that must make this bottle even older, probably around 7-8 years old. The mashbill is unknown, but what we do know is that it's a ryed bourbon mashbill using a recipe somewhere between 74% corn / 18% rye / 8% malt or 75% corn / 15% rye / 10% malt.
Tasting Notes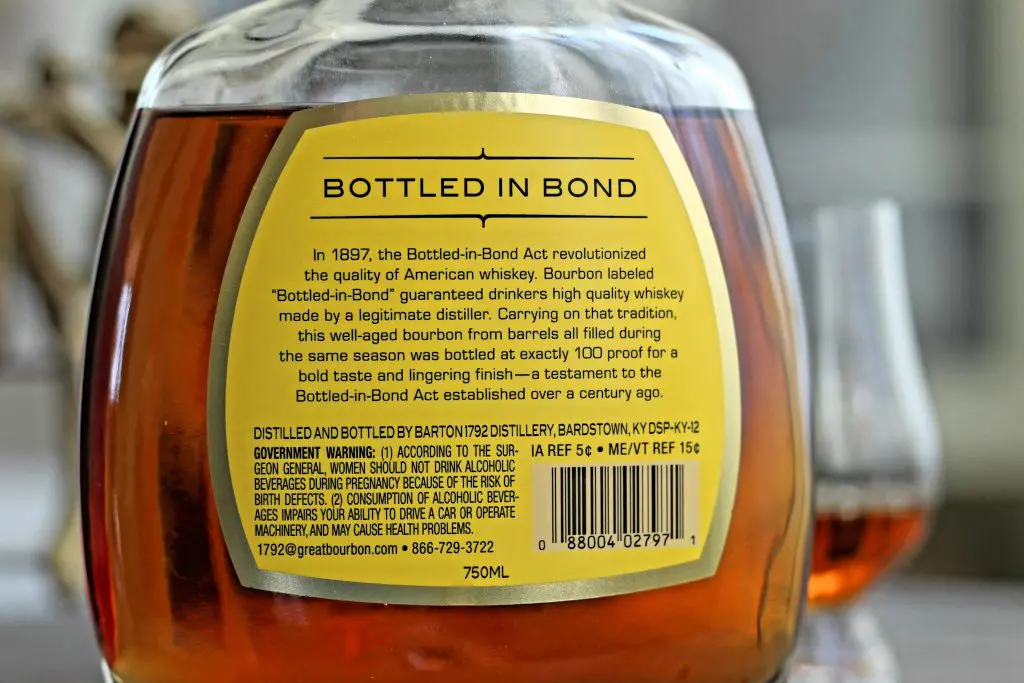 Nose: A somewhat fruit forward nose of sweet cherries and baked apples. There's a small amount of cinnamon and oak as well, which don't cover up the light vanilla bean scent that's also present. The nose is overall pleasant and somewhat light for the supposed age and proof.
Palate: Although the nose was a bit on the light side, the palate starts off with a stronger presence of flavors like maraschino cherries, baking spices and semi-sweet chocolate chips. The whole palate is awash with a nice coating of caramel as well. The palate also has a nice bit of heat to it with pepper flakes and some oak spice. Nothing unusual or unique stands out, but there aren't many flaws in it either.
Finish: The chocolate taste on the palate comes over to the finish. There is still a lot of residual sweetness, which makes this such a pleasant sipper. There's caramel and canned cherry pie filling that balance out the burnt pie crust and seasoned oak. It's very well done.
Score: 7.5/10
1792's Bottled-in-Bond has many positive traits going for it. First of all, it comes across as having more age on it than the 4-year minimum that most Non-Age Stated (NAS) BiBs would have. The sweet fruits and well-rounded palate and finish make this enjoyable to anyone that loves the flavor profile of Buffalo Trace products or even some Four Roses products.
I can see myself finishing this bottle sooner than other bottles in my collection only because it's a satisfying sipper that checks a lot of boxes for my tastes. I would be remiss if I didn't also mention that this bottle comes in a single barrel version which have the opportunity to bring forward even more flavor and intensity.
Although the pitfalls of this bourbon are few, I would caution that this bourbon may border on the "ordinary" in terms of flavor profiles only by virtue of it doesn't have any unique traits that stand out.
But the price is one of the more head-scratching propositions when you consider that 1792 Full Proof (even single barrel version) were being sold at least a year ago for the same amount of money as this BiB, while delivering roughly the same age and 25 additional flavor-packed proof points.
After Jim Murray awarded 1792 Full Proof his coveted "Whiskey of the Year" in 2019, Full Proof began to disappear off the shelves and now it is rarely found for under $50, settling into a price more like $55.
Final Thoughts
But still, for an extra $10, you're getting a whole lot more proof and flavor. Full Proof may not be as balanced for some drinkers as the Bottled-In-Bond version is, but you'll have to decide for yourself if you like the wallop of extra flavor or a dram that is a mellow and easy sipper.
So whether or not you can find this bottle in the fall, or one of its single barrel siblings, this 1792 BiB deserves your attention to seek out if only to have perhaps one of the most crowd-pleasing profiles at this price point.
Ratings Breakdown
1 | Disgusting | Drain pour (Example: Jeffers Creek)
2 | Poor | Forced myself to drink it
3 | Bad | Flawed (AD Laws 4 Grain BiB, Clyde Mays anything)
4 | Sub-par | Many things I'd rather have (Tincup 10 year)
5 | Good | Good, solid, ordinary (Larceny, Sazerac Rye)
6 | Very Good | Better than average (Buffalo Trace, OGD BiB)
7 | Great | Well above average (Old Ezra Barrel Proof, Old Weller Antique)
8 | Excellent | Exceptional (Michter's Barrel Proof Rye, Four Roses Barrel Strength)
9 | Incredible | Extraordinary (GTS, 13 Year MGP or Canadian Rye)
10 | Insurpassable | Nothing Else Comes Close (William Larue Weller)
Featured Products
Description:

The Aged & Ore Neat Traveler is a complete travel kit for spirits. We combined our widely praised Neat Glass with one of our 3oz Flight Bottles and housed them together in a custom EVA travel case. Perfect for a night away with your favorite pour. The tie
Description:

The Aged & Ore Bottle Flight is a premium set of 4 custom silicone wrapped glass bottles designed to transport and share samples of your favorite spirits. The flight bottles come in a custom EVA travel case that fits perfectly in any small bag. An Aged &
Description:

This Bundle combines two of our crowd favorite products, creating the ultimate travel bundle to bring along your favorite spirits and glassware. Bundle Includes: Neat Traveler (Gray) Bottle Flight (Gray) Note: This bundle is only available in gray and col
*Bourbon Culture is reader-supported. When you buy through links on our site, we may earn an affiliate commission.