*Bourbon Culture is reader-supported. When you buy through links on our site, we may earn an affiliate commission.
Blaum Bros Distilling Co is a relatively new craft distiller from Illinois. They started in 2015 with the concept of sourcing bourbon they could put out immediately while laying down barrels of their own whiskey.
Their early sourced bourbon (from MGP) was labeled "Knotter" bourbon which was supposed to be a clever way of saying that it was "Knotter (not their) Bourbon."
August 2019 saw the brothers finally run out of the last of their MGP barrels just as their own distillate was hitting the shelves across select states.
The name and font remained the same but otherwise they changed the bottle shape and label design so that nobody would get their bourbon confused with the old Knotter bottles.
MGP's low-rye bourbon mashbill
They settled on a recipe of 72% Corn, 23% Rye and 5% Malted Barley that was close to MGP's low-rye bourbon mashbill. This would give them a benchmark to aim for.
Blaum Bros bought a nearby barn to become their first rickhouse for the barrels they produce. Those barrels, by the way, are made from staves that are air-dried for 18 to 24 months.
This makes them join the ranks of other craft distillers such as Valentine Distilling and Finger Lakes who have decided to invest heavily in a more expensive barrel in the hopes that it helps their whiskey achieve even higher levels of flavor.
Additionally, all of their bourbon has been aged at a minimum of 4 years and bottled at 100 proof.
But sometimes a solid mashbill, respectable barrels and 4 years of aging will still have a hard time translating into a well rounded bourbon.
Would this be the issue here or have the Blaum Bros found a way to bottle lightning? Let's find out. I sampled this neat in a glencairn.
Tasting Notes
Nose: Biscoff Spread (aka Cookie Butter) meets the smell of new leather and a cinnamon broom. These prickly spices don't seem to calm down the scents of unsweetened stone fruits and mossy wood.
The whole nose has a nice level of spice but the youthfulness is not well controlled.
Palate: Plenty of young cereal grains are noticed right away. And while there are traces of spiced honey, each sip lacks sweetness.
The ethanol pings come and go and pair up with chili powder to make the whole dram taste about 10 proof points higher than it is. Youthful notes of fresh cut wood and damp earth really start to bring down the whole experience.
Finish: Cinnamon and allspice make the finish a hot and unenjoyable experience. The rye in the mashbill mainly shows up as a blast of menthol but for the most part, wet wood, tree bark and barrel char all combine to create youthful woody notes that have not been smoothed out… regardless of the four years it spent in a barrel.
Score: 4/10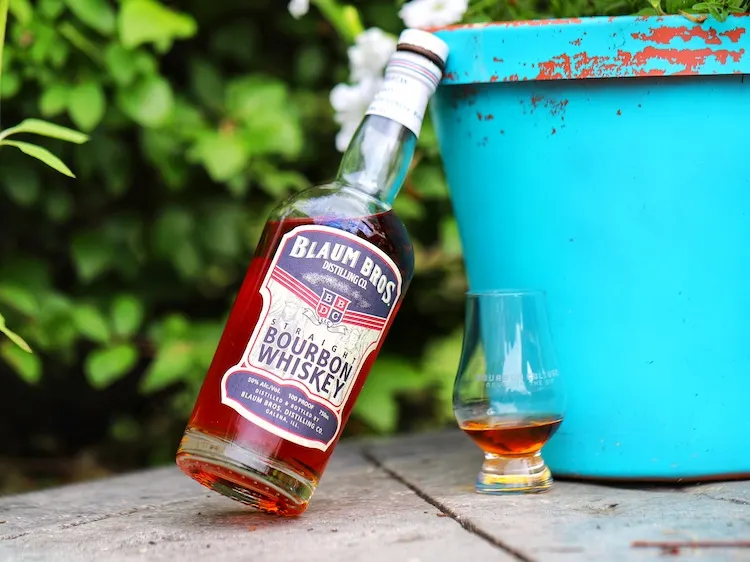 My heart goes out to craft distilleries that work hard to make their own product with specs that show they've done their homework and genuinely care.
Hell, the Blaum's even priced this bottle low enough to make you pick one up off the shelf and say "I'd take a chance on this!" But sadly the contents within are lacking. This simply tastes too young and drinks too hot. The sweetness is missing and the wood notes are unkind to your tongue.
I'm very much hoping that the bottle I had was some of the initial product they put into a barrel when their still first came online.
I'd like to think that they have adjusted and refined their processes to make an even better product year after year. But until I taste a future release, I would not recommend buying this bourbon until it improves.
Ratings Breakdown
1 | Disgusting | Drain pour (Example: Jeffers Creek)
2 | Poor | Forced myself to drink it
3 | Bad | Flawed (AD Laws 4 Grain BiB, Clyde Mays anything)
4 | Sub-par | Many things I'd rather have (Tincup 10 year)
5 | Good | Good, solid, ordinary (Larceny, Sazerac Rye)
6 | Very Good | Better than average (Buffalo Trace, OGD BiB)
7 | Great | Well above average (Old Ezra Barrel Proof, Old Weller Antique)
8 | Excellent | Exceptional (Michter's Barrel Proof Rye, Four Roses Barrel Strength)
9 | Incredible | Extraordinary (GTS, 13 Year MGP or Canadian Rye)
10 | Insurpassable | Nothing Else Comes Close (William Larue Weller)
Featured Products
Description:

The Aged & Ore Neat Traveler is a complete travel kit for spirits. We combined our widely praised Neat Glass with one of our 3oz Flight Bottles and housed them together in a custom EVA travel case. Perfect for a night away with your favorite pour. The tie
Description:

The Aged & Ore Bottle Flight is a premium set of 4 custom silicone wrapped glass bottles designed to transport and share samples of your favorite spirits. The flight bottles come in a custom EVA travel case that fits perfectly in any small bag. An Aged &
Description:

This Bundle combines two of our crowd favorite products, creating the ultimate travel bundle to bring along your favorite spirits and glassware. Bundle Includes: Neat Traveler (Gray) Bottle Flight (Gray) Note: This bundle is only available in gray and col
*Bourbon Culture is reader-supported. When you buy through links on our site, we may earn an affiliate commission.