*Bourbon Culture is reader-supported. When you buy through links on our site, we may earn an affiliate commission.
With barrel-finished bourbons and rye whiskies gaining in popularity across distillers large and small, it was only a matter of time before we had two producers stepping on each others toes with the same product in this crowded marketplace. Belle Meade's claim-to-fame has always been using its MGP-sourced bourbon and finishing it in one of 3 main barrel finishes: Cognac, Madeira or Sherry. You used to be able to find these in 90 proof form or single barrel cask strength form, but they are sadly being discontinued.
Joseph Magnus also built their brand on finished bourbons. Their triple-cask finished bourbon uses two different kinds of Sherry casks and a Cognac cask. Their single barrel program, much like Belle Meade's, involved the customer picking which cask they wanted to have their MGP bourbon finished in. The customer could also elect it to not be finished at all, which is a popular option these days.
Today, I have a pick by Potomac Wine and Spirits in Washington DC who elected to have their Joseph Magnus pick finished in just Sherry Casks. It carries no age statement (I assume it to be around 8 years old) but it is bottled at 109 proof. The Belle Meade Sherry Cask finish also does not have an age statement (but I assume it to be around 8 or 9 years old) and is bottled at 105 proof.
I decided to compare these bottles together since it was already somewhat rare to see two companies finishing the same base distillate in the same type of finishing barrel. This comparison was done semi-blind, so although I knew which bottles would be involved, I did not know which order I was tasting them in until the very end when it was revealed to me.
Blind Glass #1
Nose: Some delicious brown sugar rolled oats, toasted almonds, and maple soaked raisins and cherries. The wine influence is unique because I smell a deep, spicy mulled wine as well.
Palate: There's some spicy rye on the tongue followed by a fruity combination of brandy soaked plums, tart cherries and apricots and papaya. The tannins start to creep in and offer the sweet fruit a nice balance with notes of tobacco leaf and pings of crushed white peppercorns.
Finish: The finish is very pleasant with deep, rich pipe tobacco as well as seasoned oak. The peppercorns continue to add some spice to the finish while a nice, sweet cherry juice keeps it from getting too carried away.
Rating: 7.8/10
Glass #2
Nose: The nose starts off sweeter and lighter than Glass #1. Scents of fresh baked cinnamon rolls, hard cherry candies, and a yeasty, unbaked dough dominate the nose. There's not much in the way that tells you that this is an older bourbon.
Palate: The palate starts off very cinnamon-forward, almost like Red Hots candies. Ginger root and black peppercorns keep the heat coming, but there is a respite with some sweet red wine and caramel sauce giving each sip some contrast.
Finish: The finish stays a bit spicy with black pepper, rye spice nots and seasoned oak. There's some cherry juice to keep things a little bit sweet, but spice and tannins really take over and make this somewhat unbalanced.
Rating: 7/10
Reveal:
Glass 1: Belle Meade Sherry Cask Finish, Select Cask
Glass 2: Joseph Magnus Store Pick, Barrel Proof
Winner: Belle Meade Sherry Cask Finish!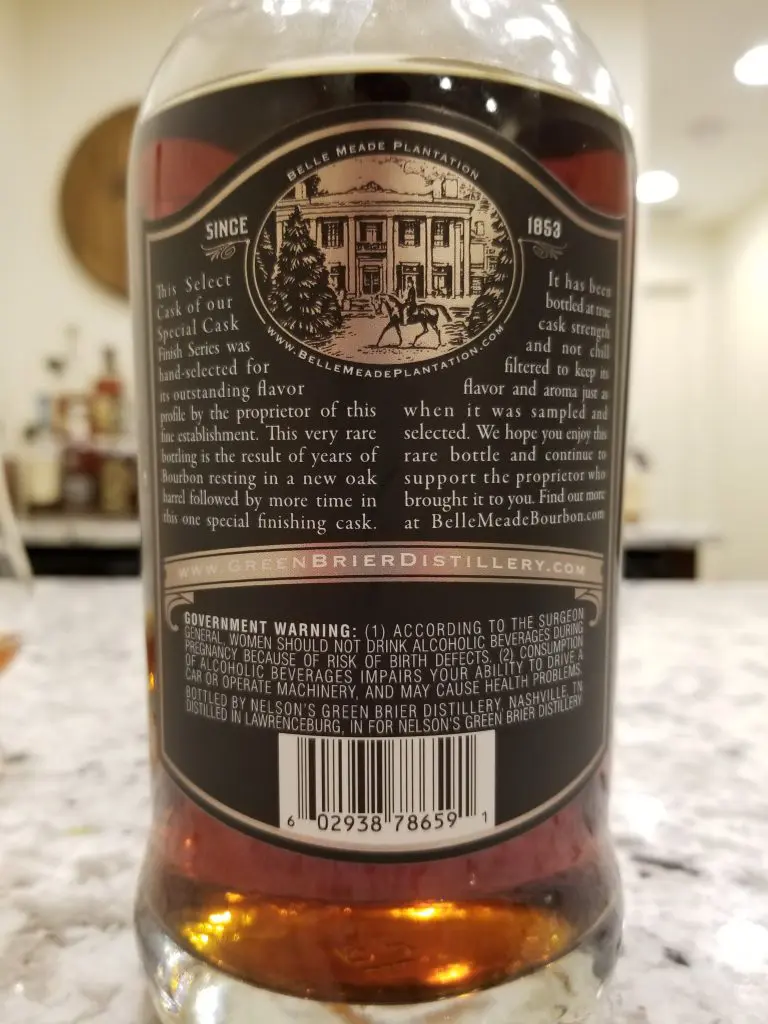 It was immediately apparent that Glass 1 was better than Glass 2 after the first sip of each. There was no way the Magnus could catch the intensity and robustness of the Belle Meade. Maybe it was in the sherry cask used (Neither bottler tells us what kind of Sherry Cask was used). Maybe it was the MGP bourbon's mashbill or age. I'm not sure, but the competition wasn't nearly as close as my notes and scores indicate. All I know is that the Belle Meade wins with the intensity of its profile and is probably my favorite sherry-finished whiskey currently out there.
Final Thoughts
Your money is valuable, and with both of these costing between $80-90, you should know what you're dealing with when it comes to two bottles that are outwardly so similar. The Belle Meade is clearly the victor here, but with their program for barrel finishes ending, who will become the new king of finished MGP bourbon?
Ratings Breakdown
1 | Disgusting | Drain pour (Example: Jeffers Creek)
2 | Poor | Forced myself to drink it
3 | Bad | Flawed (AD Laws 4 Grain BiB, Clyde Mays anything)
4 | Sub-par | Many things I'd rather have (Tincup 10 year)
5 | Good | Good, solid, ordinary (Larceny, Sazerac Rye)
6 | Very Good | Better than average (Buffalo Trace, OGD BiB)
7 | Great | Well above average (Old Ezra Barrel Proof, Old Weller Antique)
8 | Excellent | Exceptional (Michter's Barrel Proof Rye, Four Roses Barrel Strength)
9 | Incredible | Extraordinary (GTS, 13 Year MGP or Canadian Rye)
10 | Insurpassable | Nothing Else Comes Close (William Larue Weller)
Featured Products
Description:

The Aged & Ore Neat Traveler is a complete travel kit for spirits. We combined our widely praised Neat Glass with one of our 3oz Flight Bottles and housed them together in a custom EVA travel case. Perfect for a night away with your favorite pour. The tie
Description:

The Aged & Ore Bottle Flight is a premium set of 4 custom silicone wrapped glass bottles designed to transport and share samples of your favorite spirits. The flight bottles come in a custom EVA travel case that fits perfectly in any small bag. An Aged &
Description:

This Bundle combines two of our crowd favorite products, creating the ultimate travel bundle to bring along your favorite spirits and glassware. Bundle Includes: Neat Traveler (Gray) Bottle Flight (Gray) Note: This bundle is only available in gray and col
*Bourbon Culture is reader-supported. When you buy through links on our site, we may earn an affiliate commission.