*Bourbon Culture is reader-supported. When you buy through links on our site, we may earn an affiliate commission.
Barrell Bourbon announced a shift to a new name in 2018 and became "Barrell Craft Spirits." The new name would show their dedication to the 3 core products that would take them into the future: bourbon, whiskey and rum.
To celebrate this change, a new product wearing the "Barrell Craft Spirits" name and adorned with a dark grey label was made for each distillate.
These bottles used their best and oldest stocks to showcase unique and delicious blends. The BCS line specifically focuses on the 15 year old bourbon release each year as it makes its way to the shelves in the late Fall. 2020 marked the third release of this flagship bottle.
In a recent semi-blind review, I put a bottle of the 2018 Barrell Craft Spirits 15 year bourbon against the 2019 release. The 2018 bottle easily won.
This made me cautious to purchase the 2020 release. The proof barely budged from the first two releases, so it made me feel like there might not be enough to make this new and exciting.
And just like the previous years, Joe Beatrice and team kept the same concept of blending together bourbon from Tennessee, Kentucky and Indiana distilleries. The suggested retail price remained steady at $250 per bottle.
So how is this batch? Let's find out. I tasted this neat in a Glencairn.
Tasting Notes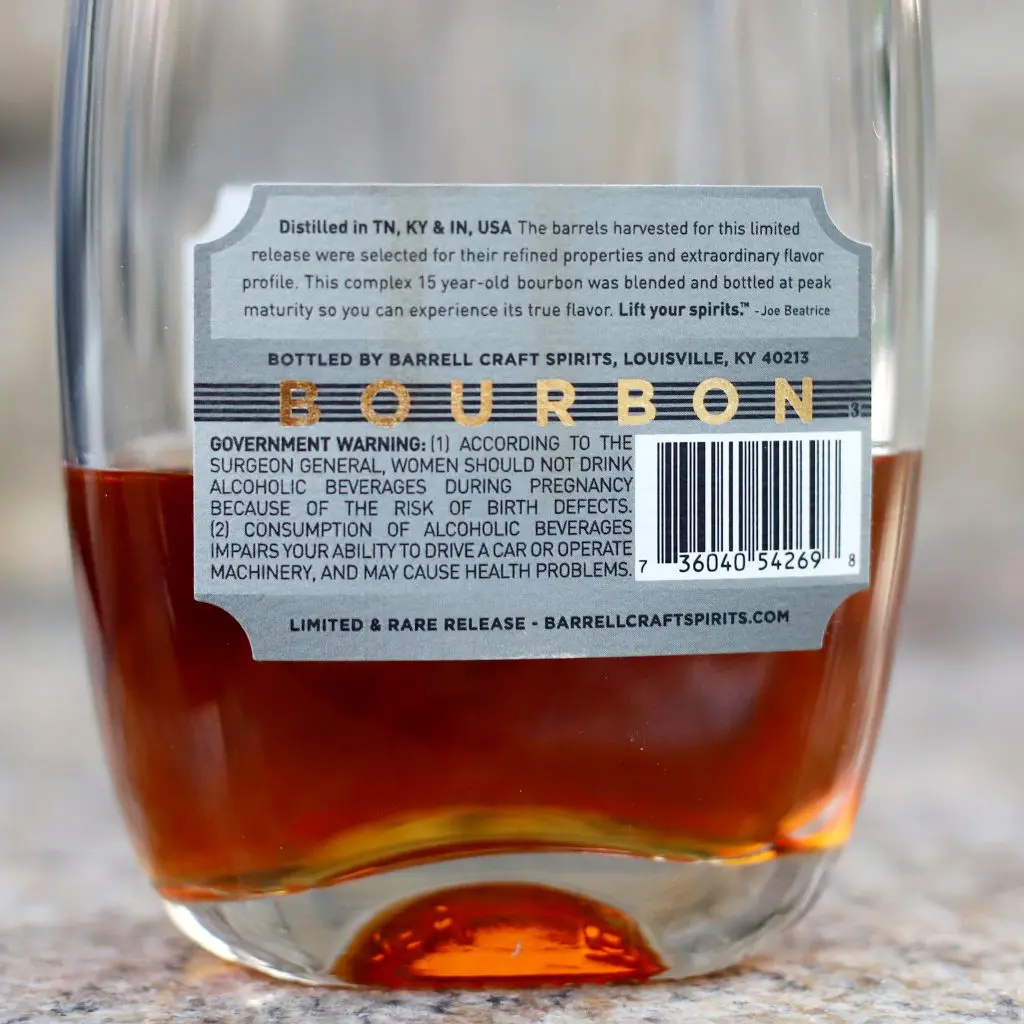 Nose: As is usual with Barrell blends, the nose is always going to be something to look forward to. This one seems slightly sweeter than in years past with notes of marzipan, caramel and butterscotch. I find a toasted wood scent which surely comes with the high age statement.
Fun notes of fruit cup in light syrup and chocolate dipped ladyfingers add the rich and layered character that you'd also expect. If there is one thing I think separates this from the 2018 and 2019 releases, it's that this lacks more fruit notes than they did.
Palate: Fruit, however, is the first notes I find on the tongue with strawberry and cherry pie filling coming in first. I am also able to immediately detect that the mouthfeel is a bit on the thin side.
Sweets come courtesy of chocolate and scorched caramel with vanilla Necco Wafers also adding an additional layer. A bit of coffee and tobacco round out some extra character profile while rye notes of mint, cinnamon and clove are detected in small amounts.
Finish: The nutty scent on the nose that somewhat skipped the palate is now back on the finish. Tannins and rye notes dominate after the sip is complete with oaky overtones, leather and a small amount of char and furniture polish.
Fruit Roll Ups give a nice fruit sweetness but the Black Licorice and nutmeg add a depth of rye character to balance it out.
Score: 8/10
I was pondering this question from the moment I had my first sip of 2020's BCS15: Is the 2020 release not as good as previous years or has the ceiling for Barrell's regular bourbon releases risen that high?
Whatever the answer may be, it almost seems like Barrell has painted itself into into a corner by slapping a 15 year age statement onto this bottle.
What I am trying to say is that in other batches, Barrell has had the freedom to use younger barrels to balance out flavors, "brighten" up the profile or even to add proof.
But the 15 year minimum age of the barrels ties their hands as to what they can work with and what the end product is destined to become.
As an aside, I want to explain why Barrell would want to add proof to a product. It's my opinion that a common trait of the best Barrell batches is that they are higher in proof (even though every Barrell product is barrel strength).
Some of my most beloved batches of Barrell have been above 111 proof. But the 104.9 proof in this bottle comes off surprisingly light. That's not usually a trait you'd want for a 15 year old bourbon.
There are a ton of people out there that will buy BCS15 based on the age statement. But age alone is not a guarantee of excellence. After tasting the Bardstown Bourbon Company Discovery #4, there's simply no comparison.
BBC took 10-15 year old bourbon and came up with a blend that's simply better than BCS15. It's also half the price.
So while BCS15 is an excellent bourbon, it just can't match the richness and depth that was captured with the 2018 release, let alone a competitor.
2020's BCS15 is on par with the quality of the recent standard batched releases of Barrell Bourbon yet wears a price tag more than double of those.
I want Barrell to succeed with everything they do because their blending is simply the best. But when competitors like Bardstown Bourbon Company's Discovery series keep improving (with a price that stays the same), maybe it's time to re-evaluate the need for the BCS line.
Either the product needs to change substantially or it needs to come down in price. And seeing as how whiskey producers rarely do the latter, then I'd propose two recommendations to try to turn this ship around.
First, it's time to retire the Dickel from the blend once and for all. Second, they need to find a way to increase the proof of the final blend. Those two changes alone could elevate BCS15 back into the limelight it deserves.
But until then, I recommend that you buy 2 or 3 bottles of their regular bourbon releases until they start making serious changes.
Ratings Breakdown
1 | Disgusting | Drain pour (Example: Jeffers Creek)
2 | Poor | Forced myself to drink it
3 | Bad | Flawed (AD Laws 4 Grain BiB, Clyde Mays anything)
4 | Sub-par | Many things I'd rather have (Tincup 10 year)
5 | Good | Good, solid, ordinary (Larceny, Sazerac Rye)
6 | Very Good | Better than average (Buffalo Trace, OGD BiB)
7 | Great | Well above average (Old Ezra Barrel Proof, Old Weller Antique)
8 | Excellent | Exceptional (Michter's Barrel Proof Rye, Four Roses Barrel Strength)
9 | Incredible | Extraordinary (GTS, 13 Year MGP or Canadian Rye)
10 | Insurpassable | Nothing Else Comes Close (William Larue Weller)
Featured Products
Description:

The Aged & Ore Neat Traveler is a complete travel kit for spirits. We combined our widely praised Neat Glass with one of our 3oz Flight Bottles and housed them together in a custom EVA travel case. Perfect for a night away with your favorite pour. The tie
Description:

The Aged & Ore Bottle Flight is a premium set of 4 custom silicone wrapped glass bottles designed to transport and share samples of your favorite spirits. The flight bottles come in a custom EVA travel case that fits perfectly in any small bag. An Aged &
Description:

This Bundle combines two of our crowd favorite products, creating the ultimate travel bundle to bring along your favorite spirits and glassware. Bundle Includes: Neat Traveler (Gray) Bottle Flight (Gray) Note: This bundle is only available in gray and col
*Bourbon Culture is reader-supported. When you buy through links on our site, we may earn an affiliate commission.