*Bourbon Culture is reader-supported. When you buy through links on our site, we may earn an affiliate commission.
Barrell Craft Spirits has been elevating their game for the past year and a half, rolling out batches that have left me more and more impressed with their blending skills.
It seems like every batch has a certain profile that they're able to nail with precision. The most impressive part is that they're getting distillate from at least three different distilleries to actually work together… unlike your best friend's Infinity Bottle that he keeps trying to get you to drink from.
Batch 027 saw some younger barrels used which resulted in the optics that it was a younger batch overall. That may have scared off some potential customers that saw a 5 year old age statement on the front (remember, that was only part of the blend). However for Batch 028, Barrell returned to using only older barrels.
These 10 and 11 year-old barrels are sourced from the usual suspects in Indiana, Kentucky and Tennessee. Barrell's website claimed that the goal of this batch was to create a well-rounded bourbon from barrels that had tropical fruits and spices, barrels that had a sweet richness in the middle palate and barrels that had woody, earthy and tannic notes.
In the past, these notes have always came together to make a bourbon that's full of flavor from start to finish. So how did Batch 028 turn out? Let's dive in! I sampled this neat in a Glencairn.
Tasting Notes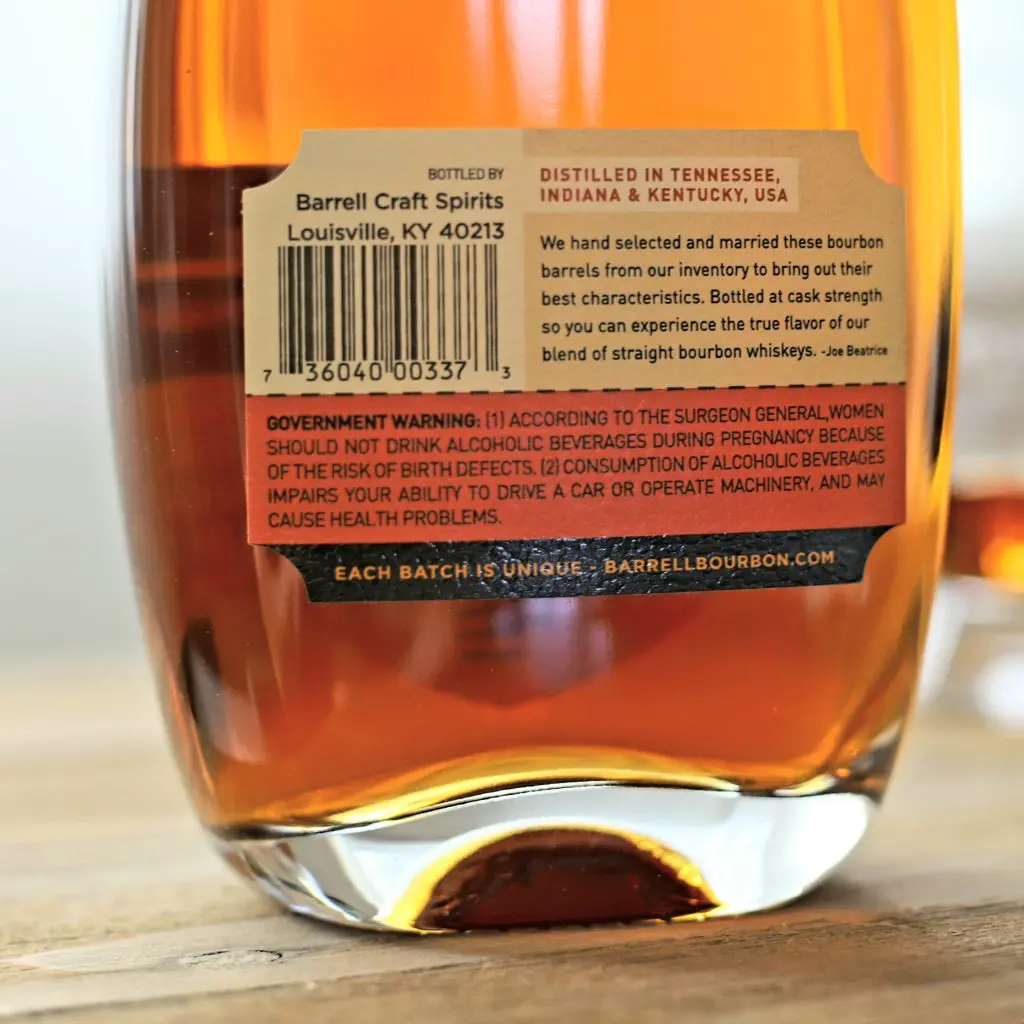 Nose: The nose starts out very warm and inviting. Notes of vanilla, caramel and cinnamon rolls are found along with some fruit flavors like strawberry and peaches.
Additional scents come by way of crème brulee and golden grahams cereal. It's sweet and charming and hits all the right notes.
Palate: The palate begins with fruity notes of cherries, orange marmalade and strawberry jam. They're all so juicy, it's almost like eating a handful of Jolly Rancher candies.
The cinnamon rolls I found on the nose translate onto the palate. There's even a slight nuttiness like marzipan.
Moving along, heat and spice begin to build as red pepper flakes, ginger and white peppercorns start to blanket the other flavors.
Notes of anise/licorice and even rosemary begin to move in where the fruit flavors used to be. After a few sips, the palate begins to round a corner and become drier and more bitter with oak and tobacco becoming the dominant taste with every sip.
Finish: The finish turns away from the flavors that the palate started out having. Oak and tobacco are the two main players here covering up almost everything else.
Some spices do show through like clove and cinnamon, but the sweetness has really dropped off. And although there is some cherry cough syrup and almond meal notes, they don't have enough power to break through this wall of tannins and spice.
Score: 7.5/10
While the nose started off on a high note and the palate also seemed to be heading in the right direction, I questioned my own tongue when the finish began to fall apart.
I figured this was something I could remedy by coming back to it the next day. The next day's dram had the same thing happen. I even tried two more sessions that week that ended with the same results.
By this point, 1/3 of the bottle was gone. I decided to wait a full week to revisit it and found that the "air time" appeared to help it a lot by softening up the finish from bitter to a slightly sweeter oak affair.
While air time and patience seemed to help save Batch 028, it also reminded me of my experience with a bottle of 2014 Four Roses Limited Edition Single Barrel.
I found that after multiple sessions with that bottle, I just could not get into it. I came to the conclusion that some bourbon just won't agree with every person out there.
Batch 028 is that way with me. While not a bad bourbon, it's one that I'm not as enthusiastic about. Batches 024 through 027 were all stupendous examples of the blending prowess of Barrell's staff, but I was probably destined to find one that didn't agree with me as much.
Your mileage may vary, but lovers of oak and tannins can rejoice, your bottle has arrived!
Ratings Breakdown
1 | Disgusting | Drain pour (Example: Jeffers Creek)
2 | Poor | Forced myself to drink it
3 | Bad | Flawed (AD Laws 4 Grain BiB, Clyde Mays anything)
4 | Sub-par | Many things I'd rather have (Tincup 10 year)
5 | Good | Good, solid, ordinary (Larceny, Sazerac Rye)
6 | Very Good | Better than average (Buffalo Trace, OGD BiB)
7 | Great | Well above average (Old Ezra Barrel Proof, Old Weller Antique)
8 | Excellent | Exceptional (Michter's Barrel Proof Rye, Four Roses Barrel Strength)
9 | Incredible | Extraordinary (GTS, 13 Year MGP or Canadian Rye)
10 | Insurpassable | Nothing Else Comes Close (William Larue Weller)
Featured Products
Description:

The Aged & Ore Neat Traveler is a complete travel kit for spirits. We combined our widely praised Neat Glass with one of our 3oz Flight Bottles and housed them together in a custom EVA travel case. Perfect for a night away with your favorite pour. The tie
Description:

The Aged & Ore Bottle Flight is a premium set of 4 custom silicone wrapped glass bottles designed to transport and share samples of your favorite spirits. The flight bottles come in a custom EVA travel case that fits perfectly in any small bag. An Aged &
Description:

This Bundle combines two of our crowd favorite products, creating the ultimate travel bundle to bring along your favorite spirits and glassware. Bundle Includes: Neat Traveler (Gray) Bottle Flight (Gray) Note: This bundle is only available in gray and col
*Bourbon Culture is reader-supported. When you buy through links on our site, we may earn an affiliate commission.