*Bourbon Culture is reader-supported. When you buy through links on our site, we may earn an affiliate commission.
Barrell Bourbon's most recent release comes amid a very long stretch where no new batches were dropped. The last batch, Bourbon Batch 022, was released in November, 2019 and Batch 023 didn't see widespread release until the beginning of March, 2020. This has made the Barrell enthusiasts extra hungry as the release calendar for new products has been steadily filling up. Batch 023's specs show us that this is another batch that utilizes a large amount of very old product that we have to wonder where it's coming from and how much more is left.
Batch 023
Barrell's ability to consistently put 14-15 year old barrels of bourbon into their recent batches is as surprising as it is intriguing. As with every batch, Barrell has set its sights on achieving a particular profile while blending. This profile isn't as focused as the "toasted orange note" Batch 016 or the cinnamon bomb of Batch 018, but it still is an exercise in the blending and creation of a bourbon where depth and richness is the top priority. We should expect not only excellent tannic qualities to show through, but also a decent amount of fruit.
So how does Batch 023 come out? Let's take a look. I sampled this neat and in a Glencairn.
Tasting Notes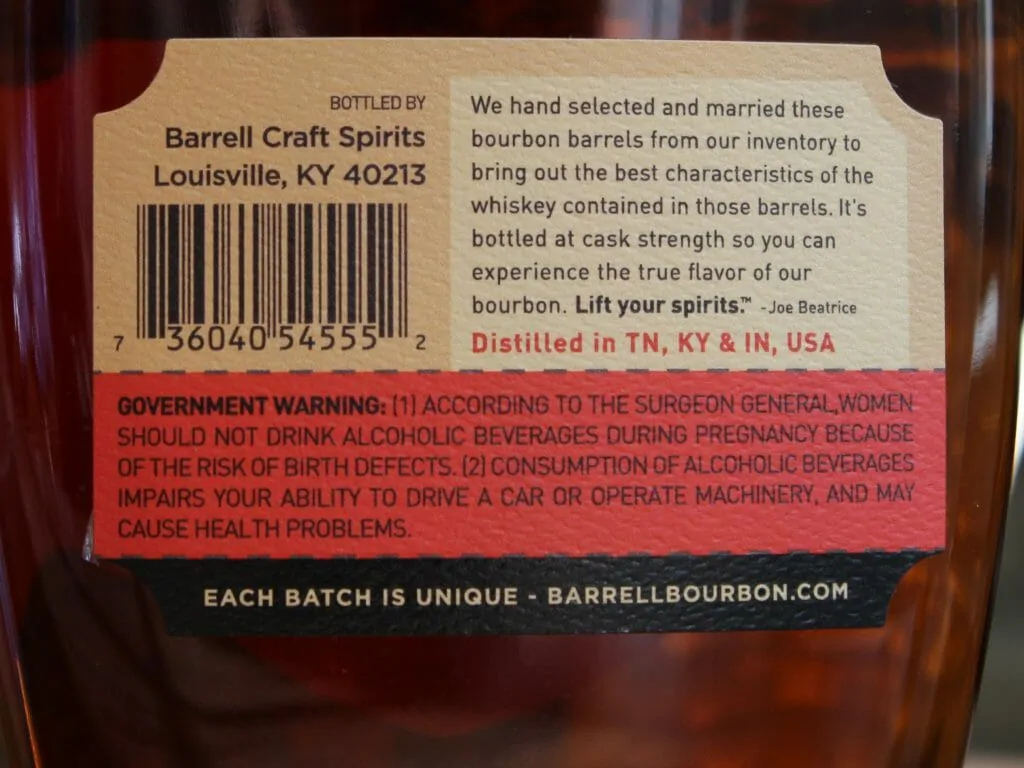 Nose: The nose on this dram starts out somewhat lighter than I would've expected. There is light vanilla right off the bat that transistions into a delicioius buttery croissant. Fruit is evident in this one with notes of red fruit preserves and a hint of banana Laffy Taffy made even sweeter with the addition of light brown sugar. A nice floral layer also is present as gentle waves of cherry blossoms and rose petals soften this up quite a bit. There are some stronger notes dancing about with light oak and cinnamon spice, but oddly, they are kept pretty under wraps with the layer of softness that the previous scents provide. This is a rare dram that the layers wait for their turn to shine rather than the dominate ones smothering the rest.
Palate: I'm going to get this out of the way up front, the whole palate reminded me strongly of a well-aged barrel strength Four Roses OBSV recipe. The amount of fruits like cherries and toasted orange peel taste exquisitely sweet as they're wrapped up in a delicious lattice pie crust that's been left in the oven a touch too long. There's some drying wood and barrel char that came to party, but doesn't ruin it with an over-tannic experience. Instead, a heavy hand of vanilla extract and sweet mint keep the sips from tipping towards being too sweet or too oaky. To futher emphasize this, each sip has a bit of a toasted sugar effect that brings sweetness and a bit of char at the same time.
Finish: For as old as this dram is, I'm surprised it's not that dry and harsh. There's a really great apple turnover taste that sticks around a bit along with some tingly rye spices like sweet mint and cinnamon. Maple syrup, fresh pears and citrus zest followed by powdered donuts give this finish an unusually long and pleasant wave of sweetness. It's not as long as I thought it'd be, but it's nice to experience it over and over again. There are some of the tannic notes that come from those extra-aged barrels like drying leather and oak, but they don't take away from the experience.
Score: 8.1/10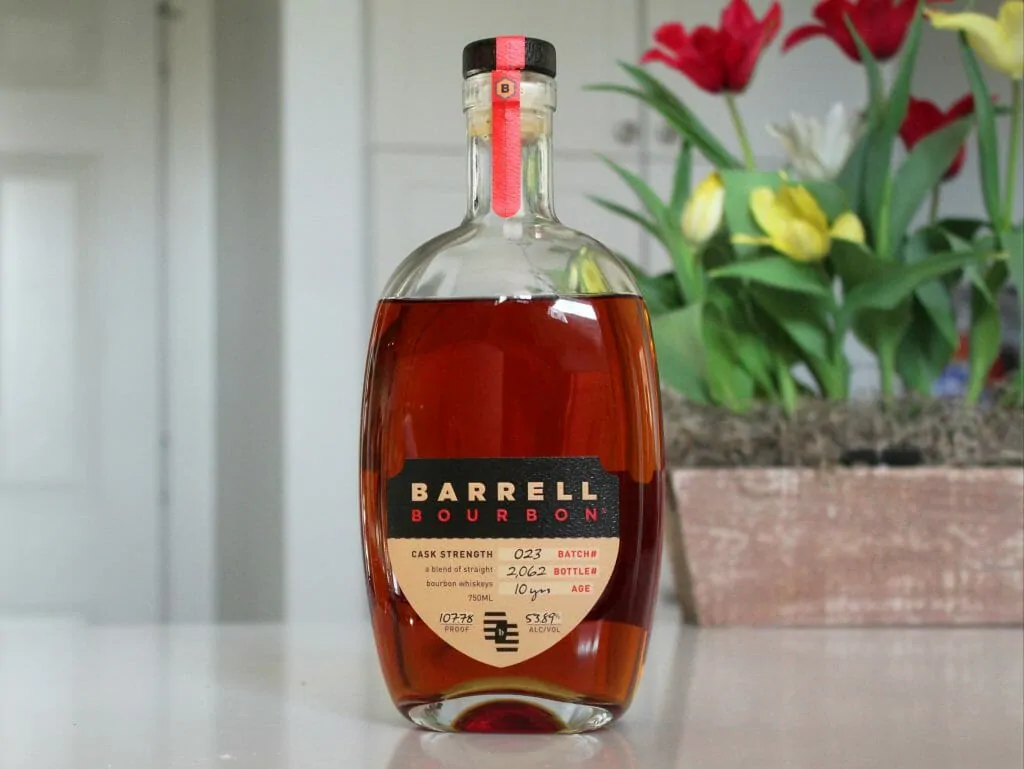 Batch 023 is another fantastic blend by the folks at Barrell who manage to take a wide range of barrels and flavors and make them all work with each other. Instead of flavors that muddle others, they lift up and encourage them to shine bright. For this particular batch, I thought Barrell did great to have each layer play nice with each other by not having the lighter flavors drowned out by the heavier flavors. It really was a treat.
Final Thoughts
Never have I been able to blend two or more of my own whiskies in the hope to develop a whiskey that's greater than the sum of its parts and been successful. But Barrell has and perhaps this is why we had to wait an extra month or two while these married in their vat longer. The result was worth it though, and we easily have a batch that rivals Batch 021 for fruit and complexity. The extra treat was the fact that this dram really reminded me of the classic OBSV recipe of Four Roses, which I'm a giant fan of. Secretly, I do believe that some of the mixture in this batch has came from Four Roses via the conduit of Bulleit Bourbon, but that's a story for another day. In the meantime, let's hope they never run out of those old barrels!
Ratings Breakdown
1 | Disgusting | Drain pour (Example: Jeffers Creek)
2 | Poor | Forced myself to drink it
3 | Bad | Flawed (AD Laws 4 Grain BiB, Clyde Mays anything)
4 | Sub-par | Many things I'd rather have (Tincup 10 year)
5 | Good | Good, solid, ordinary (Larceny, Sazerac Rye)
6 | Very Good | Better than average (Buffalo Trace, OGD BiB)
7 | Great | Well above average (Old Ezra Barrel Proof, Old Weller Antique)
8 | Excellent | Exceptional (Michter's Barrel Proof Rye, Four Roses Barrel Strength)
9 | Incredible | Extraordinary (GTS, 13 Year MGP or Canadian Rye)
10 | Insurpassable | Nothing Else Comes Close (William Larue Weller)
Featured Products
Description:

The Aged & Ore Neat Traveler is a complete travel kit for spirits. We combined our widely praised Neat Glass with one of our 3oz Flight Bottles and housed them together in a custom EVA travel case. Perfect for a night away with your favorite pour. The tie
Description:

The Aged & Ore Bottle Flight is a premium set of 4 custom silicone wrapped glass bottles designed to transport and share samples of your favorite spirits. The flight bottles come in a custom EVA travel case that fits perfectly in any small bag. An Aged &
Description:

This Bundle combines two of our crowd favorite products, creating the ultimate travel bundle to bring along your favorite spirits and glassware. Bundle Includes: Neat Traveler (Gray) Bottle Flight (Gray) Note: This bundle is only available in gray and col
*Bourbon Culture is reader-supported. When you buy through links on our site, we may earn an affiliate commission.