*Bourbon Culture is reader-supported. When you buy through links on our site, we may earn an affiliate commission.
Bardstown Bourbon Company's explosion onto the market saw them set up three distinct lines of whiskey to sell. Fusion and Discovery concentrated on blending together straight bourbons while the Collaborative Series saw them use sourced stocks of aged bourbon and finishing it in various casks.
One of the earliest releases was their collaboration with "The Prisoner" wine company which saw 10 year old bourbon from Cascade Hollow (George Dickel) being finished inside of red wine casks. The marketing for this particular release was especially heavy compared to other Collaborative Series releases probably due to the national name recognition of The Prisoner wine.
Bardstown Bourbon Company works out a deal with The Prisoner Wine Company
Early in this series, Bardstown Bourbon Co was primarily using barrels of 10 year old Dickel or 11 year old MGP bourbon. Not many people caught onto that initially. Some were later angered when they bought a bottle and found out it wasn't MGP inside.
This led to many disappointed reviews simply due to the "Dickelphobia" that grips enthusiast communities these days. I personally don't see it as a deal breaker and usually hunt down these releases based on the finishing cask anyway.
This particular bottle does contain 10 year old Dickel (84% corn, 8% rye and 8% malted barley) and was finished for 18 months in The Prisoner casks. 18 months is entirely too long to finish a whiskey for. It seems as if it took BBC over 2 years to finally realize that whiskies are done when the whiskey tells you its done, not based on a calendar.
Regardless, this release seemed to be so successful that it spawned a second version (which also makes it the only time BBC has repeated a release). What I have today is the initial release which came out in 2018.
I'm excited to taste it because The Prisoner blends are some of my go-to wines for a dinner party where I want guests to feel like I'm not being too cheap or too flashy. But how does it taste after having whiskey set in the barrel for a while? Let's find out. I sampled this neat in a
glencairn
.
Tasting Notes
Nose:
The
nose
opens up impressively
rich with chocolate and wine scents
galore. Red velvet cake, caramel sauce and a slight minerality play nicely together even though I know I just felt some of you cringe after I listed that last scent. But the sweet fruit scents are the real winner here with notes like
raisins, strawberry preserves and grape jelly.
It smells delicious.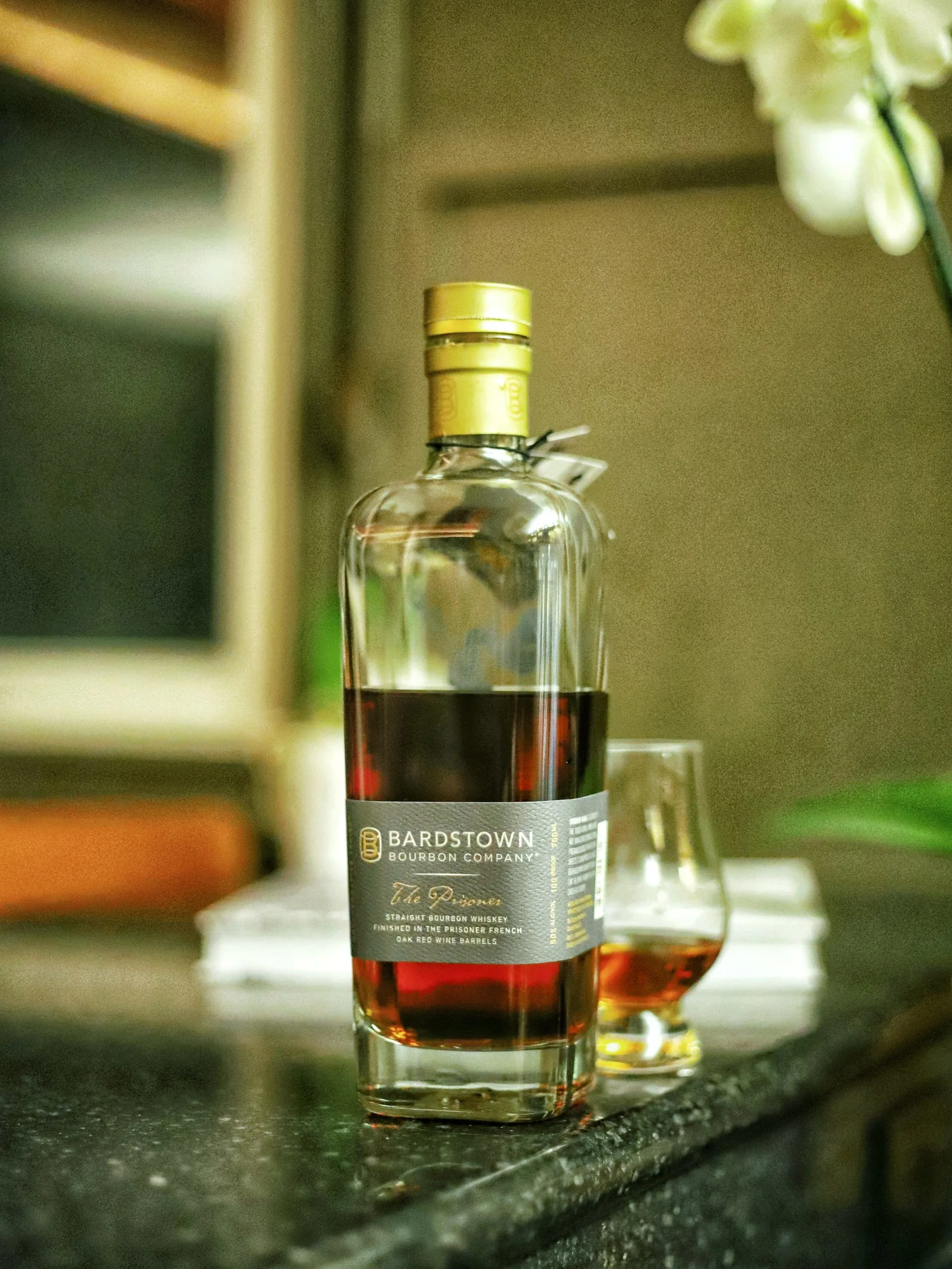 Palate: A bit of spice greets my tongue while waves of red wine wash over it. The bourbon notes of oak, vanilla and caramel have to pay second fiddle to the red wine notes. Strawberries, sweetened cranberries, grape juice and even a bit of orange can all be found.
There's also a hint of marzipan. The wine-finishing imparts a very rich and thick mouthfeel that allows all of these flavors to meld together so nicely. A touch of cinnamon and nutmeg round things out nicely. Multivitamin notes unfortunately are easy to spot, but the fruitiness from the wine compliments it rather than drawing attention to it.
Finish: Sweet oak and jammy fruit flavors still stick around for a moderate-to-long period of time. Light oak flavors couple with a small amount of leather to let you know there were barrels involved here, but nothing tastes like it has too much age. There is a lingering amount of minerality too, but it's not enough that it would distract you.
Score: 8/10
For all the more Dickel bourbon gets put into various blends, it's not as common to find it finished with secondary casks. This is a shame because I feel like it's up to the task like this bottle was. In fact, not only was this bottle uniquely balanced but it seemed like red wine and Flintstones Chewables are better bedfellows than I thought they'd be.
All joking aside, this is still a very well-done bourbon that has layers of fruits with no strange or off-putting flavors. The score feels justified and the only thing that I would like to see more of is the proof (it is only 50% ABV). If this baby reached 120 proof or so, I think it would become a whole different beast… for the better.
Final Thoughts
I can see certain groups of drinkers who will be immediately turned off by the Dickel portion or the fact it was barrel finished (or both, haha). But if you're open-minded about such things and are after the most diverse set of flavors then this bottle should be calling your name.
The price is still reasonable enough for the experience it provides and it seems to be priced correctly among its (non-finished) competitors like Barrell Craft Spirits. So if you're looking for a treat next time you're in the store, then these The Prisoner wine finished bourbons from BBC could be just what you're looking for.
Featured Products
Description:

The Aged & Ore Neat Traveler is a complete travel kit for spirits. We combined our widely praised Neat Glass with one of our 3oz Flight Bottles and housed them together in a custom EVA travel case. Perfect for a night away with your favorite pour. The tie
Description:

The Aged & Ore Bottle Flight is a premium set of 4 custom silicone wrapped glass bottles designed to transport and share samples of your favorite spirits. The flight bottles come in a custom EVA travel case that fits perfectly in any small bag. An Aged &
Description:

This Bundle combines two of our crowd favorite products, creating the ultimate travel bundle to bring along your favorite spirits and glassware. Bundle Includes: Neat Traveler (Gray) Bottle Flight (Gray) Note: This bundle is only available in gray and col
*Bourbon Culture is reader-supported. When you buy through links on our site, we may earn an affiliate commission.