There have been no facets of our lives that have not been affected by the current COVID-19 crisis. In the world of bourbon, which was growing at an unprecedented pace in the last few years, the sudden shutdown of society and social distancing has put a stop to social drinking, bourbon hunting and has even led to reduced hours or curbside delivery for most liquor stores.
For that moment, it seemed like the bourbon world was hitting the pause button. But in the realm of the secondary market, we've seen a weird trend emerging: prices increasing almost overnight.
It is not uncommon in the secondary market to witness a certain bottle catch fire with the masses. In the last 6 months, three notable overnight rises really caught the eye of the secondary market with Stagg Jr. Batch 12 soaring to almost double of what the secondary market was selling it for.
After Breaking Bourbon's award of "whiskey of the year," it went from $80 on most pages to $150. In that timeframe, we also saw the summer of 2018 release of Old Fitzgerald Bottled in Bond 14 year decanter jump into the high $500's from its usual $350.
This quickly died down because not many bottles were for sale to begin with. There was also the case of King of Kentucky jumping from roughly $400 to $450 to the mid $600s as well.
All of these were issues of either awards being won or a handful of transactions that raised people's appetites and hopes for scoring those bottles.
The secondary market has seen a large reversal
But in the past 30 days (roughly the span of April, 2020) the secondary market has seen a large reversal occur over the events of March's nationwide panic.
Secondary bourbon prices in March seemed to trend downward, not necessarily by a large amount, but you could find some BTAC bottles and Pappy going for $25-50 less than what they had been for the previous 12 months.
This timeframe seemed to indicate that people who had invested in bottles to flip were very worried about what the next several months would bring with stability and their own jobs.
I believe it's very reasonable to assume that many people began to sell because they feared a price crash.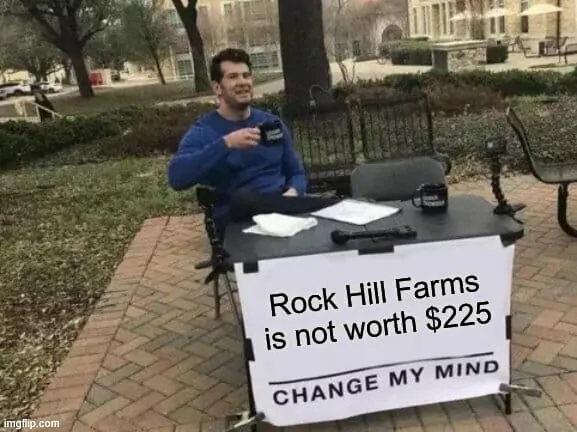 When April came around and the reports began to tell us to expect this new way of life would probably be here to stay for the rest of the year, I would've expected that prices would've continued to drop.
But instead we're witnessing an increase. A great example is that Rock Hill Farms, which normally trended in the $130-150 secondary price range, now goes for $200-225.
But it just doesn't stop there, more labels are seeing increases in pricing. But why is that?
Many believe that with a large majority of Americans still under shelter-at-home restrictions, that the increase in time sitting around at home leads to much more time to go through the online sales or bidding on raffles.
Before, if they were working at their place of employment, they may not have had the 24/7 internet access needed to jump on these sales or bid on the raffles.
When bottles sell out quickly rather than linger for days (or have to be listed multiple times before it sells), that leads to other buyers Fear Of Missing Out (FOMO) kicking in.
The simple emotion-tied aspect of buying any type of good is if you see those goods selling especially fast, you'll correlate that with a more in-demand good. And the higher the demand for a good is, the more you'll be willing to pay and the more the seller thinks the good is worth.
Along the lines of people having more free time at home come with the simple fact that hours and days get blurred and many people are openly confessing to drinking earlier and drinking more.
This article won't delve into why this isn't a good thing, but ask any drinker about getting inebriated and then put a world of online shopping at their fingertips and you'll start seeing an increase in impulse purchases.
More drinking = more impulse buying. And from a sellers perspective, to see so many more bottles being bought will make you value your bottle a little bit more because if John, James and Jack keep selling their George T Stagg for $400 within an hour, surely *you* could sell one for $425 or $450, even if it took a day or two, right?
Also, the trend of secondary bourbon groups being shut down regularly has slowed down during this pandemic. A reason for this could be that Facebook is directing more man-hours to filtering/reigning-in fake-news sites or dealing with conspiracy theory/extremist groups to be bothered with secondary whiskey groups.
Another reasonable explanation could be because these groups are becoming more refined with their buying/selling practices as time goes on.
Many now have strict rules for buying and selling and words and pictures that can and cannot be used. Membership was decreasing for a while, but now it is on the rise for many of these groups because many people have learned the ropes in smaller local groups before graduating into the national groups.
This weeds out the amateurs that would usually screw up and cause the larger groups to be outed and shut down.
As was mentioned earlier, this pandemic has not been kind to the economy. It's no laughing matter to see the staggering amount of people who have lost their jobs or have been furloughed with the subsequent income drop.
This surely applies to those who have invested in whiskey kind of like how some people invest in rare metals (gold, silver, etc). They should hopefully maintain and gain in value no matter the emergency.
But whereas the early days of the pandemic saw some flippers lowering their prices to ensure they could sell quickly before prices may have potentially fallen off the cliff, those that were more patient with the long game saw those low prices come and go and now they're eager to sell higher and make all the money they can.
This could be the money that they live on for the next several months and they're not going to take the lowest bid.
Finally, we can't deny that this pandemic plays with our emotions. Having been deployed to warzones in the past, I can personally attest to future uncertainty in a person's life leading to rash decisions.
I watched Soldiers rush to get married to people who were not the best choices for them, buy expensive clothes and cars on a whim, dabble in illegal drugs or even try to run away from the military due to the fear of dying. All of these things are very real because the person felt a certain way.
This pandemic is no different. I've seen and heard of people buying bottles because they weren't sure what was in store for them in the future and wanted to indulge in the present or the opposite of that; because they wanted a bottle to open in celebration when this was all over.
Decide if that bottle is really worth it
Whatever the reasons are for the secondary prices going up, it's hard to tell if this is the new normal or if the crisis is responsible and it'll all return to normal once "normal" does return.
But before you decide to buy a bottle that was worth $50-100 less than what it is going for these days, please pause for a moment and decide if that bottle is really worth it.
There are still a lot of great deals in bourbon out there that can be found during the pandemic and won't drain your bank account in times of uncertainty.
The key to getting through all of this is just to remain as calm as possible and don't do anything rash. And as always… wash your hands and stay safe.
Featured Products
Description:

The Aged & Ore Neat Traveler is a complete travel kit for spirits. We combined our widely praised Neat Glass with one of our 3oz Flight Bottles and housed them together in a custom EVA travel case. Perfect for a night away with your favorite pour. The tie
Description:

The Aged & Ore Bottle Flight is a premium set of 4 custom silicone wrapped glass bottles designed to transport and share samples of your favorite spirits. The flight bottles come in a custom EVA travel case that fits perfectly in any small bag. An Aged &
Description:

This Bundle combines two of our crowd favorite products, creating the ultimate travel bundle to bring along your favorite spirits and glassware. Bundle Includes: Neat Traveler (Gray) Bottle Flight (Gray) Note: This bundle is only available in gray and col
*Bourbon Culture is reader-supported. When you buy through links on our site, we may earn an affiliate commission.