*Bourbon Culture is reader-supported. When you buy through links on our site, we may earn an affiliate commission.
Ever since I started off on my bourbon journey, I've tried to grasp the concept of how to improve my whiskey's taste or adjust it so that it was at its peak flavor. I found that with many barrel strength whiskies that they came off as too "hot." What I mean by that is that the spirit was overwhelmed by a sharp ethanol burn that made my tongue numb to the other flavors.
A good example of a bottle I was wary of is Stagg Jr. I remember resorting to opening the bottle and pouring half of it into another empty bottle and letting them set for a few weeks before coming back to it. It was my hope that the oxidation would do its trick and reduce the heat through the miracle of science. To my surprise, I believe this concept was effective… or at least my brain told me it was.
Another reason I wanted my whiskey to oxidize is I felt more flavors and scents developed over time that weren't there when I first opened the bottle. In the wine industry, it is common knowledge that you let your wine breathe first to release all of the potential of flavors and aromas.
This has influenced everything from wine decanter shapes to glass shapes. But in the wine industry, it's known that too much air will eventually degrade the wine to the point where it's undrinkable. A solution to the former problem was to forcefully introduce air into the wine immediately after opening it by pouring it through an aerator device.
Wine Aerator's Main Purpose
A wine aerator's main purpose is to introduce turbulence into the liquid that allows it to mix more readily with air. You can see the aerator doing its job because the liquid comes out with a large amount of bubbles on the surface.
This got some people to try using wine aerators for their whiskey. The problem with using an aerator developed for wine is that it is calibrated to introduce a specific amount of air into a specific alcoholic liquid.
It was found that with whiskey, the amount of air from a wine aerator was not enough to make a difference. So the people behind the Vinturi Spirit Aerator discovered a way to slow down the process of whiskey flowing through the aerator to the point where it could introduce the right amount of air per volume of liquid. The device you see before you is the final product.
I was amused and skeptical when a friend of mine sent me a link to this product. But it made sense to me and was already something I had been experimenting with for a while. So when another friend of mine told me that he could buy me one from Spec's (a liquor store chain in Texas), I decided to splurge a little bit.
The presentation of this Vinturi is well thought-out. It offers a base stand so that you don't have to rest the bottom on a dirty surface between pours. The top bowl portion has hashmarks for 1 and 2 ounce pours and the release button is magnetic which makes an easy experience to express the liquid. It also prevents it from getting sticky and then malfunctioning, which is probably a real threat when dealing with liquids like whiskey.
But what I must find out is if this Vinturi is a $36 gimmick or if it works. I needed to have a method to my madness, so I devised a test that would cover the main purpose behind a whiskey aerator; allowing the whiskey to "open up" the flavors and scents that were obstructed by harsh Volatile Organic Compounds (VOCs).
I also decided that testing more than one kind of bottle would be a smart idea so that I wouldn't be basing my results off of just one whiskey. I prepped a third bottle just in case the results were split. When it came down to the two bottles I would choose, I decided to use a younger bourbon and an older bourbon just to explore if the age of the liquid had any impact on the results.
For my younger bottle, I chose a new bottle of Mile High Spirit's Fireside Single Barrel Bourbon. Aged 4 years and coming in at above 124 proof, this was a bourbon that had the ability for a lot of bright, peppy notes but may be hot from the bottle. It would also help to identify if the Vinturi reduced the heat that high proof whiskies are known to bring.
Here are my findings.
Mile High Spirits Fireside Single Barrel Bourbon
Age: 4 Years
Proof: 124
Comparison Setup: Immediately after opening the bottle, I poured 1 ounce into a Glencairn. The next pour went into the Vinturi and then released into a second Glencairn. Both set for about 5 minutes before I conducted my profile notes. The bottoms of the Glencairn were marked and the glasses were switched around until I no longer could identify which sample was which.
Findings: While taking my notes, I detected most of the same notes on the nose and palate in both glasses. On the first glass, I noted how much more muted the scents seemed. The "barrel char" flavor on the first glass seemed less intense than it did on the second glass. Also, the nose on the second glass felt like it was much brighter than the first.
Reveal: The first glass was actually the glass that had went through the Vinturi. This surprised me because for whatever reason, it dulled the nose considerably. My notes also seem to detect that going through the Vinturi reduced the amount of floral flavors and reduced the amount of barrel char flavors I detected.
Final Thoughts: The only finite thing to say about this is that when the whiskey went through the Vinturi, it seemed to dull some flavors and scents. This should be the exact opposite of what it is supposed to do. But how will it affect a bourbon that's much older?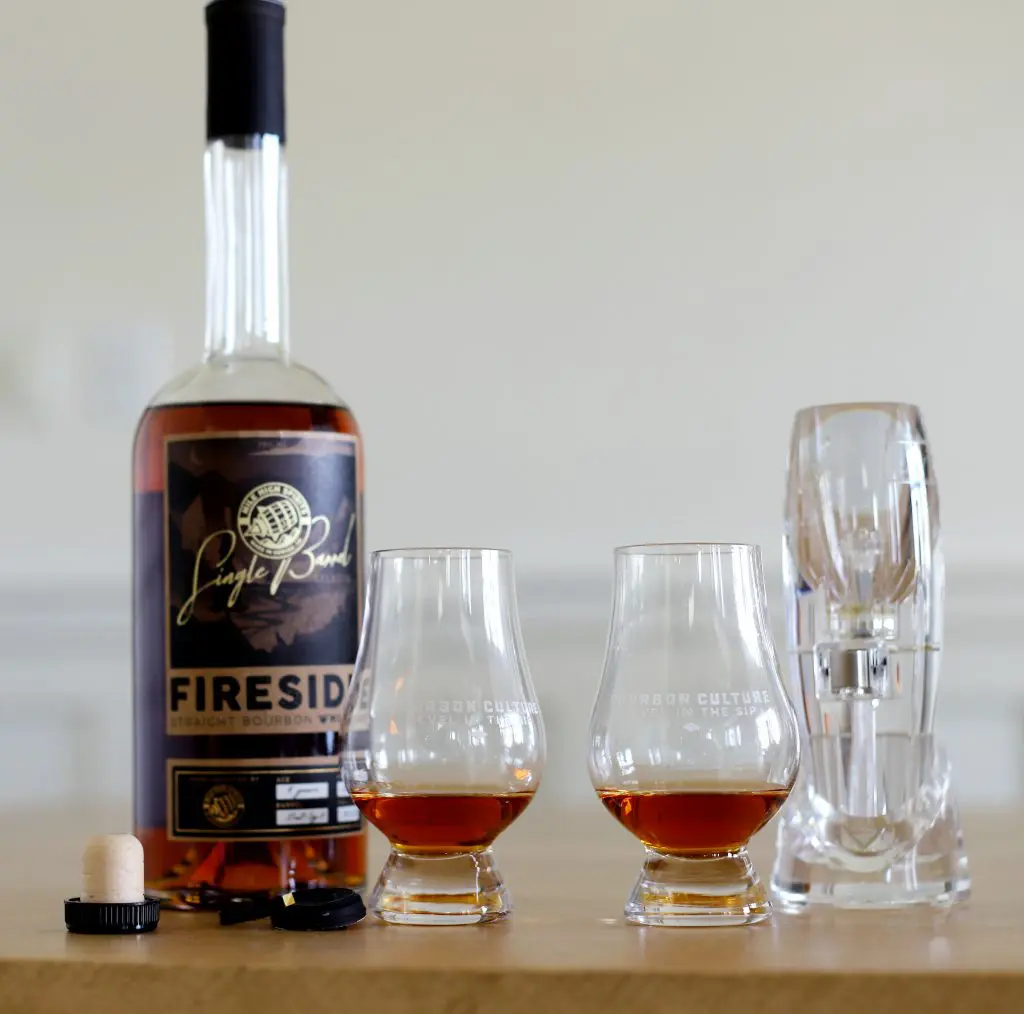 Elijah Craig Barrel Proof Bourbon (A117)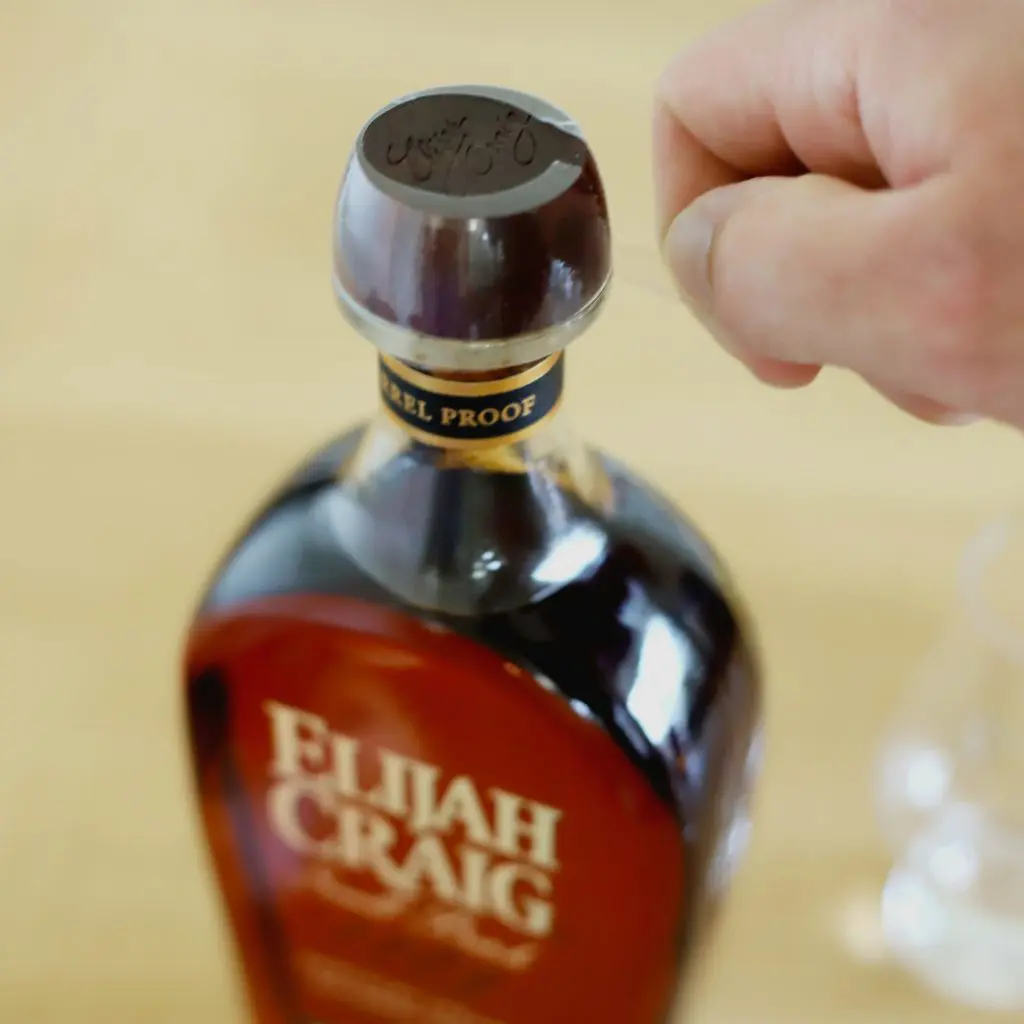 Age: 12 Years
Proof: 127.0
Comparison: I used the same setup that I did with the Fireside.
Findings: Unaware of which glass was which, I again concluded that Glass 1 had a duller nose than Glass 2. And while I found that the flavors were extremely similar, I did note that Glass 2 seemed a bit sweeter than Glass 1.
Reveal: Once again, even though these glasses were switched around to the point where I did not know which was which, it was revealed that Glass 1 contained the ECBP that went through a Vinturi.
Final Thoughts: The dull nose for the whiskey that went through the Vinturi is a trait that seems to link these two tastings together. What was odd is that I felt that the non-Vinturi ECBP tasted noticeably sweeter. I have no explanation for why that may be.
Featured Products
Description:

The Aged & Ore Neat Traveler is a complete travel kit for spirits. We combined our widely praised Neat Glass with one of our 3oz Flight Bottles and housed them together in a custom EVA travel case. Perfect for a night away with your favorite pour. The tie
Description:

The Aged & Ore Bottle Flight is a premium set of 4 custom silicone wrapped glass bottles designed to transport and share samples of your favorite spirits. The flight bottles come in a custom EVA travel case that fits perfectly in any small bag. An Aged &
Description:

This Bundle combines two of our crowd favorite products, creating the ultimate travel bundle to bring along your favorite spirits and glassware. Bundle Includes: Neat Traveler (Gray) Bottle Flight (Gray) Note: This bundle is only available in gray and col
*Bourbon Culture is reader-supported. When you buy through links on our site, we may earn an affiliate commission.