*Bourbon Culture is reader-supported. When you buy through links on our site, we may earn an affiliate commission.
Woodford Reserve may have been the first company that took bourbon out of a barrel and dumped it into a brand new, fresh charred barrel. After letting that barrel age for an additional year, the product was bottled and sold under the name "Woodford Reserve Double Oaked." The second barrel added strength and depth to ordinary Woodford distillate and I found it to be delicious for the proof. The price, usually at or a little above $50 made it a little pricey but the improvement over regular Woodford was very obvious.
Shortly after Woodford released Double Oaked, it released a gift-shop only version that ages their bourbon in that barrel for an extra year for a total of 2 years in a second barrel. Typically priced a tad above $50 and bottled in a 375ml bottle, this had people wondering if the final product was going to be even more improved or over-oaked.
2020 Release
I finally got my hands on a 2020 release, so I get to finally find out for myself. This was sampled neat and from a glencairn.
Tasting Notes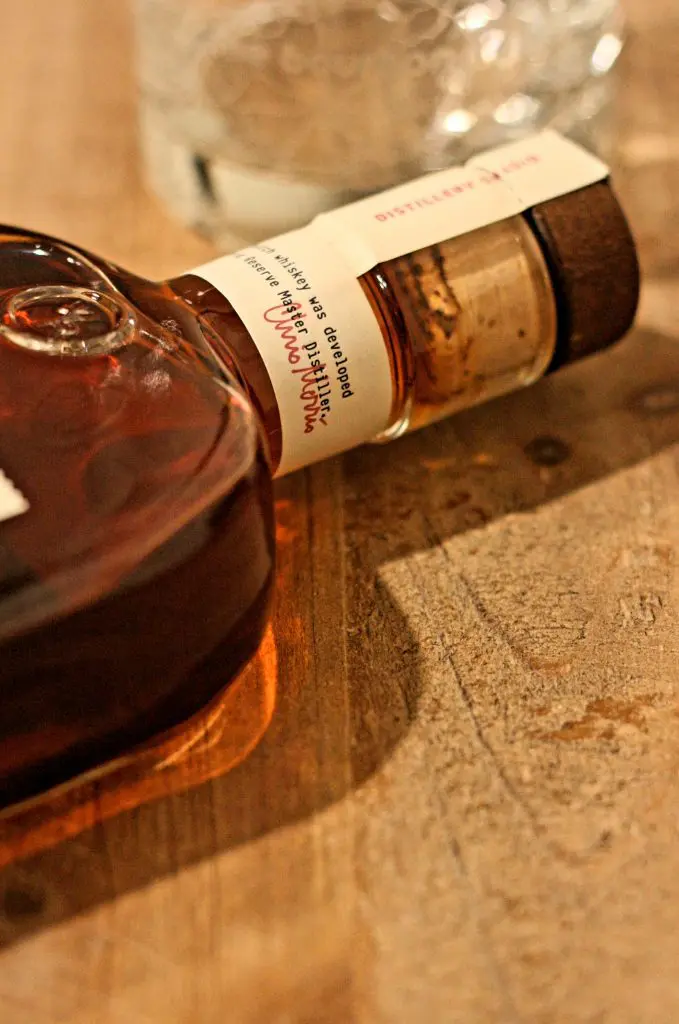 Nose: Seasoned Oak, Toasted Oak, Charred Oak. I kid you not when I say that there are multiple levels of oak in different stages of barrel making that have penetrated deep and are letting themselves be known. But the oak isn't covering up the other great scents of caramel fudge, toasted marshmallows and heavy vanilla. There are also chocolate bourbon balls with pecans on top. The aromas are so thick you can taste them on your tongue.
Palate: The first thing I'm noticing is that the mouthfeel doesn't feel as thick as it does in Woodford's regular Double Oaked. Perhaps the filtering process had to remove a lot of fatty acids that were making this too oaky, but the palate still retains a ridiculous amount of caramel and sweet oak wood. There's also a lot of candy bar nougat that seems light and fluffy. And just like the pecan scent on the nose, I can taste pecans on my tongue as well.
Finish: I was waiting for some fruits and now I've got them. Cherry cordials turn up with milk chocolate, orange marmalade and orange blossom honey. The oak is present as always but it's intermingled with some rye spice that actually adds a bit of heat at the end.
Score: 8/10
For a bourbon that's only 90 proof and (realistically) no more than 6 years old, this bottle was a joy from start to finish. There was another bottle that I was somewhat reminded of as I drank this and that's Baker's 107 Single Barrel. The Baker's was a dessert bomb with many rich flavors, but this Double Double Oaked has even more. Granted, more proof would be nice, but the sweet dessert ride it carried me on was an easy enough distraction that the proof was low and it still hadn't sacrificed any flavor.
Final Thoughts
I would highly recommend finding a bottle of this sometime just to experience the uniqueness for yourself. The entry price is high, but treat this like a special occasions bottle and you'll be rewarded every time.
Rating Breakdown
1 | Disgusting | Drain pour
2 | Poor | Forced myself to drink it
3 | Bad | Flawed
4 | Sub-par | Many things I'd rather have
5 | Good | Good, solid, ordinary
6 | Very Good | Better than average
7 | Great | Well above average
8 | Excellent | Exceptional
9 | Incredible | Extraordinary
10 | Insurpassable | Nothing Else Comes Close
Featured Products
Description:

The Aged & Ore Neat Traveler is a complete travel kit for spirits. We combined our widely praised Neat Glass with one of our 3oz Flight Bottles and housed them together in a custom EVA travel case. Perfect for a night away with your favorite pour. The tie
Description:

The Aged & Ore Bottle Flight is a premium set of 4 custom silicone wrapped glass bottles designed to transport and share samples of your favorite spirits. The flight bottles come in a custom EVA travel case that fits perfectly in any small bag. An Aged &
Description:

This Bundle combines two of our crowd favorite products, creating the ultimate travel bundle to bring along your favorite spirits and glassware. Bundle Includes: Neat Traveler (Gray) Bottle Flight (Gray) Note: This bundle is only available in gray and col
*Bourbon Culture is reader-supported. When you buy through links on our site, we may earn an affiliate commission.