*Bourbon Culture is reader-supported. When you buy through links on our site, we may earn an affiliate commission.
I'm going to start this review off the only way I know how, by insulting the large group of enthusiasts that love dusty Wild Turkey. I have had maybe two dozen different examples of bottles from the 1970s all the way up until 2004… and I've only been truly impressed with maybe 3 of them.
For me, Wild Turkey from decades ago lacked sweetness, tasted like they were made with twice the amount of rye that the mash bill would indicate and were sometimes bitter. I have never thought of myself as a Turkey fanboy as a result.
Everyone tastes things differently and I figured I just needed more experience with them. Maybe that would help acclimate my tongue to begin to like old Wild Turkey flavors.
Unfortunately I found out the hard way that your friends are only going to pour you so much of their prized Wild Turkey if you keep making the faces I did when tasting them. It's a sin to say anything other than "Amazing!" when drinking a gifted pour. Now I know.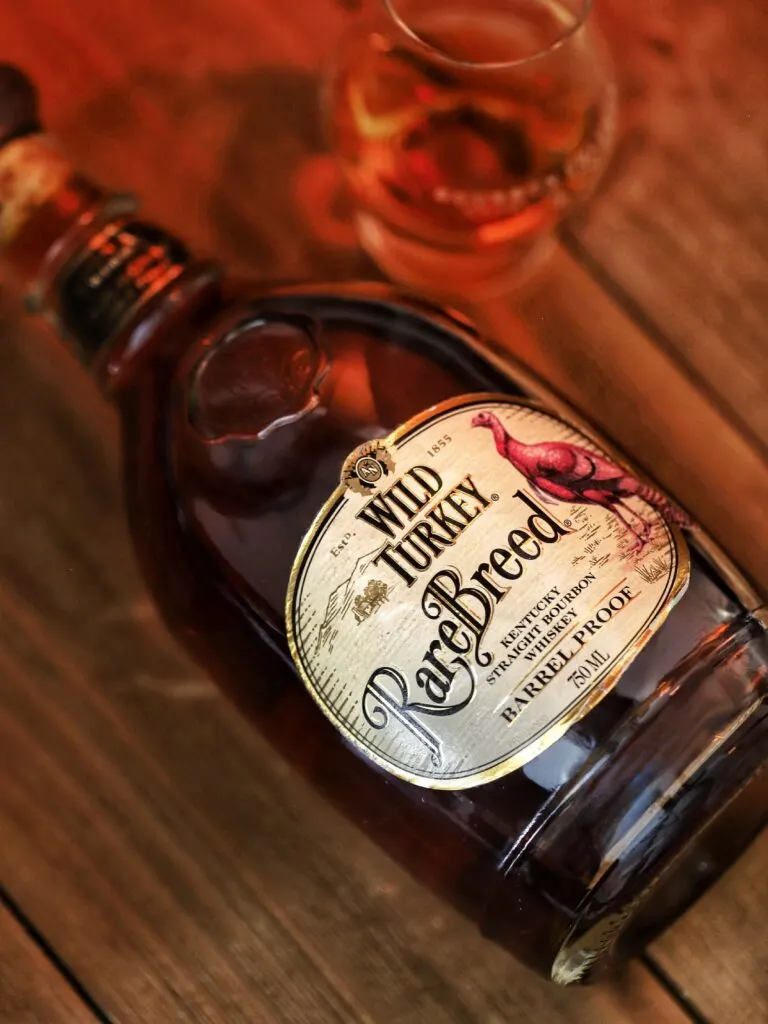 It's not like I don't like dusties either. My preference seems to lean towards the ones made by National Distillers during the same time periods as dusty Turkey. I've also fallen in love with a lot of the old bourbon made at Bernheim.
So after doing my research to see which bottles of Turkey are tops, I landed on this bottle of Rare Breed you see before you. Luckily for me, I have a friend who has helped me get a taste of it so I could do a review and share my thoughts.
I promised myself that if I couldn't find love at the bottom of this bottle, then I would call it quits with Dusty Turkey forever.
The stats on W-T-01-99
The bottle I'm reviewing today is batch L0173022. That should indicate that it was bottled in 2001, a full 3 years before Wild Turkey changed the barrel entry proof from 107 to 110. This batch wears a barrel proof of only 108.4 proof. That's barely higher than the barrel entry proof these barrels went in at.
The barrel composition is said to be a mix of 6, 8 and 12 year old barrels. Modern batches of Rare Breed are about the same ages but taste wildly different – as in not that old.
Are we all automatically assuming that Jimmy was dumping some super-old barrels into everything Wild Turkey put out during the glut era? Because it seems that way.
A couple of quick things that I picked up while researching Rare Breed and Wild Turkey in general while writing this review:
Dusty Turkey's distinct taste is often the subject of a lot of discussion. Something changed between modern day products and ones from decades ago. One thing most enthusiasts like to bring up are the Cypress wood fermentation tanks. They were a mainstay in the fermentation department for decades before Wild Turkey removed them completely in the mid 90's. The barrels used for this batch of Rare Breed should all have been produced during the time period that they were in place. The first Stainless Steel tanks were installed in 1984, but it was a slow transition that occurred only after the Cypress tanks wore out.
The distillery went through many overhauls, but none were as significant as the complete rebuilding of the facility that finally ended in 2011. This would forever alter the taste of their products.
The methods that spirits were produced across the industry were quietly changed sometime in the mid-1980's. New methods were put in place to reduce urethane levels in the final product. Studies showing links between urethane consumption and health issues were sparking fears in food and drink producers. The exact changes that spirits producers put into place are not well known outside of the industry. Whiskey that Wild Turkey distilled before that period of time supposedly had some of the highest urethane levels in the industry (over 250 ppb). Barrels that were produced before the changes occurred were still legally allowed to be used though. That means the 12 year old (or older) barrels that are in this batch surely came from that time period.
Taken all together, this bottle of Rare Breed has all of the makings for a great example of Dusty Turkey – even if the bottling date falls in the wrong millennium.
Annihilate me in the comments if you think differently. Now the only thing that's left is to see if I like it or not. Bottoms up! I sampled this neat in a glencairn.
Tasting Notes
Nose: I'm picking up lots of very old rye traits immediately: black and red licorice combine with notes of cedar and lighter herbal scents. There is this ultra-mature aged wood scent that smells like a cross between wood polish and seasoned oak.
It's beautiful and could be sniffed all day long. Black Walnut liqueur (Nocino) mixes with sweet candied oranges. The sweetness on the nose starts off as molasses but morphs into maple syrup the longer you drink it. This nose is outstanding.
Palate: The sweetness from the nose mimics the flavors on the tongue. Molasses turns to maple syrup the more you drink.
The oak notes are extremely rich and are accompanied with conditioned leather and a light-bodied cigar wrapper. Fruits are sweet and concentrated, like they were dehydrated. I can find flavors of dried figs, cherries and prunes.
The mouthfeel borders on lightly creamy (vanilla crème) with a very faint proof sting that comes from a little bit of pepper, a little bit of clove and a little bit of nutmeg. Anise and fennel seed add this aged component that lets you know this is bourbon from another period of time. Contrary to what I find in modern day Turkey, the nutty flavors are almost non-existent.
Finish: Oak-driven all the way to the end. It's a full-throated flavor afterparty going on with peppery pops of spice, black licorice, leather, tobacco leaf and a bit of toffee.
For all of the sweet and creamy aspects of this bourbon up until this point, I do detect the tiniest bit of astringency. It's still very well done though and there's a ton to like about it.
Score: 9.1/10
This bourbon speaks to me from the time before Wild Turkey became what it is today. This is the epitome of speak softly and carry a big (oak) stick. The aged notes accompany every flavor and scent, wrapping them in the luxurious, mature oak notes that nobody seems to be able to replicate with today's whiskies.
All of the fruits are dried, concentrated and feel like they have a small layer of dust on them. The sensation of richness is evident throughout and the sweetness was perfectly balanced – not too sweet but sweet enough.
Older Turkey's, from the 70s and 80s taste, to me, like they have twice as much rye in the mash bill as they claimed. This 01-99 doesn't have that, but I can taste the ghosts of that style in the background. As for the age, this thing drinks like it's practically 15 years old. Not a bad thing at all in my book.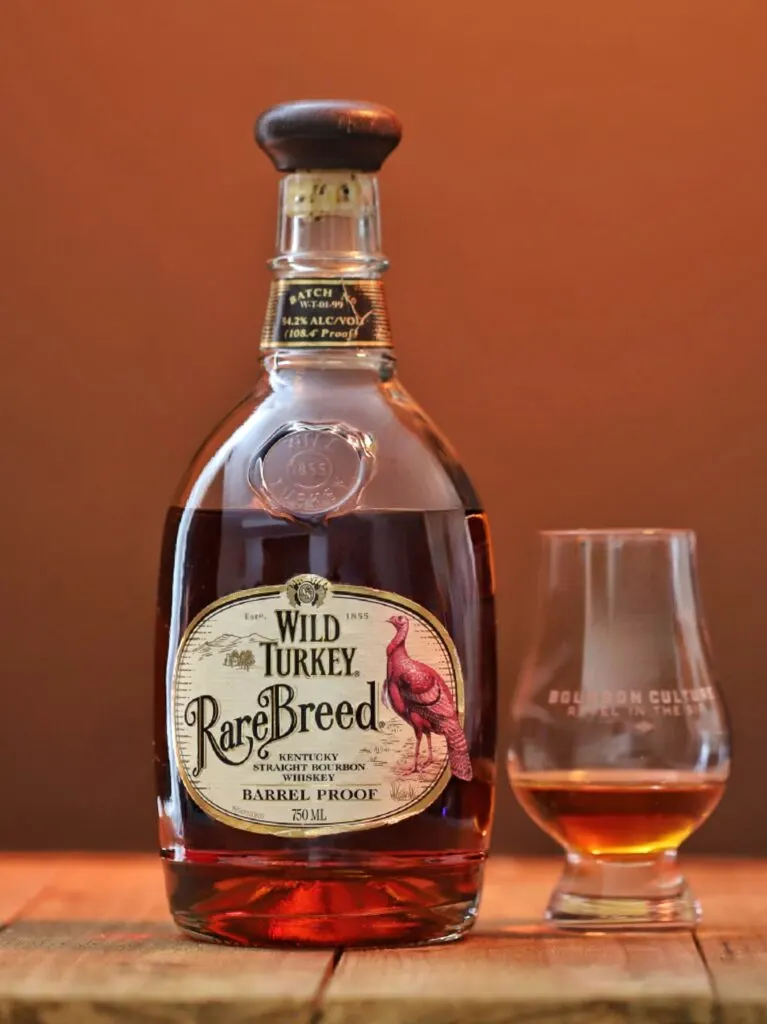 Final Thoughts
This bottle of Rare Breed is almost the perfect bourbon. It is complex and powerful enough for the most discriminating palates out there and the oakiness never goes overboard.
Rare Breed is always made in batches with no clear distinction between them. But before I recommend for you to buy a bottle of W-T-01-99, I must caution you that some of the more die-hard Turkey heads out there will say that they can taste differences between the bottles produced from 1999 to 2004 and that there are some that are better than others.
Take that for what it's worth, but I think that any bottle is a safe bet for a memorable pour. Expect to bring a wheelbarrow of cash to buy one, but also expect to experience greatness at its peak.
Featured Products
Description:

The Aged & Ore Neat Traveler is a complete travel kit for spirits. We combined our widely praised Neat Glass with one of our 3oz Flight Bottles and housed them together in a custom EVA travel case. Perfect for a night away with your favorite pour. The tie
Description:

The Aged & Ore Bottle Flight is a premium set of 4 custom silicone wrapped glass bottles designed to transport and share samples of your favorite spirits. The flight bottles come in a custom EVA travel case that fits perfectly in any small bag. An Aged &
Description:

This Bundle combines two of our crowd favorite products, creating the ultimate travel bundle to bring along your favorite spirits and glassware. Bundle Includes: Neat Traveler (Gray) Bottle Flight (Gray) Note: This bundle is only available in gray and col
*Bourbon Culture is reader-supported. When you buy through links on our site, we may earn an affiliate commission.