Rural Inn Store Pick
At the end of 2019, Whistlepig rye bottles began showing up on shelves across the nation with a revised label on their standard 10 year ml bottle as well as the single barrel variants. Accented with deep red features, the bottles looked different and sported a couple unique changes aside from the color and design.
The first being that a majority of the specs that used to be hand-written on the label were now printed in a sort of gilded gold script. The second being the store that had picked the particular single barrel still had a small sticker affixed to the top right of the main label with not only the store name, but the barrel number printed below it. And the last being that nowhere on the label or back of the bottle does it state that this rye was "finished in bourbon barrels."
Whistlepig is awful about transparency, but perhaps this new label is their way of trying to right the wrongs of the past. Either way, I want to start this review with a bold opinion: Whistlepig whiskey no longer has any MGP rye barrels available for their single barrel program. As I write this, this is the 6th new-label barrel I have tasted that absolutely screams "Alberta Rye!" as I drank it.
This is not normally a bad thing, but to a lot of us are still searching high and low for those high rye mash bill single barrels that came from MGP. If you know why, then you know why. But Alberta rye whiskey is still a very good Canadian Whisky and so I had no issues with buying this one that was selected by the Rural Inn in Indianapolis (local liquor store of choice) when it came out.
Even though it is pricey, Ray knows how to pick 'em and I was intrigued to see if the new label design would transfer over to a different experience. Let's see if this bottle can bring us back to whistlepig's roots. For this review, I tasted this neat and in a glencairn.
Whistle Pig Bourbon Tasting Notes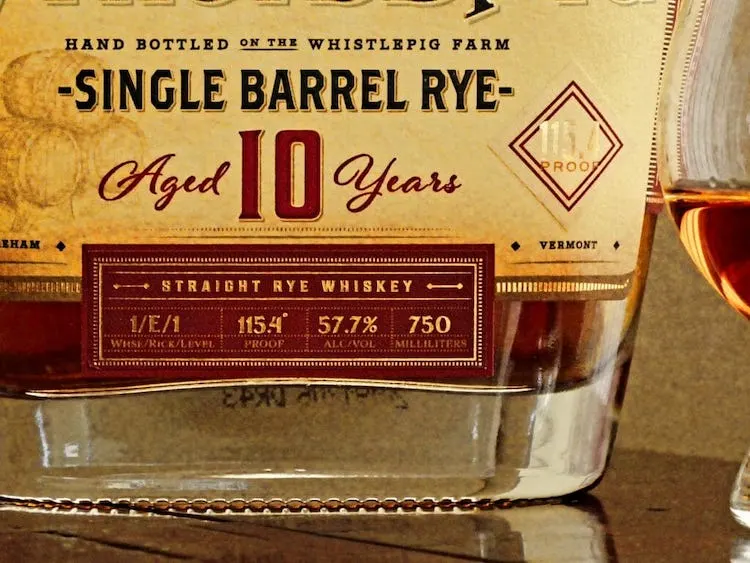 Nose: Some sweet maple syrup followed closely by a sharp, almost medicinal dash of rye spice. Notes of vanilla cupcakes, cherry blossoms, fresh cut lilies and grass. There's lots of soft and sharp herbal scents. There's also a very small essence of wet cardboard.
Palate: Loads of mint and pine needles followed by the heat of spicy cinnamon, telicherry peppercorns and chili powder. There's just enough brown sugar on the tongue to not be bitter or astringent, but those are two traits that you can tell are lurking. The mouthfeel is pleasantly oily as you continue to sip and sometimes it tastes hotter and much higher proof than its 115.4 proof says it is, but there is still some softer, fruitier notes present like caramelized apples, orange peel and cherries that manage to sweeten things up.
Finish: The herbal and botanical notes are off the charts. I feel like I'm literally eating the air in a flower shop. There is cherry cough syrup, black pepper flakes, spearmint, ginger paste, flowers and tart stone fruit. Most bourbon finishes end with notes of new American oak with a sweeter spin, but this one ends with a menthol cooling and a handful of herbs stuffed in your mouth. Once again, it's not a bad trait at all, but one that will grab you by the collar and not let you forget it's a bold rye you're sipping with a long finish.
Overall Rating: 7.8/10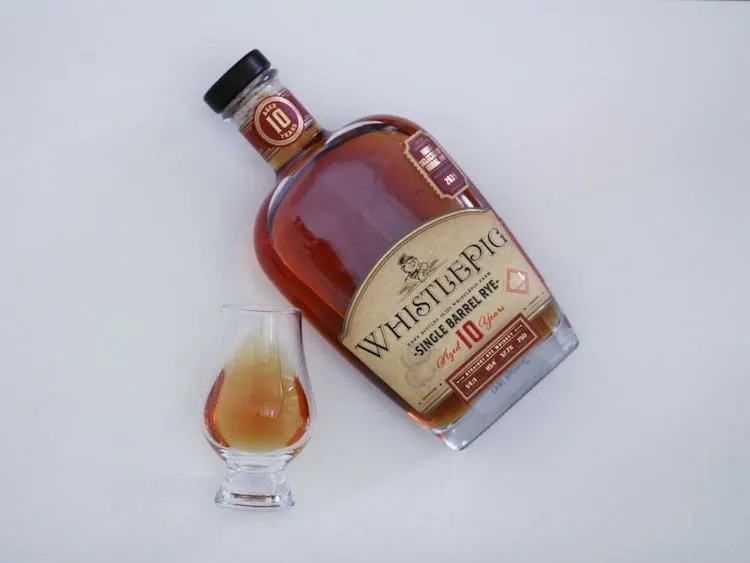 As with most Canadian rye whiskey, they're going to let you know that they're big on rye spice, and that's no exception here. This thing was a wild ride of botanical, herbal and floral notes that was accented by just enough sweetness to ensure you that you weren't drinking perfume straight from the bottle. It truly is the sort of rye to scratch any rye-lover's itch.
But my one nitpick is that for all the more it had going on, the tannins of a rye whiskey that show long years of age weren't readily found. This may not be a big deal to some, but I felt that the previous Whistlepig single barrels that I tasted that were finished in a bourbon barrel, were much more layered and complex.
Final Thoughts
This is still the rye for you when you really want to taste all that rye goodness, but if you are looking for the best rye, something that previous Whistlepig products offered, then I just can't recommend these new labels anymore. Either some extra years are needed or they should bring back the bourbon barrel finishing, which sounds incredibly backwards to say.
In the meantime, with more older stocks of MGP's 95/5 rye grain whiskey getting to the 7-8 year old mark, I would start handing the crown over to them as the leaders in the ultimate value in rye in the whiskey world that you can find. As with all whiskies, I'd highly recommend you sample these before you buy when you're going to plop down $90 suggested retail price on a new bottle of whistlepig.
Ratings Breakdown
1 | Disgusting | Drain pour (Example: Jeffers Creek)
2 | Poor | Forced myself to drink it
3 | Bad | Flawed (AD Laws 4 Grain BiB, Clyde Mays anything)
4 | Sub-par | Many things I'd rather have (Tincup 10 year)
5 | Good | Good, solid, ordinary (Larceny, Sazerac Rye)
6 | Very Good | Better than average (Buffalo Trace, OGD BiB)
7 | Great | Well above average (Old Ezra Barrel Proof, Old Weller Antique)
8 | Excellent | Exceptional (Michter's Barrel Proof Rye, Four Roses Barrel Strength)
9 | Incredible | Extraordinary (GTS, 13 Year MGP or Canadian Rye)
10 | Insurpassable | Nothing Else Comes Close (William Larue Weller)
Featured Products
Description:

The Aged & Ore Neat Traveler is a complete travel kit for spirits. We combined our widely praised Neat Glass with one of our 3oz Flight Bottles and housed them together in a custom EVA travel case. Perfect for a night away with your favorite pour. The tie
Description:

The Aged & Ore Bottle Flight is a premium set of 4 custom silicone wrapped glass bottles designed to transport and share samples of your favorite spirits. The flight bottles come in a custom EVA travel case that fits perfectly in any small bag. An Aged &
Description:

This Bundle combines two of our crowd favorite products, creating the ultimate travel bundle to bring along your favorite spirits and glassware. Bundle Includes: Neat Traveler (Gray) Bottle Flight (Gray) Note: This bundle is only available in gray and col
*Bourbon Culture is reader-supported. When you buy through links on our site, we may earn an affiliate commission.