*Bourbon Culture is reader-supported. When you buy through links on our site, we may earn an affiliate commission.
Here in America, we have a mindset of anything you can do, we can do better. That's why we have Champagne from Napa Valley, the better version of Football and superior Chinese food. But for years there never seemed to be anyone willing to come up with a better version of Scotch Whisky. Was this a bridge to far? Or could someone in America make a better version of single malt whisk(e)y?
American Single Malt Whiskey is a style of whiskey that is commonly overlooked in the US market. For over a century, if Americans wanted to satisfy their thirst for whiskey made with only malted barley, they had to turn to Scotch or its ugly stepsister Irish Whisky. And if malt whisky wasn't their thing, there was always bourbon to drink.
It wasn't until the 2000's that bourbon and rye whiskey starting to regain the ground it lost over the previous 4 decades. At that point, new distilleries were still few and far between which is why Jess Graber's decision to start Stranahan's Distillery in Denver, Colorado in 2004 seemed like such a gamble.
Stranahan's wasn't going to play it safe by making a bourbon or a rye whiskey though. They decided to test the limits of imagination by distilling malt whiskey in the style of our European friends but with a few twists of their own.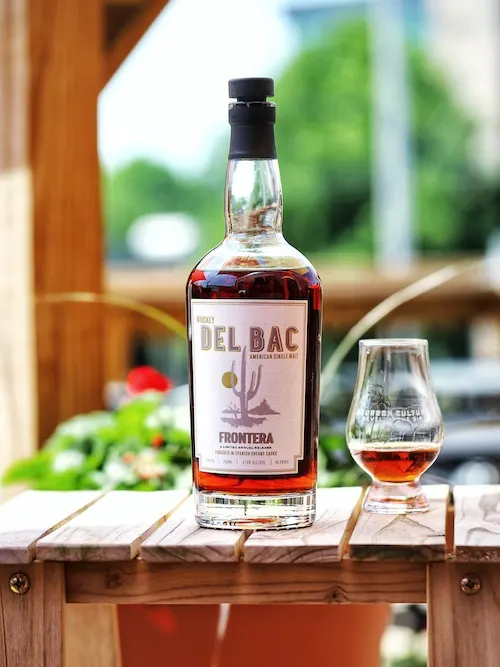 The success of Stranahan's paved the way for many other distilleries to take the plunge on malt whiskey. I'm not saying other distilleries tried to copy Stranahan's, just that the success of their malt whiskey demonstrated the American public was open to trying and buying domestic malt whiskey.
Peculiarly, a majority of distilleries that produce single malt whiskey began to pop up west of the Mississippi. I must say that I dislike bourbon and rye made from the drier (and higher altitude) areas of the West and Southwest more than I like it. But maybe American Single Malt's take to this different kind of environment better than its corn-based brethren.
Whiskey del Bac
The whiskey I'm reviewing today came from Whiskey del Bac which is located in Tuscon, Arizona. They are one such distillery who took the leap by distilling their own version of malt whiskey and doing it in a climate that you don't often think of for whiskey.
Founders Stephen Paul and his wife Elaine were in the furniture business back in 2006 and enjoyed a glass of Scotch at the end of their workday. One night, while marveling over the effect peat had on that liquid, she inquired if the same infusion of smoke couldn't be done with the mesquite wood that they used to make some of their furniture.
Stephen looked into the idea and began to experiment using leftover mesquite wood to dry out the barley he purchased and malted himself. He also bought increasingly larger stills to distill with as his skill developed. Eventually, he got it right and Hamilton Distillers was born. His daughter, Amanda, decided she'd also like to join her dad on this new adventure.
As the distillery and output both grew, so did the crew that Stephen had assembled to keep up with demand. He brought on head distiller Mark Vierthale, lead distiller Dustin Cox as well as two assistants Abbey Fife and Raymond Hammond (They are collectively known as the D.R.A.M. team if you assemble the first initial of all of their names).
Together, they help distill a mesquite-smoked malt whiskey (Dorado) and a non-smoked malt whiskey (Classic). The single malt distillate is then filled inside new charred oak barrels and aged for 10-15 months in 15 gallon barrels. Over the last couple years, they've also been spicing up their malt whiskey by finishing it in various casks. We've seen everything from a rum cask to a Madeira cask to even Sherry casks like the one that Whiskey del Bac used for this bottle of Frontera.
If you're into the specs that the distillery uses, then get ready for some knowledge. Whiskey del Bac distills their 2 row malted barley in classic Scottish pot still fashion. Their first distillation (stripping) run creates a whiskey that's roughly 76 proof. Then the second distillation sees the whiskey increase in proof to a little over 152 proof.
But before it goes into the barrel, it's slowly proofed back down to 110 proof over the course of a week. If you know anything about Woodford Reserve, these numbers are very similar to theirs (comes off the still around 157 proof and enters the barrel at 110).
The barrels that WDB uses are new 15 gallon level 3 charred oak barrels that also received a medium toast. This cuts their aging time to about 10 to 15 months before they get a fully matured product. Typically bourbon needs to have a much longer time in the barrel to achieve a great tasting product, but malt whiskey is a bit more forgiving in this regard, especially if you're making narrower cuts on the still like WdB claims to do.
The story behind this limited release bottling of Frontera is that Whiskey del Bac got their hands on some 500 liter Pedro Ximenez Sherry Botas (Butts) and decided to finish their Classic (non-smoked) malt whiskey in it. That process took 13 additional months to complete. If you know your wines (or even Scotch) then you know that PX Casks are often on the sweeter side of Sherry, but is that all that will come through here? There's only one way to find out! I sampled this neat in a glencairn.
Tasting Notes
Nose: A lovely, rich sherried wine scent dominates every sniff. Notes of chocolate, strawberry jam and grapefruit are heavy handed, yet delightful to find. There are plenty of malty overtones that can always be found too. This dram is doing a very good job at impersonating a Sherried-Scotch. The one telltale sign that this is not a Scotch is this lingering, somewhat heavy caramel scent. It's almost to the point where I'd inquire if it was a bourbon underneath if given this blind. Then I realize it's the new, charred oak barrel influence underneath that's responsible for this scent.
Palate: The mouthfeel comes off as thick and oily. I must admit that I had doubts seeing as how this comes in at 95 proof but I was pleasantly surprised. The viscous liquid has no shortage of sherried flavors. Rich wine, chocolate malt balls, tangerines, Cow Tails (caramel chews) and toasted/charred grains. The new oak barrel influence shows itself with flavors of barrel char and a light vanilla creme for extra flavor.
Finish: The youth of the distillate finally shows itself on the finish, but just a little bit. The heavy blanket of sherry flavors masks a majority of the flavors from the distillate. Lingering notes of hot chocolate, jammy red fruits and nut-based milk remain. Lingering in the background is a sense of youthful green oak that is trying to tell us its age, but can't. The new charred oak barrel effect leaves a very heavy, robust flavor that makes confusing this for a Scotch impossible.
Score: 7.5/10
Overall, this is a very pleasant, heavily-sherried single malt whiskey. I have a hard time convincing my friends that love Scotch to try ASM's, but I think with this much Sherry influence, they would be into it. It would for sure be a head scratcher if I served it up to them blind. I think the closest comparison I could make is a Scotch that has been aged in shaved, toasted and re-charred (STR) barrels prior to being finished in Sherry casks.
Either way, if you like lots of jammy fruits, chocolate and a heavy-handed sherry influence, this malt is for you. I'm unfamiliar with how WdB's base malt whiskey tastes but the good news is that nothing untoward ever revealed itself throughout the session. The new charred oak barrel does share its influence early on, but in reality it just adds a nicely weighted dimension to the whole dram.
Whereas most Scotch drinkers start off with low-proof, soft Scotches and work their way up from there, I have found that American Single Malts may require the opposite approach. I felt right at home drinking this bold, flavorful single malt and that it made the right impression with me to be curious enough to try the rest of their lineup. And while this is a limited release type bottle, the fact that WdB continues to pump out other interesting cask finishes means that you don't have to worry if you can't find this exact one.
The extra flavor that comes from the finishing cask seems to be well thought out and the base malt carries a classic taste that doesn't get in the way. So next time you're searching for a new malt whiskey to try and you want to make a safe bet on one that won't let you down, this bottle of Frontera is everything you'll want and more.
Final Thoughts
I'd like to take a moment and comment on Whiskey del Bac's commitment to environmental sustainability. I had a chance to ask Mark a little bit more about the distillery's commitment to reducing their impact on the scare water resources in the city of Tuscon.
He has gone on the record a few times to share just how important it is for him knowing that Tuscon faces water issues that require real solutions especially for an industry that is very water intensive. He says that so far the distillery employs a closed-loop cooling tower that ensures active re-use of greywater for all of their cooling. During production, they use cold liquor tank water to cool the wort down.
That process heats the water up and the now-hot water is cycled back to the hot liquor tank to maximize the BTU's needed to heat it up. All of this greatly helps to reduce waste water which is something that the community is trying to do more of. As the coming decades will show us, proper management of natural resources is going to become more necessary to ensure that the whiskey we love so much continues to be made in a responsible way.
Ratings Breakdown
1 | Disgusting | Drain pour (Example: Jeffers Creek)
2 | Poor | Forced myself to drink it
3 | Bad | Flawed (AD Laws 4 Grain BiB, Clyde Mays anything)
4 | Sub-par | Many things I'd rather have (Tincup 10 year)
5 | Good | Good, solid, ordinary (Larceny, Sazerac Rye)
6 | Very Good | Better than average (Buffalo Trace, OGD BiB)
7 | Great | Well above average (Old Ezra Barrel Proof, Old Weller Antique)
8 | Excellent | Exceptional (Michter's Barrel Proof Rye, Four Roses Barrel Strength)
9 | Incredible | Extraordinary (GTS, 13 Year MGP or Canadian Rye)
10 | Insurpassable | Nothing Else Comes Close (William Larue Weller)
Featured Products
Description:

The Aged & Ore Neat Traveler is a complete travel kit for spirits. We combined our widely praised Neat Glass with one of our 3oz Flight Bottles and housed them together in a custom EVA travel case. Perfect for a night away with your favorite pour. The tie
Description:

The Aged & Ore Bottle Flight is a premium set of 4 custom silicone wrapped glass bottles designed to transport and share samples of your favorite spirits. The flight bottles come in a custom EVA travel case that fits perfectly in any small bag. An Aged &
Description:

This Bundle combines two of our crowd favorite products, creating the ultimate travel bundle to bring along your favorite spirits and glassware. Bundle Includes: Neat Traveler (Gray) Bottle Flight (Gray) Note: This bundle is only available in gray and col
*Bourbon Culture is reader-supported. When you buy through links on our site, we may earn an affiliate commission.