*Bourbon Culture is reader-supported. When you buy through links on our site, we may earn an affiliate commission.
In the hierarchy of Smoke Wagon bottles, the Uncut and Unfiltered label is one step above the Small Batch.
Uncut and Unfiltered is supposed to be a blend of 4, 6 and 10 year old barrels, although I've heard rumors that as high as 12 year old barrels can get blended into the batch.
These have no batch identifiers, so you'll really just have only the proof to go on. This bottle was purchased from Crazy Naz before the whole barrel-stealing fiasco made the internet hate him.
It was $70, but these should retail for $60 if you have a big box store that sells them (like Total Wine or K&L). At the $60 price point, that puts it square in the sights of other blended and batched MGP bottlers like Belle Meade (Cask Strength Reserve) and Mic Drop (3.0, their 4 year old Cask Strength bottle).
So how does this bottle compete against the rest? I'm not doing a comparison yet between the other two yet, but I sat down to get my take of what this bottle is like. I sampled it neat and in a glencairn.
Tasting Notes
Nose: The nose is thick and pungent with strong seasoned wood, apple dumplings with cinnamon and dark brown sugar with chopped dates on top. There is also a really fragrant, premium tobacco scent that almost makes me want to take up smoking now.
Palate: A big spoonful of strawberry and cherry preserves. To add to the fruit already on my tongue, I start to get some orange marmalade.
But the palate isn't all sweet fruits, there some ground peppercorns to spice it up and pipe tobacco to add richness. And even though there's 2 young bourbon barrels that went into this blend, I do taste a surprising amount of oak, but it's not bitter.
Finish: There's a perfect rye spice that's not too spicy and not astringent. There's also some toasted oak that I think is similar to Michter's Toasted Barrel Rye Whiskey.
Cinnamon, clove and allspice spice things up a bit while baked pears and apples give the finish a nice fruity sweetness. Finally, there's the taste of cigar wrapper on your tongue. It's a super complex and rich finish.
Score: 8.1/10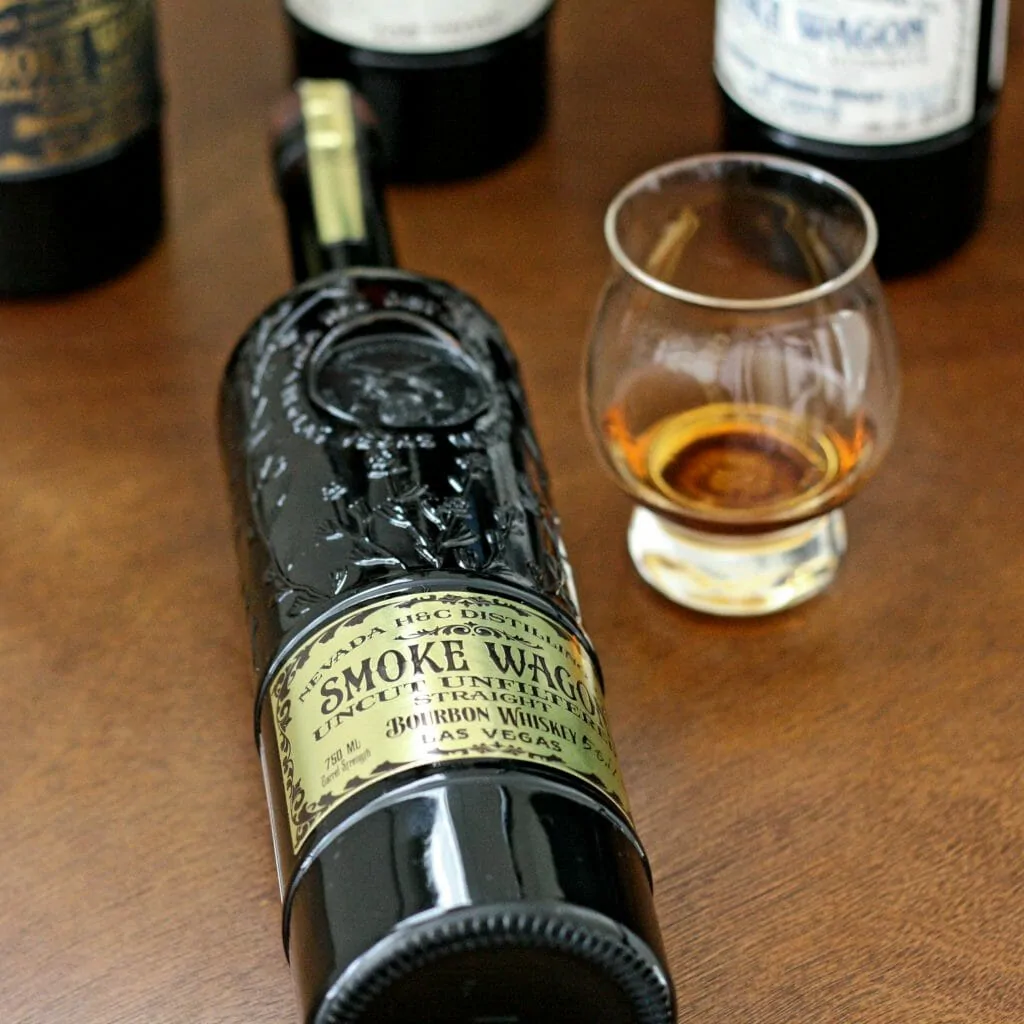 This bottle of Smoke Wagon Uncut and Unfiltered just became my new favorite in the blended MGP bourbon realm. I am so impressed with the shear amount of flavors they got out of this.
All of my favorite notes are present from older MGP stocks, but the addition of the young stocks have really heightened the amount of fruit. It's outrageous, but it works in this bottle. Count me impressed and on the lookout for another bottle!
Ratings Breakdown
1 | Disgusting | Drain pour (Example: Jeffers Creek)
2 | Poor | Forced myself to drink it
3 | Bad | Flawed (AD Laws 4 Grain BiB, Clyde Mays anything)
4 | Sub-par | Many things I'd rather have (Tincup 10 year)
5 | Good | Good, solid, ordinary (Larceny, Sazerac Rye)
6 | Very Good | Better than average (Buffalo Trace, OGD BiB)
7 | Great | Well above average (Old Ezra Barrel Proof, Old Weller Antique)
8 | Excellent | Exceptional (Michter's Barrel Proof Rye, Four Roses Barrel Strength)
9 | Incredible | Extraordinary (GTS, 13 Year MGP or Canadian Rye)
10 | Insurpassable | Nothing Else Comes Close (William Larue Weller)
Featured Products
Description:

The Aged & Ore Neat Traveler is a complete travel kit for spirits. We combined our widely praised Neat Glass with one of our 3oz Flight Bottles and housed them together in a custom EVA travel case. Perfect for a night away with your favorite pour. The tie
Description:

The Aged & Ore Bottle Flight is a premium set of 4 custom silicone wrapped glass bottles designed to transport and share samples of your favorite spirits. The flight bottles come in a custom EVA travel case that fits perfectly in any small bag. An Aged &
Description:

This Bundle combines two of our crowd favorite products, creating the ultimate travel bundle to bring along your favorite spirits and glassware. Bundle Includes: Neat Traveler (Gray) Bottle Flight (Gray) Note: This bundle is only available in gray and col
*Bourbon Culture is reader-supported. When you buy through links on our site, we may earn an affiliate commission.