*Bourbon Culture is reader-supported. When you buy through links on our site, we may earn an affiliate commission.
Sometime in late 2019, the Preservation Distillery in Bardstown, KY dropped loads of releases upon many states of various rye whiskies, bourbons and non-categorized whiskies.
Excitement and buzz quickly hit the internet with many enthusiasts trying to figure out the source of where these whiskies came from. The excitement seemed to fizzle when a large majority were found to be of Canadian origin.
Rare Perfection 15 Year Old Whiskey
But just when these bottles seemed to be destined for long-term hibernation as shelf turds, the website breakingbourbon.com had two editors name Rare Perfection 15 Year Old Whiskey as one of their favorite whiskies of the year.
All of the sudden, the $160+ price point seemed justified and they began to get gobbled up by enthusiasts looking to try the next big thing.
Rare Perfection 15 year generally has a murky background with not much known about the distillery, master distiller or even the mashbill that went into it.
There is speculation that it is a wheated mashbill, but still contains some rye, effectively making it a 4 grain whiskey. Being distilled in Canada automatically disqualifies it as a bourbon, but not too many people were turned off by that.
Bottled at cask strength, which was upwards of 119 proof, this was a 15 year whiskey that at least directly competed against other pricey 15 year labels out there (Barrell Craft Spirits 15 year bourbon, Old Fitzgerald 15 year Bottled in Bond, some of the Orphan Barrel line and even Pappy Van Winkle 15 year bourbon) and the best part was, it was actually available on a shelf.
So let's see what all the hype is about. I sampled this neat and in a Glencairn.
Tasting Notes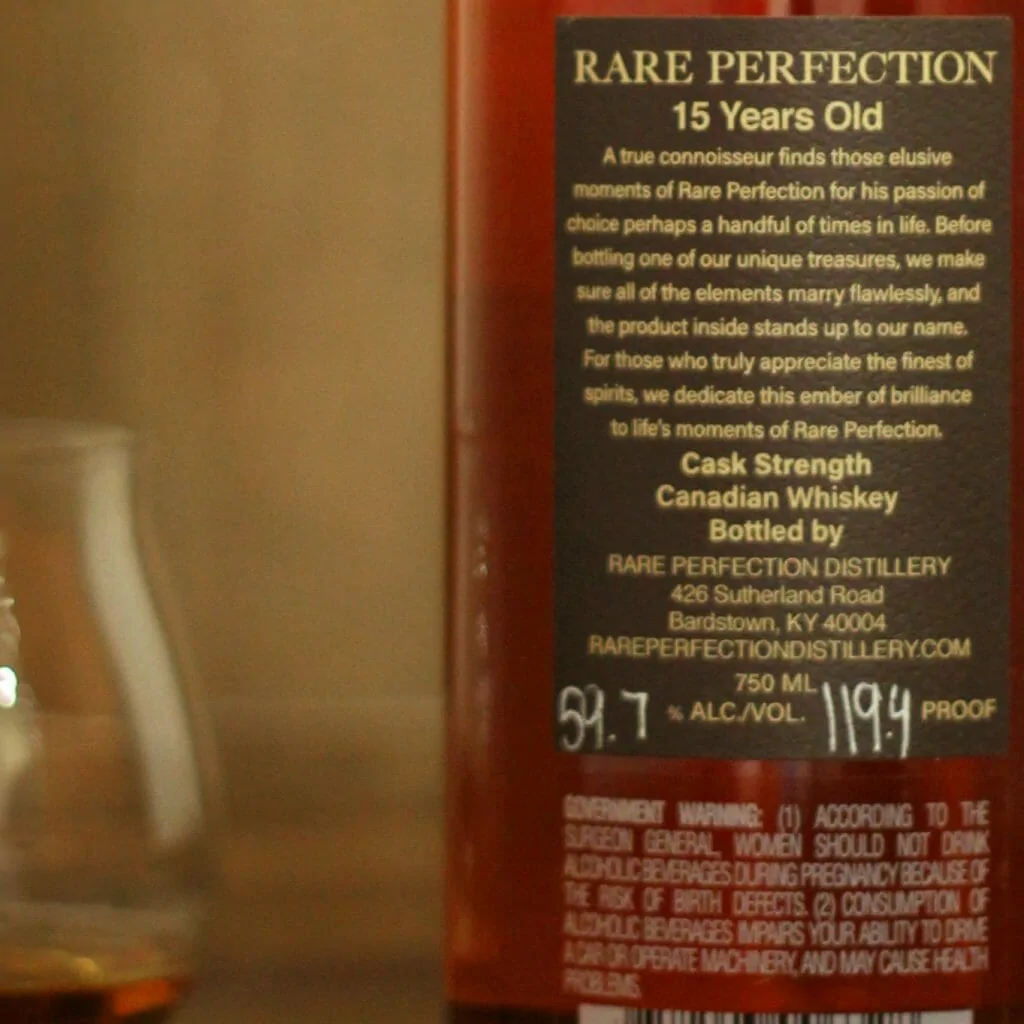 Nose: The nose has the strangest aroma I've ever experienced in my life, so I don't know how to relate it to anything else. Some people say this is an old dusty funk, but I've tasted some other bottles with dusty funk and I wouldn't say this is exactly that.
It's a cross between wood that was just slightly burned by the blade on a bandsaw and the inside of a raw coconut. This note overwhelms a majority of the nose, but I do manage to also pull out ghee (clarified butter), and classic caramel and vanilla scents.
Palate: The palate has a sweetness with an intensity that I have not really experienced before. I can taste that it's sweet, with an intense caramel fudge character, but it has no body behind it. Drying wood along with soft cinnamon spice give this some depth and show that not all of the palate is sweet.
There's also an herbal quality that I can't pinpoint, but maybe green cardamom pods. Lots of kneaded dough carries a weird mouthfeel that almost borders on what the last Terrepure whiskey I tasted was like. Overall, the palate is just as strange as the nose.
Finish: The finish weaves back and forth between buttery rum balls and drying oak and tobacco. There's also this really unique chocolate that's more dark than sweet, but also like it's infused with pomegranate and blueberry; two different fruits which don't really belong in chocolate.
If you've ever eaten Brookside chocolates, you'll know what I'm talking about. The finish is easily the best part about his whiskey, being somewhat normal if you're a strictly bourbon drinker.
Score: ???
This seems like a cop-out to not give this a score, but I honestly cannot decide if I like this or not. I have given this multiple tastings, but still can't pinpoint if this is for me.
The Terrepure-effect on the tongue was a little off-putting to me and the wood differs greatly from the oak notes I'd find in a Kentucky bourbon. As for the finish, the rum balls were exciting to find, but I wish the palate had a little bit of these unique notes that I was able to experience towards the end of this sip.
Final Thoughts
In the end, this whiskey is like a riddle wrapped in a mystery inside an enigma. There's no telling who this whiskey will appeal to, but it is definitely one you should try before you buy. For those that will like it, it's still on the shelves in enough quantity to make it easy to find.
For those that do not like it, then you just dodged a $160+ bullet. I applaud Preservation Distillery for trying to bring new things to the market, but the confounding profile this exhibited may have been a reason that this whiskey has been setting in Canada, untapped, for the last 15 years.
Ratings Breakdown
1 | Disgusting | Drain pour (Example: Jeffers Creek)
2 | Poor | Forced myself to drink it
3 | Bad | Flawed (AD Laws 4 Grain BiB, Clyde Mays anything)
4 | Sub-par | Many things I'd rather have (Tincup 10 year)
5 | Good | Good, solid, ordinary (Larceny, Sazerac Rye)
6 | Very Good | Better than average (Buffalo Trace, OGD BiB)
7 | Great | Well above average (Old Ezra Barrel Proof, Old Weller Antique)
8 | Excellent | Exceptional (Michter's Barrel Proof Rye, Four Roses Barrel Strength)
9 | Incredible | Extraordinary (GTS, 13 Year MGP or Canadian Rye)
10 | Insurpassable | Nothing Else Comes Close (William Larue Weller)
Featured Products
Description:

The Aged & Ore Neat Traveler is a complete travel kit for spirits. We combined our widely praised Neat Glass with one of our 3oz Flight Bottles and housed them together in a custom EVA travel case. Perfect for a night away with your favorite pour. The tie
Description:

The Aged & Ore Bottle Flight is a premium set of 4 custom silicone wrapped glass bottles designed to transport and share samples of your favorite spirits. The flight bottles come in a custom EVA travel case that fits perfectly in any small bag. An Aged &
Description:

This Bundle combines two of our crowd favorite products, creating the ultimate travel bundle to bring along your favorite spirits and glassware. Bundle Includes: Neat Traveler (Gray) Bottle Flight (Gray) Note: This bundle is only available in gray and col
*Bourbon Culture is reader-supported. When you buy through links on our site, we may earn an affiliate commission.