*Bourbon Culture is reader-supported. When you buy through links on our site, we may earn an affiliate commission.
Old Forester 100 Proof had been a mainstay on shelves for years. On a recent Bourbon Pursuit podcast, Jackie Zykan led on that it's commonly referred to as "Old Forester Signature" among many of the enthusiasts and Old Forester workers who have been active in bourbon for a while.
This is a very unassuming bottle on the outside even after they did a label refresh in recent years. But because of the twist cap and the low price, most people will still pass right by it on the shelves. It is quite popular with bartenders though and appears frequently as an ingredient in most bars cocktail lists.
Straight Bourbon
Old Forester products aren't technically aged very long due to the effects that the heat cycled warehouses have on the barrels of whiskey within, but since this bottle is labeled as a "straight" bourbon with no additional age statements, that means it's probably right at 4 years old.
It's no secret that Old Forester focuses their attention on the Whiskey Row line of products. The Whiskey Row lineup demonstrated Old Forester's committment to increasing the quality of their bourbon and getting the public excited about their products again. This had the added effect of increasing the quality among their standard lineups too, much to the benefit of Old Forester 100 proof.
At 100 proof, Old Forester has kind of painted itself into a corner since they already carry two other labels that outwardly seem the same. One is Old Forester 1897 from their Whiskey Row series and the other is their newly created Cooper's Craft 100 Proof label. But as is the case with a lot of brands that see overlapping products, there are usually small details that separate each bottle from one another and justify an increase or decrease in price.
On paper, all three of these bourbons (OF100, OF1897 and Cooper's Craft 100 Proof) share the same proof and are likely all 4 years old. But OF1897 is technically listed as a "bottled in bond" bourbon (meaning that on top of being 4 years old, all of the barrels have to come from the same distilling season). OF1897 probably has higher quality barrels selected though since the price is about $20-25 more expensive per bottle. Cooper's Craft 100 Proof is about $8 more expensive than OF100 and that probably comes from the unique barrels that are used (with grooves carved into the staves).
In a previous review of OF1897, I found myself turned off by what I noted as a dry and bitter experience. It was far and away my least favorite of all the Whiskey Row bottles.
So does that automatically bode poorly for OF100? There's only one way to know. I sampled this neat in a glencairn to find out.
Tasting Notes
Nose: There is a nice touch of chocolate and caramel on the nose. This comes really close to smelling like a Woodford Reserve (which are related anyway).
Soft baking spice notes coupled with some oak is a really nice touch for such a young bourbon. There is a hint of cherry syrup which is nice because I wasn't expecting it.
It smells like it has a lot of quality to it with the sweetness and oak displaying maturity that most bourbons at this age (probably around 4 years) don't have.
Palate: The chocolate and caramel notes continue from the nose while a nice cherry rollup flavor comes through. The heat is more noticeable on the tongue than it was on the nose but maybe that's because the baking spices feel hotter.
The oak spice becomes a bit drier while tobacco leaf is also found. This seems really well rounded and I digging how much depth the flavors have for such a low priced bottle.
Finish: The finish carries over with a tannin-rich theme of oak and sweet, flavored tobacco. Kind of like a Swisher's Sweet Cigar.
The sweetness transforms from caramel to a spiced honey. The fruits start to disappear a little bit, but they're still there. Overall it's a very pleasant finish that becomes muted the more you drink it.
Score: 6.5/10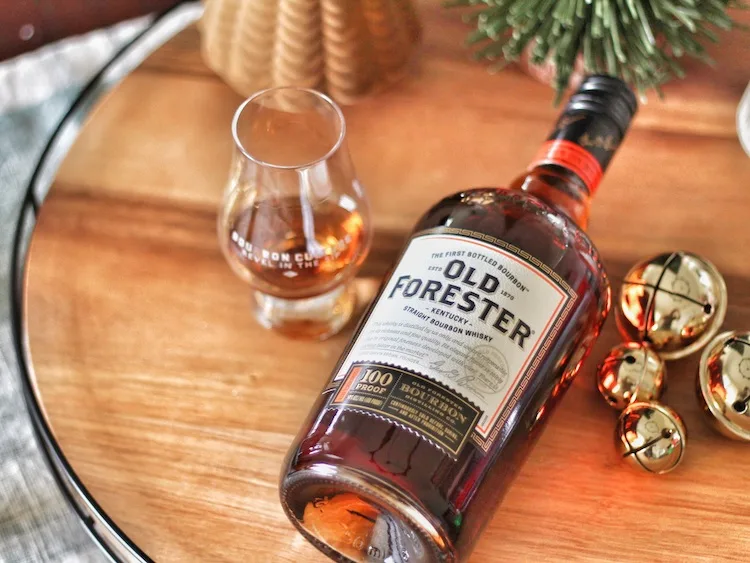 I was really surprised with how much I enjoyed this. I had been avoiding buying a bottle for years just because I thought I should focus my money on other bourbons that I viewed as superior.
But as my bourbon journey went on and I found myself starting to enjoy Old Forester products more and more, I decided to make it a point by tasting each and every one. OF100 was my most recent experience and I have to say, I'm a fan.
What really gets me going when it comes to Old Forester or Woodford Reserve products is the fact I can taste so many more tannins and spices than I can with similar products from Buffalo Trace, Heaven Hill or Wild Turkey.
It comes off as having more maturity to it and has many more layers of flavor. Buffalo Trace, Wild Turkey and Heaven Hill chill filter their mid-shelf products to the point where they taste much lighter (and sometimes fruitier). I don't find that same experience with Old Forester products. Everything they do seems to be heavier, bolder and more flavorful.
Final Thoughts
Old Forester 100 deserves to be on everyone's shelves. If it's been a while since you've tried it, I encourage you to try it again. It's likely changed for the better.
And if you're like me and did not enjoy Old Forester 1897, then don't automatically count this one out. I find that they're both different enough to warrant a second look.
Now all that's left is to try this against Cooper's Craft 100 Proof (also an Old Forest product!) and see which one provides the best 100 proof sip out of all 3. Until next time!
Ratings Breakdown
1 | Disgusting | Drain pour (Example: Jeffers Creek)
2 | Poor | Forced myself to drink it
3 | Bad | Flawed (AD Laws 4 Grain BiB, Clyde Mays anything)
4 | Sub-par | Many things I'd rather have (Tincup 10 year)
5 | Good | Good, solid, ordinary (Larceny, Sazerac Rye)
6 | Very Good | Better than average (Buffalo Trace, OGD BiB)
7 | Great | Well above average (Old Ezra Barrel Proof, Old Weller Antique)
8 | Excellent | Exceptional (Michter's Barrel Proof Rye, Four Roses Barrel Strength)
9 | Incredible | Extraordinary (GTS, 13 Year MGP or Canadian Rye)
10 | Insurpassable | Nothing Else Comes Close (William Larue Weller)
Featured Products
Description:

The Aged & Ore Neat Traveler is a complete travel kit for spirits. We combined our widely praised Neat Glass with one of our 3oz Flight Bottles and housed them together in a custom EVA travel case. Perfect for a night away with your favorite pour. The tie
Description:

The Aged & Ore Bottle Flight is a premium set of 4 custom silicone wrapped glass bottles designed to transport and share samples of your favorite spirits. The flight bottles come in a custom EVA travel case that fits perfectly in any small bag. An Aged &
Description:

This Bundle combines two of our crowd favorite products, creating the ultimate travel bundle to bring along your favorite spirits and glassware. Bundle Includes: Neat Traveler (Gray) Bottle Flight (Gray) Note: This bundle is only available in gray and col
*Bourbon Culture is reader-supported. When you buy through links on our site, we may earn an affiliate commission.