*Bourbon Culture is reader-supported. When you buy through links on our site, we may earn an affiliate commission.
Nancy Fraley is back at it again with another annual release of Murray Hill Club's Special Release. This is actually my first bottle of any Murray Hill Club, but I have been interested in getting one for quite some time. The previous two special releases were known for taking some highly aged MGP bourbon and Light Whiskey and finishing them in Pineau des Charentes Casks (Cognac-fortified Wine). This edition breaks the mold by switching the finishing casks to malt whiskey and cider casks first used by Potter's Craft Cider, Buskey Cider and the Virginia Distillery Company.
I must say that I am not as experienced with barrel-aged cider and only marginally experienced with American malt whiskey products. But I loudly proclaim to anyone who is within an earshot that MGP bourbon is some of the best bourbon to finish with another barrel because its sturdy profile holds up so well in the finished product. This Special Release contains 12 and 20 year old MGP bourbon as well as 15 year old Light Whiskey.
I've generally grown to trust in the experience of the cask finished products that the Joseph Magnus Company puts out, so it was not a gamble to instantly buy this bottle when I saw it on the shelves in my local store. For this review I sampled this neat and in a Glencairn.
Tasting Notes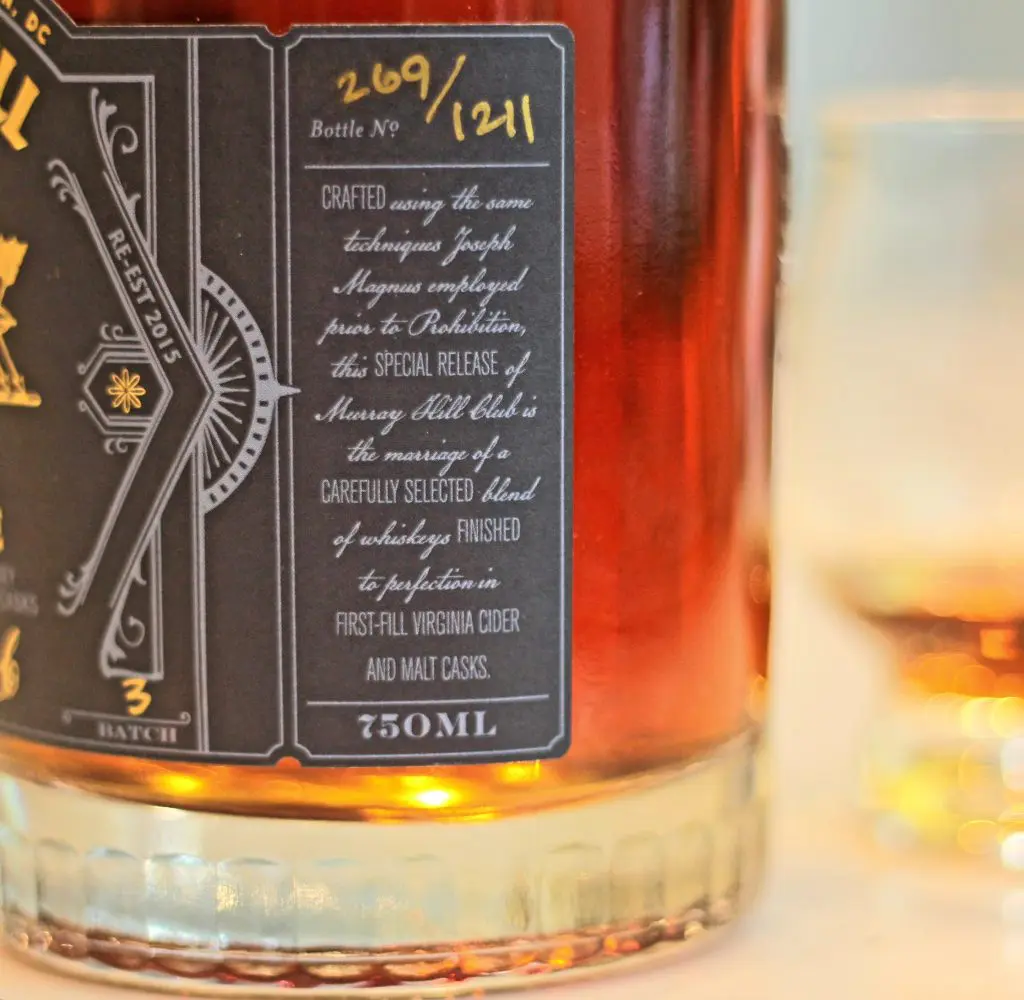 Nose: The nose exhibits some common malt whiskey traits of soft and creamy grains which I find very similar to Malt O' Meal hot cereal. There's a soft aroma of ripe orchard fruits, cherry blossoms and vanilla bean pods. The sweet scents on the nose are reminiscent of a mixture of honey and maple syrup. With so many fresh and sweet scents, one could conceivably think that this is younger than it actually is, let alone that the primary spirit here is a dark and heavy MGP bourbon. But there is an inviting layer of oak spice that shows off its unmistakably MGP-esque body.
Palate: A spicy pop of peppercorns and Vietnamese cinnamon comes to the front of the palate. It kind of surprises me for only 110 proof, but it does eventually settle down. A sweet Irish Whiskey malty-ness washes over my tongue throughout the whole dram. The taste of sweet apple cider mixed with the acidic tang of a little bit of apple cider vinegar gives this finished bourbon a quality that I can't say I've ever experienced before in a whiskey, but it's pleasant and does not detract from the experience. Baking cinnamon, clove and peppermint provide a powerful punch of flavor that brings you back around the heavy rye bourbon underneath. Speaking of the bourbon, there's a decent amount of drying oak that mingles with all of the flavors that gives depth and richness to all of the other flavors on the palate.
Finish: Nancy Fraley said that they used some 20 year old bourbon barrels in this blend and it shows. The oak is reminiscent of licking the wall of an old barn. It's not a bad trait at all, but it's fun to see how much oak sticks around, giving it a rich aftertaste that lasts for minutes after the last sip. The tannins don't stop there because there's a lot of dried leather in the mix as well as a tiny amount of extremely dark chocolate that will occasionally pop up. I also get a sort of fried apple fritter donut aftertaste with cinnamon sprinkled on top. Overall, the sweetness from the nose and palate are turned down on the finish as the old, oaky bourbon gives your taste buds its final farewell
Score: 8.3/10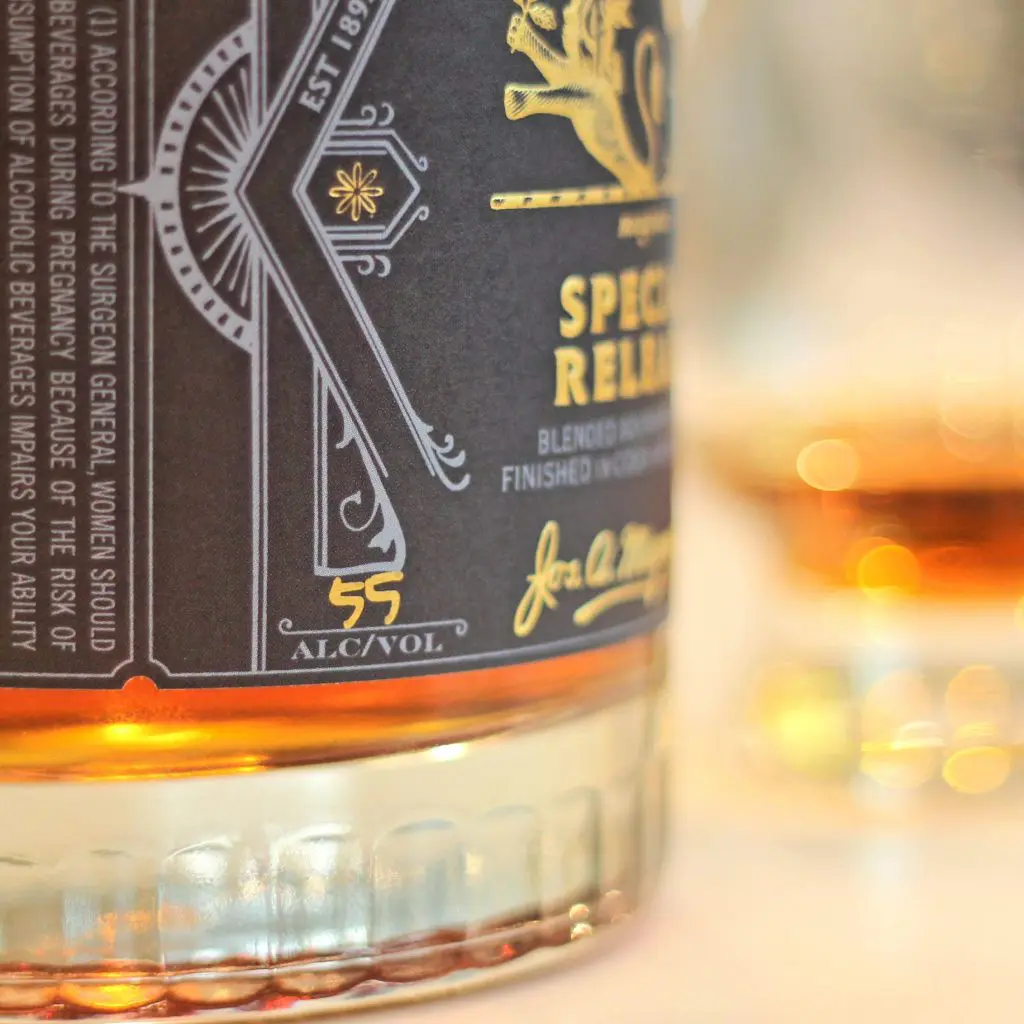 Forget subtle flavors, this Murray Hill Special Release has found a way to impart big-time flavors into the MGP bourbon that we all know and love. The one thing I loved about this bottle is how rich and robust every separate ingredient tasted. It culminated in a drink that makes you think you're in a dimly lit, mahogany wood trimmed Speak-Easy.
The malt and apple brandy notes don't cover up the beautiful aged bourbon notes, but rather boost them up to new, more complex highs. One of the coolest things is that the 20 year old bourbon used in this bottle was probably produced when Seagram's still owned the Lawrenceburg Distillery in Indiana (but then again, I assume that was the case with the last two Murray Hill Club Special Releases).
Final Thoughts
While not overthrowing the Joseph Magnus Cigar Blend batches as my favorite product from the Joseph Magnus Distillery, this is still a worthwhile bottle to get, especially if you're an MGP bourbon fan. Finished whiskey may not be everyone's cup of tea, but for those that like it, no bourbon accentuates it better than the mashbills produced at MGP. The acidic pop, spicy heat and old oak traits make this a whiskey that is full of complexity and makes every sip unique. I can't wait to see what next year's Special Release has in store.
Ratings Breakdown
1 | Disgusting | Drain pour (Example: Jeffers Creek)
2 | Poor | Forced myself to drink it
3 | Bad | Flawed (AD Laws 4 Grain BiB, Clyde Mays anything)
4 | Sub-par | Many things I'd rather have (Tincup 10 year)
5 | Good | Good, solid, ordinary (Larceny, Sazerac Rye)
6 | Very Good | Better than average (Buffalo Trace, OGD BiB)
7 | Great | Well above average (Old Ezra Barrel Proof, Old Weller Antique)
8 | Excellent | Exceptional (Michter's Barrel Proof Rye, Four Roses Barrel Strength)
9 | Incredible | Extraordinary (GTS, 13 Year MGP or Canadian Rye)
10 | Insurpassable | Nothing Else Comes Close (William Larue Weller)
Featured Products
Description:

The Aged & Ore Neat Traveler is a complete travel kit for spirits. We combined our widely praised Neat Glass with one of our 3oz Flight Bottles and housed them together in a custom EVA travel case. Perfect for a night away with your favorite pour. The tie
Description:

The Aged & Ore Bottle Flight is a premium set of 4 custom silicone wrapped glass bottles designed to transport and share samples of your favorite spirits. The flight bottles come in a custom EVA travel case that fits perfectly in any small bag. An Aged &
Description:

This Bundle combines two of our crowd favorite products, creating the ultimate travel bundle to bring along your favorite spirits and glassware. Bundle Includes: Neat Traveler (Gray) Bottle Flight (Gray) Note: This bundle is only available in gray and col
*Bourbon Culture is reader-supported. When you buy through links on our site, we may earn an affiliate commission.